Best Ventilation Hoods For Professional Gas Ranges (Reviews / Ratings)
Proper ventilation is one of the most important factors in a kitchen.
As professional stoves increase higher BTU output, there is an important need for more powerful venting.
Professional hoods help to remove smoke, steam, and odors produced when cooking.
In this video you'll learn all about choosing proper ventilation and the different styles for your home
Thanks for reporting a problem. We'll attach technical data about this session to help us figure out the issue. Which of these best describes the problem?
Any other details or context?
message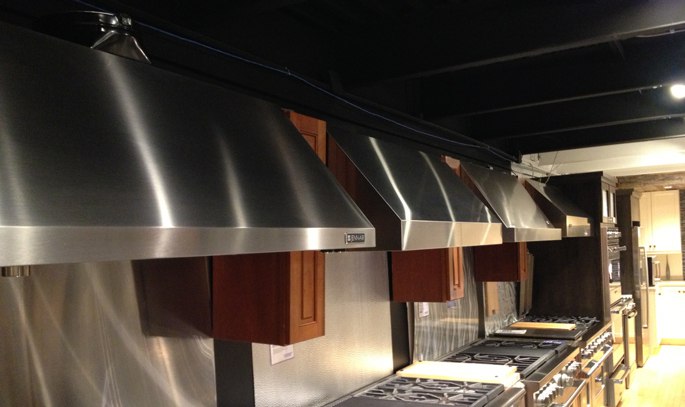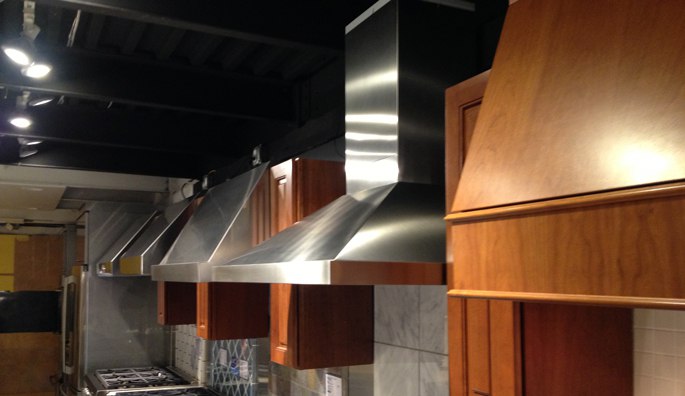 Professional hoods tend to be larger and deeper to compliment professional style ranges. The blower can be available in three ways– internal, in-line and external. Most blowers start at 600–1,500 CFM.
An internal blower is built inside of the hood, while an in-line blower is installed into attics, and external blowers are outside of the house.
Short on time? Get our free Ventilation Buying Guide
What makes a professional hood effective?
Professional hoods are design at 18" tall and 24" to 27" deep. The height of the hood can trap and hold odor before exhausting. The depth will cover the burner heat, as well as grease splatters.
Professional hoods usually are available with stainless steel screens or baffle filters. Screen filters are lighter but require cleaning more often. Baffle filters are worth the upgrade because they are sturdier, absorb more grease and allow more air to be exhausted. Regardless of how the filters are made both are dishwasher safe.
Rules of Thumb for Proper Venting
For every 10,000 BTU you need approximately 100 CFM
Decide where to mount blower. We like internal blowers, because they are easier to fix and you dont have a huge blower on your house
Proper mounting of hood is approximately 30"- 36" height
Width of hood should at least match range size
Determine the length of duct work for proper blower. Duct runs should be straight. Bending reduces efficiency considerably
Determine duct size for proper air movement, and create less static pressure. We recommend 8-10 inch round duct
External Blowers vs. Wall Caps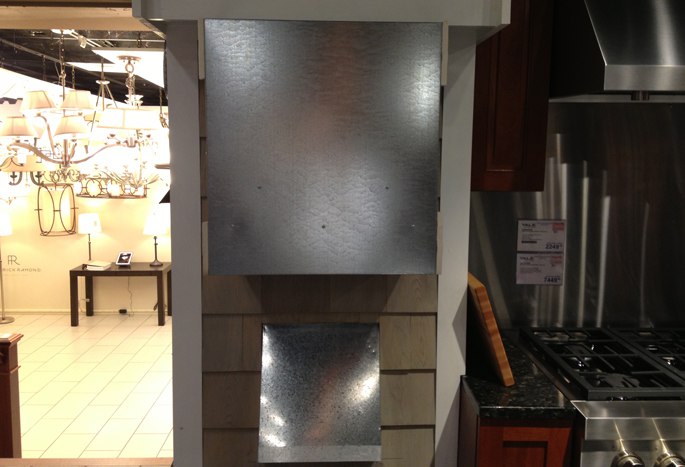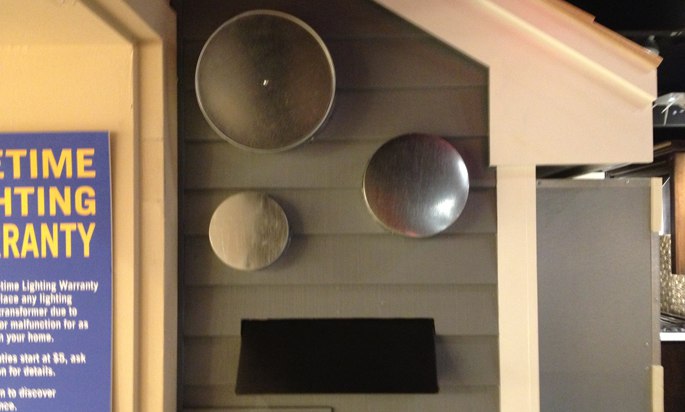 Which Brands to Purchase?
The easiest way to purchase a professional hood is to match the brand of the stove purchased.
It is always nice to combine with the same brands, which will have the same look or texture. Broan, Zephyr, Wolf, Viking, and Thermador are major hood manufacturers.
But you can save a lot of money by going with a noncommercial brand name. Yale exclusive custom hoods are a good value, because the blower is already installed in the hood, and has a natural, no logo look to match with any stove.
Best Professional Range Hoods
(We Priced 36 Inch)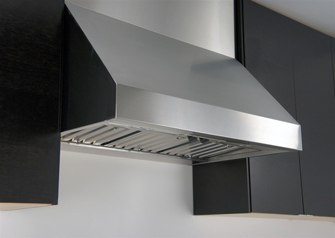 The Yale professional hoods come with a powerful 1,000 CFM internal blower only. The blower will fit over any professional range. The design has a clean, neutral hood to match with any stainless steel stove. It comes with two halogen lights, and commercial stainless steel filters. It has simple mechanical knobs for easy operation and no seams around the edges for much easier cleaning.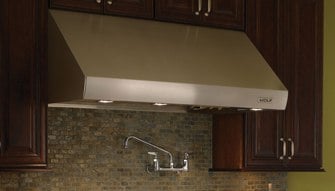 Wolf hood has many options for their blowers. Internal, in-line, and external blowers are available for all types of user. Wolf PW362718 is 27" depth therefore it has two warming heat lamps built in. These heat lamps are designed to keep a plate and/or food warm. The hood also have a built in heat sensor which goes off as a safety feature. There are rebates available when combined with Sub-Zero and other Wolf products.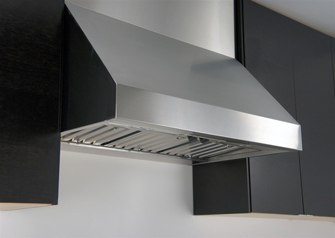 Best by Broan professional hoods have many blower options. The K260A36SS is standard with a mesh screen filters, but you can upgrade for baffles. This hood has been around for a very long time because of its classic look. Best by Broan blowers can detect excessive heat and adjusts speed to high automatically.
Summary
All three are good, but I love the Yale hood. It's a great value at $1,399 and has an updated look with plenty of power. The Yale hood has no seams, so it is easy to clean and has the better, commercial style filters.
Additional Resources
Download the Yale Ventilation Buying Guide with CFM tables, how to duct, downdrafting and more. Well over 100,000 people have downloaded a Yale Guide.

Related Articles
Danny Nguyen
Danny Nguyen is an Appliance Sales Consultant at Yale Appliance + Lighting. Danny has completed 2 half marathons and enjoys spending time travelling and snowboarding.

Schedule a showroom visit with me
A Note About Pricing
Pricing on this blog is for reference only and may include time sensitive rebates. We make every attempt to provide accurate pricing at time of publishing. Please call the stores for most accurate price.