Best Counter-Depth Refrigerators for 2020 (Reviews / Ratings / Prices)
If you are looking to buy a counter depth refrigerator, you may have a problem.
Scratch that. You will have a problem.
There are plenty of manufacturers reeling right now. The Coronavirus (COVID-19) started in China in January, so many parts weren't shipped.
COVID-19 hit the Northeast next. Many appliance warehouses are in New Jersey. It's also a port of entry for European products.
As I write this, it seems to be everywhere else.
Unfortunately, GE's Appliance Park is in Kentucky. Bosch's giant dishwasher facility is in North Carolina.
Arizona is the home of Sub-Zero's integrated refrigerator factory. There are other plants in Tennessee and South Carolina from Sharp, Samsung, and LG.
With social distancing for factories and warehousing, many open factories are operating at 50% capacity.
For counter depth refrigerators, six of my recommendations were out of stock everywhere, thus this article needed to be changed to more available products.
It needed to change for another reason as well.
We performed a test on which refrigerator could keep food fresh the longest, and the winner was a new brand.
Short on time? Get our free Counter Depth Refrigerator Buying Guide
Best Counter Depth Refrigerators For 2020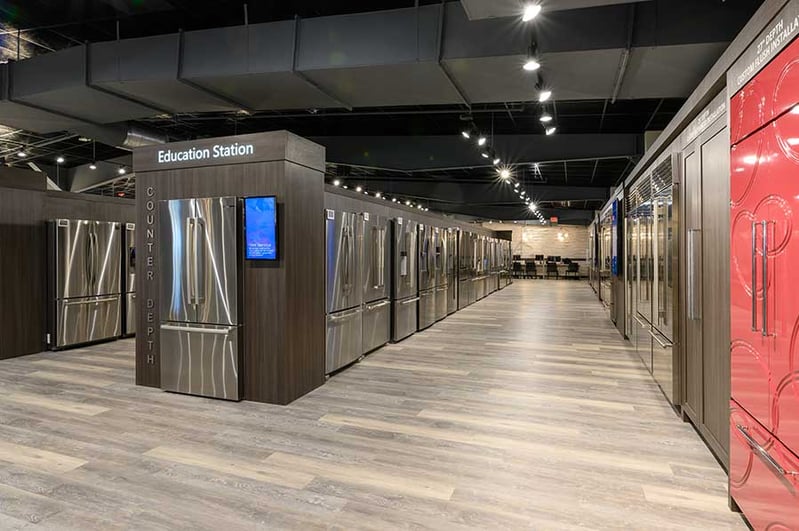 Counter Depth, Professional, and Integrated Refrigerators at Yale Appliance in Hanover
Below are my recommendations for best counter depth refrigerators for 2020.
There are tons of brands like Samsung, LG, KitchenAid, Sub-Zero, Thermador, Bosch, GE, and Whirlpool.
However, at this writing, Samsung, LG, and GE have inventory issues. More companies like Bosch will probably join them shortly.
So whereas the last Best Counter Depth Refrigerator article was about gadgetry like four doors and Wi-Fi connectivity, this article is about availability.
We'll also cover the most reliable counter depth refrigerator brands to help you with your decision. A product can only be great if it works in your home.
We logged 35,256 service calls in 2019 and have some pretty sobering statistics.
Many brands market well but perform poorly. Some need service 75-100% of the time just in the first year. So, be careful.
Let's look at the best counter depth refrigerators, the different types, and how to buy them.
Best Counter Depth Top Mount Refrigerator
Availability: In Stock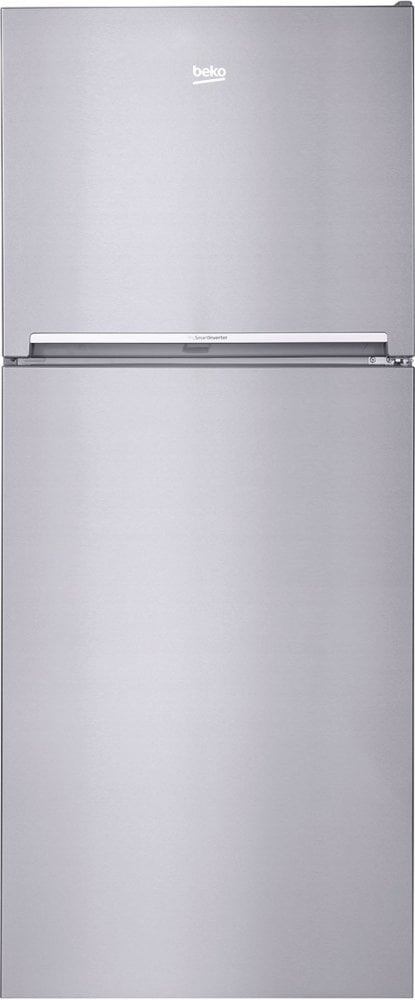 Features:
13.53 cu. ft.
Counter Depth, Top Mount Refrigerator
Active Blue Light Technology
Auto Ice Maker
Stainless
Beko is a newer brand. However, they do manufacture the Blomberg label and produce the counter depth BlueStar refrigerator.
You will learn a bit more about their EverFresh + and Active Blue Light Technology to keep food fresher for a longer period of time.
This unit solves problems especially in tighter spaces as it is designed to fit within a 28 inch space.
Best 33-Inch Counter Depth Refrigerators
Availability: Limited Stock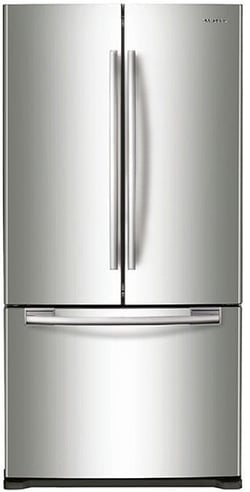 Features:
18 cu. Ft. capacity – you can store up to 18 paper bags of groceries
Automatic filtered ice maker – internal icemaker located in the freezer
Twin Cooling System – maintains cooling air for the refrigerator and freezer separately. Samsung's twin cooling system's humidity levels are up to 5x higher than single cooling systems keeping perishables from spoiling quickly
Power Freeze and Power Cool – fast freeze or fast chill for firming up ice cream or chilling a beverage
Two crisper drawers – storage for your fruits and vegetables keeps them fresh and crisp
You buy a refrigerator based on the cabinet openings like 24,30,36, 42, and 48 inches.
Fifty percent of the refrigerator openings are 30 or 33 inches, yet 90% of the counter depth refrigerators are 36 inches wide.
This refrigerator is your best option for a 33-inch counter-depth refrigerator as it's $350 cheaper than the next option from GE.
Samsung RF18 33-Inch Counter-Depth Refrigerator [Video Review]
Click hereto learn more about the best 33-inch counter depth refrigerators.
Availability: Limited Stock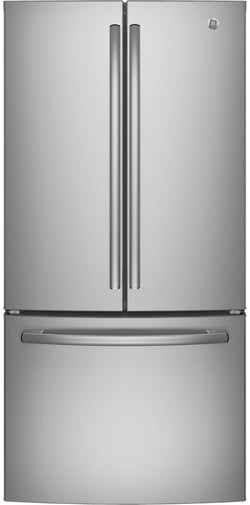 Features:
Counter-depth design
LED lighting
Multi-level freezer baskets
Quick Space shelf
Fits 33" openings
Internal water dispenser
Factory-installed icemaker with water filtration system
Two humidity-controlled drawers and full-width adjustable-temperature drawer
Turbo Cool setting
The only other French door brand worth considering at 33 inches is GE. Like Samsung, it has internal ice and twin cool. GE also has its own service department.
In many areas, you will find much better service availability than Samsung. We service what we sell so in our area there is not much of a difference.
Best 36-Inch Counter Depth Refrigerators
Availability: Coming soon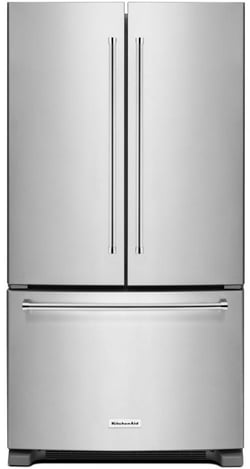 Features:
20 cu. Ft. Capacity
Metal Wine Rack
Automatic ice maker – internal icemaker that maintains ice supply (awesome for when you're entertaining)
SatinGlide system – under-mounted pans have rollers for smooth operation
Interior water dispenser – filtered water dispenser inside refrigerator
Produce Preserve – helps to remove ethylene to keep perishables fresher longer
KitchenAid is one of the least expensive counter-depth refrigerators and can be packaged affordably with decent rebates. It does have an icemaker and an internal water dispenser.
The reliability is worse than average, but parts and technical support from its parent brand, Whirlpool, is excellent.
Again, we handle our service. It may be different in your area.
Availability: In Stock
Features:
19.86 cu. ft.
Counter Depth
Everfresh+
Active Blue Light Technology
IonGuard
Auto Ice Maker 6 lbs./day
Internal Water Dispenser
Electronic Control
Dual Evaporator
Stainless
Availability: In Stock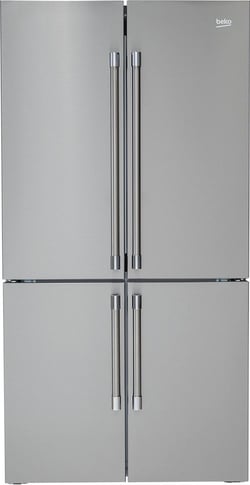 Features:
19.77 cu. ft.
Counter-Depth
EverFresh+
Active Blue Light Technology
IonGuard
NeoFrost Dual Technology
Automatic Ice Maker 6 lbs./day
Electronic Control
MultiZone Compartment - quick-chill zone
R600A Refrigerant
Fingerprint-free Stainless Steel
Beko's two counter depth refrigerators are available in three and four doors.
Beko has some unique claims for keeping food fresher longer.
The crispers have blue lighting mimicking sunlight to keep food fresher longer. Sunlight does render blue on the Kelvin scale.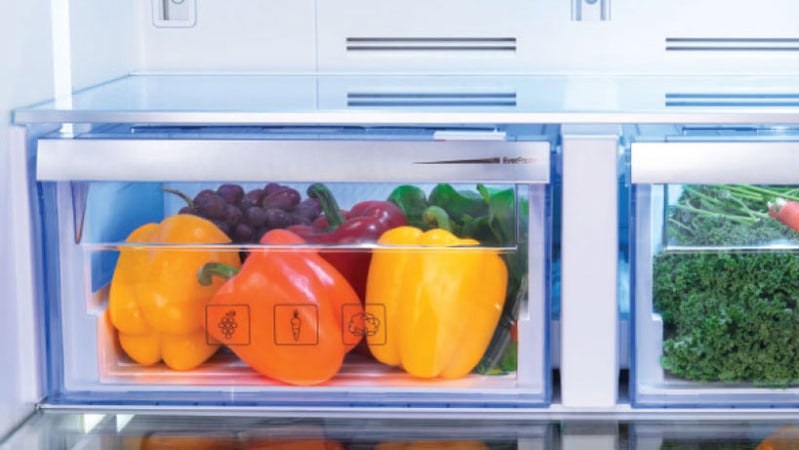 Beko Counter Depth Refrigerator With ActiveFresh Crispers & Active Blue Light Technology
Their "EverFresh" crispers are gasketed to keep air and moisture out. The refrigerator directs the airflow into the crispers through four ports in the back.
Like Samsung, Beko has two evaporators, so the refrigerator's warmer moisture air doesn't blend with the dryer, colder air of your freezer.
Beko also has an ion generator called IonGuard. It sends out negative ions to counteract positive ions of odors.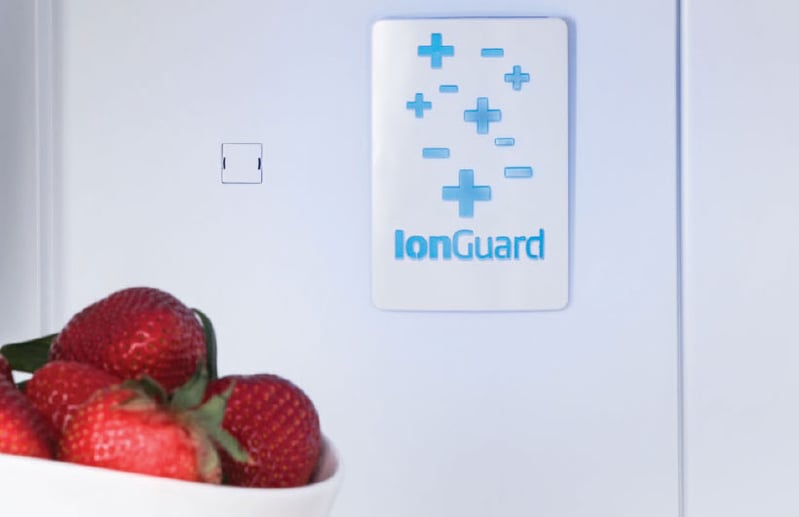 Beko Counter Depth Refrigerator Interior With IonGuard
So your pudding shouldn't taste like your fresh tuna or salmon.
I imagine you are skeptical as I was. However, we tested it against Sub-Zero, Thermador, Bosch, and Samsung. It was the best of the freestanding refrigerators.
Beko BFFD3624SS French-Door Counter-Depth Refrigerator [Video Review]
Click here to see the results of Project Produce.
Availability: In Stock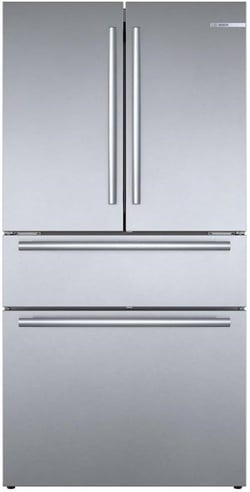 Features:
Freestanding
Counter-Depth
Glass Shelves
Humidity-Controlled Crispers
This Bosch counter depth refrigerator is brand new and built by Bosch rather than being outsourced.
Bosch is the only counter depth with two compressors, one each for refrigerator and freezer.
The warmer, moister air of the refrigerator does not blend with the drier, colder air of the freezer.
Sub-Zero pioneered the twin compressor years ago. It is standard on all their refrigerator and freezer combos.
It also has metal in the back of the refrigerator. Metal absorbs cold better than plastic, so you want to place your milk and juice towards the back to retain the coldest temperature.
Bosch also features an ethylene filter. Spoiling foods will emit ethylene gas. This gas can cross-contaminate other foods.
Having a filter should help.
Bosch also offers this refrigerator in a four-door as well B36CL80SNS.
The design is well done. It's a good looking appliance. It will also be part of their 15% off the program when packaged with other Bosch products.
Bosch B36CL80S Counter-Depth French-Door [Video Review]
Most Reliable Counter Depth Refrigerator
Availability: Coming soon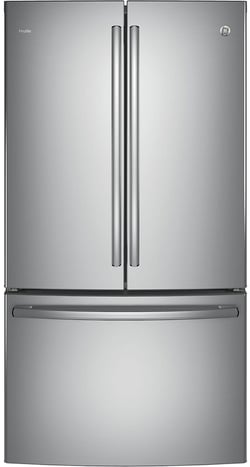 Features:
Counter-depth design
Full-width, electronic temperature-controlled drawer with colored LED lights
TwinChill evaporators
Advanced water filtration uses RPWFE replacement filter
Internal water dispenser
Showcase LED lighting
Quick Space shelf
Yes, it's more expensive than KitchenAid, but GE seems to be more reliable. Their Profile unit allows you to combine rebates with other decent appliances for a better suite.
Best Counter Depth Refrigerators For Kitchen Packages
Availability: In Stock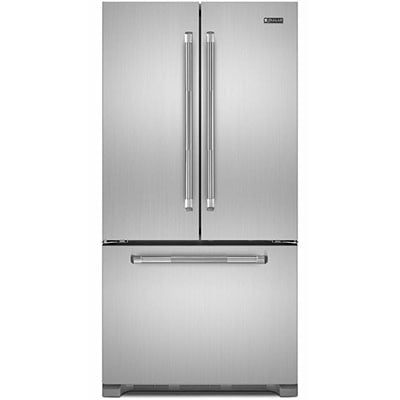 Features:
TriSensor Electronic Climate Control
Glide-out Freezer Drawer with SmoothClose Drawer Track System
Adjustable Humidity-Controlled Crisper Drawers
Produce Preserver
Internal Water Dispenser
Automatic Ice Maker with Storage Bin
LED Interior Lighting
Adjustable Glass Shelves with Spill Shield Technology
Automatic Adaptive Defrost
Max Cold option
JennAir is closing out this model, so it's $400 less than the current model.
Buy discontinued products only if:
There are considerable savings versus the new product and price
There are no feature differences or fewer features in the latest release
You can match it with other appliances, especially if it is unique looking
The new model has a long wait time
You like it better, do not care either way, or can live with it (don't buy anything at any price if you hate the look because it will be staring you in the face for 6-12 years).
Closeouts can be useful depending on the specs and price, if not, wait for the new model.
Their JFC2089BEP is part of one of the best selling packages as well.
With a convection oven and baking drawer, convection over the range, integrated dishwasher and this refrigerator, it's only $4,999.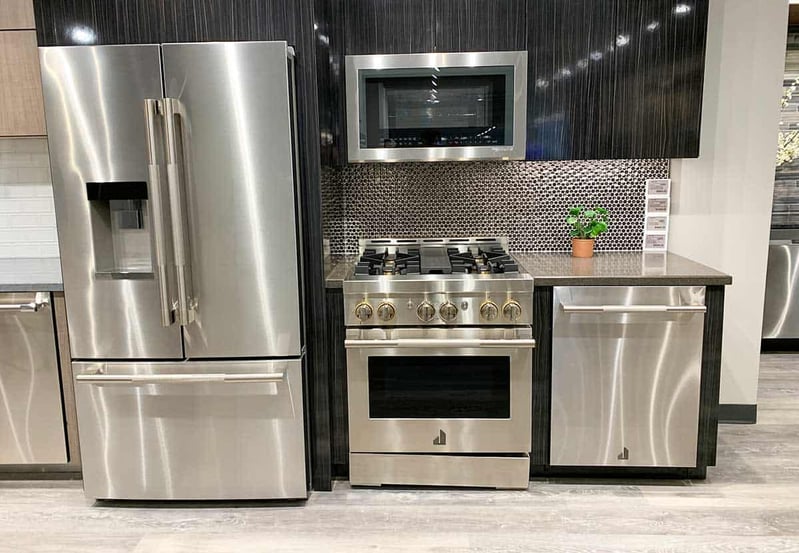 JennAir Kitchen Package at Yale Appliance in Framingham
Click here to learn more about the best stainless steel kitchen packages.
Availability: In Stock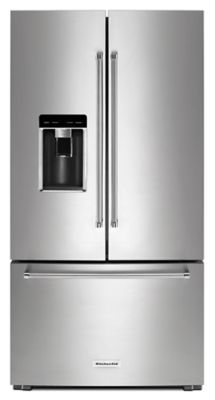 Features:
PrintShield Finish
Under-Shelf Prep Zone
Slide-Away Shelf
Full-Extension FreshSeal Crispers
Full-Extension Custom Temperature-Controlled Pantry Drawer
Full-Extension Pull Out Tray
Preserva® Food Care System with Linear Compressor
3-Tier Self-Close Freezer Drawer with Extend-Freeze Setting
Removable Door Bins with Metal Accents
I never say buy a refrigerator for the inside, but this may be a rare exception. It features ice, water, and their largest size.
Best Panel-Ready Counter Depth Refrigerator For Cabinet Fronts
Availability: In Stock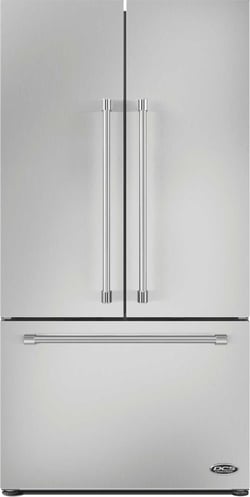 Features:
Clever energy
Ice maker
Design quality
Easy installation
Easy cleaning
Simple storage
You should consider this refrigerator because it's good looking with a panel. It's integrated or fits inside the cabinet, so it is seamless.
You will not be able to tell the difference between the cabinet and refrigerator.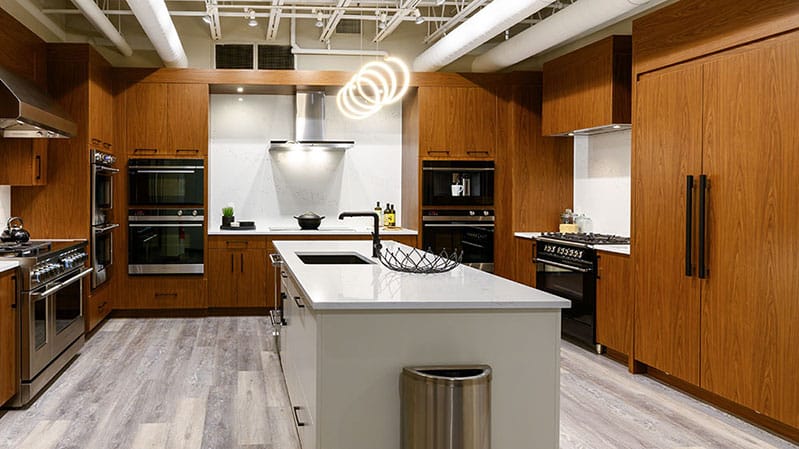 Fisher & Paykel Cabinet Front, Paneled Integrated Refrigerator (Right) at Yale Appliance in Hanover
It's also $6,000 less than a Sub-Zero and other paneled refrigerators.
By the way, yes, I know KitchenAid has a cabinet panel option, but you see the black door frame. It detracts from the look, and it isn't' integrated, and the door will protrude.
What Are The Most Reliable Refrigerator Brands?
If you are looking for a technical product with an ice dispenser, then Samsung and GE are the best.
GE has better service in many areas, but you have to inquire who will be fixing your new refrigerator before buying it.
We calculated our reliability based on our service calls divided by sales for a service percentage. With 33 techs in the field, we logged 35,256 service calls in 2019.
Below is our reliability for the last year including our most recent stats.
Counter Depth Refrigerator Reliability July 2019-June 2020
| | | | |
| --- | --- | --- | --- |
| | Service QTY | Shipped QTY | Service Ratio |
| BlueStar | 24 | 26 | 92.31% |
| JennAir | 267 | 431 | 61.95% |
| KitchenAid | 71 | 240 | 29.58% |
| Samsung | 243 | 1035 | 23.48% |
| LG | 7 | 35 | 20.00% |
| Bosch | 128 | 719 | 17.80% |
| Fisher & Paykel | 30 | 179 | 16.67% |
| GE Profile | 19 | 119 | 15.97% |
| GE | 12 | 82 | 14.63% |
| Beko | 2 | 26 | 7.69% |
| Café Appliances | 8 | 87 | 5.26% |
| Grand Total | 811 | 2979 | 27.22% |
However, reliability varies greatly between brands. You must be aware of potential problems before you buy.
We have stopped selling any brand with a disproportionate amount of service. It's important to note: Some brands have over a 50% service rate within the first year.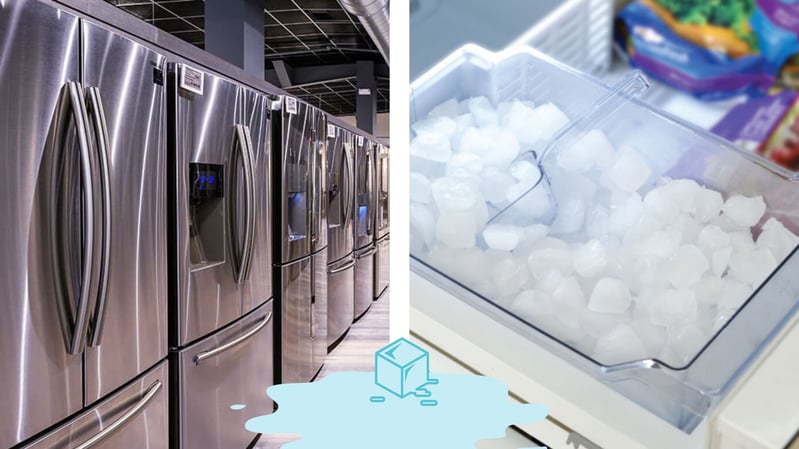 Many of the problems stem from an ice dispenser leak. Counter-depth refrigerators have ice dispensers in the warmer refrigerator instead of the freezer like a side-by-side refrigerator.
At a 31.24% service rate within the first year, you will likely need service within five years.
How To Buy A Counter-Depth Refrigerator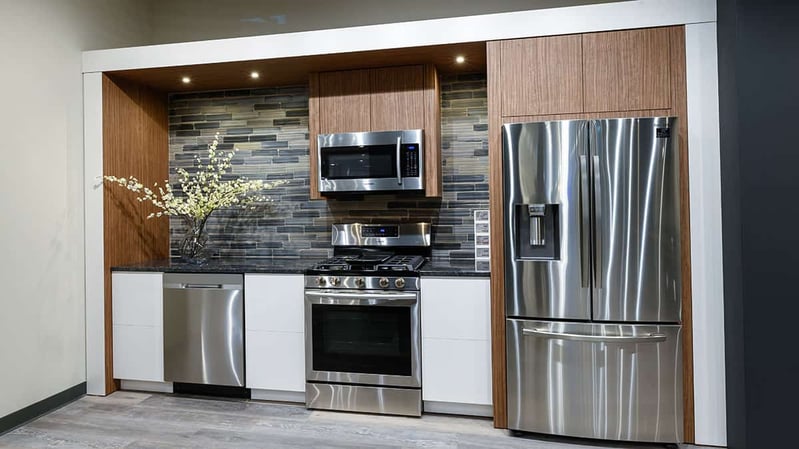 Samsung Kitchen Appliances at Yale Appliance in Hanover
Last time I wrote this, it was way different. You learned about different brands and could choose from different feature sets.
However, now it's about being able to buy a refrigerator without living out of a cooler for 10-12 weeks.
There may not be Keurig coffee on your dispenser or interactive tablets on your refrigerator, but you do have some brands with the ability to keep your food fresher.
But be careful, with service rates this high, you should also look for a brand with the capable repair.
When Is The Best Time To Buy A Counter Depth Refrigerator?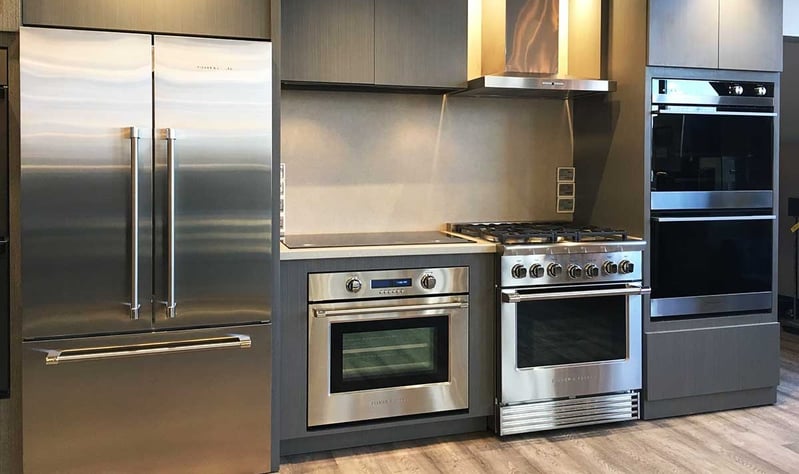 Fisher & Paykel Kitchen Appliances at Yale Appliance in Hanover
If you can wait, buy your appliances until there is a promotional holiday.
Rebates are especially good around holidays like Presidents' Day, Memorial Day, July 4th, Tax-Free Weekend, Labor Day, and Black Friday.
Best Times To Buy Kitchen Appliances:
Presidents' Day: February
Memorial Day: May
July 4th: July
MA Tax-Free Weekend: August
Labor Day: September
Black Friday: All of November
You can buy a counter depth refrigerator between 10-35% less around one of these holidays.
However, this year it may all change.
Frequently Asked Questions
1. What is a counter depth refrigerator?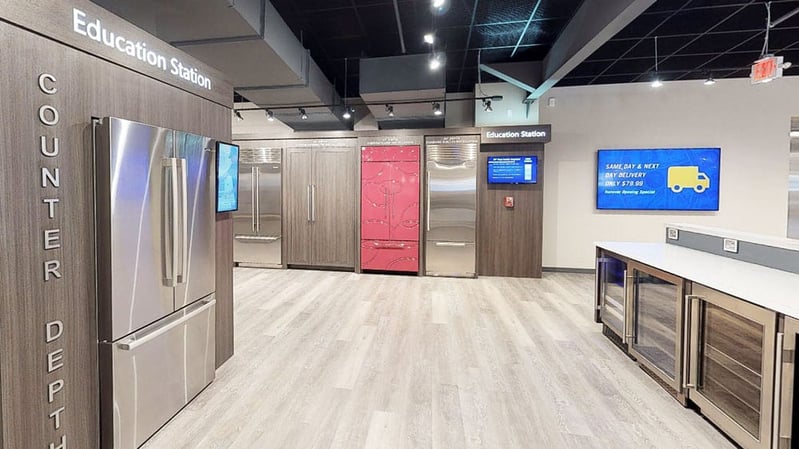 Counter Depth Refrigerator Learning Center at Yale Appliance in Hanover
A counter depth refrigerator does not protrude from the cabinets, unlike a normal refrigerator. It's better looking because you won't see the sides jutting out 5-8 inches in your kitchen.
You also have the benefit of having a shallower refrigerator in a galley kitchen or with island design. There will be more room between the refrigerator and the island itself.
2. What's the difference between standard depth and counter depth refrigerators?
Regular counter depths are shallower refrigerators. The doors will be the only depth sticking out past the cabinet or countertop.
3. What's the difference between counter depth, integrated, and professional refrigerators?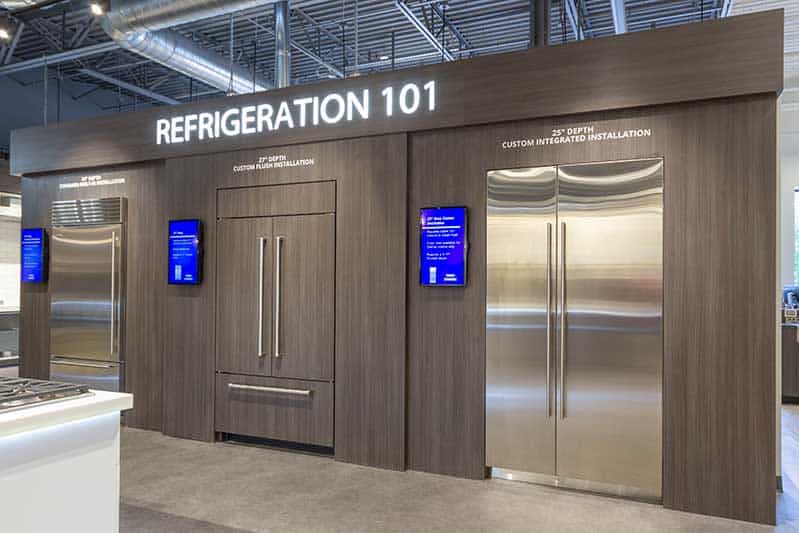 Refrigeration Learning Center at Yale Appliance in Framingham
While they are all called counter depth, there are significant differences between the three styles.
Counter Depth Refrigerators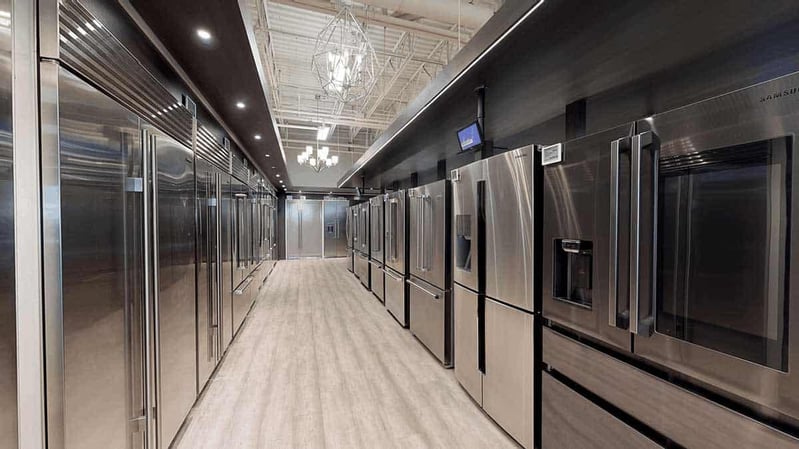 Counter Depth Refrigerators (Right) at Yale Appliance in Framingham
Regular counter depth fridges are shallower refrigerators. Typically only the doors will protrude from the cabinets.
Integrated Refrigerators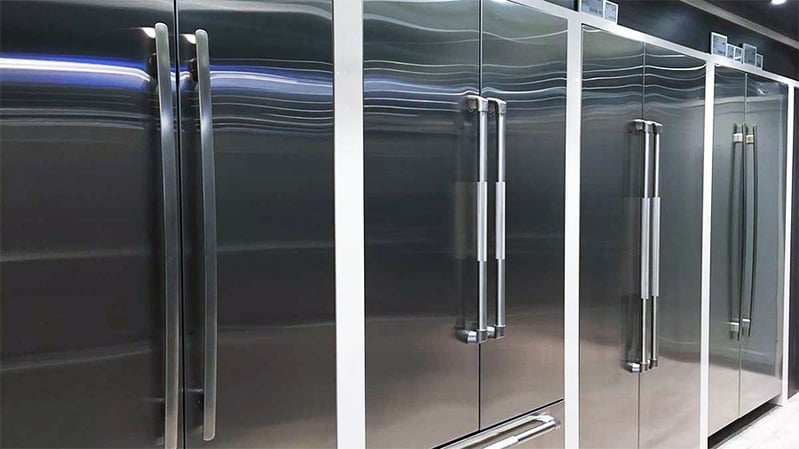 Integrated Refrigerators at Yale Appliance in Hanover
Integrated refrigerators fit totally inside the standard cabinet, so they are seamless and indistinguishable from the cabinet itself. The doors do protrude on the pro and regular counter depth refrigerators.
Integrated refrigerators, like professional refrigerators, will cost a lot more as well.
Professional Refrigerators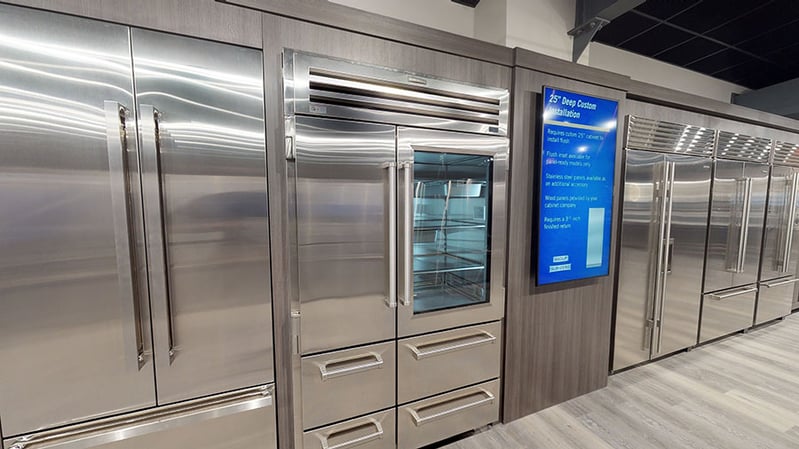 Professional Refrigerators at Yale Appliance in Hanover
Professional refrigerators are taller at 84 inches and have the compressors on the top with a "restaurant" or commercial look for a much higher price of $8,000-16,000.
Watch the video below to see the differences between counter depth, integrated, and professional refrigerators.
Additional Resources
Download the Yale Counter Depth Refrigerator Buying Guide with features, specs, and inside buying tips for regular, pro, and integrated counter depth refrigerators. Well over 580,000 people have read a Yale Guide.
Related Articles
WHY SHOULD YOU TRUST US?
A few review sites have placed this at the bottom of their articles. So here is our take: Our mission is to find reliable products for you to buy. Other review sites may say this as well.
However, we don't love every product. Quite frankly, it costs us way too much money in repair costs to support less reliable brands.
In fact, we sell fewer brands than most appliance stores. Here is why:
We feel it is our responsibility to repair your appliances after you buy them.
We now have 30 service technicians, each averaging 8-10 calls a day Monday through Friday, plus another 110 on Saturday. That's over 30,000 service calls logged in one year.
The labor rates of fixing an appliance do not come close to the true cost in any product's warranty period.
That is why no major retailer has a service department. It costs too much labor, money and time.
Our Blog is a bit different than most others you will read. We cannot write glowing reviews of unreliable products.
Hopefully, the bloggers and organizations who write such glowing product reviews for every brand consider servicing these products first. Only then they will understand the consequences of their marketing.
Steve Sheinkopf
My goal has always been simple: I want Yale to be the best retail experience anywhere. I have tried to create a compelling environment for customers and employees alike.
A Note About Pricing
Pricing on this blog is for reference only and may include time sensitive rebates. We make every attempt to provide accurate pricing at time of publishing. Please call the stores for most accurate price.