Best Weber Genesis II Series BBQ Grills for 2021 (Reviews / Ratings / Prices)
Weber Genesis II is Weber's most popular grill series.
This series has decent sizes in three or four burners, good burner output, and is built to last longer than other competitive grills.
Buying a Genesis is not easy.
The model numbers are confusing. Genesis also has similar model numbers to their lesser-priced Spirit line.
First, you will learn about all the features and differences between all the available Genesis grills. Then we'll show you the main benefits of buying a Weber Genesis grill.
We'll also show you how to interpret Weber grill codes along with comparisons between the lesser-priced Weber Spirits and higher-priced Weber Summit grills.
Now, no series of grills are best for every type of grilling, so you will also see a comparison between Genesis and other grill types like charcoal, pellet, and pro grills.
By the end of the article, you will have complete information on how to decide if the Weber Genesis is right for you.
Let's get started.
Note: Weber discontinued some of the lineups several days ago, probably due to component issues adding to the complexity of buying a Genesis grill.
Short on time? Get our free BBQ Buying Guide
Best Weber Genesis II Series Grills for 2021
For 2021, the "Most Popular" should also be synonymous with " the most available." Finding a Weber (or any other appliance) will be a challenge this year.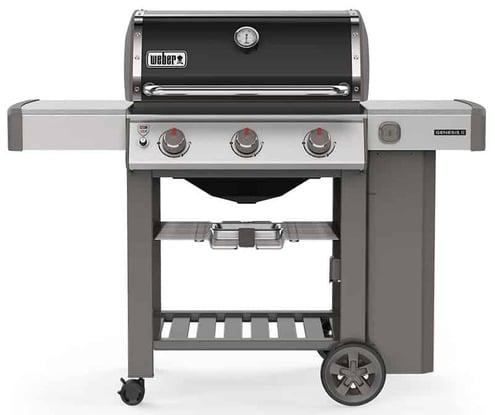 Features:
Main Burners: Btu-per-hour Input: 39,000
Dimensions - Lid Open (Inches): 62"H X 59"W X 31"D
Dimensions - Lid Closed (Inches): 47"H X 59"W X 29"D
Primary Cooking Area (Square Inches): 513
Tuck-away Warming Rack Area (Square Inches): 156
Total Cooking Area (Square Inches): 669
Stainless Steel Burners: 3
Fuel Type: Liquid Propane (20 Lb. Tank Sold Separately)
The E-310 is Weber's base Genesis grill with an open cart, enamel grates, and no sear or side burner. It is available in a three burner at 39,000 BTU or the E-410, four burners at 48,000 BTU.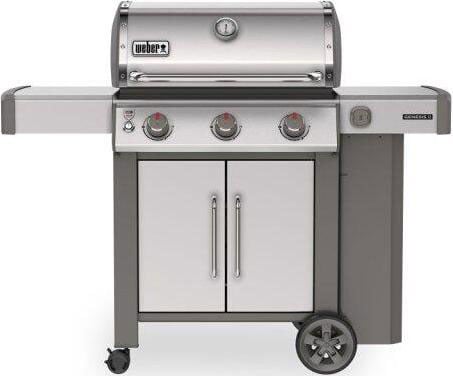 Features:
Main Burners: Btu-per-hour Input 39,000
Dimensions - Lid Open (Inches): 62"H X 59"W X 31"D
Dimensions - Lid Closed (Inches): 47"H X 59"W X 29"D
Primary Cooking Area (Square Inches): 513
Tuck-away Warming Rack Area (Square Inches): 156
Total Cooking Area (Square Inches): 669
Stainless Steel Burners: 3
Fuel Type: Liquid Propane (20 Lb. Tank Sold Separately)
Although the output is the same at 39,000 BTU, the S model features a stainless body and grates and a closed cart.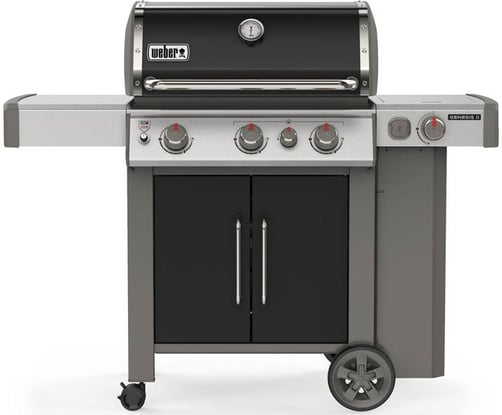 Features:
High-Performance Burners
Grease Management System
Porcelain-enameled, Cast-iron Cooking Grates
Porcelain-enameled Lid
IGrill 3 Compatible (Accessory Sold Separately, Not Included)
Built-in Lid Thermometer
Stainless Steel Heat Deflectors
Infinity Ignition
Stainless Steel Flavorizer Bars
Just like the SE-335, the E-335 is the same grill but with enamel grates at $979.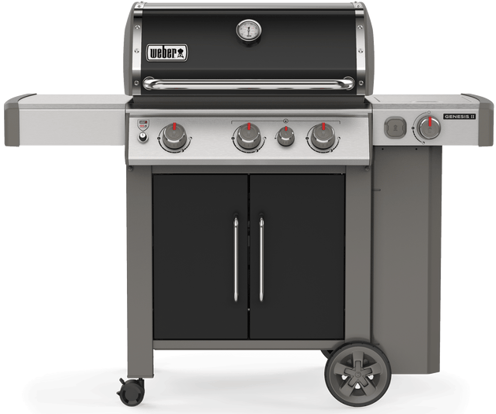 Features:
Main Burners: Btu-per-hour Input: 39,000
Sear Station Burner: Btu-per-hour Input: 9,000
Side Burner: Btu-per-hour: 12,000
Dimensions - Lid Open (Inches): 62"H X 59"W X 31"D
Dimensions - Lid Closed (Inches): 47"H X 59"W X 29"D
Primary Cooking Area (Square Inches): 513
Tuck-away Warming Rack Area (Square Inches): 156
Total Cooking Area (Square Inches): 669
Stainless Steel Burners: 3
Fuel Type: Liquid Propane (20 Lb. Tank Sold Separately)
Side Tables: 2
The SE-335 is Weber's best three-burner grill with the added Sear Station of 9,000 BTU and a side burner of 12,000 BTU. Now, you can cook outside without having to prepare in the kitchen.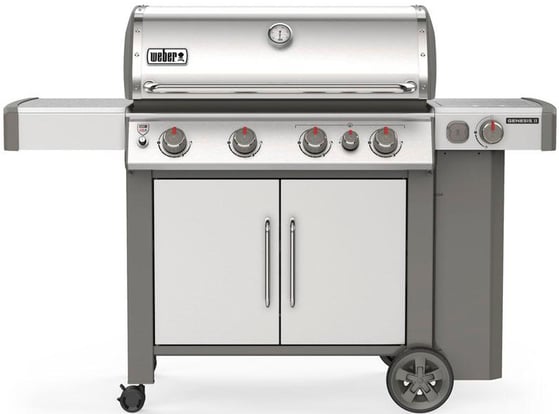 Features:
GS4 High-Performance Grilling System
Stainless Steel Flavorizer Bars
Grease Management System
7mm Diameter Solid Stainless Steel Rod Cooking Grates
Stainless Steel Lid
IGrill 3 Compatible (Accessory Sold Separately, Not Included)
Side Mounted Gas Tank
Built-in Lid Thermometer
Grill Cabinet
Stainless Steel Doors
Stainless Steel Heat Deflectors
Infinity Ignition
In theory, you can buy any of the three-burner grills as a four-burner. However, you will have a problem finding one.
The S-435 is available, at least for now. Availability does vary, so check in your area.
It is like the S-335, except it's larger, adds a burner for 48,000 BTU output.
Weber Genesis II Series Differences
The first significant difference is its size, either 3 or 4 burners, and 9,000 BTU.
After size, you have a choice of side burners, cabinet fronts, Sear Station, and stainless vs. porcelain grates in either series.
Although the Weber grills change in size, they still have the standard Weber GS4 features.
New Weber Genesis II Smart Grills

SX-335 - $1,299 | EX-335 - $1,199 | EX-315 - $999
First, any grill can be a Smart grill using the Weber iGrill App. The iGrill uses wireless meat probes to sense the inside temperature of your food.
Weber was at the forefront of Smart technology, and it is "Smart."
You can receive alerts to flip that burger or remove the food from your grill right off your phone.
Weber has recipes and other grilling ideas as well.
For the Smart grills, the iGrill is built-in, and you can see the temperature right on the grill and the app.
Why Buy a Weber Genesis II Series Grill?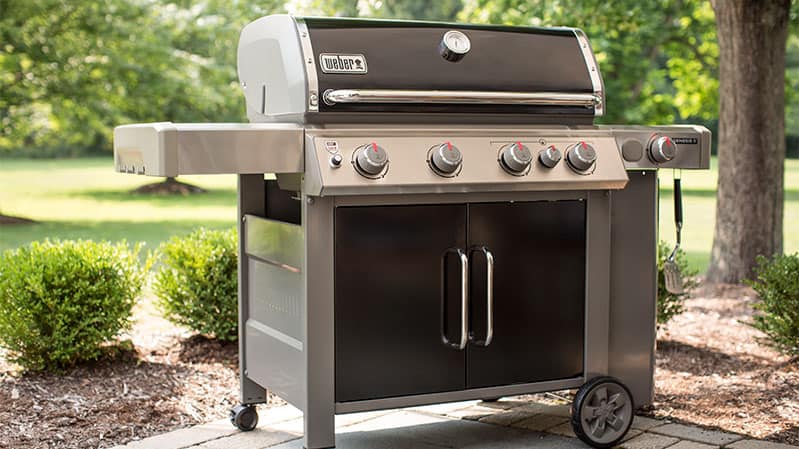 You shop at Yale for brand selection.
For example, you can choose between 14 different dishwasher brands and see 100 wall ovens in our three stores.
However, we only sell one grill brand, between $379 and $2,799 - Weber.
We have tried the most competitive brands. However, since we use these grills in demonstrations and leave them outside, many cannot handle a New England winter.
Others do not perform as their specs and marketing indicate.
I mentioned our chef placing her hand in the middle of an operating grill to show the cold spot. That is not a grill you would want in your house. Most stores probably would not even let you return it.
Weber is designed well on the outside with stainless steel, hard plastic, and enameled finishes to survive a New England winter for many years.
Be careful what you buy. Most grills aren't designed to last.
Weber Genesis II Series GS4 Signature Features
A few years ago, Weber redesigned their grills to light faster, have fewer flare-ups, and more consistent flame. Grease management was also engineered into the grill.
It was dubbed their "GS4." Let's briefly look at the improvements.
Igniters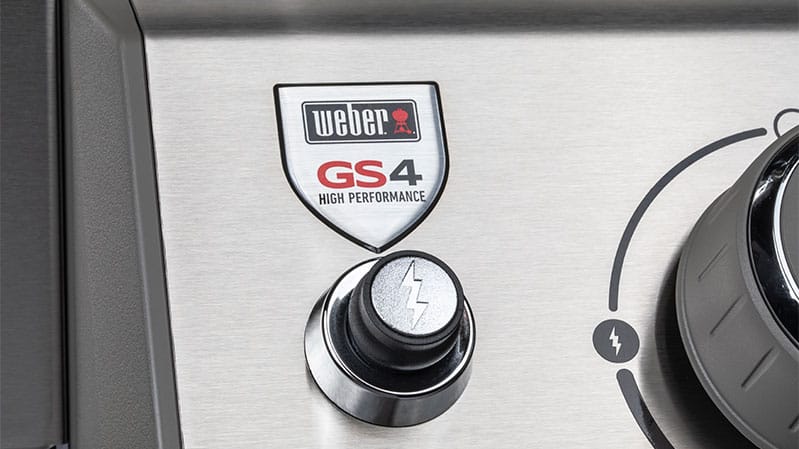 Weber's igniters allow your grill to start on the first strike.
The electrode is protected from the elements with a ceramic coating to capture the gas and ignite consistently without the worry of spills or weather.
Burners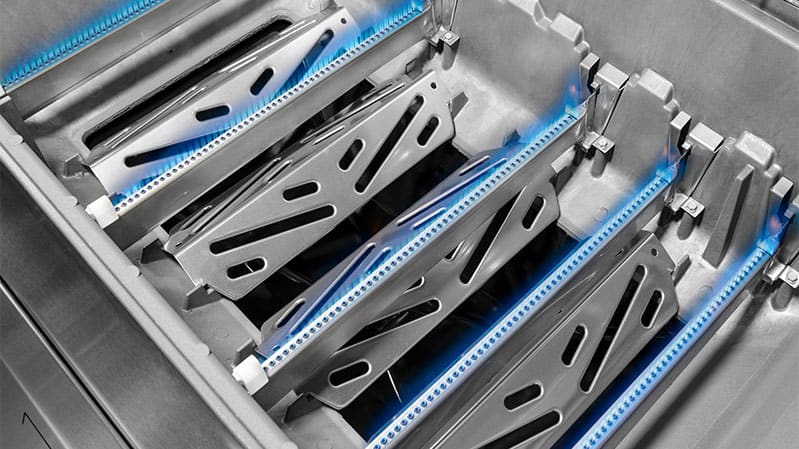 Their high-performance burners have large exit ports for a better flame.
The burners are made of high-grade 304 stainless steel possessing a high chromium content and nickel to help prevent them from rusting.
Flavorizer Bars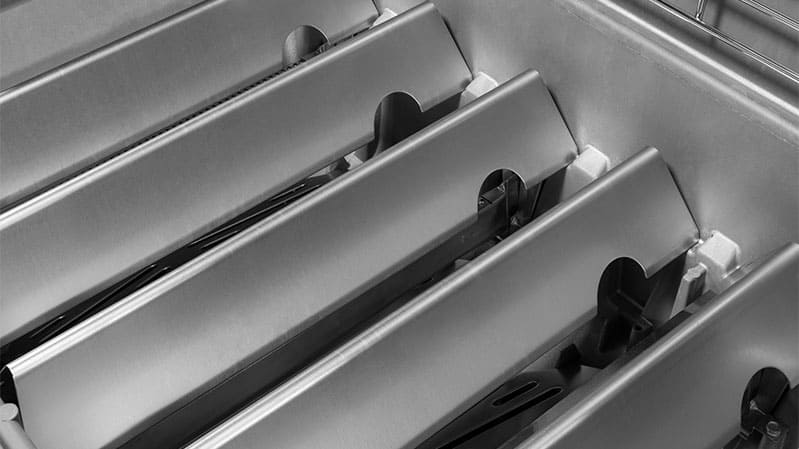 Weber also has introduced patented Flavorizer Bars, vaporizing drippings for easier cleaning. At the same time, it protects the burners from grease and flare-ups.
The GS4 has a second row of burners, whereas the regular Spirit and Summit have just one.
Grease Management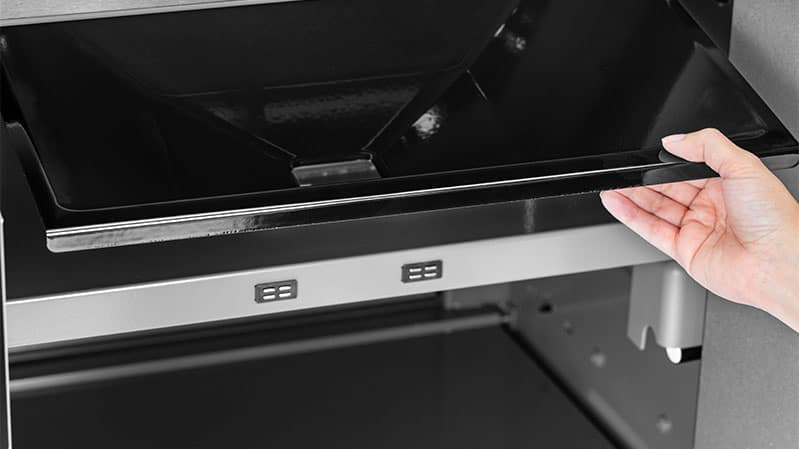 Their new management system allows for easy removal and a taller tray to trap more grease making your clean up faster.
The grease is centered with a better angle to allow a better flow, unlike the other two series.
Genesis II Series Grill Sizes and Output
The output on the size differs by the size.
Weber Genesis 3-burner Output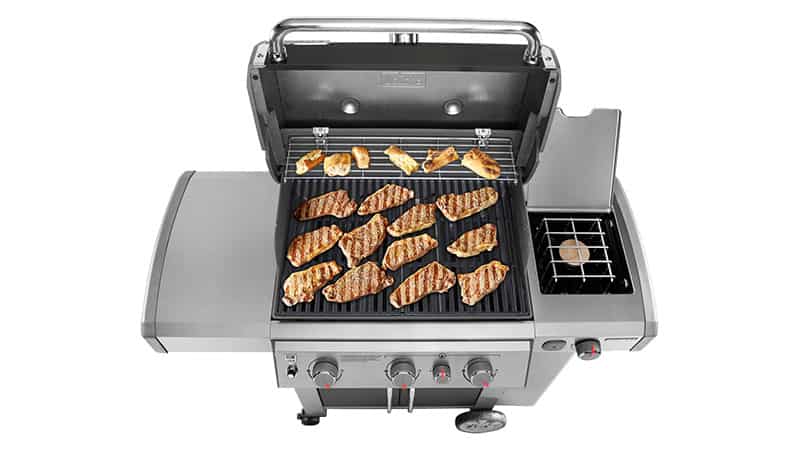 BTU Output: 39,000
Size: 513 Square inches 156 inches in the upper rack
Weber Genesis 4-burner Output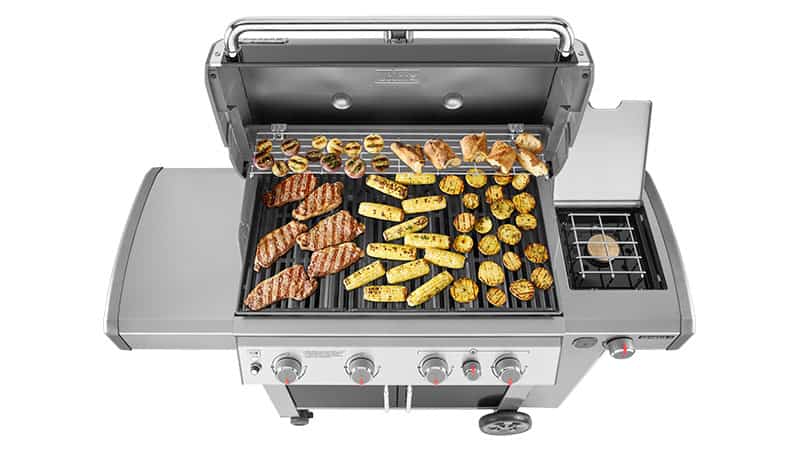 BTU Output: 48,000
Size: 646 Square inches, 198 in the upper rack
Sear Station: 9,000 on both
Side burners: 12,000 on both
How to Interpret Weber Grill Codes
You shop online or in a store and see a row of similar Weber Genesis grills with different model numbers.
You almost need a Rosetta Stone or decoder ring to understand the Weber model numbers, so the following is an easy table to crack the code.
If a model begins with E - you have a porcelain enamel (colored) hood and stainless Flavorizer Bars.
If the model begins with an S, then the grill has a stainless body, Flavorizer Bars, and stainless grates instead of porcelain. Stainless wears better than porcelain.
The number, such as 3 or 4, indicates the burners on the grill. For Genesis II series grills, you can choose between 3 or 4 burners.
The exception to the ruling is the SE model. It is a special edition for specific dealers.
SE features stainless grates with colored hoods and a handle light and 9 MM grates as opposed to the 7 MM grates of the S models.
Thicker grates hold heat better and theoretically cook faster.
For 2021, the colors are Ocean Blue, Crimson, Copper, and Smoke.
Unlike last year, Genesis is the only Weber with color choices.
Weber Genesis II Grill Codes
S - stands for stainless grates and cover
SE - stands for a color (there are five) and stainless grates
E - Enamel color hoods and porcelain grates
4 - Stands for four burners. The Genesis is now available with 3 or 4 burners.
3 - side burners, Sear Station (1 has no side burner or sear)
5 - Full cabinet doors (0 is an open cart)
Look at this model number: S-435. "S" means it's stainless. "4" is the number of burners it has. "35" means it has the Sear Station, stainless grates, and a stainless cover.
If you want a three burner with side burners, stainless cover, Sear Zone, and stainless grates, what would the model number be?
It would be an S-335.
You can buy any Genesis in natural or LP gas. However, they are designed to be one or the other and should not be field converted.
Natural Gas vs. Liquid Propane Weber Genesis Grills
Most Genesis II series grills are available in natural gas, but the colors may vary. You cannot place an LP grill or wood pellet grill on your roof deck or balcony by code for Bostonians.
When you think about it, carrying a liquid propane tank up five flights is a bad idea (I live in the South End).
You can, however, run a gas line and have a natural gas grill.
Why You Shouldn't Buy a Weber Genesis II Series Grill
Weber has the Sear Zone. It's just another row of burners delivering 9,000 BTU.
It doesn't have infrared burners for searing like professional outdoor grills.
You have no rotisserie capability on the Genesis without a top burner to provide even heat.
Smoking or the ability to add wood flavor is not built into the Genesis grill either.
Most of these capabilities are only available in grills starting at $2,199.
How Does Weber Genesis II Series Grills Compare to Other Popular BBQ Grills?
Weber Genesis II Series vs. Weber Spirit Series Grills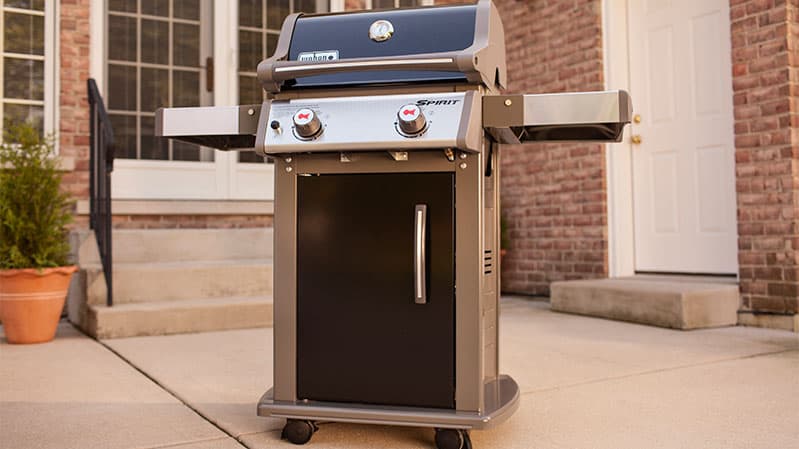 Weber Spirit Series BBQ Grill
Spirit is the least expensive Weber grill. It is less powerful at 2-3 burners versus 3-4 for Genesis. Only three Spirit grills have the GS4.
It is an older but still reliable line of grills.
The Weber Spirit series is the most competitive to the Genesis for features yet only has the GS4 grilling system in their Spirit II series models.
It has the same side burner output, but the grill and sear station are a bit underpowered compared to the Genesis at 32,000 versus 39,000 BTU and 7500 Versus 9,000 BTU for the sear station.
The Genesis is the larger version of the Spirit with better BTU output even with the same three burners. The grates and burners are a bit better as well.
However, a good comparison for you to consider is the best Spirit, the $699 SP-335 stainless with the stainless Flavorizer bars, side burner, and sear against the bigger and more powerful Genesis E-310 at $749.
One has better size and BTU, while the Spirit has better features.
Read More: Weber Spirit vs. Genesis II Series BBQ Grills
Weber Genesis II Series vs. Weber Summit Series Grills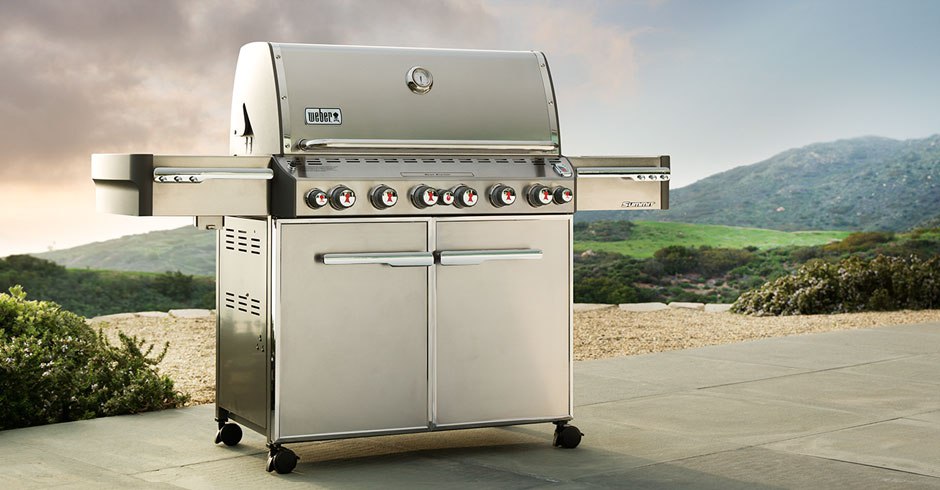 Weber Summit BBQ Grill
Summit is the largest Weber grill available in 4 and the largest size of 6 burners. Like the Spirit, the Summit does not have the latest GS4 improvements.
With the six burners, you have 6 10,000 BTU burners, 10,000 BTU sear, 10,600 BTU infrared rotisserie burner, and 6,000 BTU smoker boxes.
You can do more with the Summit. It is larger, plus you can effectively roast your meat because there is an infrared burner behind the rotisserie.
It's an important distinction.
As we said, you can buy the rotisserie accessory with the Genesis, but there is no burner behind it for even cooking.
The best comparison is the stainless four burner $1249 Genesis S-435 against the $2079 S-470 Summit.
The Genesis is 40% larger and is 40% cheaper than the better Summit series. However, you can do more with the Summit.
It has a rotisserie, smoker basket, and rotisserie burner.
The smoker basket allows you to infuse your meat with wood or other flavors.
That said, Genesis is the better grill for grilling only.
If you want a larger grill with a better rotisserie and smoking capability, then Summit is a better grill for you.
However, if you just want a bigger grill with no frills, Weber 4 series Genesis is the better choice.
Read More: Weber Genesis II vs. Weber Summit BBQ Grills
Weber Genesis II Series vs. Professional Outdoor Grills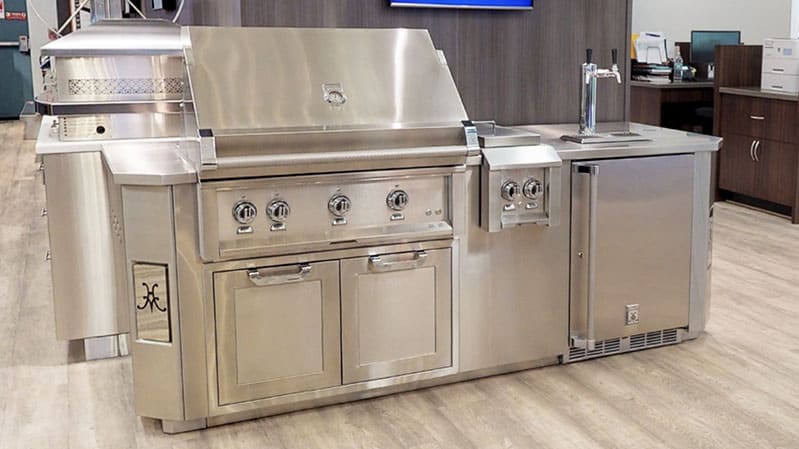 Aspire by Hestan Built-In BBQ Grill at Yale Appliance in Framingham
So how much better is a pro grill?
Professional grills have higher BTU output at 23-25,000 BTUs per burner, so you cook much faster than Genesis at 12-13,000 output per burner.
There is a much better sear as well. Pro grills use infrared technology, a hotter, more direct heat for much faster searing.
The Aspire by Hestan has a rotisserie that can fit up to 50 pounds of food with a much hotter 14,000 BTU infrared burner. Even the Weber Summit can only hold 20 pounds with a 10,600 BTU rotisserie burner.
Sounds good? It should.
However, a good pro grill will cost about $3,499 to start.
Read More: Best Professional Outdoor BBQ Grills
Weber Genesis II Series vs. Pellet Grills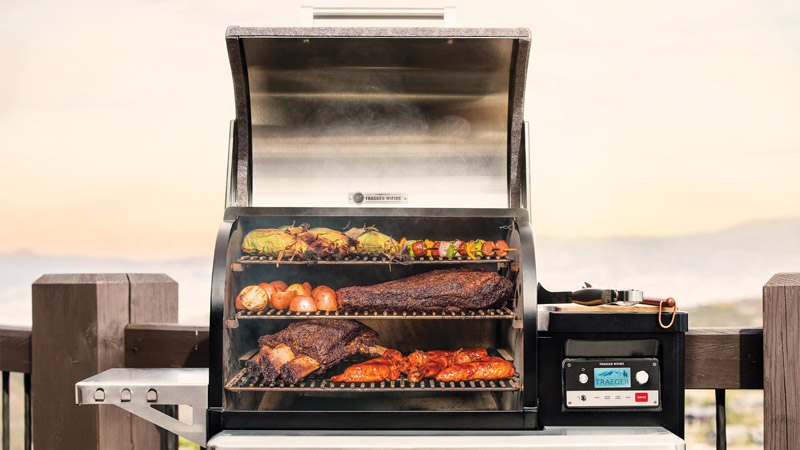 Traeger Wood Pellet Grill
I do not know why they call pellet types grills. They cannot reach the high temperatures of gas. It's an electric convection fan in a smoker.
Pellets are a totally different type of cooking based on even indirect heat. You can cook a brisket for a few hours with customized flavor pellets.
However, you cannot cook that burger quickly.
Its flavor compared to speed.
Bostonians, as we said, you cannot place a propane, wood pellet, or charcoal grill on your balcony. It's against code.
Weber Genesis II vs. Charcoal BBQ Grills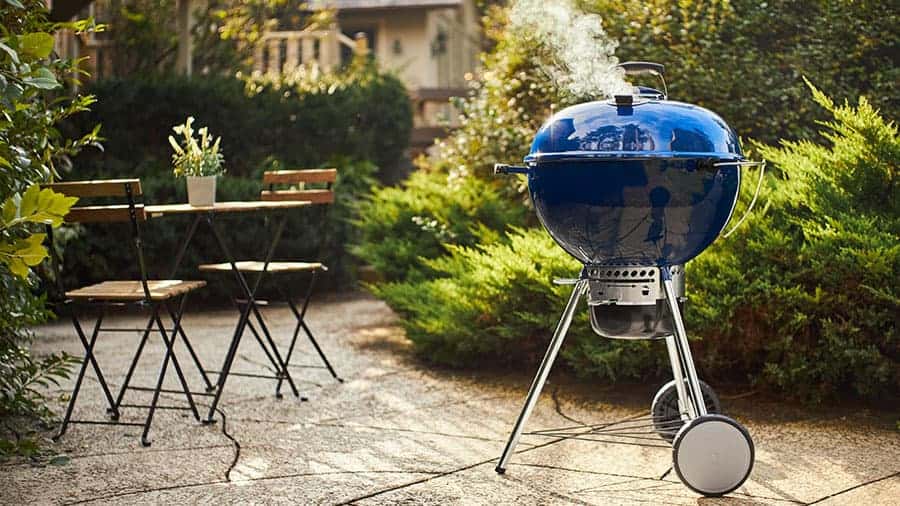 Weber Charcoal BBQ Grill
Charcoal has the heat and adds texture that gas cannot.
Gas grills are more precise, consistent, and easy to clean than charcoal.
You also do not have to add charcoal every time using the grill.
Gas is the easiest and the most precise way to grill, while charcoal will give you better flavor with a bit more prep and clean up.
Should You Buy a Weber Genesis II Series Grill?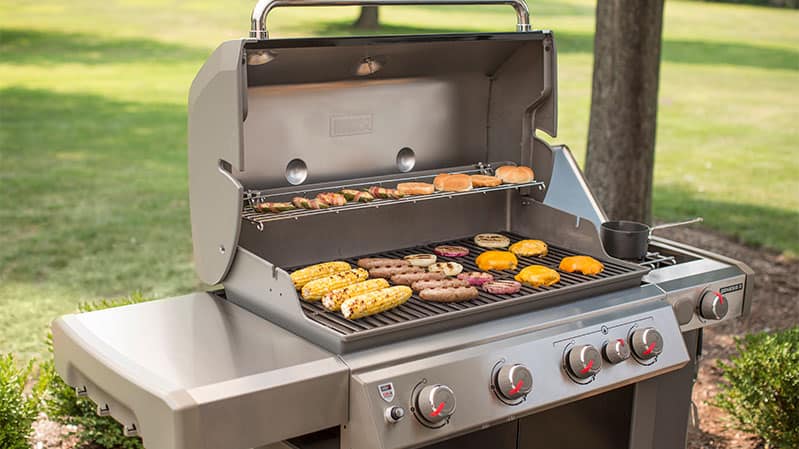 It depends.
You should also look at the Spirit grill. If you are grilling a couple of items, you still have decent features.
The Summit grill allows you to smoke your meat or roast it using its rotisserie.
For professionals or more seasoned chefs or grill aficionados, Lynx, DCS, and Hestan offer a much better grill with higher BTU, infrared sears, and overall better construction.
You will have to pay a lot more for those features, usually over $3799-10,000.
Genesis, however, is the most popular grill for a reason.
It is far more durable than a competitive brand.
You also have the right size, options, output, and features for the price.
The basic Genesis is not expensive at $749. You can also buy a large grill with good features for under $1,300.
It will light quickly, maintain temperature, and be easier to clean than the Spirit, Summit, and other competitive brands.
Weber also is built better than its competitors (and we have carried most of them). It will last longer with better reliability.
If you are looking for a great, dependable larger-sized grill without the frills, Genesis should be considered.
Frequently Asked Questions About Weber Grills
1. Are Weber Genesis II Grills made in the US?
No, not all Weber grills are made in the USA. Genesis II models with x10 and x30 are made in China. An easy way to know is the unit with an open shelf cart.
2. What is Weber's Smart Grill Hub, and why is it useful?
Weber's Smart Grilling Hub is a connectivity accessory that mounts to the side of your grill. The way to "connect" the accessory piece is by downloading the Smart Grilling Hub app on your phone. The app is Bluetooth connected and will send alerts to your phone, such as temperature readings for four different meat types.
This includes alarming you when it reaches a minimum or maximum temperature. This allows you to know when your food is done cooking without cutting into the meat, checking the color, or standing by the grill.
All this functionality is now built into the Smart grills.
3. Can you buy a Weber Genesis II Series grill in natural gas?
Yes, most Genesis is available in natural gas.
Additional Resources
Want to know the latest information on all the best grills? Download the Yale BBQ Grill Buying Guide with features, BTU outputs of all the grills, and detailed profiles of all the best brands. Well over 800,000 people have read a Yale Guide.
Related Articles
Why Should You Trust Us?
It seems that every appliance review has nothing but glowing comments about almost every product, yet you read customer reviews and they are almost universally bad.
We are here to fill in the disconnect. We'll give you the best features, and the drawbacks as well, including reliability based on over 37,000 calls performed by our service team just last year. Our goal is to give you ALL the information so you know what's right for you.
Please consider subscribing or adding to the conversation in the comments below. We appreciate you stopping by.
A Note About Pricing
Pricing on this blog is for reference only and may include time sensitive rebates. We make every attempt to provide accurate pricing at time of publishing. Please call the stores for most accurate price.