New Weber Summit Charcoal Grill (Reviews/Ratings/Prices)
After 2 years from launching Weber's first charcoal grill and smoker, the Weber Summit Charcoal Grill has been getting some rave reviews.
You should consider the Weber Charcoal Summit because it adds texture and flavor not achievable by gas alone.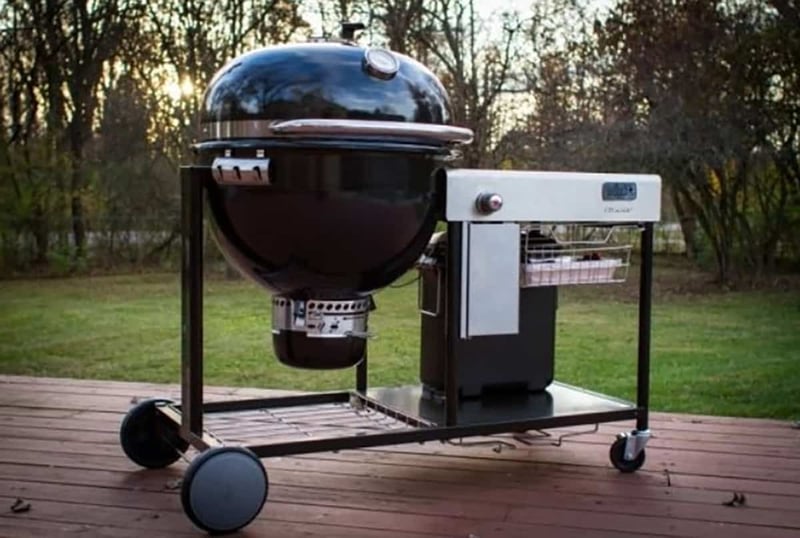 In this article, you will learn the differences between gas and charcoal cooking as well as the various features of the Weber Summit.
Charcoal and Gas Cooking
I once ordered a chicken sandwich at a restaurant and asked if the sandwich was any good. The chef said it would be the best chicken sandwich I would ever eat. He was right because it was cooked on a charcoal grill.
All the professional grills and restaurant grills use some variant of charcoal and wood because they enhance and infuse the meat with better flavor.
On the Summit grill, you have the flavor of charcoal and the speed of gas cooking. It's designed for everyone, whether a seasoned pro or a beginner. The unit comes with step-by-step instructions so that anyone can feel comfortable and cook on it successfully, whether just charcoal or smoking or a combination of the two.
Let's look at the unit.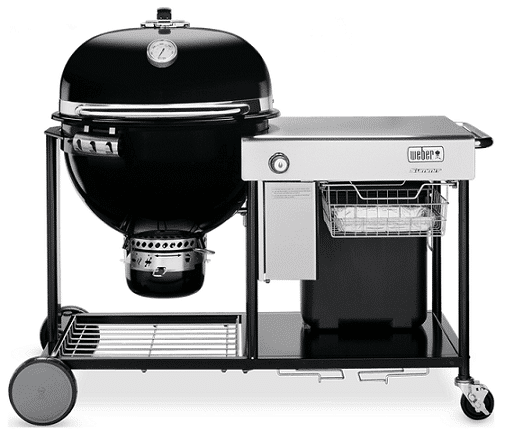 Cooking System
Stainless steel hinged cooking grate
Porcelain-enameled, air-insulated, double-walled bowl and lid
Stainless steel air insulated hinged diffuser plate
Two position fuel grate
Slow cook, smoke bowl vent setting
Construction
Heavy-duty steel cart frame
One-Touch™ cleaning system
Removable, high-capacity aluminum ash catcher
Wire bottom shelf
Easy open lid hinge
Rapidfire® lid damper
The unit is available in two sizes, 16 or 22 inches. The price is reasonable, compared to some of the competition compared to the Green Egg or Kalamazoo, for example.
The unit has some minor assembly, but not much and weighs just about 150 pounds. Unlike the competition, most of the accessories are at no extra charge. The competitive Big Green Egg's accessories are all a la carte and expensive.
The hybrid drawer Kalamazoo also has the ability to cook gas and charcoal, but starts at $10,000.
Key Highlights
Lid
The lid is constructed out of porcelain and aluminum. The advantage to this, along with a spring hinge system, is not only easy on the wrist, it will also offer great insulation. The unit will keep the outside of the unit 50% cooler than the internal temperature. (Most of the competition are extremely hot on the outside, raising safety concerns for some).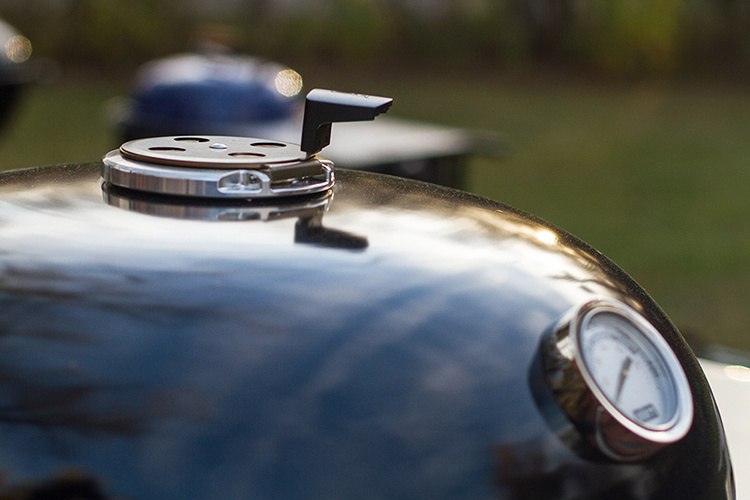 Pre-heat
If you have cooked with other charcoal grills, one of the most frustrating complaints we hear is that the pre-heat can be long, or that you're having to "baby sit" the unit.
A typical charcoal grill can't keep a low consistent temperature for a long period of time. So the unit requires being "baby sat".
The Big Green Egg calls it "burping" or letting the heat escape by opening the lid. The temperature most often needs to be adjusted when cooking for a long period of time. In addition, the outside temperature of the unit becomes scolding hot.
With the construction of Weber's Summit Charcoal Grill, the big point of difference is being able to maintain temperature consistently and "set it" and "forget it", especially for a long period of time.
Now you can enjoy your company instead of laboring at the grill all day.
The Weber is one of the fastest pre-heat times at roughly 20 minutes versus most competition at around 35-40 minutes, to be evenly heated.
Cart Option
Weber also has a cart for this unit which allows for easy moving, charcoal/wood chunk storage, a place for drip pans, as well as small prep area.
Ignition
The unit requires a 1lb gas tank to ignite the charcoal. Turn the dial to turn the gas on and you'll hear a click and then after about three minutes you can shut the gas off and the charcoal will be lit. You can use charcoal to cook and or wood chunks, the possibilities are limitless.
Two Types of Wood
There are lots of flavors to choose from for example, Apple, Cherry, Pecan, Mesquite & Hickory.
1. Smoke Chips: Coarsely chopped wood chips ideal for smoking over shorter periods of time. You'd place directly on the cooking grate along with charcoal or a smoker box. You want to make sure to soak in water before use.
2. Smoke Chunks: Large pieces of wood placed among the charcoal or smoker. These are best for smoking over a long period of time.
Watch: The New Weber Summit Charcoal Grill
How to Use
At the top of the grill, you will notice there is a round vent that can be adjusted. The more air you allow into the grill the hotter the fire will grow and the faster you'd need to replace charcoal and or wood chips.
To minimize replenishing, you can keep the lid closed as much as possible. In additionm the vents on the bottom of the grill should be left open while grilling; however the top vent can be closed as much as halfway to maintain the desired cooking temperature.
On the bottom of the grill, you will notice a stainless ash catcher. This covers the vents in the grill and can restrict the coals of air which will lower the heat very quickly.
It's suggested for proper temperature management to empty the ashtray every 30 minutes or so.
As always, Weber offers a bunch of additional accessory options such as drip pans, covers, grill tools etc.
Another great innovation with this series is Weber's Gourmet BBQ System. The cooking grates fit 22 inch kettles and the performer charcoal grills as well as the Weber Spirit, Genesis and Summit Gas Grills. Once you have the grate, all you have to do is remove the center insert grate and replace it with any of Weber's Gourmet Cookware accessories.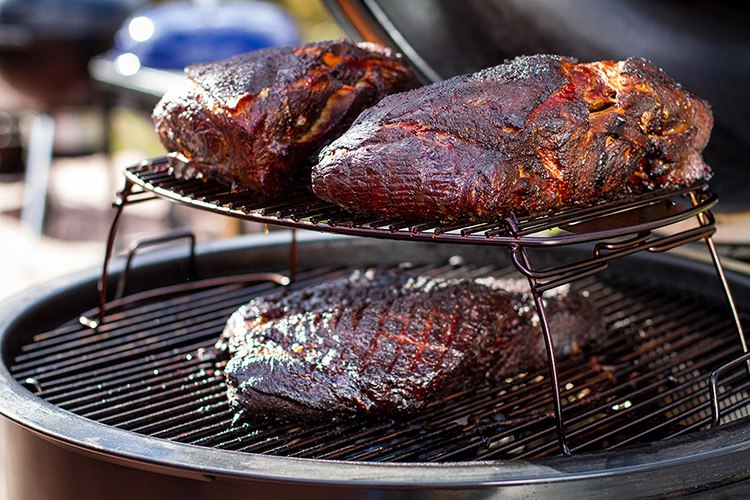 Weber Summit 2 Tiered Rack
This is pretty awesome. They offer a griddle, poultry roaster, wok, sear grate and pizza stone with carry rack.
When you purchase your Summit Charcoal Grill, you can go to Weber's website and register for a free recipe book, with over 100 recipes and pictures. It's great for opening your eyes to all of the versatility this grill can offer.
In addition, there are a few pages dedicated to the grilling basics which will explain simple "how to's" and tips and tricks to get perfect results every time, with the grill as well as working with woods and charcoal.
Final Thoughts
The Weber Summit Charcoal Grill definitely offers you great value as well as a wide range of cooking options. Cooking with a true fire always gives the best authentic results when cooking food compared to a gas flame.
In addition, what's great with this unit is being able to cook for a long period of time with a full range in temperature accurately as well as smoking all in one unit.
Weber has made it super simple, with step by step guides and instructions, whether a beginner or a seasoned pro to get the best tasting results every time.
The Charcoal Summit will allow you to cook with the better flavor and texture than gas without having to re-lean and re-educate yourself like the other ceramic grills on the market.
Ask for a demonstration at your local store. You can check our events page for BBQ demos this Spring and Summer.
Additional Resources
Get our free BBQ Grill Buying Guide for reviews of all the major brands. Over 130,000 people have already found answers in a Yale guide.
Related Articles
Why Should You Trust Us?
It seems that every appliance review has nothing but glowing comments about almost every product, yet you read customer reviews and they are almost universally bad.
We are here to fill in the disconnect. We'll give you the best features, and the drawbacks as well, including reliability based on over 37,000 calls performed by our service team just last year. Our goal is to give you ALL the information so you know what's right for you.
Please consider subscribing or adding to the conversation in the comments below. We appreciate you stopping by.
Danny Nguyen
Danny Nguyen has over 18 years of experience at Yale Appliance. He takes pride in helping customers complete their dream kitchens. Danny enjoys eating, running, and competing in Spartan races. If he's not competing in a race, he is often traveling with his family.
A Note About Pricing
Pricing on this blog is for reference only and may include time sensitive rebates. We make every attempt to provide accurate pricing at time of publishing. Please call the stores for most accurate price.