Should You Buy The LG Styler S3RFBN? (Reviews / Ratings / Prices)
Editor's Note: I have to admit. I didn't know much about the LG Styler before reading this post. The LG Styler can save you a ton of money, mainly dry cleaning bills. I like appliances with a good ROI, and the LG Styler is undoubtedly one.
Ahh, ironing, that thing I'm supposed to do as a "fully functioning" adult, but don't. If you asked me to iron something, I can't seem to iron out those last three wrinkles.
Let's not even get into the likelihood of me leaving grill marks on my arm/foot/ you name the body part.
So what do I do with my wrinkled clothes, you ask?
Well, don't judge me, but I use Downy wrinkle release. Or, I might take that clean but wrinkled shirt and just put it back in the washer to start the process over again.
My other options are to iron them or take them to the dry cleaners and get them pressed. Those aren't great options because a) ironing is time-consuming, and b) dry cleaners are expensive.
So what alternatives do you have?
The LG Styler can help with wrinkles and a whole bunch more. In this article, you'll learn what the LG Styler is, how it performs through actual testing, and if it's worth buying.
You will also see a comparison between the LG Styler and Samsung's new AirDresser.
Let's get started.
What Is The LG Styler?
Features:

Wrinkle Reducer
Odor Reducer
Gentle Dry for Delicates
SmartThinQ® Technology
Pants Crease Care
Sanitize Clothes, Toys and More
The LG Styler is a standalone, almost futuristic-like appliance. It's essentially a freestanding cabinet with a motor generating steam and pumping it into the compartment as needed.
It's designed to provide gentle yet effective care to your fabrics and clothing. Once the clothing is steamed, it's gently dried before the end of the cycle.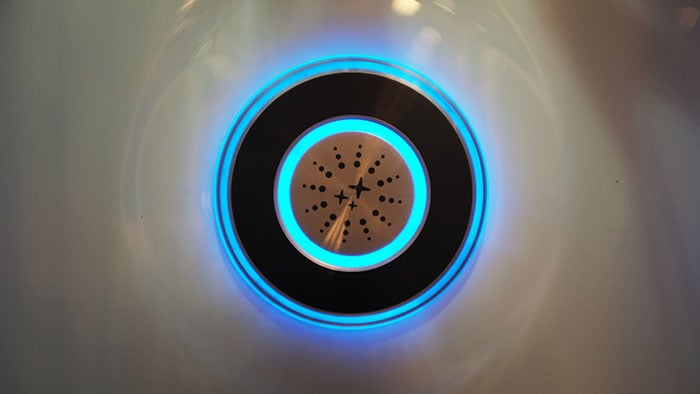 Where steam enters from for steaming clothing in the LG Styler.
It can hold up to 4 items at a time inside and is roughly 18" W X 72" H x 23" D.
It runs off a basic 110-volt outlet and is a simple plugin away from being fully up and running.
You only need to add water to the fill tank and empty the drain tank when full. It's extremely efficient, and you will probably refill the tank 1-2 times a week.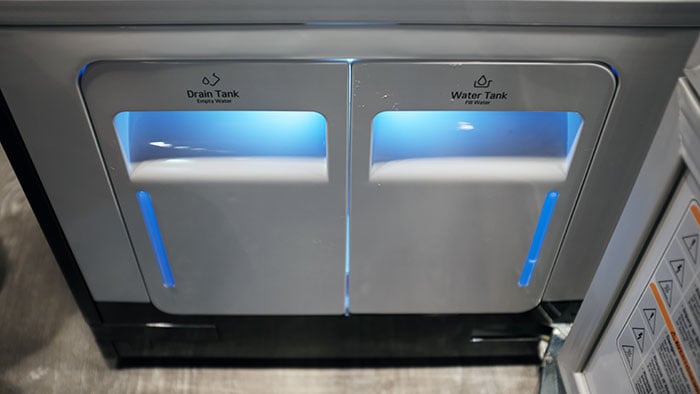 LG Styler Water And Drain Tanks
That is the only maintenance you need to do on the machine.
LG Styler S3RFBN Cycles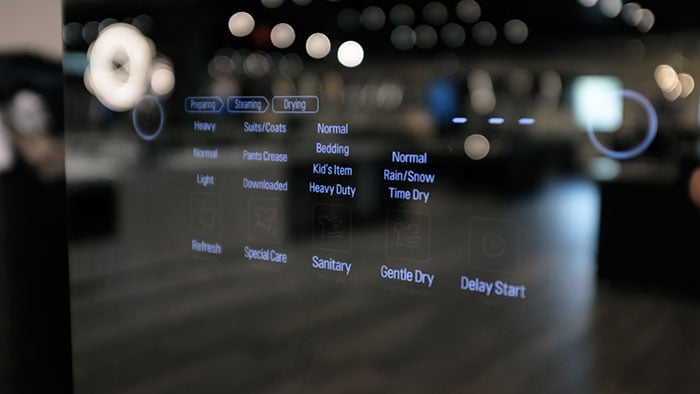 LG Styler Controls
The LG Styler is programmed for Refresh, Sanitary, and Gentle Dry.
There is a compartment on the door to crease pants and a removable shelf for items that don't go on hangers.
It also has an option to use downloaded cycles from LG's app. So yes, the Styler is Wi-Fi enabled and can be remotely controlled and monitored from your smartphone.
This opens up its potential as LG will develop and add more cycles over the unit's life.
Short on time? Get our free Dryer Buying Guide
Advantages Of The LG Styler
The LG Styler bills itself first and foremost as a sanitizer and refresher for your clothing, fabrics, pillows, or stuffed animals.
During the current pandemic, using the LG Styler to sanitize face masks is a convenient way to ensure you are staying safe.
You can also imbue your clothing with fresh scents from dryer sheets and dry off delicate items that normally require you to air dry them.
However, it does not remove stains, and it's not a replacement for your washer or dryer.
For people with large wardrobes and changing seasons, the LG Styler promises to refresh your stored seasonal clothing.
It's also certified by the British Allergy Foundation to remove all allergens from your clothing with 99% effectiveness.
How Does The LG Styler Sanitize?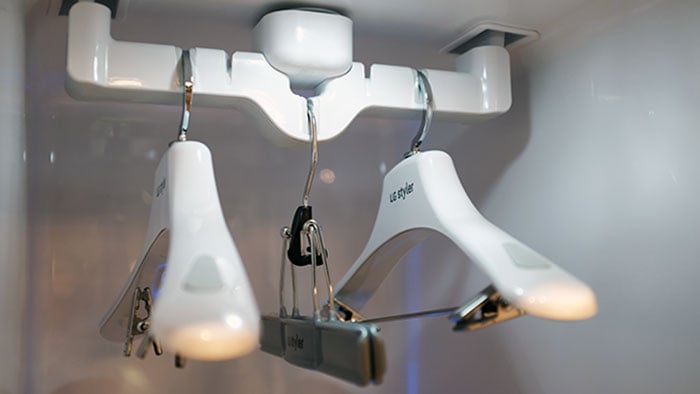 LG Styler Coat Hangers That Vibrate During The Sanitation Cycle
Depending on the cycle, there are a few hangers that vibrate.
The hangers actually vibrate up to 180 times per minute. Think about that.
For a 1-hour cycle, your clothing items are being vibrated over 10,000 times.
This is really where the magic of the Styler happens.
Your clothing is gently agitated to allow the steam to penetrate fabric and get into all the nooks and crannies.
The steam itself is sanitizing, deodorizing, and relaxing the fabric to remove all the wrinkles.
Does The LG Styler Actually Work?
You may be asking, does the LG Styler really work as well as a dry cleaner? Or even the good old fashioned iron?
Although there are plenty of positive reviews online, I wanted to see if it really held up to those claims. I tested a dress shirt, T-Shirt, and a pair of dress pants in the unit.
All fabulously wrinkled, of course, and they came out mostly non-wrinkled.
Before Using The LG Styler
After Using The LG Styler
In most cases, yes, the Styler does what it is intended to. We've tested the Styler at Yale and have found it to do a superb job, with a caveat.
The caveat is that it has somewhat of a short learning curve.
As with any new appliance, the user manual is key to unlocking its full potential.
It may have helped if I went through the user manual from the start.
This is where the learning curve came into play. You definitely need to select the correct cycle and time length to ensure proper results.
My first few testing cycles produced lackluster results, but I realized the longer cycles worked much better for really wrinkled items.
Cycle times vary between as short as 20 minutes and upwards of 2 hours.
Every cycle I tested had shown how quiet the machine was, with an anomaly happening at one point where it shook rather violently.
This could be explained by me forgetting to put the drip tray back in place.
I saw the best results for wrinkles on either the 48 minute or 1 hour 7-minute refresh cycle.
Items made primarily of cotton should definitely run on the longer cycle, as that material is much denser, so it really holds on to wrinkles.
The 20-minute cycle may work better for just 1 item, as I found it basically did nothing when packed full.
Once I spent enough time with the Styler, I felt confident that it is a worthwhile appliance. I actually felt that I might never need to use Downy Wrinkle Releaser ever again if I bought it.
How Much Does The LG Styler Cost?
The LG Styer is currently $1,349. During a sale, it can be as low as $1,198.
According to Business Insider from back in 2012, the average household spends $500 / year on dry cleaning expenses.
Depending on if you are someone who is a business worker, then you may even exceed that number just individually.
If you dry clean just one suit a week, which typically costs $20, at the end of the year, you would have spent over $1,000.
With a regular price at $1,999 and seen on sale for as low as $1,198, the Styler will surely pay for itself, and quickly as well.
How Does The LG Styler Compare To Samsung's AirDresser?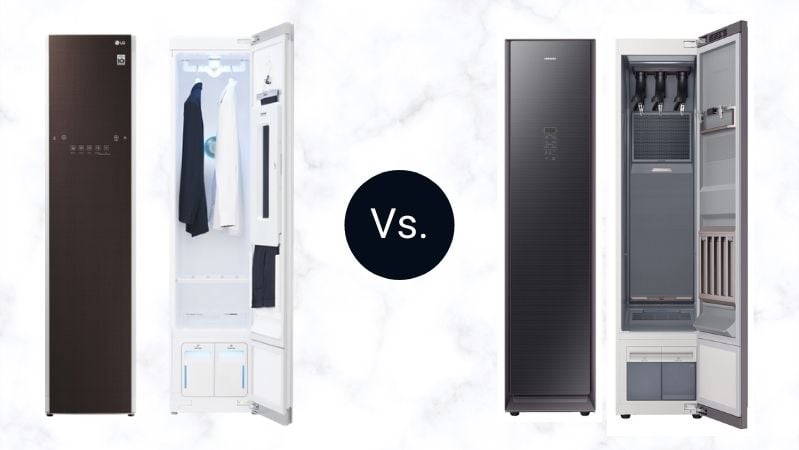 LG Styler | Samsung AirDresser
Samsung recently released a direct competitor to the LG Styler in the US, called the Air Dresser.
It comes in one mirrored finish, at a lower cost. Samsung's method is different, but the goal and results are the same as LG.
Cycle times are similar. LG has a longer warranty. Samsung lacks creasing capability. Samsung has a dehumidifier capability as well and claims to have a larger capacity in the same space.
Should You Buy The LG Styler S3RFBN?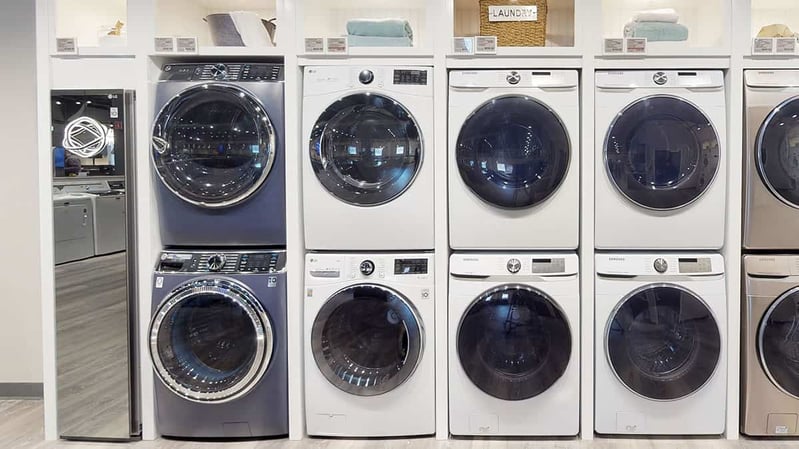 LG Styler (Left) at Yale Appliance in Hanover
In all, LG has created a new type of appliance that works as intended.
I would not call it a completely life-changing appliance, but I think it makes a point to save you money and offers a lot of at-home conveniences when that is important.
The LG Styler has a lot going for it and would benefit most people. Samsung's Air Dresser makes a convincing bargain and comes in $50 less for nearly the same features, albeit without the pants creaser and a shorter warranty than the LG.
If you are someone who needs creased pants, I think that tips the scale towards LG.
Additional Resources
Have more questions about laundry? Get the Yale Dryer Buying Guide with features, specs, and capacities of all the major brands. Well over 800,000 people have read a Yale Guide.
Related Articles:
Why Should You Trust Us?
It seems that every appliance review has nothing but glowing comments about almost every product, yet you read customer reviews and they are almost universally bad.
We are here to fill in the disconnect. We'll give you the best features, and the drawbacks as well, including reliability based on over 37,000 calls performed by our service team just last year. Our goal is to give you ALL the information so you know what's right for you.
Please consider subscribing or adding to the conversation in the comments below. We appreciate you stopping by.
Anthony DiNatale
Originally from Chicago, Illinois, he has been in the appliance industry for over seven years. He is incredibly patient and strives to help people achieve what they envision for their homes. Anthony considers himself a "nerd," loving all things Star Wars, and would choose a night gaming and hanging out with his lovely wife (and his pets, Moose the basset, Timber the cat, and Marvel, the parrot) over a night out any day.
A Note About Pricing
Pricing on this blog is for reference only and may include time sensitive rebates. We make every attempt to provide accurate pricing at time of publishing. Please call the stores for most accurate price.