Best Steam Dryers (Reviews / Ratings / Prices)
Before we look at steam dryers, you may be thinking: I will probably be buying a steam washer, too. Do I even need a steam dryer? We will look at the benefits of steam dryers, how it works and then the best models to consider.

Steam Dryers
Even though steam is a byproduct of drying, applying steam at the right times to wet clothes or dry clothes result in some effective advantages. Steam penetrates and moistens clothes deeply to effectively soften, refresh, and reduces wrinkles. Less time on the ironing board!
Because steam can reach high temperatures it sanitizes the fabric which helps to eliminate those nasty smells and reduce statics keeping clothes looking their best.
Short on time? Get our free Dryer Buying Guide
Fall is just around the corner and it's time to swap clothes around. Just throw them in the steam dryer to release the wrinkles and refresh the funky smell.
So, eliminating odors, refreshing clothes and releasing wrinkles are the reasons to consider a steam dryer.
Steam Dryer or Steam Washer?
It depends. Steam in a washer is predominantly used for powering out stains. You cannot simply refresh a garment quickly or release wrinkles in a washer. Of course, you cannot power out stains in a dryer either.
Hook Ups
There is no additional require plumbing connection to access steam in the dryer. Although an additional hose kit is allowing connection from the washer to the dryer to allow a minimum amount of water to produce the steam.
Prices will vary on dryers depending on brand and model with an up charge of $100-200 for a gas dryer. Please review our Dryer Buying Guide for additional information.
Now, let's introduce the best steam dryers.
The Best Steam Dryers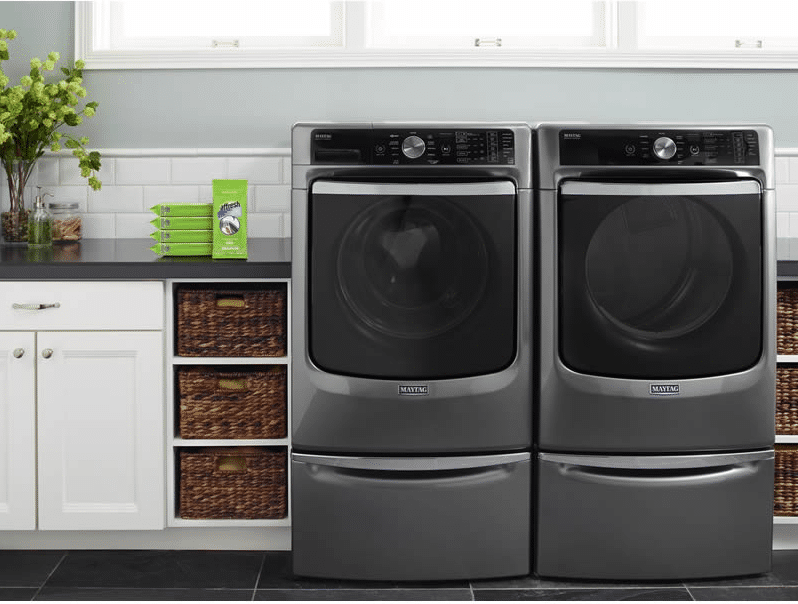 Features:
Refresh Cycle with Steam – This cycle freshens clothes without having to wash them. Clothes are odor and wrinkle free.
Reduce Static Option - The Reduce Static option cuts down on cling with a spray of hot steam as clothes tumble at the end of the cycle.
Rapid Dry Cycle- Waiting for the dryer is no fun. Get small loads like that must-have outfit dry in a jiffy with the Rapid Dry cycle on Maytag® dryers.
7.4 cu/ft - Large capacity, there's plenty of room to get your largest loads evenly dried.
Backed by a 10-year parts warranty on the drive motor and dryer drum, Maytag continued to manufacture reliable MADE in AMERICA using stronger commercial parts gives a piece of mind your dryer will last more than a couple of years.
If your laundry room is restricted to space, Maytag dryers can four-way vent left, right, bottom or rear. There are ten drying cycles with user-friendly controls to select which mode most suitable for your fabrics.

Features:
15 Minute dry - Great small loads such as your gym clothes, work uniform, or sleepwear.
Extended tumble - This is heat free and keeps tumbling your clothes until you are ready to grab them so they do not get wrinkles.
9 dry cycles – for every kind of fabric.
Instant refresh cycle – Excellent for refreshing clothes that may be clean but wrinkled.
Electrolux offers the largest cubic capacity of 8.0 cu/ft, with their vent recessed so installation does not take up much more additional depth as other brands when placed in a tight closet space depth.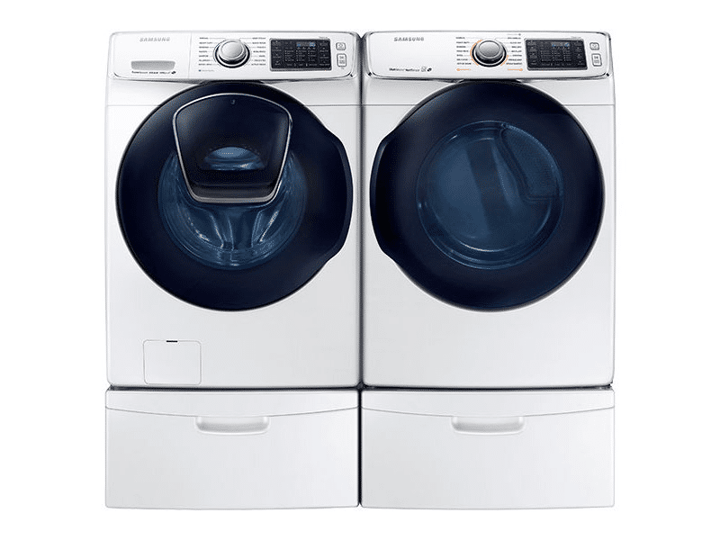 Features:
7.5 cu/ft - large capacity for very fabric needs.
Vent Sensor - detects problems and reminds you when you need to clean your vent to avoid lint blockages.
Wi-Fi connectivity - Remotely control and monitor your Samsung washer and dryer from anywhere using your mobile devices.
Stainless steel drum - More durable and prevents scratches or nicks from metal zippers.
Samsung has always been an innovative company, especially with Smart Home systems today connecting home appliances to WiFi monitoring offering convenience and control when you are at home or away. This is a new technology applied to laundry, and since we service everything we sell, it is still in the early stages to offer any feedback.
So, which would you buy?
In the laundry segment, dryers have not gained much attention. Dryers accommodate the washer, often discounts and incentives are a focus on the washer when purchased as a pair additional rebates apply. The price difference with a steam dryer and regular dryer leveled out in recent years.
Electrolux offers the largest capacity and is the shallowest, while Samsung has Wi-Fi connectivity and Maytag has options to vent four ways and made in America. Ultimately the tough decision is choosing which washer may fit your needs and the dryer will pair with it.
In terms of capacity, all are huge, but reliability is a different story. Maytag along with its parent Whirlpool is the most reliable laundry you can currently buy with Samsung being next.
Additional Resources
Want to learn more about steam dryers? Download our Dryer Buying Guide for detailed information on all the best brands and features. Well over 250,000 people have read a Yale Guide.
Related Articles:
A Note About Pricing
Pricing on this blog is for reference only and may include time sensitive rebates. We make every attempt to provide accurate pricing at time of publishing. Please call the stores for most accurate price.