The Best 36-Inch Gas Cooktops for 2018 (Reviews / Ratings / Prices)
Amy Ross | September 26, 2018 | 9 Min. Read
Purchasing a gas cooktop should be easy. After all, it is half of your stove. However, you read a ton of information over the internet, and it then becomes confusing.
The most important factors in finding the best cooktop for you is configuration, high output, and simmer burners.
In this article, you will learn the best options and prices from 6 popular brands. These are 5-burner 36-inch cooktops, but there are available in a 4 burner, 30-inch model.
However, before starting, let us first understand the difference between a cooktop and a rangetop.
Rangetops vs. Cooktops
Rangetops are simply the top of a professional range. They have front controls, higher BTU's and the option for a grill or griddle on top.
A cooktop has controls on the top and is cut into a countertop. Typically, a cooktop has less BTU and no provision for a built-in grill or griddle.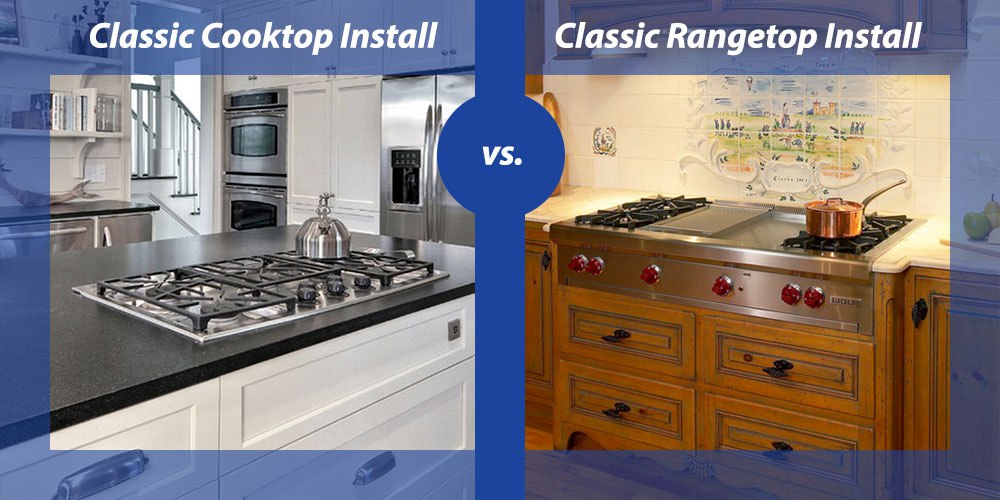 Most importantly, there is a huge difference in installation. Rangetops are placed on base cabinets and require more work than a drop in cooktop.
For more information, click on this more detailed article.
Short on time? Get our free Gas Cooking Buying Guide
The Best 36-Inch Gas Cooktops for 2018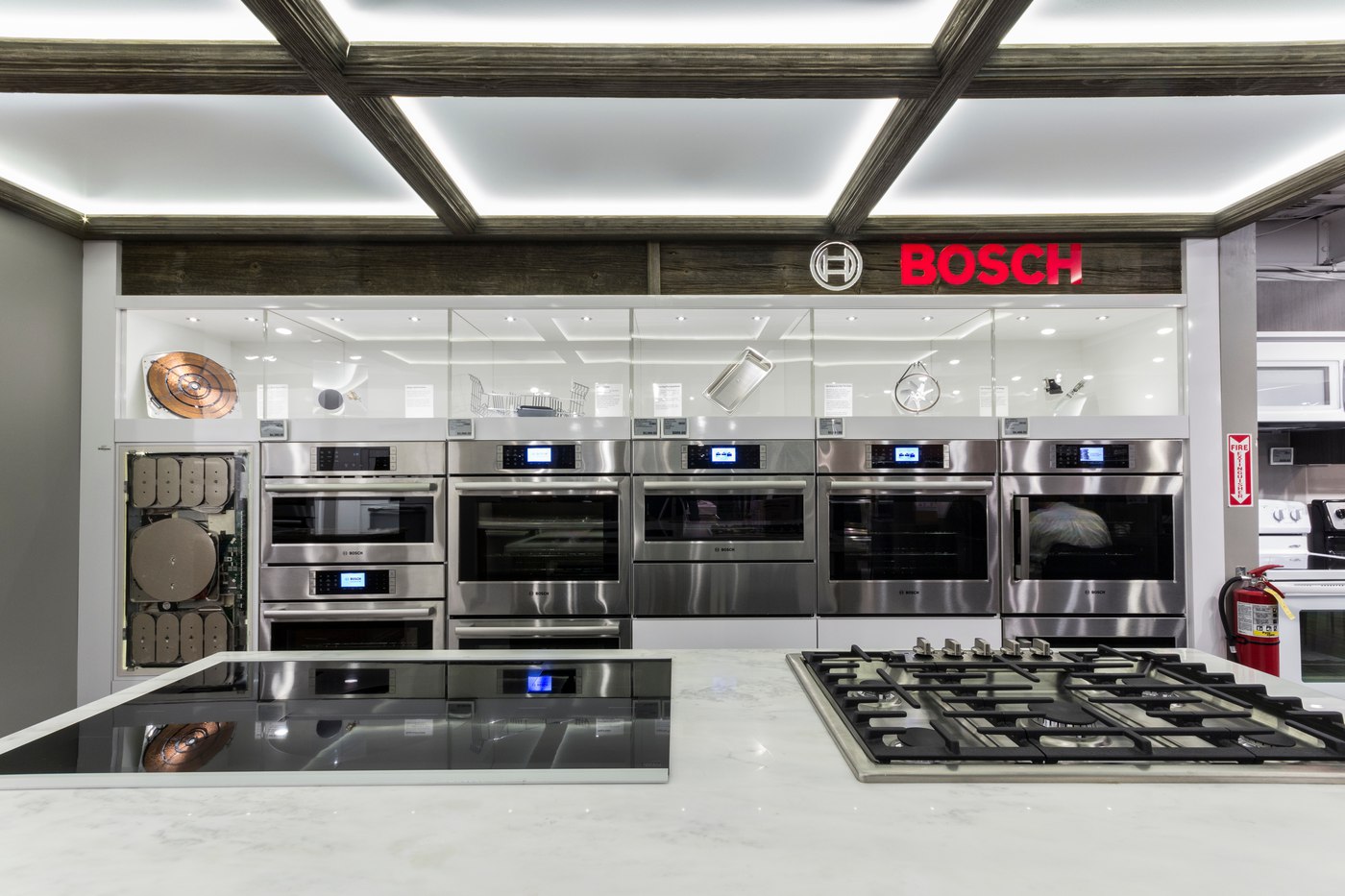 Bosch, Jenn-Air, Thermador, Wolf, BlueStar, and Miele are the best 36-inch gas cooktops.
For comparison, these are the categories: highest BTU burner, lowest BTU burner, burner configuration, and value.
Bosch Benchmark NGMP655UC - $1,399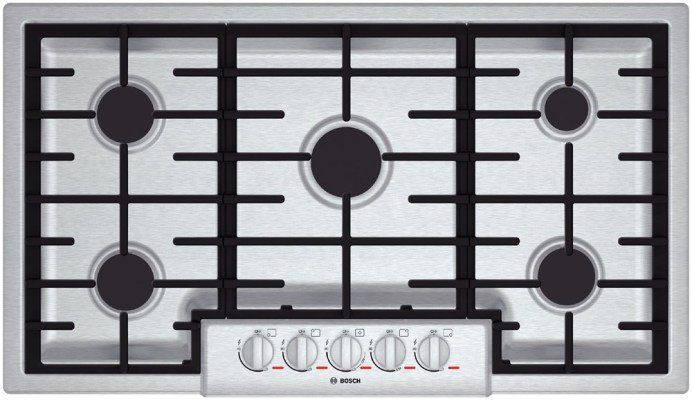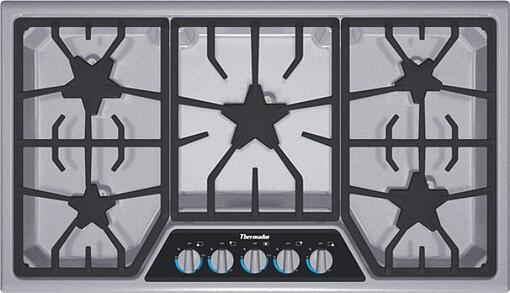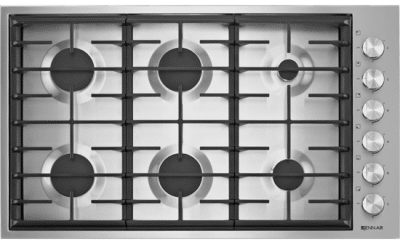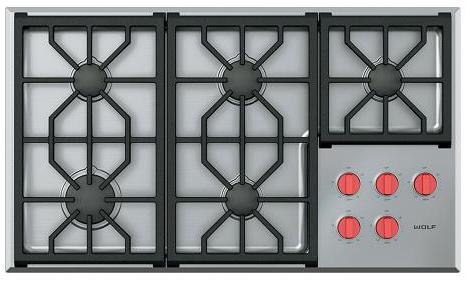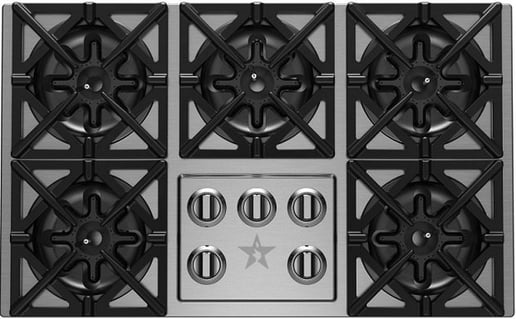 Highest BTU Burner
BlueStar (2*) 22,000 BTU
Bosch Benchmark – 20k BTU's
Jenn-Air – 20k BTU's
Thermador – 18k BTU's
Wolf – 18K BTU's
Miele - 15.3k BTU's
BlueStar has two 22,000 BTU burners. However, the burners are open and not sealed like the others. If you spill a lot, you have to clean under the cooktop surface. Every piece is removable and can be cleaned at the sink.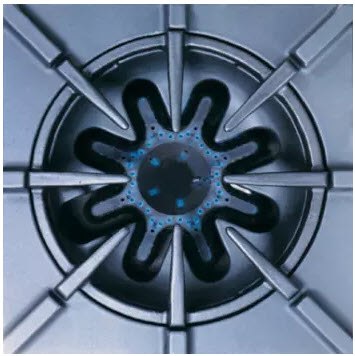 BlueStar RBCT365BSSV2 Burner
For sealed, Bosch and Jenn-Air are the hottest at 20,000 BTU's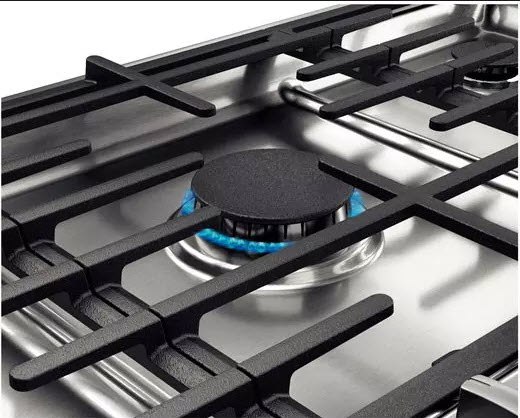 Bosch Benchmark NGMP656UC Burner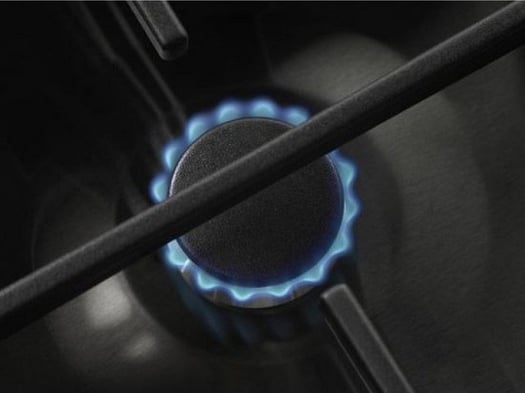 Jenn-Air JGC7636BS Burner
Get our free Pro Cooking Buying Guide for more about how to buy cooktops »
Lowest BTU Simmer Burner
Thermador- 100s BTU's
Wolf – 350 BTU's
Miele – 620 BTU's
Bosch Benchmark – 500 BTU's
Jenn-Air 900 BTU's
BlueStar 130 degrees
All of these cooktops allow you to simmer soups or sauces, but if you need extra low heat, then your two best options are Thermador and Wolf.
They both offer heat so low that you can melt chocolate on a paper plate and you can also do so without using a double boiler.
Wolf has a constant 350 BTU's. Thermador is an intermittent (on/off) 100 BTU's on two XLO burners.
Burner Configuration
Thermador
Wolf
Bosch
Jenn-Air
Miele
The placement of the burners and control knobs are important for style and performance.
Thermador maybe a good consideration. First, their highest power burner is in the center of the cooktop, this is important for venting reasons.
If you are using a range hood, then the burner will be centered under the hood. If you are using a downdraft this burner will be right next to the intake, so on both venting options, the most used burner has the best capture. Read our Ventilation Buying Guide to understand how to vent properly.
The control knobs of the Thermador, BlueStar and Bosch Benchmark are located at the front center of the cooktop. The configuration allows for the most usable room within the cooktop compared to controls on the side.
Value
Bosch Benchmark
Thermador
BlueStar
Jenn-Air
Wolf
Miele
All of these brands are tested by our staff chefs in our showroom kitchens.
Bosch may be the best value at $1,399. This is less than the other five and still offers good configuration and decent power. They are consistently rated well with rebate incentives and have appliances in every category to complete a whole Bosch kitchen.
Overall, Thermador will offer the broadest range of temperature management and has a great burner style offering the star shape. If you are looking for a very low simmer, the Thermador is a great option.
Aesthetically, Jenn-Air is another decent consideration. They offer a 6-burner configuration, whereas most brands only offer 5 burners. The Jenn-Air's output is very good, reaching 20,000 BTU's and well as a low simmer.
They also offer brass burners which typically deal best with high heat. In addition, this cooktop has a sleek, almost flush to the countertop look. It's comprised of one piece of galvanized stainless, which not only reduces fingerprints but is very easy to clean.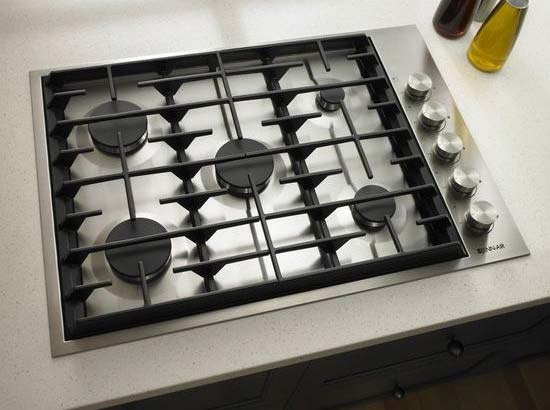 Wolf is 100% American made and consistently among the least serviced in premium appliances. They also offer a great range of power.
The signature red knobs (black or stainless are also an option) are on the side for easy access to the front burners. You do not have to reach over the knobs to reach the burners especially with heavy pots.
BlueStar is by far the most powerful with two 22,000 btu burners but you have to clean under the top. Still, the unit is built with solid construction and is worth a look.
Jenn-Air, Thermador, Wolf, and Miele offer a two-year warranty, whereas Bosch and BlueStar offer the traditional one-year warranty.
How Do You Choose?
This depends on your budget and how you use the cooktop. For cooking faster and for larger quantities, BlueStar may be your best option. Bosch is the most affordable with Thermador offering you the best simmer. Wolf and Jenn-Air are great overall choices with a bit of every attribute
Additional Resources
Download the Yale Pro Cooking Buyers Guide with features, specs and tips on buying the right cooking product. Well over 355,000 people have read a Yale Guide.

Related Articles
Editor's Note: This article was originally published on December 10, 2014 and has been updated for accuracy, freshness and comprehensiveness.
Amy Ross
Amy Ross is an Appliance Sales Consultant at Yale Appliance + Lighting. Amy once competed in the junior Olympics and enjoys spending time with her family .

Schedule a showroom visit with me
A Note About Pricing
Pricing on this blog is for reference only and may include time sensitive rebates. We make every attempt to provide accurate pricing at time of publishing. Please call the stores for most accurate price.