Wolf vs. Thermador vs. Viking Gas Cooktops (Reviews / Ratings / Prices)
Gas cooktops should be easy to buy. You are only comparing the burner configuration, output, simmer, and reliability on the top half of a stove.
But you started reading on the internet, where it's impossible to not be confused.
In this article, you will learn the differences between 3 marquee brands Viking, Thermador, and Wolf. We'll cover their sizes and BTU outputs.
We will also cover cooktops versus rangetops. The terms are usually used interchangeable yet they shouldn't be because their features and installation are incredibly different.
Wolf vs. Thermador vs. Viking Gas Cooktops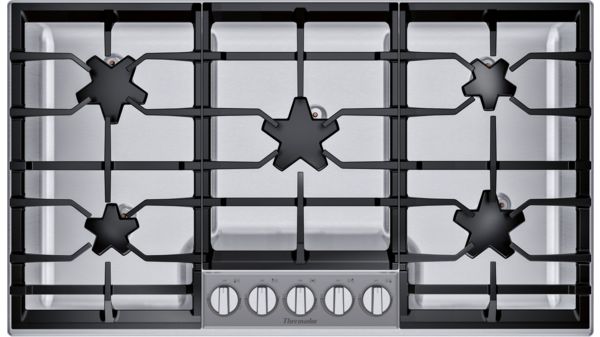 Thermador currently has 6 gas cooktops between 30 and 36 inches. This unit is their newest and most high-end model. Thermador is known for their star-shaped burners designed to cover more surface area of the pan.
This new unit offers over 60,000 BTU's combined between the 5 burners. The 5 burner layout on the Thermador offers the most usable burner layout on the market.
Total BTU - 60,200
Front Left - 9,100
Rear Left - 12,000
Center - 18,000
Right Rear - 9,100
Front Right - 12,000
The 18k BTU center burner offers enough space for a very large pan to be used, while not interfering with the other burners.
Thermador offers single point ignition so the ignitors don't all fire up every time you light a burner.
Thermador also has a patent on their Extra Low burners. This setting will turn the flame off and on for a predetermined time over the course of a minute. It is substantially lower than the best consistent simmer.
The knobs also illuminate so you can easily see if that burner is in use, and this unit offers raised burner beds, so cleaning is simple.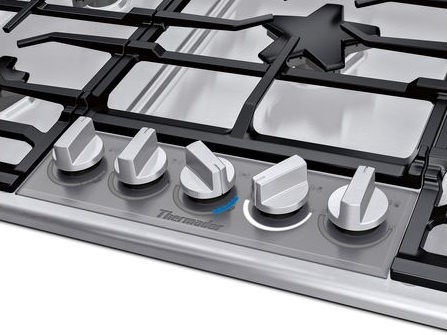 Thermador Illuminated Controls
Thermador ships from the factory in natural gas, so if you need LP you will need to have a plumber convert it for you with a conversion kit.
Viking VGSU5361-6B - $2,169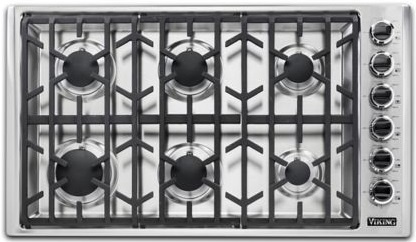 Viking has two cooktops, one professional, and one that is more cost effective with a completely different layout and build quality.
On the VGSU series the unit offers 6 brass burners. You have the ability to cook 6 items at a time or one burner more than most gas cooktops.
However, with the knobs on the side, it will not be easy to cook on all 6 burners simultaneously with regular or large pans.
This unit has an 18k burner as its highest powered burner and has 66k BTU's of overall power.
The brass burners offered by Viking are of a very high quality, and this unit has a re-ignition system like the Thermador in the event a flame goes out, it will light up again on its own.
This is a great feature, if you are simmering something it is difficult to see the flame under a pan. Viking can be purchased in propane or gas from the factory or converted later on site.
Left front – 18,000 BTU
Left rear – 10,000 BTU
Center/Center front – 12,000 BTU
Center rear – 12,000 BTU
Right front – 6,000 BTU
Right rear – 8,000 BTU
Viking is no longer carried by Yale. I would have no problem recommending this gas cooktop from them, but you may want to check the reliability.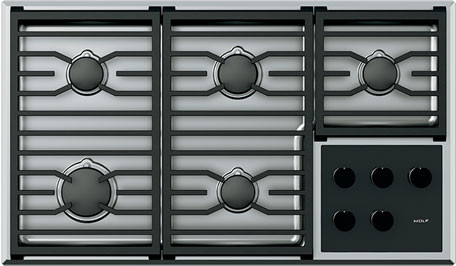 Wolf / Sub-Zero offers three designs of this cooktop. The pro-style and transitional are aesthetically different in the design of the grates.
They also produce a third fully flush contemporary unit with separate knob cutouts for the front of the cabinets, and also a different layout for the burners.
Their most popular CG365 cooktop from Wolf offers 5 burners with the knobs located in the front right corner. The highest output burner is 18k and the overall BTU's are 57k. Wolf uses round burners, with a variety of circumferences and also has single point ignition and auto reignite.
(1) 18,000 BTU
(1) 12,000 BTU
(3) 9,200 BTU
Wolf offers dual stacking burners. There is a second valve on every burner offering a greater range of flexibility while cooking.
The upper valve has the higher range of BTU's covered in a high to low range. As you continue to turn the control knob, the lower valve will activate offering a very low continuous melting simmer.
If you think of a dial having a 1-10 setting, a dual stacked burner will have nearly twice as many stops in between 1-10 in comparison to a traditional unit for greater accuracy.
The Wolf unit is ordered from the factory as Natural Gas or Propane. The LP version does not reduce BTU output unlike the 10% of most brands.
Rebates
Thermador has their 1, 2 Free rebate program. If you buy the cooktop with a wall oven, then you will receive a free dishwasher.
Viking has similar promotions during the year.
Wolf will promote at different times as well.
Which Gas Cooktop Should I Buy?
First, they are similar in terms of output at 57-66,000 BTU. The max output is the same at 18,000 BTU with 12,000 BTU being the next most powerful.
You are comparing the Thermador Star Burner to the Wolf two-stage burner and the Viking brass burner.
In terms of simmer, Thermador will have the best on two of the burners. Their ultra low has simmer of a 100 BTU. Wolf is next best, but all burners simmer at about 500 BTU.
Viking has 6 burners, but the controls are on the right. It is hard to know whether all 6 can be used. Thermador has the controls on the front ideal for that one larger pot.
Cleanability. Thermador is raised while the others are based lower to the cooktop. It will be easier to clean under the Thermador.
All have merits, but it depends on what you value.
Pro Tips for Buying a Cooktop
If you have propane at your home instead of natural gas, find a brand that comes LP-ready from the factory already converted. If you buy a brand that has to be converted on site, there are extra items and costs involved, and then if there is an issue later on you may have a service tech who says the plumber converted it incorrectly and a plumber who says its not his fault, and you are stuck in the middle with a cooktop that doesn't work.
BTU's don't matter nearly as much as most people think. Any cooktop over $600 probably has enough BTU's to cook your food.
Instead of getting lost in the weeds researching who has the highest BTU 's, also pay attention to flame sizes and patterns, burner circumference, burner material quality, and overall layout of the burners and knobs.
On the right cooktop, a 15K BTU burner can boil water faster than a 20k BTU burner if you are using higher quality pans that are appropriately sized for that burner.
If you really want the most consistent, hottest burners you should be considering induction, they are faster with a better simmer than gas.
Cooktops vs. Rangetops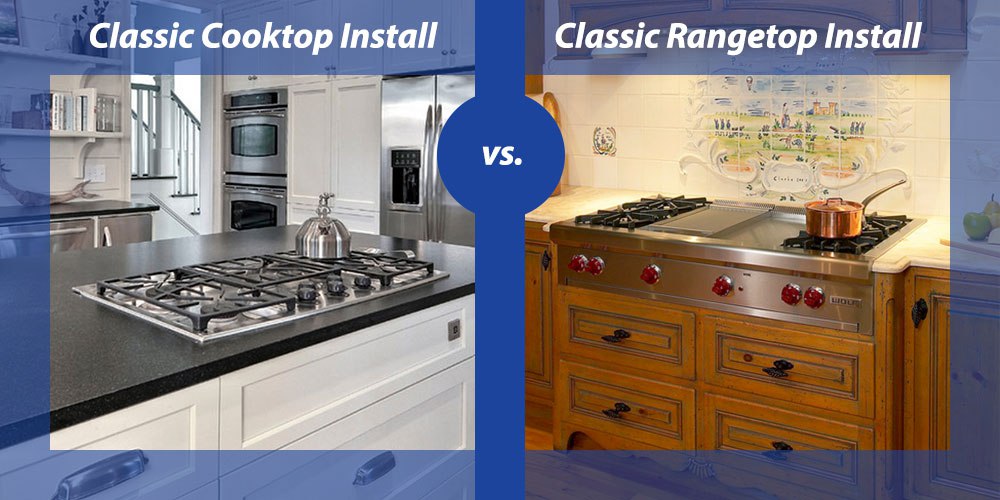 A cooktop is the top of a stove available in 30 and 36 inches with 4 or 5 burners with a variety of BTU counts and burner sizes. It is cut into your counter.
Rangetops vs. Cooktops
A rangetop, like a name suggests, is literally the top of a professional range. They are around 8" tall so they rest on the cabinet, they are 30", 36", 48" and 60 inches wide and 24" deep, and the controls are on the front, so you get significantly more usable space around the burners.
You also have grill, griddle, French top and wok burners available in a rangetop versus just burners in a cooktop.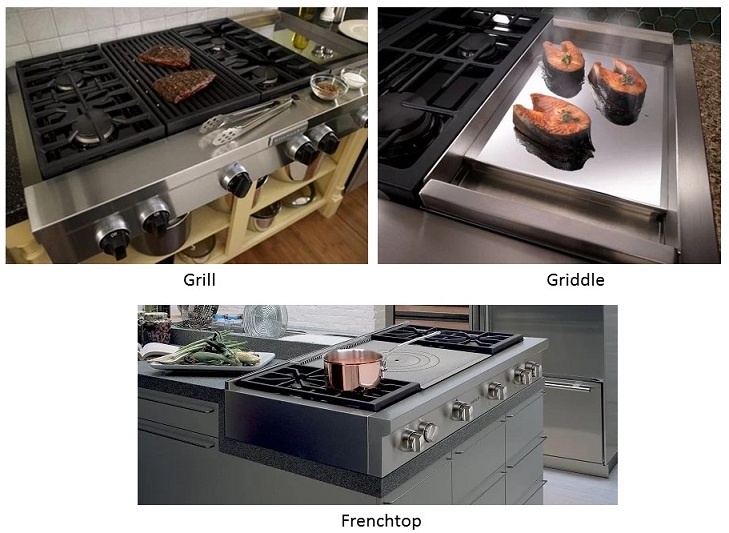 Rangetops have more overall BTU's so the ventilation requirements will be different and they are also more expensive.
They also require a cabinet to be made especially for them, so if you are remodeling this must be planned for in advance.
Building a New Kitchen vs. Remodeling Your Kitchen
This is a key piece of information. If you are replacing an existing cooktop and you are not changing your countertop, you may need to have an installer cut the actual countertop.
Most cooktops have been standard 30 and 36 inches for 30 years or so, but cutouts differ. Replacing an existing unit usually does require some routine cabinet work.
New construction should be easy provided your contractor has the product specs.
How long should a gas cooktop last?
If you want your gas cooktop to last a long time, do not spray cleaning solution on the igniters. The number one service call on cooktops is related to igniters not firing.
Spraying caustic cleaning materials on these small pins will cause issues sooner rather than later. Same for spills, If you have a major spill over onto the surface of the cooktop, take the cap off the burner and clean and dry it out. Don't let the oils dry or they might cause issues by clogging up ports or the igniter.
Additional Resources
Get the Yale Gas Cooking Buyers Guide with features, specs and inside buying tips to all the brands. Well over 355,000 people have read a Yale Guide.
Related Articles
Why Should You Trust Us?
It seems that every appliance review has nothing but glowing comments about almost every product, yet you read customer reviews and they are almost universally bad.
We are here to fill in the disconnect. We'll give you the best features, and the drawbacks as well, including reliability based on over 37,000 calls performed by our service team just last year. Our goal is to give you ALL the information so you know what's right for you.
Please consider subscribing or adding to the conversation in the comments below. We appreciate you stopping by.
Steve Sheinkopf
My goal has always been simple: I want Yale to be the best retail experience anywhere. I have tried to create a compelling environment for customers and employees alike.
A Note About Pricing
Pricing on this blog is for reference only and may include time sensitive rebates. We make every attempt to provide accurate pricing at time of publishing. Please call the stores for most accurate price.