How To Buy An Electric Range (Ratings/Reviews/Prices)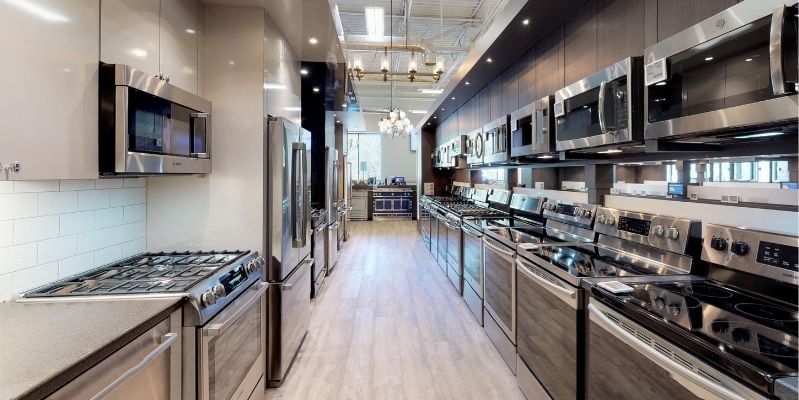 Electric ranges are not easy to buy. It is easy to be confused with the different styles and their upgrades.
Electric ranges are also split between regular electric and the newer (actually invented in 1980) magnetic induction types.
In this article, you learn about the differences between all the ranges like freestanding, front control, slide-in, induction, and different features like convection, 5th burners, and double ovens.
I will also show you the reliability rates of all the major brands based on 34,687 service calls logged by our service department last year.
You are probably a bit confused now. That's OK. You don't buy ranges every day. But you will understand every type of electric range after reading this article.
How Yo Buy An Electric Range
Style
Before we look at features, you should be aware of style. It has an effect on the overall look of your kitchen. Your choice also affects the price widely.
Your range can come in two styles, freestanding and slide-in. There are also two slide-in types, front control and regular slide-in.
Freestanding Vs. Slide-In Ranges
Freestanding ranges have the controls on the back while slide-in and front control ranges have their controls on the front.
Freestanding ranges will be less expensive with similar features. Slide-in ranges will look better because you can see your backsplash without looking at your range's backguard.
Short on time? Get our free Electric Cooking Buying Guide
Front Control Vs. Regular Slide-In Ranges
The ranges may look the same, but there is one crucial difference. You do not want to find this out on delivery.
Front control ranges can replace a 30-inch freestanding or other front control ranges.
Slide-ins are installed on the counter, so it is easier to clean without seams on the sides.
However, slide-ins cannot fit an existing space without minor cabinet modification to the sides and back.
Slide-ins are better when planned for new construction. The cleanability of this range is a nice feature.
However, for replacement, front control may be a better option than modifying your counter to fit a slide-in.
Although freestanding ranges are less expensive, front controls and slide-ins are about the same price.
Some brands offer both styles. You can tell the difference by looking for the edge or lip of the glass. Slide-ins have it, but freestanding ranges do not.
Watch the video below to learn more about the differences between freestanding, slide-in, and front control ranges.
After choosing style, your next step is choosing what kind of electric range do you want. Do you want regular electric or magnetic electric, also known as induction.
Type: Electric Or Induction
Electric has worked similarly for the last 100 years. The coils heat up the pan, and then the pan cooks your food. In the last 30 years, glass was added on top for cleanability.
However, it still works similarly. Coils heat the glass surface of your cooktop, the glass heats the pan, and the pan cooks your food.
Induction is an instant magnetic heat meaning the magnets excite the molecules in your pan. Then the pan cooks the food. It bypasses the glass completely.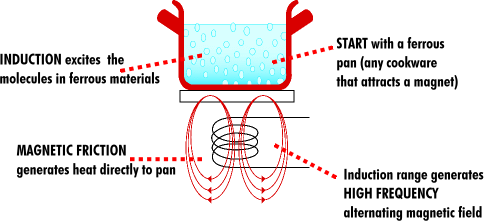 It's far more efficient than electric and gas cooking.
In cooktops, induction is the majority of the purchases. However, electric is still popular in ranges due to lower prices.
Want to learn more about induction and how it compares to electric and professional gas? Click here for our Free Induction Buying Guide.
Benefits of Induction
Induction is faster, much faster than even a professional range. Like a gas range, it has an instant simmer. Unlike gas, you can simmer at extremely low temperatures for holding a sauce or melting chocolate.
Here are some other benefits:
Cleanability: Because the glass is not heated directly, spillovers are much easier to clean on a warm surface rather than being baked on with heat in conventional electric or gas cooking surfaces.
Child Safe: The magnets of induction have to sense metal to turn on. It is less likely to burn your hand on induction because the glass is not being heated directly.
The heat from the pan does heat up the glass indirectly, so it is not childproof.
Less Venting: Induction is 90% efficient with far less heat emission than gas and less venting required.
For Massachusetts residents, this is hugely important for venting. "Makeup air" requires venting over 400 CFM to have a reverse airflow. You can vent induction at 400 CFM. You would need 600 or more for a professional gas rangetop
Size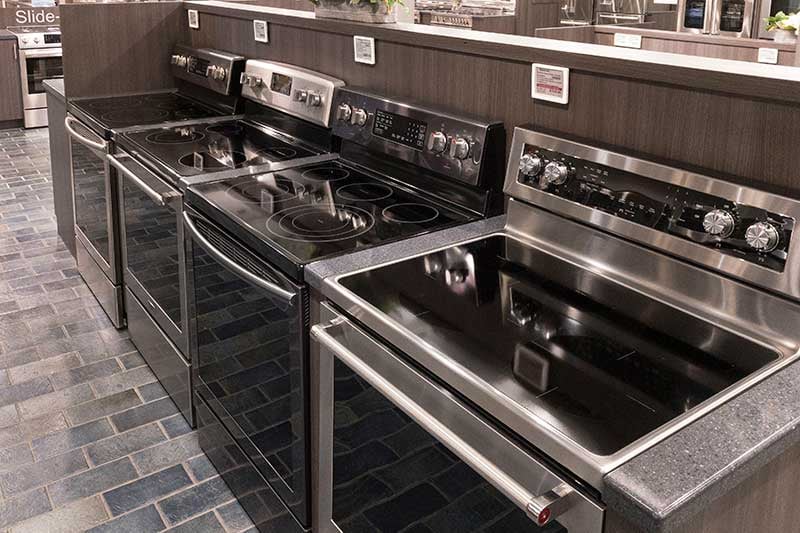 Electric Range Display At Yale Appliance In Boston
Over 90% of stoves across the country are 30 inches. Here is a description of some other sizes.
20 and 24-inch Ranges
Mostly apartment sizes. These tend to be basic. Premier is a small range line. Hotpoint, Summit, and Amana are also available.
27-Inch Drop-In Ranges
GE once made this odd-sized range specially designed for the Campanelli company back in the 1950s and 1960s. It's unique because it sits on base cabinets.
36-Inch Ranges
Thirty-six-inch electric ranges were hard to find years ago. Now they are becoming more common, especially in high-end induction.
You have two types - just a basic, inexpensive range like a Premier to fill the space and induction with Fisher & Paykel and Wolf being two good choices.
Bertazzoni, Ilve, and Dacor also make a 36-inch induction range.
48-Inch Induction Range
AGA is the only company producing a 48-inch electric range.
Features
An average electric range has four burners and self-cleaning. The following are the upgraded features for middle-range and high-end electric ranges.
5th burner: Usually it's just a warming zone.
Convection: Fan forced heat to keep an even heat throughout the cavity.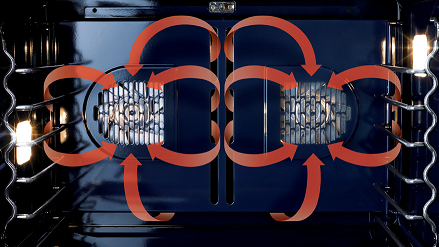 Convection Oven System
Warming Drawer: Instead of storage below, you have a low-temperature warming drawer to keep food warm up to 3 hours.
Second Oven: Instead of the drawer or warmer, you have a baking drawer below or above the main oven.
Slide-In: Controls on the front
Wi-Fi: You turn the range on or off remotely and change temperature. Wi-Fi is the future of our industry where you will tell your range what you want to eat.
The range will send a list of your ingredients needed to your phone after scanning your fridge. It will also set your dishwasher to the precise cycle to clean.
Most Popular Electric Ranges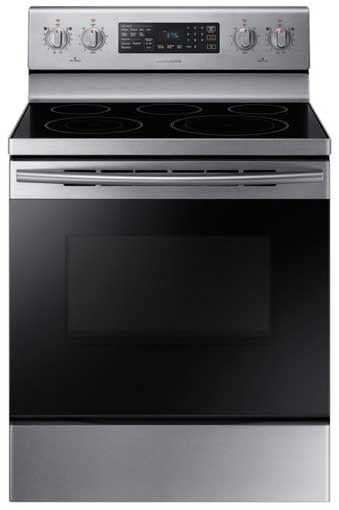 Both look similar. However, the Samsung range at $699 has convection and a 5th burner.
Many freestanding electric ranges are marked between $699-$1,299, but the features do not change much from the $699 Samsung.
Unlike freestanding ranges, there is more of a differentiation between slide-in ranges. The basic Samsung (or other companies like Frigidaire or GE) ranges from $1,299-$1,799 depending on rebates and promotions. It has convection and five burners.
KitchenAid has convection along with easier "Convection Conversion" controls turning your recipe into convection with a touch of a button. It also adds the baking drawer below.
The upgrade to convection with a baking drawer is a double oven. Samsung "Flex" is interesting because the two ovens have a removable divider.
You can use this as two ovens or remove the divider for one larger oven. Every other company has a conventional, permanent two oven configuration.
Most Reliable Electric Ranges
Electric ranges after hoods and grills are the most reliable appliances sold. It is repaired about 7.8% within the first year almost half the average of appliances at 14.3%
Most Reliable Electric Ranges For 2019
| | | | |
| --- | --- | --- | --- |
| | Service Qty | Shipped Qty | Service Ratio |
| Jenn-Air | 28 | 78 | 35.90 % |
| Blomberg | 3 | 16 | 18.75 % |
| Bosch - Benchmark | 1 | 6 | 16.67 % |
| Kitchenaid | 22 | 141 | 15.60 % |
| Bosch Appliances | 15 | 105 | 14.29 % |
| Maytag | 1 | 9 | 11.11 % |
| Samsung | 19 | 412 | 4.61 % |
| Premier | 1 | 40 | 2.50 % |
| Whirlpool | 11 | 513 | 2.14 % |
| LG Electronics | 0 | 49 | 0.00 % |
| Amana | 0 | 7 | 0.00 % |
| Grand Total | 108 | 1391 | 7.76 % |
Most reliable brands by percentage are Whirlpool, LG, and Samsung. Whirlpool is mostly a basic product for builders.
You can read more about the most reliable electric ranges by clicking this link.
Most Popular Induction Ranges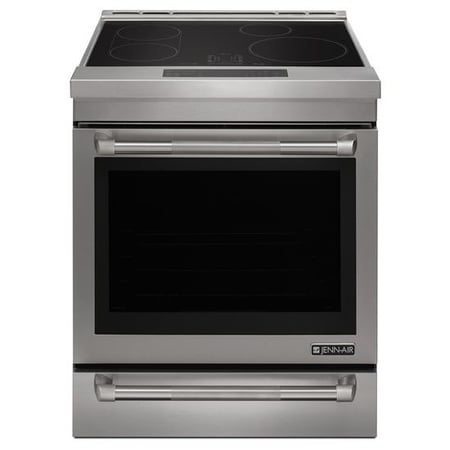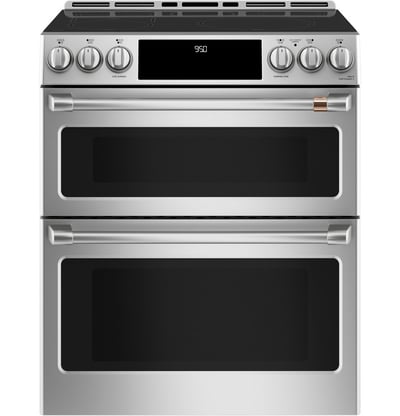 The Samsung slide-in is a basic induction range with a warming drawer. Jenn-Air is larger because the controls are on the top. It also has a baking drawer in the bottom
Pro Tip: KitchenAid and Jenn-Air are under the Whirlpool Corporation. KitchenAid is less expensive to buy, but Jenn-Air has better package rebates. So buy KitchenAid as a single piece and Jenn-Air as a package.
GE Café is a true double oven range with induction on the top. You can also buy the GE Café in three finishes with three handle styles. Like Samsung, GE is another Wi-Fi unit.
Miele is in a different category. Its M-Touch oven can cook any food with the touch of a button. Just add food and weight, the oven figures out the rest.
Miele is also the only induction range with steam assist capability. Steam is essential for caramelizing foods like hardening lasagna or baking bread.
In fact, it has 16 automatic recipes just for bread.
To learn more about the best induction ranges and how they compare, click here for our Free Induction Buying Guide.
Premium Induction 36-Inch Ranges
The difference between a 30 and 36-inch range is larger oven size and more burners.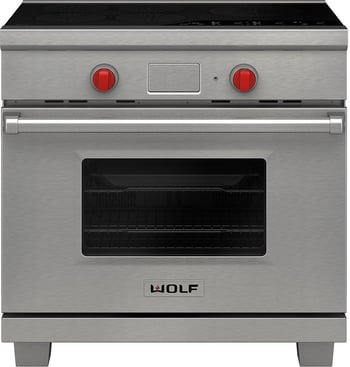 Fisher & Paykel has a decent 36-inch induction at $6,699. It has the super-hot burner in the middle and two griddle burners on either side, so you can cook with oddly-shaped pans.
Wolf is unique. You can connect four burners on the top for one large burner surface. Their oven has two fans. Unlike other twin convection ranges, the fans are independent and will turn on and off based on individual temperature.
Most Reliable Induction Ranges
Induction ranges are serviced more than twice the average at about 28% up from 16.77% in 2017-2018. It's interesting because induction cooktops are reliable.
Most Reliable Induction Ranges For 2019
| | | | |
| --- | --- | --- | --- |
| | Service Qty | Shipped Qty | Service Ratio |
| Samsung | 4 | 52 | 7.69 % |
| KitchenAid | 7 | 32 | 21.88 % |
| Bosch Appliances | 7 | 25 | 28.00 % |
| Jenn-Air | 43 | 148 | 29.05 % |
| Wolf | 13 | 44 | 29.55 % |
| Miele | 4 | 10 | 40.00 % |
| Blomberg | 1 | 2 | 50.00 % |
| Bosch - Benchmark | 11 | 20 | 55.00 % |
| Fisher & Paykel | 3 | 4 | 75.00 % |
| Bertazzoni | 3 | 2 | 150.00 % |
| Grand Total | 97 | 340 | 28.53 % |
Many of the service calls are minor.
Pro tip: You should place an induction range on a separate circuit, or it becomes more prone to voltage spikes.
The performance of induction versus electric is still compelling and worth considering. I would advise an extended warranty, but those tend to create more aggravation as well.
The most reliable brand would be Samsung.
You can read more about the most reliable induction ranges by clicking this link.
How much should you spend on an electric range?
For electric frestanding ranges, you do not have to spend much more than $699 unless you want a double oven.
Slide-ins start at $1,099 for a basic non-convection range with Whirlpool. You can buy a better convection unit at $1,299 to $2,500 for the addition of a double oven.
Induction slide-in types will cost $2,299 to $4,000 for a double oven.
What brands should you consider?
It really depends. Samsung is the best all-around for features and initial quality. However, their popularity has made service difficult in certain areas.
GE, Bosch, Jenn-Air, KitchenAid and even LG have compelling products to consider.
When Is The Best Time To Buy An Electric Or Induction Range?
As we have said throughout this blog, you should wait to buy appliances until there is a promotional holiday.
Manufacturers always have the most heavily rebated appliances during the following promotional holidays:
Presidents' Day
Memorial Day
July 4th
Labor Day
Black Friday
Should You Buy An Appliance Package To Save The Most Money?
Yes, but only if you need other appliances. You will find decent rebate package rebates when buying a whole suite.
You should consider buying from one manufacturer for the best rebates, and buying a package around a holiday will increase rebates as well as lower prices.
How Do You Choose An Electric Range?
Your first consideration should be size when choosing an electric range. You want to make this decision, and get all your measurements before delivery.
After size, the two most important questions are style. Do you want the affordability of a freestanding electric range or the better looks of a slide-in or front control range?
You should consider induction. At least see a demonstration of induction. It's better than electric for boiling, simmering, safety, and cleanability.
After style, type, and quietness features are easy to choose. Do you want convection, a warming drawer or a second oven?
Buy at the best time during the holidays if you can.
Lastly, and most importantly, inquire about the service before you buy. You do not want to cancel Thanksgiving dinner because your range doesn't work.
Additional Resources
Download the Yale Induction Cooking Buying Guide with features, specs, and inside buying tips every induction cooktop and range from Wolf, Thermador, Jenn-Air, Bosch, and more. Well over 600,000 people have read a Yale Guide.
Related Articles:
Why Should You Trust Us?
It seems that every appliance review has nothing but glowing comments about almost every product, yet you read customer reviews and they are almost universally bad.
We are here to fill in the disconnect. We'll give you the best features, and the drawbacks as well, including reliability based on over 37,000 calls performed by our service team just last year. Our goal is to give you ALL the information so you know what's right for you.
Please consider subscribing or adding to the conversation in the comments below. We appreciate you stopping by.
A Note About Pricing
Pricing on this blog is for reference only and may include time sensitive rebates. We make every attempt to provide accurate pricing at time of publishing. Please call the stores for most accurate price.