You may or may not have read our blog on the benefits of side-swing and French door wall ovens but you probably have seen such an oven with a French door like on a fridge.
They are very sleek looking and save you the trouble of lifting several pounds of weight over a normal drop down oven door. They are not very popular yet, although they make a lot of sense.

They are great for some of the same reasons why French door refrigerators are great. French doors can help in some kitchen scenarios. For example, if there is an island in the middle of the kitchen or if someone is very short, they don't have to reach over the door.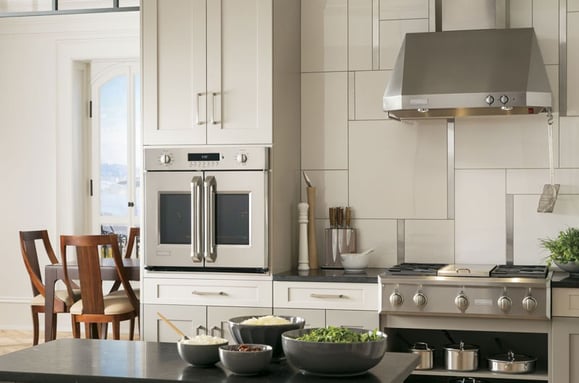 French doors take up less space when open which is also good for high traffic kitchens. These ovens are fairly new, and two of the best are GE Monogram and BlueStar.
We will look at both companies, both products and then compare.
BlueStar
BlueStar was founded in 1880 and has been in restaurants under the Garland name for years. They are fairly recent in residential since only 2003. BlueStar is focused on primarily cooking, it is still a family owned company manufacturing in Pennsylvania.
GE Monogram
GE Monogram is the luxury line of GE Appliances. Most of their factories are in the US, but they are owned by Haier of China. GE is a bit different focusing on builders more than consumers. Typically, you will find GE appliances in tract homes and multi-unit buildings.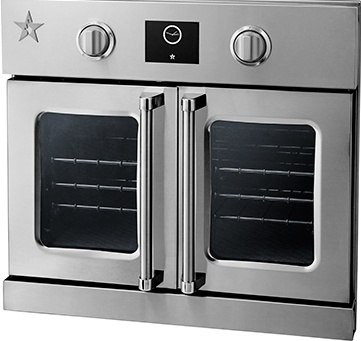 This BlueStar product has a clean stainless steel finish with knobs, a touch-control panel for control and digital display with 12 different cooking modes.
It has 3 shelves, 5 possible rack positions, and baking stone base wide enough for a 18" x 26" pizza cooking surface. One of the oven racks is on roller glides, which comes in handy for large items like a turkey.
The baking stone heating element over the bottom can used for pizza; which can be cooked right on top of the baking stone for restaurant style results.
One distinguishing feature is availability of over 750 different finishes and colors. You have the opportunity to customize your oven in any color as well as 8 different trims.
You also get 2,500 watts of baking power and 5,000 watts of infrared broiling power. The broiler is covered in glass so it's easy to clean and provides even unusual high heat. Great for broiling fish and searing steak for example.
GE Monogram 30" Professional French Door Wall Oven - ZET1FHSS - $4,699
The Monogram is a single oven that has a simple stainless finish and does not come with the option of customizing colors, as in the BlueStar. It uses backlit knobs and electronic buttons for control, with a backlit LCD display.
It is fitted with 3 racks and 6 total possible configurations for the racks. Two of the racks are on roller glides for heavy items, and all of them have a coating on them for self-cleaning. This means that the oven racks can be left in during the self-cleaning cycles.
This also features steam cleaning which isn't as hot, yet still does a decent job. In baking power, this oven edges a little over the BlueStar with 2,850 watts, but dips below in broil power at 4,300 watts. Meaning the broiler is more like the traditional 500 – 550 degrees. BlueStar will be 2 to 3 times that.
One modern and very cool essential with the Monogram is its Wi-Fi connectivity. This allows you to view cooking updates remotely as well as control the oven. This way you can turn the oven on and off with the app, as well as view the temperature. I think eventually most ovens will offer this. Many like Dacor, Jenn-Air, LG and Samsung already do.
BlueStar vs. GE Monogram Wall Ovens: Which Do You Buy?
Both ovens are heavy on the knob control with a similar very commercial look to them.
GE has a better bake element and the Wi-Fi connectivity is very convenient, because you can cook from your office or soccer field.
BlueStar is more solid with a better broiler and the ability to customize color and trim. The pizza stone is a nice touch as well.
Reliability
Both will probably need to be repaired. BlueStar is decent. GE Monogram is about the same, but neither will be easy to fix. Before you buy any new products, inquire about who will be repairing your new wall oven. Then Google the agent and check the reputation as it could be good or not.
Additional Resources
Need more information about wall ovens. Get the Yale Wall Oven Buying Guide with all the new features like Wi-Fi, steam cooking and more from the best brands. Well over 210,000 people have read a Yale Guide.
Related Articles