What Is the Best Dishwasher?
July 13th, 2021 | 5 min. read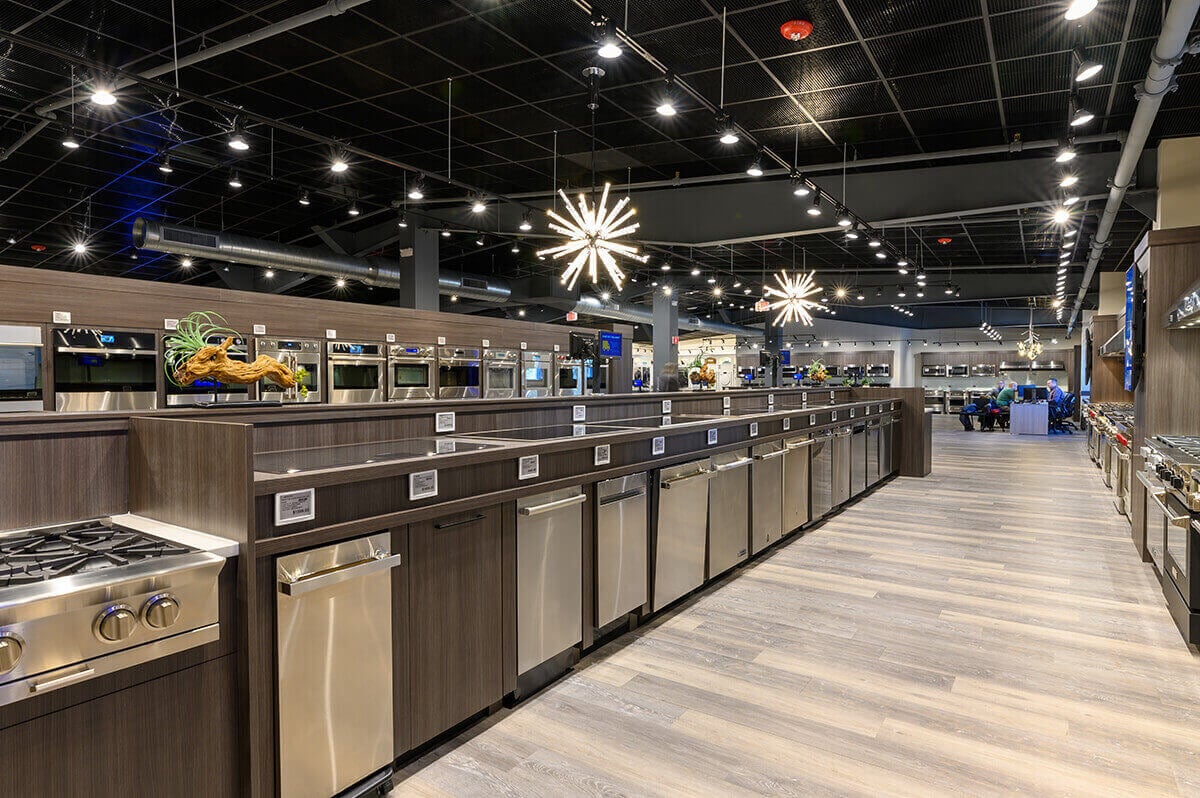 What is the best dishwasher?
It's a really interesting question. If you Google it, you will find a bunch of review sites with different answers.
So, why not take Google's highest-ranking answers and compare them against our suggestions?
You will find some interesting responses and some pretty big problems.
In this article, you will see the top three results compared from Best Products' report "12 Best Dishwashers for 2021," the Wirecutter's article "The 3 Best Dishwashers of 2021," and Yale Appliance's blog, the "9 Best Dishwashers for 2021."
We'll cover how each of these sources arrived at their choices.
You should find this entertaining or horrifying, depending on the delivery and execution.
What Is the Best Dishwasher?
The Wirecutter published three top choices, Best Products shared 11, and we have nine.
We'll look at the top three for each. Let's take a look.
Best Products 3 Best Dishwashers for 2021:
Best Overall: Bosch 300 Series Dishwasher SHEM63W55N - $899
Best Budget: Maytag MDB7959SKZ Dishwasher - $794
Most Reliable: Miele G 7316 SCU Dishwasher - $1,899
The WireCutter 3 Best Dishwashers for 2021:
Top pick: Bosch 300 Series SHEM63W55N - $899
Runner-up: Maytag MDB7959SKZ Dishwasher - $799
Upgrade pick: Miele Classic Plus G4228SCUSS Dishwasher - $1000
Yale Appliance's 3 Best Dishwashers for 2021:
Best Overall: KitchenAid KDTE204KPS Dishwasher - $949-$999
Most Reliable: Whirlpool WDF520PADM Dishwasher - $499-$629
Most Affordable: Beko DUT25401X Dishwasher - $429-$549
Most Reliable Dishwasher: Whirlpool vs. Miele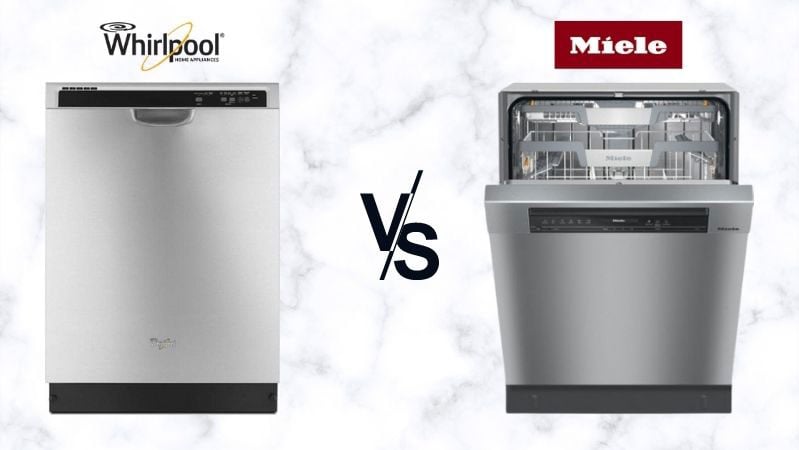 Both the Wirecutter and Best Products claim Miele has the most reliable dishwashers, while we found the most reliable to be Whirlpool.
So, where does everyone gett their information? The most quoted source is our blog - seriously.
Our reliability ratings are cited six times in Wirecutter's report including in their "Why You Should Trust Us" section.
Be mindful of statements from Wirecutter like this one below.
"Miele dishwashers are built to last for 20 years of regular use, which is about twice as long as a typical dishwasher (such as a Bosch or Maytag) is capable of."
Wirecutter's report leaves no evidence as to why it would last 20 years.
Best Products cites Yale's blog three times, including the following.
"Steve Sheinkopf, the CEO of Yale Appliance (which publishes 1-year repair rates), owns a Miele dishwasher and says Miele appliances have problems like any other brand, but when issues arise, they are 'more of a nuisance than the product not working.' ... 'The company handles the issues honorably,' he writes, adding that Miele sometimes even covers repair costs when the products are outside their warranty period."
I can't find exactly where I said this. Although, it does sound like something I would say.
I would also not anoint a new product as the "most reliable" as was done in this article with the new Miele G 7000 Series dishwashers.
Ultimately, here is the reality.
Dishwasher Reliability From December 2019 to November 2020 Based on Over 10,000 Pieces
| | |
| --- | --- |
| | Service Ratio |
| Blomberg | 0% |
| LG | 1.9% |
| Whirlpool | 2.1% |
| Thermador | 7.6% |
| Beko | 7.67% |
| Miele | 8.2% |
| GE Profile | 10.5% |
| Samsung | 10.6% |
| JennAir | 11.0% |
| KitchenAid | 11.0% |
| Asko | 11.6% |
| Bosch | 12.8% |
| Bosch Benchmark | 18.4% |
| Café Appliances | 18.8% |
| GE Appliances | 19.5% |
| Fisher & Paykel | 27.8% |
| Average | 11.2% |
You can cite our work, but you also have to read it.
Miele had good reliability last year at 8.2% after the previous two years of problems with buzzing solenoids and frozen motors.
It's true Whirlpool has more basic dishwashers and is not in the same category as Miele.
If you're looking for a reliable dishwasher with high-end features, try Beko. It's the same company as Blomberg. When combining their reliability, they are the most reliable brand.
Best Overall Dishwasher: KitchenAid vs. Bosch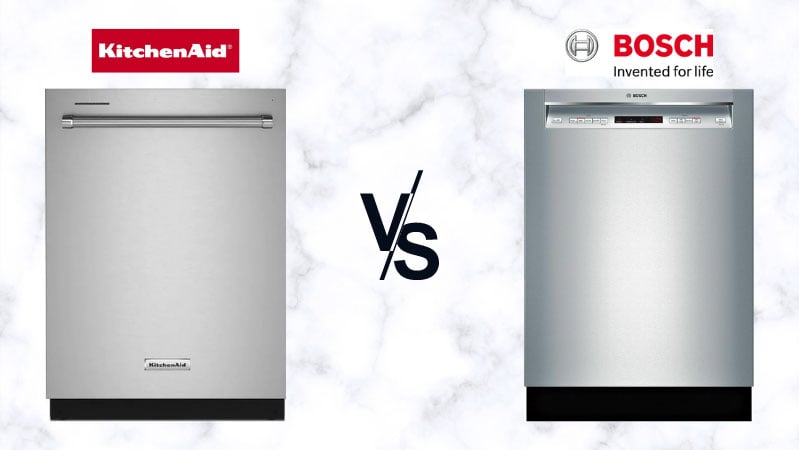 Both the Wirecutter and Best Products declare the Bosch 300 Series dishwasher SHEM63W55N for $899 to have the best dishwasher overall.
It's odd to have the same conclusion because Bosch produces tons of different 300 series model numbers.
Bosch is a great brand. However, they haven't effectively produced an available dishwasher under $1000 since March 2020. Your prospects of buying one are pretty slim.
The Bosch 300 series dishwasher is out of stock when you click on the affiliate links.
They both also ignore the emergence of a truly good dishwasher yet slightly more $100 expensive model, the KitchenAid KDTE204KPS.
KitchenAid emerged from Bosch's shadow in 2019.
This dishwasher has heated drying compared to condensation drying in the Bosch.
It also has three levels of wash actions compared to Bosch's sprinkler head and two wash arms.
It's more reliable 11% compared to Bosch's 12.8%.
Quietness is the hallmark of this dishwasher at 39 dB. Bosch is still excellent at 44 dB.
Yet, Best Products touts the GE Profile PDT785BNTS as the quietest dishwasher at 39 dB for $1,349.
It's predicted to be available by December 2021 from Wayfair - yikes.
Most Affordable Dishwasher: Beko vs. Maytag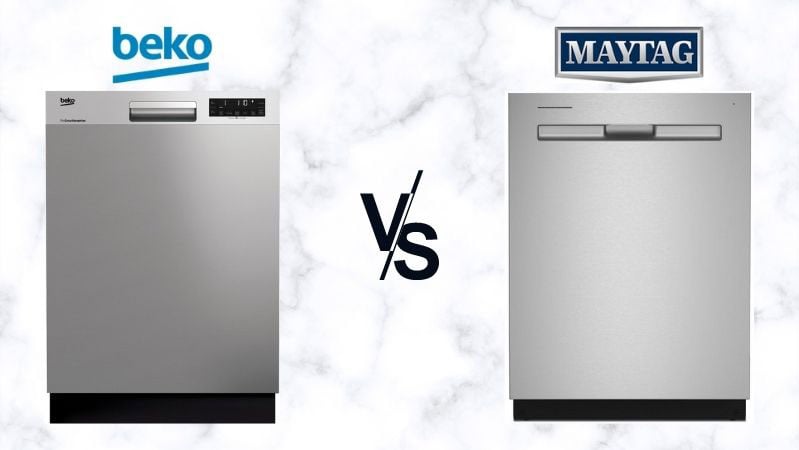 Both review sites award Maytag as a solid performer.
Wirecutter wrote, "The Maytag MDB7959SKZ is another great cleaner from a company with a solid reputation for reliability (though not quite as strong as Bosch on either count)."
Best Products said, "The Maytag is a reliable dishwasher, and it's backed by a 1-year warranty for parts and labor. Even better? It has an additional nine years of coverage for the grinder, tub, liner, and racks."
First, Maytag was the most reliable dishwasher sold at Yale 20 years ago.
Maytag produced the infamous Maytag Neptune washer and had to sell it to rival Whirlpool. That's what Maytag dishwashers are - a more featured and expensive Whirlpool dishwasher.
At $719-$949, it's not exactly affordable.
Our recommendation for the most affordable dishwasher was the Beko DUT25401 for $549.
Beko is not the most fully-featured dishwasher, but it has the most-used features. You have nine wash cycles from Heavy, quick, and Express to Rinse and Hold.
The top rack is adjustable like the better dishwashers. Beko is also stainless steel and not plastic on the inside. It's quite than competitive models at 48 dB.
Reliability, as documented, is better with Beko than every other comparable brand.
How These Review Sites Are Funded
Wirecutter and Best Products are paid a commission when you hit one of their affiliated links like Appliance Connection, Home Depot, Abt, and Wayfair, and purchase an appliance.
Ours is based on information you will use to hopefully consider buying from us in the future. Only 3% of our business is online sales.
Why Should You Trust the Wirecutter, Best Products, and Yale Appliance?
Wirecutter and Best Products talk about "Why You Trust Us" and their review procedures. Then again, do we in a very different way.
The other two will talk about their rigorous testing and talking to reps from their different manufacturers.
Then they will cite us, maybe Consumer Reports, and JD Powers for reliability. Only they don't mention the other two.
Taken at face value, it's not a bad story.
However, how rigorous could testing on a dishwasher truly be?
Not very when you look at the conclusions.
Speaking to a manufacturer in charge of making the dishwasher you are reviewing is like asking a fox about henhouse design.
It's not smart.
Not that I am much smarter. I have already admitted wanting you to consider us for your next dishwasher purchase, but selling is easy.
The biggest problem in this industry is service.
You look at service numbers so you can stay away from most repaired brands.
We keep those stats to know what not to sell, and warranty service is a financial drain to any service company.
That's the reason none of these affiliates service what they sell in Boston.
So you have a big disconnect between the review sites being paid commission and your final product satisfaction in many cases.
Consumer Reviews
I was watching YouTube appliance videos the other day.
Every reviewer loves everything. You seriously can't find anyone with anything bad to say.
That's odd because some products have known service issues.
You read consumer reviews, and everyone hates everything.
The disconnect is the process and how you are treated after the fact, especially with delivery, installation, and service.
Review sites are great for specifications, but understanding how the product is delivered and service in your home is vitally important.
What Is the Best Dishwasher: Key Takeaways
The 3 Best Dishwashers for 2021:
Before making any large purchase, read as much as you can on the product. Also, be sure to understand the agenda behind many of these review sites.
Their responsibility ends the moment you click buy on an affiliate site.
Make sure you arm yourself with consumer reviews as well to understand what happens after the sale.
Additional Resources
Get our free Dishwasher Buying Guide with tips, trends, and reviews of all the major brands. Over 800,000 people have already found answers in a Yale guide.
Related Articles:
Why Should You Trust Us?
It seems that every appliance review has nothing but glowing comments about almost every product, yet you read customer reviews and they are almost universally bad.
We are here to fill in the disconnect. We'll give you the best features, and the drawbacks as well, including reliability based on over 37,000 calls performed by our service team just last year. Our goal is to give you ALL the information so you know what's right for you.
Please consider subscribing or adding to the conversation in the comments below. We appreciate you stopping by.
Steve Sheinkopf is the third-generation CEO of Yale Appliance and a lifelong Bostonian. He has over 38 years of experience in the appliance industry, and he is a trusted source of information for consumers on how to buy and repair appliances.

Steve has also been featured in numerous publications, including the New York Times, Consumer Reports, The Boston Globe, Bloomberg Radio, the New York Post, The Wall Street Journal, and Entrepreneur, for his knowledge of how to buy appliances and appliance repair.

Steve is passionate about helping consumers find the best appliances for their needs, and he is always happy to answer questions and provide advice. He is a valuable resource for consumers who are looking for information on appliance buying, repair, and maintenance.

Despite being the worst goalie in history, Steve is a fan of the Bruins and college hockey, loves to read, and is a Peloton biker. The love of his life is his daughter, Sophie.
A Note About Pricing
Pricing on this blog is for reference only and may include time sensitive rebates. We make every attempt to provide accurate pricing at time of publishing. Please call the stores for most accurate price.