Gaggenau Steam Oven Recipes
This is week three of our new Sunday recipe articles. As we said, testing new appliances with real recipes is the best way to see how they perform.
Today, we will be using the Gaggenau steam oven. Designed by Bang & Olufsen, Gaggenau is the most unique looking appliance in the industry with its retro industrial stainless steel look.
The Gaggenau steam oven has the most functions on the market. However, other brands like Miele and Wolf are easier to use. You can do more with a Gaggenau. We can show you if you are in the Boston/MetroWest area.
Steam Cooking
Steam is the healthiest way to cook. You are adding moisture and not cooking out the nutrients. We talk at length about steam cooking and the different brands in our Speed and Steam Buying Guide.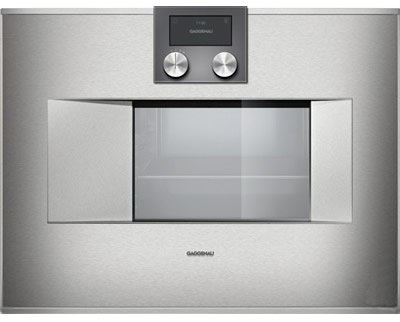 Features:
30" Combi-Steam Oven with 1.7 cu. ft. Capacity
Self-Cleaning
Convection
5 Humidity Levels
Meat Probe
Handleless Side Swing Door
Connects directly to home plumbing
Handle-less door with automatic door opening feature
Convection from 85°F - 450°F at variable humidity levels
Electronic precision temperature control from 85°F - 450° with automatic boiling point detection
14 Cooking modes
Removable Meat Probe with automatic shutoff function
Side-opening door opens up to 180° angle.
Option to save individual recipes (including meat probe).
Actual temperature display
The Gaggenau steam oven is a favorite because of its precision and adjustability. In the following recipe, we were able to steam this super healthy chicken dish at approximately 220˚F with 80% steam.
We didn't want to add full steam to retain some of the crunch that fresh fennel provides and to not dilute the wine and stock in the pan with excess water. Gaggenau gives that cooking flexibility.
Chicken with Fennel and Slow Roasted Tomatoes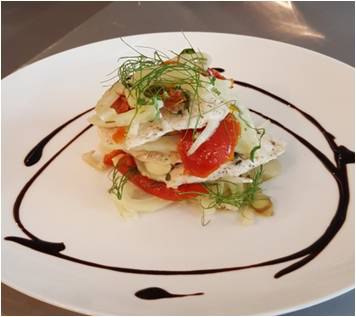 Ingredients:
1 Fennel bulb, sliced
2- 6 oz. Chicken breasts, boneless, skinless
2 Garlic cloves, chopped
½ tsp. Salt
¼ tsp. Freshly ground pepper
1 Tbsp. Oregano, fresh, chopped
4 oz. Davinia tomatoes, or any oil-cured tomatoes, quartered
¼ cup White wine
½ cup Chicken stock
3 Basil leaves, medium
Optional Fennel Fronds, for garnish
Balsamic glaze, as needed
Method of Preparation:
Preheat steam oven to 212˚F. Spread half of the fennel out on a solid steam tray; save the remaining half for the top. Slice chicken in half, lengthwise then in half widthwise and layer the chicken over the fennel slices. Top with the remaining fennel slices then sprinkle the garlic over the chicken and season with the salt, pepper and oregano. Top with the tomatoes then pour the wine and stock into the pan. Steam for 12-14 minutes depending on the thickness of the chicken breasts.
Remove the chicken from the oven and temp to make sure chicken has reached 165˚F; let cool for 5 minutes. Slice basil leaves and sprinkle over the top of the chicken.
To serve, layer fennel, tomatoes, chicken and fennel fronds onto a plate and drizzle with the balsamic glaze.
Additional Resources
Get the Yale Speed and Steam Buying Guide with features, full explanations of speed and steam ovens as well as detailed profiles of all the major brands including Wolf, Miele, Gaggenau, Thermador and more. Over 165,000 people have read a Yale Guide.
Related Articles
Steve Sheinkopf
My goal has always been simple: I want Yale to be the best retail experience anywhere. I have tried to create a compelling environment for customers and employees alike
A Note About Pricing
Pricing on this blog is for reference only and may include time sensitive rebates. We make every attempt to provide accurate pricing at time of publishing. Please call the stores for most accurate price.