Lynx vs Alfresco Professional Grills (Reviews / Ratings)
Free Delivery & Assembly of Grills Over $499
Professional grills are about power, sear control, and better stainless-steel construction to withstand the elements.
When you spend over $3,000, the best brands are Lynx, Alfresco, Kalamazoo, Viking, Hestan and Wolf to name a few. Along with Weber on the lower end, Lynx has been at the forefront of premium professional grills. They owned the segment for a long time. Both Alfresco and Lynx were started by the same person, but have changed a bit since.
In this article, you will learn the key features for both grills and then we will compare in the end. For 2018, Lynx is changing radically depending on when you will be purchasing.
Lets look at both companies.
Lynx
Lynx professional grills started in 1996 by a group of people with a vision. For more than 30 years Lynx had been manufacturing stainless steel products for the commercial restaurant industry.
These products were engineered to stand up to heavy use and the test of time. The Lynx founders were committed to incorporating the same high standards used for commercial restaurant products.
Since then, they have improved the grill and were the first to have an easy opening cover. Their variable sear just two years ago is still considered the best.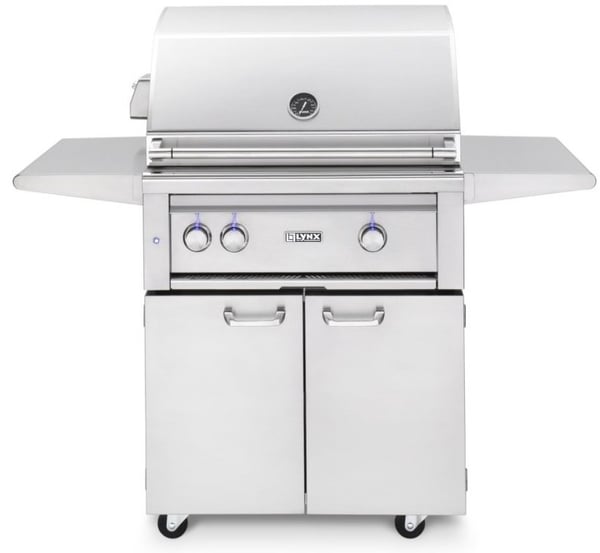 Features:
All Trident Burners (46,000 BTU's)
840-sq.-in. cooking surface (600 primary, 240 secondary)
Hot surface ignition system
Control illumination with blue LED's
Halogen grill surface light
Heat stabilizing design
Temperature gauge
Fluid rotation handle
Lynx Hood Assist Kit
Stainless steel grilling grates
Dual-position rotisserie with heavy-duty, 3-speed motor and rear infrared burner (14,000 BTU's) Heavy-duty welded construction eliminates gaps where grease and moisture can collect
Premium smoker box included
Lynx currently dominates the industry with its professional grills. Lynx has been known for their brass burners and they have once again introduced an industry exclusive: the trident infrared sear burner.
This allows the entire grill surface to sear meats at a high heat and cook fish and chicken at lower temperatures. The burners range from 300-1,000 degrees creating a very versatile cooking surface.
However, in 2018, Lynx is changing its cast brass burner to ceramic. All metal can corrode over time, even cast. Ceramic will be great, because it should not corrode, but it can break.
Check out our Lynx Searing Comparison below to see their Trident Infrared Burners vs. Ceramic-Radiant Briquettes.
The Lynx Trident Pro Sear Burners vs. the Lynx Sedona Briquettes [VIDEO]
Alfresco
Alfresco was launched in 2000 by co-founder Dale Sieden. He was also one of the former founders of the Lynx brand. Sieden specifically wanted to create a better product and a better luxury outdoor kitchen experience year-round.
All Alfresco grills feature titanium burners which can withstand any harsh climate by using a commercial quality stainless steel.
Let's look at the top of the line 30-inch freestanding grills from both Lynx and Alfresco.
To be transparent, we stopped selling Alfresco 2 years ago.
Alfresco Professional Grill ALXE-30SZC - $4,499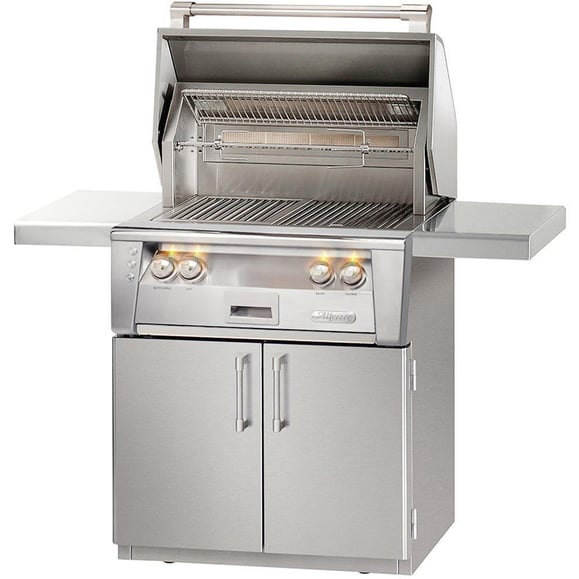 Features:
Stainless Steel 3-Burner Freestanding Grill w/ Rotisserie & Sear Zone Burner
304 Grade 14 Gauge Stainless Steel Construction
Two High-Temp Stainless Steel Main Burner
One Ceramic Sear Zone Burner
640 Sq. In. of Grilling Surface
87,500 BTU's
Integrated Rotisserie w/ Built-In Hidden Motor & 15,000 BTU Infrared Back Burner
Smoker Box w/ 7,000 BTU Dedicated Burner & Oversize Wood Chunk Drawer
Four Position Adjustable Warming Rack
Dual Integrated High-Intensity Halogen Lights
9v Push button Ignition w/ Sealed 9v Power Source
Unit Includes a Grill Cover
Alfresco Overview Video
The ALXE Grill has been engineered to deliver the intense, even heat needed to achieve perfect results, with control and flexibility by distributing extreme high heat to the cooking surface.
The sear zone goes to 1,500 degrees in 4 minutes and cooks 50% faster with virtually no flare-ups. The wood smoker and herb infusion system are unique with its defusing venting system enhancing the flavor of all you cook.
Which is Better?
I'm sure you have noticed these grills have many similarities; high-quality construction, stainless steel grates, and high-powered sear stations to name few. More importantly, let's talk about what Lynx and Alfresco do not have in common. Lynx has ceramic burners and Alfresco has titanium.
Ceramic is a new burner in the industry and both burners will have lifetime guarantees. However, ceramic is unproven. 2018 will be the first year.
Lynx has more options, all sear burners, all burners or a combination of both. Alfresco has titanium burners with a sear zone.
The price is different on Alfresco is $4,400-$4,900 and $4,019 for the Lynx. Lastly, you have better fluctuation or control of the sear in the Lynx down to 300 degrees.
Both grills are good....but they may have fallen behind to the newer grills like Hestan with better grates, rotisserie and an 18,000 BTU secondary infrared burner.
DCS has grills with all sear burners and a novel smoker. Kalamazoo has the hybrid drawer so you can cook with charcoal, wood with the speed of gas.
Both Alfresco and Lynx are great grills, but you should look at others as well for premium grills.
Additional Resources
Get the Yale BBQ Grill Buying Guide with features, specs, and inside tips to all the brands. Over 320,000 people have read a Yale Guide.
Related Articles
Steve Sheinkopf
My goal has always been simple: I want Yale to be the best retail experience anywhere. I have tried to create a compelling environment for customers and employees alike.
A Note About Pricing
Pricing on this blog is for reference only and may include time sensitive rebates. We make every attempt to provide accurate pricing at time of publishing. Please call the stores for most accurate price.