Who has the hottest range? It's an ongoing battle between all the manufacturers. Viking was the first with 15,000 BTU burners, Wolf has 16,000 on their all-gas unit, Jenn-Air has 20,000, Capital 22,000. A hotter range will heat faster especially bigger items like lobster pots, etc
This new Viking Brigade has three 23,000 burners and three 15,000 for the new record of 114,000 BTUs on a 36 inch unit.
UPDATE March 2013...New owner, Middleby, has stopped production of the Brigade
Have a look at The New Viking Brigade: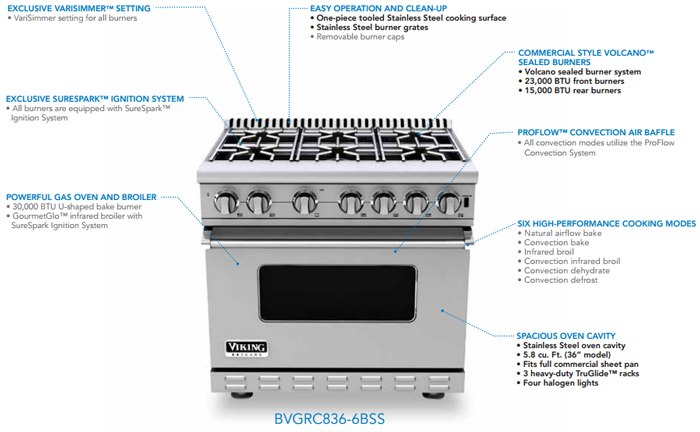 The Brigade is only available in a 36 inch unit with 6 burners, and is extra deep to fit a commercial tray. If you cook with most or all the burners, you will need a higher speed vent.
Other Features:
Stainless steel burners
Stainless steel interior
High output
27 inch depth
Comparison between a Viking Brigade versus a Viking Pro: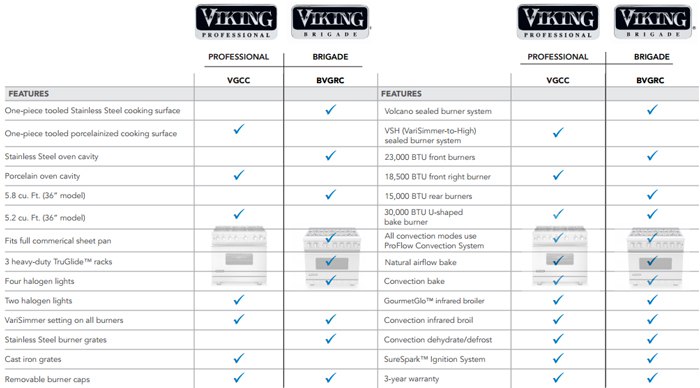 I especially like the larger, stainless interior, but it will protrude into the kitchen another 3 inches. However, the Viking Brigade will be the biggest and most powerful range on the market. There is no launch date at present
This has been a busy year for Viking first with their new Designer line, the D3, and now The Brigade. I like Viking and respect their committment to manufacturing in the US(it has always been important to me). I also give them credit for starting the pro range phenomenon in the late 1980s
However, they need to work on the perceived perception of service issues. Some of which is valid. A three year warranty is a good start, but rectifying potential problems at the factory level is a better course of action
Read a Yale Buyers Guide with over 25,000 downloads. Two associated with this post:
Other Resources: