Best 36-Inch Professional Rangetops (Reviews / Ratings / Prices)
You have more choices for built-in appliances than ever before. True commercial products like Capital have high restaurant BTU output. Residential brands like Thermador, Wolf and now Miele offer better simmer and cleanability.
We will look at each brand, their products and features, so you will have better information for your project.
Cooktop or Rangetop
Most people confuse rangetops and cooktops.
Cooktops drop into a hole on your counter and have the controls are on the top.
With a rangetop they cut a spot for it in the front of your cabinet and the controls are on the front. Rangetops typically have more power, a more commercial look and have the capability of having a grill and griddle as options.
Below are examples of both.
| | |
| --- | --- |
| | |
| Pro Rangetop Installed | Regular Cooktop Installed |
Now that you have an understanding of the difference between the two let's examine the four best companies: Thermador, Miele, Wolf and Capital.
Short on time? Get our free Pro Cooking Buying Guide
The Best 36" Rangetops
Thermador
Thermador was started in 1916 by William Cranston. They started in the small appliance industry manufacturing built-in and portable heaters. Thermador then invented the first wall ovens, speed ovens, retractable downdrafts and star burner gas cooktops. They are presently part of the BSH group based in Germany which consists of Thermador, Bosch, Gaggenau and Siemens.
Miele
Miele is a family owned company also based in Germany. The company was started by Reinhard Zinkann and Carl Miele back in 1899. Miele is viewed as producing some of the most reliable appliances in the industry.
The secret behind their success is quality control. Miele manufactures over 90% of all the parts that go into their products. Having total control leads to better reliability and less service visits.
Wolf
The Wolf range corporation was started by Al and Hyman Wolf in 1934. By 1938 the company was manufacturing a line of gas ranges, griddles, fryers and ovens for the food equipment industry. In 2000 the Sub-Zero company purchased Wolf and redesigned cooking around a three stage burner with especially good simmer capability. Wolf is a family owned and USA based company.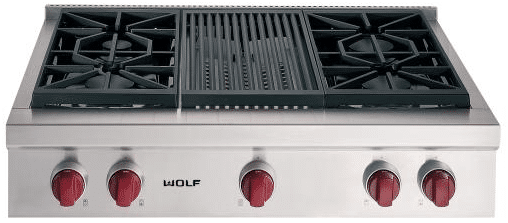 Capital
Last but not least we have the Capital range company. Sitting on the Board of directors as CEO is Mr. Surjit Kalsi. Mr Kalsi developed the very first dual flow gas burner, self-cleaning range. He was also very instrumental in developing the Viking range with Mr. Fred Carl.
He later went on to launch the DCS Company. Understanding the value Mr. Kalsi has brought to the appliance industry, the Capital board of directors invited him to join them as CEO. Capital is also a US based company.
Feature Comparison
Now that we know a little history of the companies let's see what they have to offer.
Thermador
PCG364GD
Miele
KMR1136G
Wolf
SRT364C
Capital
CGRT366
Price

$3,349.99

$3,999

$4,099

$3,599

High BTU

18,000

19,500 x 5

15,000

25,000

Lowest Simmer

375 BTU

650 BTU

325 BTU

approx 525 BTU

Burner Type

Sealed (Star Burners)

Sealed

S

ealed

Open (drip tray)

Griddle

Fusion Coated Electric

Rolled Steel

Rolled Steel

Rolled Steel (non stick)

Grill

Electric with lava rocks

15,500 BTU infrared
(Temp. Controlled)

16,000 infrared

18,000 BTU

Back-Lit Knobs
No
Yes
No
No
Grates

Cast Iron

C

ast

I

ron

C

ast

I

ron

C

ast

I

ron
Griddle
If you take a look at the Thermador griddle you will see that it is fusion coated so it is easier to clean. The Miele, Wolf and Capital griddles are rolled steel, which is not cleaned as easily. Also, the Thermador griddle can be removed for cleaning or you can insert an optional grill plate for light grilling.
However, the Thermador griddle is also electric. It will not be as hot as the comparable gas griddles, so you will not cook your pancakes as quickly.
Grill
Now for the grill connoisseurs. Look at the Wolf, Miele and Capital, because they are infrared gas. The infrared burner will be much hotter than the Thermador electric grill. The Capital grill uses ceramic rods to distribute heat better but are tougher to clean.
The Wolf and Miele grills use a ceramic burner which will burn off most of the drippings from cooking for easier cleaning. The only downside to the Wolf is it is not temperature controlled. Then again, typically you want your grill to be just one temperature: Hot.
Burners
If it is power you want take a look at the Capital range top. The Capital rangetop has 25,000 BTU's, because of its burner design. The open burners allow more air into the burners creating higher temperatures. The obvious downside is cleaning the drips and spills. Capital does have a slide out drip tray to catch most of the drippings, and the burner is removeable.
The Thermador's 18,000 BTU on all burners and the star shape are worth noting. The star burner creates a perimeter which is 56% larger than a traditional burner. The burners are all sealed for easy cleaning. They are raised above the cooking surface making it easy to wipe underneath them.
The Miele also has whopping 19,500 BTU with sealed burners.
Simmer
Wolf has the best simmer. The Wolf range top has extra low, consistent simmers as low as 325 BTU on all the burners. Thermador has 2 extra low burners which pulsate to 100 degrees or approximately 375 degrees.
Which is Best?
It really depends. I like Capital for sheer power, but you have to be willing to clean up spills. Miele has some good features, but is brand new. Thermador and Wolf are great overall products.
Thermador is more powerful, but Wolf is better on the simmer and is a gas fired grill and griddle.
If you like to cook larger items faster than the Capital would be a good choice. If you want speed and cleanability, then Thermador should be a consideration.
For simmering like melting chocolate or cooking slowly, consider the Wolf. If you like pancakes on a Sunday morning or grilling a steak, Wolf again would be a good consideration as would Miele.
Recommended Reads
Additional Resources
Get the new Yale Professional Range Buyers Guide with features, specs and inside tips to all the brands like Thermador, Wolf, Viking, Jenn-Air, Capital, GE Monogram and more. Over 95,000 people have read a Yale Guide.
Paul Groux
Paul Groux has been with Yale Appliance + Lighting for over almost 20 years, specializing in appliance sales. He is a former U.S. Army Paratrooper and has completed two Boston marathons.

Read more about Paul here.
A Note About Pricing
Pricing on this blog is for reference only and may include time sensitive rebates. We make every attempt to provide accurate pricing at time of publishing. Please call the stores for most accurate price.