In the past, there were just two types of ranges on the market: slide-in and freestanding.
Both types had their distinct benefits.
Many manufacturers are combining the best qualities of each and are creating a hybrid range. This article will address freestanding, slide-ins as well as this new hybrid of both.
Short on time? Get our free Gas Cooking Buying Guide for features and comparisons of all the major brands »
What is a Freestanding Range?
Freestanding ranges have finished sides and can be placed anywhere in the kitchen. Unlike slide-in ranges, they do not require counter tops on both sides to hide their unfinished sides.
Traditional freestanding ranges have a backguard with the controls on it. The majority of traditional freestanding ranges are 30'' wide however some models come in 40'', 24'' or 20'' widths.
90% of the ranges in the US are freestanding with the main benefit being affordability at the lower end and more features for the price at the medium as well as the higher end.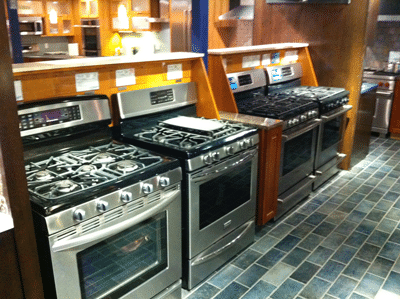 Example: Freestanding Frigidaire FPGF3081KF - $1,169.99
5 burners

17K BTU power burner
15K BTU power burner
10K BTU burner
5 K BTU burner
5 K BTU simmer burner
Center burner is an oval shape, great for griddles and skillets

Self-cleaning
Warming drawer
What is a Slide-in Range?
Slide-in ranges have the controls on the front. They sit on top of the countertops and give your kitchen a built-in look without "breaking the bank" on wall ovens and cooktops. The main advantage is seeing your backsplash without looking at the stoves back.

Slide-in ranges are only 30'' wide with unfinished sides so they are truly designed to be fit in between two cabinets. They are about 2" wider on top so they overlap the countertop.
One of the main benefits to the overlap is cleanability. Food and crumbs can't drip down the sides like it can with a freestanding range.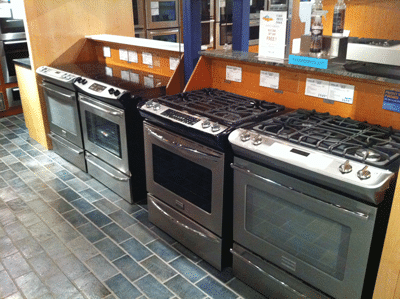 Example: Slide-In Electrolux EW30GS75KS - $2,709.99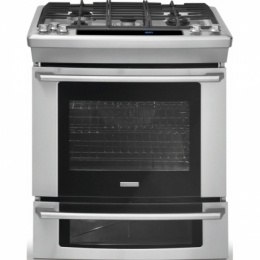 5 sealed gas burners

18K BTU power burner
16 K BTU power burner
2 x 9.5 BTU burners
5 K BTU simmer burner

2 cubic ft True European Convection Oven
7 cooking modes
Self-cleaning
Luxury glide rack
Warming drawer
Slide-In vs. Freestanding Ranges


Hybrid Ranges
Hybrid ranges have the controls on the front like slide-in ranges. However, this type of range can replace your 30 inch freestanding range without cabinet modification, unlike a slide-in range. It is simple to replace an existing range.
(Learn more about this new style in our Gas Cooking Buying Guide)
It may look like a slide-in, but the hybrid has the seam between the cabinets like a freestanding range. Food, liquids and crumbs can drip down the sides.
Example: Jenn-Air Hybrid JGS1450DS - $2,799.99 (after rebates)
This hybrid has finished sides like a freestanding range. If you like the idea of the sides of the range overlapping the countertop, this range has an optional trim kit you can purchase to give the range this desired look.
5 sealed brass gas burners

19K BTU power burner
15 K BTU power burner
8200 BTU burner
2 x 8 K BTU simmer burners

Genuine European Convection
6 cubic ft oven capacity (main oven + drawer)
Full extension warming drawer with oven capability
Dampened hinges for smooth door closing
Which Should You Buy?
It depends. For price, the freestanding range is still a good choice. For example, the difference between an induction freestanding and slide-in range with similar features is over $1,000.
You should consider hybrids for higher end replacement. You have the similar look of a slide-in, but there will be less carpentry and cutting countertops (never fun, often problematic). Hybrids are the stove of the future, because manufacturers can satisfy new and replacement with one range.
For new construction, you should consider the slide-in for looks and cleanability. Boil over water or soup, and there are no worries about drips down the side of the range.
Additional Resources
Get the free Yale Gas Range Buyers Guide with features, specs and inside tips to all the brands. Over 100,000 people have read a Yale Guide.
Recommended Reads