The Benefits Of Cooking With Steam (Reviews / Ratings)
October 22nd, 2020 | 6 min. read
Although steam cooking is a growing trend in today's market, the science of steam cooking has been around for centuries.
The first recorded use of steam cooking was in Ancient China, where cooks would place reed or bamboo baskets over water-filled hot woks. The French invented pressure cookers in the 1950s, which became a convenient way to prepare meat and vegetables.
Several residential appliance brands produce steam ovens, so you can now access this technology in your home.
We work with several brands of steam ovens with a range of features, functions, modes, design, and price points.
In this article, we'll cover how a steam oven works, the benefits of steam cooking, and the best steam ovens to consider.
Let's get started.
Everything You Need To Know About Steam Ovens
How Does A Steam Oven Work?
A steam oven uses water and turns it into steam to cook your food. Many steam ovens have a removable reservoir or tank filled with water that needs to be refilled when you use the oven. Some high-end models are plumbed or connected to a water line.
The oven has a valve to release the steam pressure, similar to a pressure cooker or a tea kettle.
You can use a steam oven for cooking vegetables, poultry, meats, and casseroles.
Steaming works well for delicate foods such as custards and seafood. Additionally, you can use it to reheat your food by adding moisture back into your leftovers.
Steam ovens are also extremely versatile with different cooking modes such as straight steam, convection steam, convection, sous vide, broil, proof, and more.
This oven can do almost everything you need for your daily cooking and meal prep needs.
The only limitations I've found (depending on the model and brand) is with the size. Most steam ovens (except the Thermador and Miele XXL) cannot roast a whole 25 lb turkey, but most people are not using their steam oven to roast turkey on a daily basis anyway.
Let's take a look at the benefits of cooking with steam.
Benefits Of Steam Cooking
Efficiency
Steam cooking is a lot more efficient than a traditional stovetop, especially for cooking vegetables, small cuts of meat, fish, grains, or reheating your food.
Most people would use a microwave to warm leftovers or prepared meals, but the dish's integrity is compromised with this reheating method.
Microwaves target moisture, so your food becomes rubbery.
Steam ovens solve this problem by adding moisture.
Steam restores the lost moisture into your meals so that they taste as good as they did when they were first cooked.
Pro Tip: You can combine steam and convection to achieve higher temperatures (around 435/450 F) than straight steaming (max 201/212 F) to crisp up or brown that leftover lasagna or fried chicken.
You can also use straight convection in a combi-steam oven as an independent setting if you wanted to cook a smaller portion or single tray of food.
Because the steam oven cavity is smaller, it will also preheat faster.
Healthiest Cooking Technology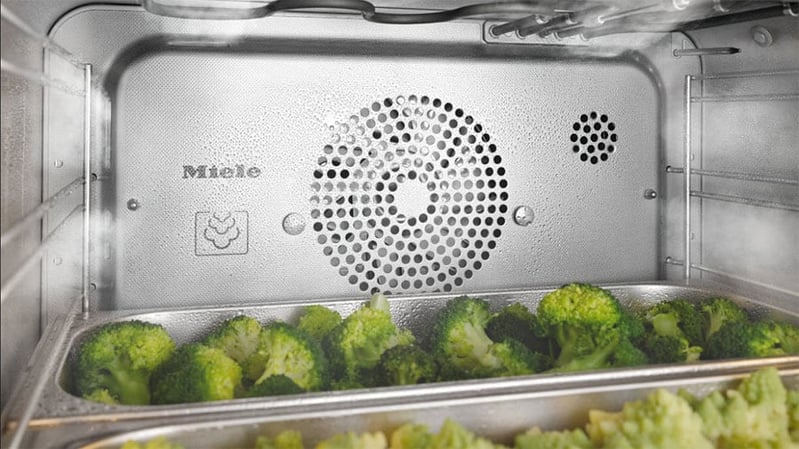 Miele Steam Oven With Steamed Vegetables
Steam cooking is the healthiest form of cooking. Today there is an enormous cultural emphasis on living a healthy lifestyle.
Your overall health largely depends on how your food is prepared.
Steam cooking retains more nutrients, vitamins, and minerals than other cooking forms. Your food will taste better as well as being healthier.
Very little or no oil is needed at all when steaming vegetables, proteins, and grains. Vegetables are my favorite example of how gentle the steam is because no ice bath is required to shock the veggies once they are removed from the oven.
The steam simply dissipates, leaving you with extremely flavorful, mildly crunchy, and beautifully vibrant produce. Steamed vegetables are moist rather than oily or mushy.
My least favorite way to eat produce is when it's pan-fried with butter or oil. I eat more produce with steam cooking than I otherwise would because steam cooking is easy and is not dependent on oils
Overall Health Benefits Of Cooking With Steam
Vitamins and minerals are preserved instead of leaching or burning out in either a pot of boiling water or in a conventional oven.
Foods maintained its nutritional value and texture instead of being shriveled up and dried out or mushy from other cooking methods.
Very little or no oil is needed. The focus is purely on the natural flavor, which shines after cooking in gentle steam by cutting out the fat.
Proteins retain natural moisture instead of drying in regular ovens or pans
Versatility
Steam ovens can cook a wide variety of items.
As we mentioned earlier, you can cook, bake, roast, grill, steam, defrost, and warm leftovers are making these ovens some of the most versatile appliances in the industry.
Although many people would be reluctant to do this, manufacturers claim that you could theoretically cook fish on one rack and muffins on another rack, and your muffins will not taste like fish.
For busy chefs who like to cook many dishes simultaneously, steam technology is designed to eliminate flavor transfer.
The majority of steam ovens have the perfect temperature and humidity control as well.
Cleanability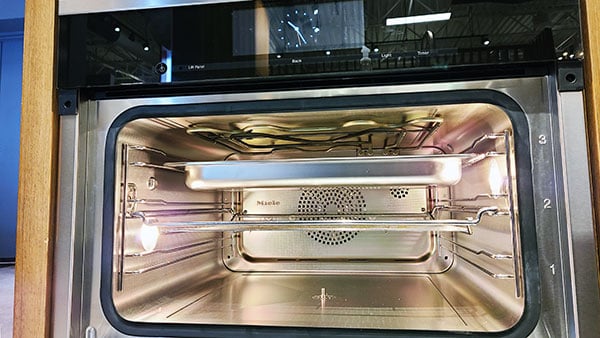 Miele Steam Oven Interior
Anyone who knows me is familiar with the fact that I love cooking but hate cleaning.
Steam ovens are the easiest appliances to clean because of the built-in steam, which helps lift food splatter from the oven surface.
Miele steam ovens go one step further and have incorporated the Perfect Clean finish on the inside of the oven cavity, preventing anything from sticking. It also makes cleaning the interior much easier.
Depending on which style and brand of steam oven you invest in, there is also a drain available in some brands, allowing the excess water that collects during steam cooking to exit the appliance.
Other brands without draining systems will have to either be manually wiped out or dried out using the convection mode.
Pro Tip: Additionally, if you have any pans or baking trays that have any food residue baked into them, simply place them into the steam oven, turn on the steam mode, and let them sit in there for a couple of minutes. The steam will help to dislodge the food particles and make your clean up much easier!
3 Best Steam Ovens To Consider
At Yale, we carry steam ovens produced by the industry's best brands: Gaggenau, Thermador, Wolf, Miele, Bosch, and JennAir. These companies make high-quality appliances that last for several years.
Out of these brands, here are the best three steam ovens to consider for 2020.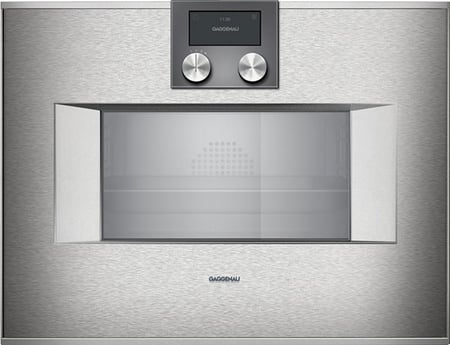 Features:
Side swing doors for easier access
Rotary knob and TFT touch display operation
Touch to open
Self-cleaning a unique feature to Gaggenau
Variable humidity levels 0%, 30%, 60%, 80%, or 100% Allow for assorted steam features
Broil element (with steam)
Sous Vide
Self-Cleaning
Temperature Probe
Plumbed and non-plumbed available
Cooldown feature to reduce steam when oven door opens
Gaggenau's steam oven is the best for form and function. With a Gaggenau steam oven, you can cook in every possible way, including sous vide.
Gaggenau also offers guided cooking modes in its 400 series combi-steam oven.
It's a great addition to someone's kitchen if they're a culinary enthusiast or chef.
Read More: Best Steam Ovens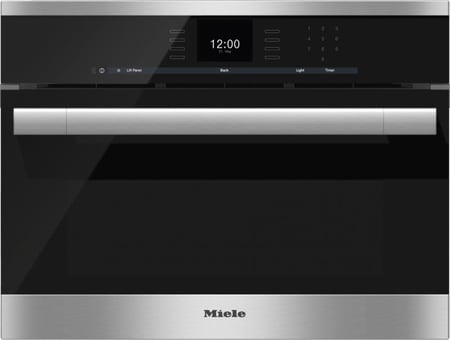 Features:
Menu Planning for multiple-step cooking
MasterChef pre-programmed options (some models)
Convection
Temperature probe (wired and wireless depending on model)
"Perfect Clean" Easy clean interior
Broil element (up to 450 F)
Wi-Fi Connectivity (some models)
XL (1.84 Cu Ft) Slightly larger cavity/available in XXL model (2.51 Cu. Ft same width, but taller)
Drain
Broiler
Sous Vide
Bake element (heat from the bottom)
Known for reliability, Miele has the most options for choosing a steam oven with many specialized features and unique modes.
This Miele steam oven has easy automatic programs for guided cooking, known has MasterChef. This is especially helpful for anyone new to steam cooking.
Read More: Should You Buy A Miele Steam Oven?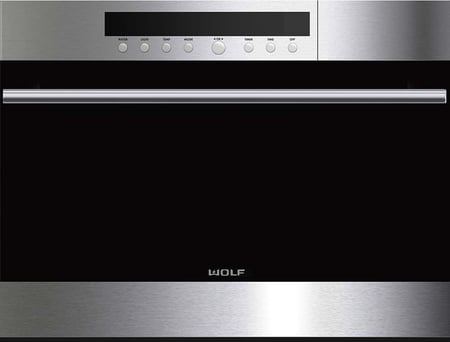 Features:
Gourmet Mode (pre-programmed options)
Simple interface for ease of use
Temperature probe
Convection Humid mode
Auto Steam Bake Mode
Interior cavity 1.8 Cu ft
Sous Vide
Temperature Probe
Wolf's guided cooking functions are second best after Miele.
The Wolf steam oven has a simple interface with a few specialty modes such as Auto Steam and Convection Humid.
One thing to keep in mind is this oven is only available in a non-plumbed version. It does not come with a drain or broiler.
Read More: Should You Buy A Wolf Steam Oven?
Should You Buy A Steam Oven?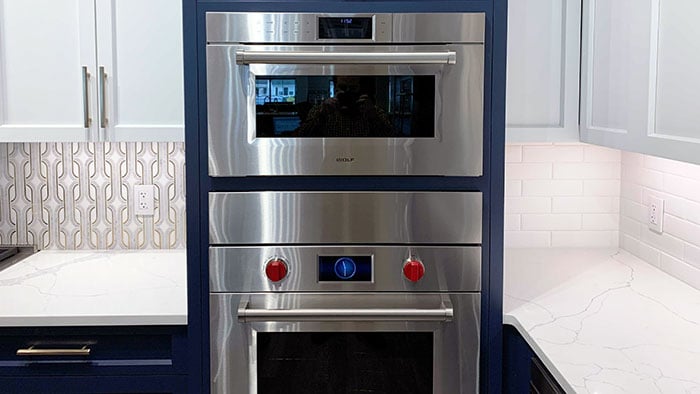 Wolf Steam Oven at Yale Appliance in Hanover
Steam technology is an emerging trend within affordable luxury brands.
I can't recommend these appliances enough. It will make your time in the kitchen more efficient and enjoyable.
The food will retain vitamins and original texture. It's simple to preheat and even simpler to clean.
However, there is a learning curve. You can check out a few other resources on the Blog. If you live in Massachusetts, you can schedule a virtual appointment.
I would be happy to walk you through the mechanics and answer any questions.
If you live outside of Mass, you still have plenty of resources in our learning center. You can always ask for a demo at your local appliance store as well.
Additional Resources
Get the Yale Speed and Steam Oven Guide with features, specs and inside tips to all the steam and speed ovens like Wolf, JennAir, Thermador, Gaggenau, and more. Well over 820,000 people have read a Yale Guide.
Related Articles
Why Should You Trust Us?
It seems that every appliance review has nothing but glowing comments about almost every product, yet you read customer reviews and they are almost universally bad.
We are here to fill in the disconnect. We'll give you the best features, and the drawbacks as well, including reliability based on over 37,000 calls performed by our service team just last year. Our goal is to give you ALL the information so you know what's right for you.
Please consider subscribing or adding to the conversation in the comments below. We appreciate you stopping by.
Steve Sheinkopf is the third-generation CEO of Yale Appliance and a lifelong Bostonian. He has over 38 years of experience in the appliance industry, and he is a trusted source of information for consumers on how to buy and repair appliances.

Steve has also been featured in numerous publications, including the New York Times, Consumer Reports, The Boston Globe, Bloomberg Radio, the New York Post, The Wall Street Journal, and Entrepreneur, for his knowledge of how to buy appliances and appliance repair.

Steve is passionate about helping consumers find the best appliances for their needs, and he is always happy to answer questions and provide advice. He is a valuable resource for consumers who are looking for information on appliance buying, repair, and maintenance.

Despite being the worst goalie in history, Steve is a fan of the Bruins and college hockey, loves to read, and is a Peloton biker. The love of his life is his daughter, Sophie.
A Note About Pricing
Pricing on this blog is for reference only and may include time sensitive rebates. We make every attempt to provide accurate pricing at time of publishing. Please call the stores for most accurate price.