Top 6 Best Speed Ovens for 2020 (Reviews / Ratings / Prices)
Speed ovens are an interesting product to consider for your kitchen. Most of the time, you don't use double ovens except for holidays and special occasions.
Perhaps you do not have space allocated for a microwave or use it infrequently.
Speed ovens are a good alternative for both. You can use it as an oven, microwave, or both.
In this article, you will learn what a speed oven is and the best brands. At the end you will be able to understand whether a speed oven is right for your particular style of cooking.
What is a Speed Convection Oven?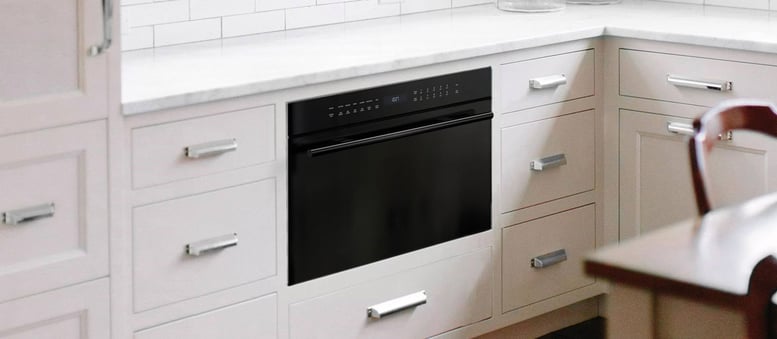 A speed convection oven is a convection oven, microwave, or a combination of the two.
The "speed" term refers to this appliance's ability to use microwaves in select convection oven modes to "speed" the cooking process without compromising the quality of your food.
Speed ovens combine the best capabilities of convection and microwave cooking. It pairs the efficient browning capabilities and heat distribution of a convection wall oven with the power and speed of a microwave oven.
In short, it utilizes the speed of a microwave with the quality of convection without compromising flavor and texture like a regular microwave.
The difference between a speed convection oven and regular microwave convection is the functionality of the controls and a fold-down door instead of a hinge.
It will match your wall oven and looks better than a traditional convection with a trim kit. Plus you will find it way easier to install.
There are many different types of speed ovens on the market. You will learn about the most popular brands like the GE Advantium, JennAir, Bosch, Wolf, and Miele so you can determine the right one for your home.
Speed vs. Steam
We often get the question about speed ovens vs steam ovens, and the best way to answer that comes down to lifestyle.
Both ovens have the ability to use straight convection modes.
If you have young children or need to get meals out quickly, the speed oven with the microwave could be a good option for you.
Steam ovens add moisture, retaining more nutrients and texture than a regular, speed, or microwave oven.
So it's about speed versus the better quality of food in a steam oven.
To learn all the differences between these two powerful products, read our Steam & Speed Oven Buying Guide
Pros
With this specialty oven, you can increase your cooking capacity and decrease your cooking time for large parties and holiday meals or if you need to get dinner on the table in a hurry.
With faster preheat times and the ability to cook foods quicker, speed ovens can essentially replace a conventional oven for your everyday cooking needs.
Because they are smaller, and combine 2 appliances into 1, they save you on counter and kitchen space.
Cons
Speed ovens are a little pricey, especially when compared to a microwave oven. The interior cavity is smaller than a standard 30" wall oven, so you will not have the same capacity as a double wall oven.
You will also not be able to use metallic pans when using any microwave or combination/microwave assistance modes.
Short on time? Get our free Speed + Steam Oven Buying Guide
Best Speed Ovens for 2020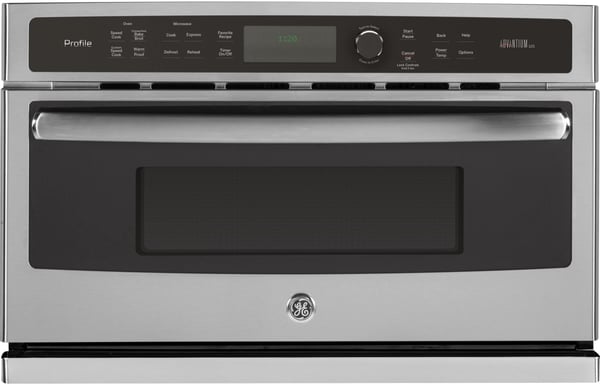 Speed cook oven (240 V) or (120 V)
Halogen Heat/Microwave/True European Convection/Convection/Broiling/Toasting/warming/proofing
Over the Range / Single Wall Oven /Combination Double Wall Oven
175 Preprogrammed Recipes/Custom Recipe Saver
3 speed, 300 CFM venting system (Over the range)
Advantium technology
The GE Advantium has a lot to offer and is available in 120 V or 240 V depending on your kitchen's existing electrical work.
This is a multi-purpose appliance which uses a 1550 Watt heating element that can give you a range of heat anywhere between 250 F and up to 450 F.
The Advantium technology is different from other speed ovens because it uses halogen light to cook the outer layer of the food, similar to a conventional oven.
Then it uses microwaves to speed up the process.
Unlike traditional microwaves that tend to dry out your food, the Advantium technology maintains the natural moisture in your food for better results.
In addition to the Advantium technology, these ovens also offer modes such as speed cooking, convection baking, broiling, toasting, warming, proofing, and can operate as a regular microwave.
The GE Advantium is available in multiple configurations with the basic over the range (OTR) model for a similar size to a microwave, a small wall oven install, or a part of a double wall oven install.
With so many options, and easy to use technology, the Advantium is a great choice for beginners to speed cooking technology.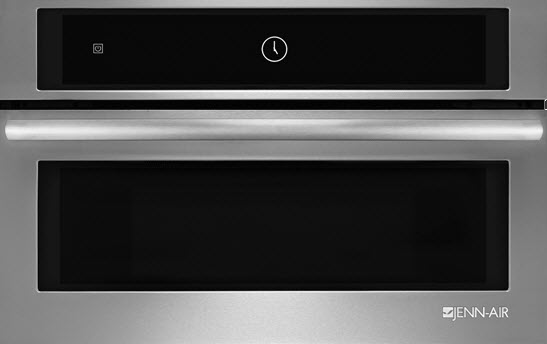 Features:
JennAir 30'' Microwave oven with speed cooking capability
1.4 cubic ft oven capacity
4.3 inch full color LCD display
Convection and microwave combination cooking
Convection fan, broil element, baking element give you perfect cooking results faster
Sensor cooking detects humidity released by food as it cooks to adjust the cooking time and power level for optimal results
Can be installed flush
12 operating modes
This speed oven can also be combined with a convection oven - JMW3430DS $5,099
The JennAir speed oven is one of the most straight forward in terms of interface and allows you to achieve results similar to a conventional oven, but three times faster.
The sensor cook feature detects humidity once your food is in the oven, it then determines the cooking time and power level for optimal results.
The built-in LCD screen is easy to navigate and allows you to see the temperature and mode while the food is cooking.
JennAir speed ovens feature a 900-watt microwave, 1,600-watt broil element, and 1,200-watt convection element.
Speed Cook Convection sets proper power levels for optimal taste/texture, cooking up to 3x faster.
Specialty modes include Speed Cook/Auto Cook/Steam Cook plus under "My Creations", you can choose multiple consecutive cooking cycles w/different cooking times and power levels to use at one time w/out having to reprogram the appliance.
The inverter technology adjusts the microwave oven's energy level to deliver continuous but less power, ideal for delicate foods.
There are multiple accessories available to maximize your cooking experience such as a browning pan, low rack/high rack, and a "claw" to remove your hot pans.
You can adjust the power levels from 10-30% when using microwave assistance, however, there are 10 Standard power levels for the microwave only.

There are up to 57 preset Speed Cook modes (more than an entry level), so this is for the customer who wants a little more. This speed oven is suitable for melting butter or chocolate, plus softening ice cream.
Following are results from my cooking tests.
A tray of brownies cooked in 17 minutes, and I was able to complete a lasagna in 25 minutes using the sensor cook technology.
So it cooks in about half the time as a regular oven.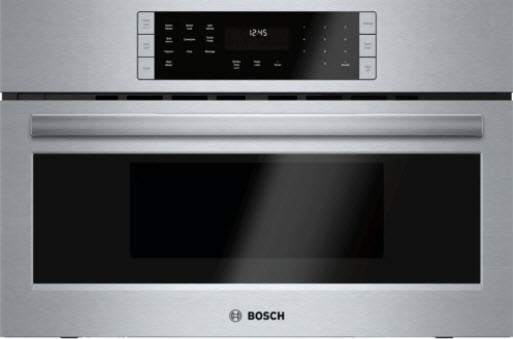 Features:
30'' Speed Convection Oven
1.6 cubic ft. oven capacity
17,000 Watt Convection
1,000 Watt microwave
1,750 Watt broil element
Auto chef cooking cycles take the guesswork out of speed convection cooking
10 power levels
Can be installed flush
Powered by 220V
Metal and ceramic turntable
This speed oven can also be combined with a convection oven - HBLP751UC $4,399
I would consider the Bosch speed oven an entry-level, with very basic features.
It features nine preset "speed chef" modes with pre-calculated algorithms for proteins such as meatloaf, chicken, pork, and more.
This speed oven can be used as a microwave, straight convection oven, or a combination of both, plus it has a bake element and a broiler.
This speed oven is great for anyone who is new to speed ovens.
Bosch speed ovens features a 1,000-watt microwave with a 1,750-watt broil element and a 1,700-watt convection element.
The combination oven uses microwaves with traditional heating elements to cook 30% faster.
The SpeedChef specialty mode delivers 9 pre-set programs plus there are Sensor Cook/Sensor Reheat as well as individual "Popcorn," "Pizza" and "Beverage" buttons.
More Modes adds 6 additional modes for melting and softening with lower power.
There are multiple accessories to maximize your cooking experience such as a metal turntable, ceramic turntable, and rack and 10 power levels for microwave only.
Auto Sensor Reheat is interesting determining the power level and reheat times based on a sensor humidity setting.
The Auto Sensor Cook also determines power level and cooking times based on a sensor setting determining humidity for the most popular microwavable foods such as baked potatoes, fresh/frozen veg, rice, frozen entrees.
Auto Defrost uses microwaves to defrost frozen foods based on weight of product entered, however there are only 3 options.
Features:
24'' Speed Convection Oven
1.52 cu. ft. oven capacity
1000 Watt microwave
19 Operating modes
Over 100 Master Chef menu items: M-touch control panel takes the guesswork out of speed convection cooking
Broil element
Rapid preheat feature
Timer and roast probe
Can be installed flush
Comes in a variety of finishes: clean touch contour-line (swivel handle), clean touch steel pureline (straight handle), obsidian black (pureline handle), truffle brown, brilliant white
Powered by 220 V
This speed oven can also be found in the Miele 48'' dual-fuel ranges: HR1954 $12,499
The Miele speed oven is considered one of the best speed ovens because it can be used as a complete oven.
Their M Touch controls are the easiest to use.
It has a bake cycle, convection cycle, and a straight microwave plus the broiler element. They can be used in conjunction with three levels of microwave assistance, 10 %, 20%, and 30%.
Miele also uses inverter technology turning microwaves on and off plus offers several special modes and functions such as Pizza, Combi-Auto-Roast, and Convection with Microwave Assistance.
The Miele M-Touch and Sensortronic have the bake element, but the direct select only has convection bake available.
Miele speed ovens are a true 3-in-1 appliance: 1000 watt microwave with Minute Plus and Popcorns buttons.
It also has a convection oven with a broil element and a combination oven using microwaves with a traditional heating element to cook 30% faster.
Miele features a PerfectClean Stainless steel interior preventing spillovers from baking into the surface, and splatters will clean up easier.
Specialty modes include: Master Chef Program/Probe/19 Cooking modes/20 Favorites (SensorTronic and M Touch only).
The microwave mixing wand eliminates the traditional turntable and allows for more usable space.
There are also adjustable power levels 1-3 (when using microwave assistance), but 7 standard power levels for microwave only.
The interface is easy to navigate, and with so many cooking options, you can use this as a smaller capacity oven.
The pizza mode will allow you to cook fresh pizzas. Breads will also soften on the inside, but still achieve a nice browning and crust on the outside quicker than a regular oven.
The Combi-Auto-Roast mode with probe allowed me to cook an entire roast with vegetables to a beautiful medium temperature in under 30 minutes.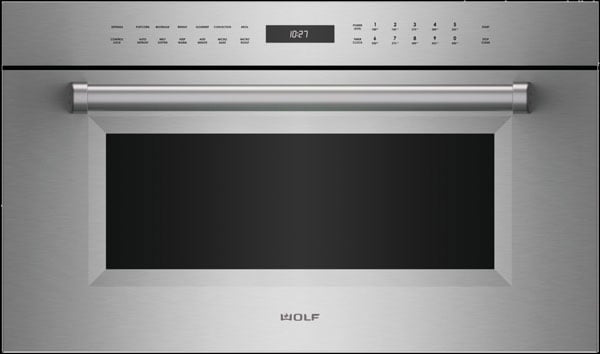 Features:
Combines microwave, convection, and broil technologies to provide all-in-one oven versatility
Fits a 9-by-13 pan in the 1.6 cubic feet, stainless-steel interior
Micro Bake and Micro Roast modes reduce or completely eliminate preheat times
Provides more cooking power than a traditional microwave with the help of convection and broil
Assures predictably delicious results with 10 microwave power levels, convenient quick-start modes, and an intuitive Gourmet mode
Breakdown of modes:

Popcorn/Beverage/Reheat/Gourmet/Convection/Broil/Auto Defrost/Melt/Soften/Keep Warm/Micro Bake/Micro Roast/Microwave

Comes in 24" or 30" profile for built in or under counter installation
Wolf debuted with their Speed Oven in 2019 and requires 220 V to run.
It is equipped with a 1,500-watt convection element, (2) 750-watt quartz broilers, and a 900-watt microwave.
The oven can be used as a regular microwave and is ideal for popping popcorn with a popcorn button, reheating beverages, defrosting foods, plus more.
If you are interested in baking cakes and delicate pastries, a straight convection option is recommended. The smaller cavity also allows for a quicker preheat.
This oven can easily fit a 9" x 13" pan and still cook a 12-14 lb. chicken.
Micro Bake and Micro Roast are one touch speed cooking (combination of microwave and convection) options which will reduce the cooking time but still give you conventional oven results, Wolf Gourmet is also available for pre-programmed guided cooking options.
The Wolf speed oven accessorizes with racks and risers to be used in conjunction with certain modes.
More information about the best use of these can be found in the manual or in the Gourmet mode.
Mode overview: Popcorn, Beverage (up to 6 cups of hot water), Gourmet mode (detects moisture in the oven for perfectly cooked results), Convection mode (non microwave mode), Broil (non microwave mode), Auto Defrost, Melt/Soften (for butter/ice cream/cream cheese), Keep Warm, MicroBake (low percentage of microwaves) used for dense baked goods, Micro Roast (higher percentage of microwaves) used for meats and vegetables.
Best Speed Ovens: Key Takeaways
When using any microwaves or combination modes with microwave assistance, it's best to use non-metallic, microwave safe cookware.
Modes in this category include Popcorn, Beverage, Reheat, AutoDefrost, Melt/Soften, Microwave.
When using straight convection, oven-safe cookware is recommended. These modes include Convection, Broil, Keep Warm.
Comparison
As you can see, speed convection ovens can be incorporated into your kitchen in a number of ways.
You can achieve the look of a double wall oven with more versatility albeit with a smaller interior, or you can even combine the speed convection oven into your range.
GE Advantium
This appliance is available in multiple configurations and voltages at various prices, suitable for any budget.
Plus the familiar interface and controls make this great for anyone new to speed cooking technology.
JennAir
JennAir's look is very clean and the controls are easy to use. I found this product worked well for denser baked goods such as brownies and lasagnas.
Bosch Benchmark
Bosch, JennAir and GE are three affordable luxury brands that made this list.
Of all the brands listed Bosch as the only brand to advertise the wattage of their convection and broil elements.
Bosch Benchmark has been a huge success as a premium product line in a more affordable luxury brand. Relatively speaking, this speed convection oven offers a lot for the price.
Miele M-Touch
Miele is one of the most quality conscious companies out there. Statistically, they are always a top brand in reliability.
The controls are simple to use so there is not as much of a learning curve as there may be with other brands.
Take a look at the Miele in action:
It is easy to use and makes anyone a gourmet chef. Also, Miele is the only manufacturer to combine speed cooking technology into their range.
Wolf
Newer to the market, but definitely a great product.
Wolf is only available in one design, but can fit a 24" or 30" space. Gourmet and Micro Bake and Roast are exclusive to this brand, and make speed cooking more comprehensive to a beginner.
Additional Resources
Download the Yale Speed Oven Buyers Guide with specs, features and insider buying tips to all the major brands in the market. Well over 820,000 people have read a Yale Guide.
Editor's Note: This article was originally published on September 1st, 2015 and has been updated for accuracy, freshness, and comprehensiveness.
Why Should You Trust Us?
It seems that every appliance review has nothing but glowing comments about almost every product, yet you read customer reviews and they are almost universally bad.
We are here to fill in the disconnect. We'll give you the best features, and the drawbacks as well, including reliability based on over 37,000 calls performed by our service team just last year. Our goal is to give you ALL the information so you know what's right for you.
Please consider subscribing or adding to the conversation in the comments below. We appreciate you stopping by.
Saba Wahid
Saba is the Resident Chef for Yale Appliance. Using her culinary expertise, Saba teaches Yale's sales team and clients how to use the latest appliances from steam ovens to induction cooktops. She has been in the culinary industry for many years working in various aspects of the business. She began her career in New York City and then made strides in the Dubai culinary media market while doing a live TV show and hosting food-based events all over the Emirates. From recipe development with several international brands to teaching cooking classes here at Yale, Saba's experience has evolved incredibly over the years.
A Note About Pricing
Pricing on this blog is for reference only and may include time sensitive rebates. We make every attempt to provide accurate pricing at time of publishing. Please call the stores for most accurate price.