Best Farmhouse Kitchen Sinks (Reviews / Ratings / Prices)
You know how they say everything comes back in style? Well these sinks have been around for a hundred years but have never been more in style than now.
In this article, we'll go over the materials that farmhouse sinks comes in, and some of our favorite farmhouse sinks to consider.
Short on time? Get our free Kitchen Plumbing Buying Guide
Farmhouse Sinks
The apron front or farmhouse sink is a very versatile and practical choice for a new kitchen. Not only do they come in many sizes but they come in many different materials too.
Farmhouse sinks look different than under mount sinks. Rather than blending into your kitchen, they become a design center point.
Materials
The classic material for farmhouse sinks is "Fire Clay". This has been the original material for over 100 years in England and is still holding up and going strong.
Fire Clay sinks are made of clay which heats up to very high temperature of 2,200 degrees. This will give the sink a nice shine and also makes it very durable. It's resistant to most scratches and chips and it is very easy to clean.
Fire clay is a great material because it is consistent throughout and not a glazed overcoat like porcelain. If you chip fire clay, it will look the same underneath.
Up until a few years ago 95% of apron sinks were sold in white. However, there are new styles to accentuate the more contemporary and transitional décor from stainless to concrete.
Let's look at a few different materials and styles of farmhouse sinks.
Fire Clay / Traditional White
White sinks are available in a few different styles. Rohl is the gold standard for the best fire clay farmhouse sink on the market.
Rohl 'Shaws' Waterside Bowed Farmhouse Sink - $979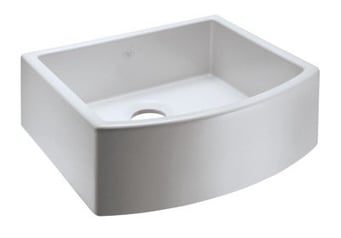 Rohl 'Shaws' Original Farmhouse Sink - $1,334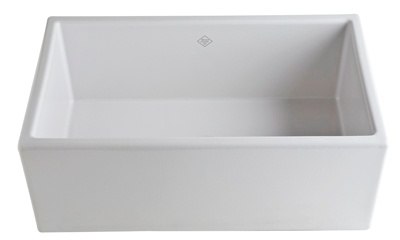 Rohl 'Shaws' Casement Edge Sink - $1,424
Copper

The Copper finish matches many traditional style kitchens. The sink is hand hammered copper, which gives it a unique and interesting texture.
Yale Brand Copper Farmhouse Sink - $1,399
Native Trail's Copper Farmhouse Sink in Antique - $2,985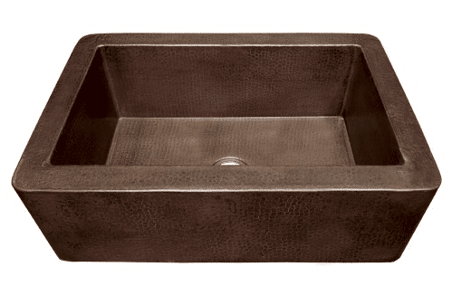 Stainless Steel
Stainless steel has become a more popular finish especially with more contemporary and industrial type kitchens. Most appliances are stainless steel, so this sink becomes a natural choice in the kitchen to match all finishes.
Rohl Stainless Steel Apron Front Sink - $2,229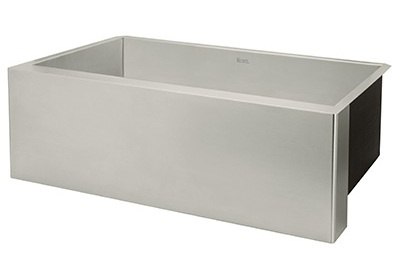 Stone/Concrete
Oddly enough, these finishes work with most décor. You want your kitchen to look different? Look at one of these.
NativeTrail's NativeStone Apron Front Sink - $1,236
(available in three colors; slate, ash, and pearl)
Final Thoughts
Farmhouse sinks are now not just for farms, but for any home. They add a rustic and different design than the usual hidden under mount sink. Offered in many different styles and materials, the farmhouse sink can easily be adapted to any space.
It will become a focal point in the kitchen and separate your kitchen from your neighbors.
One final tip: Make sure you choose which style sink you want early in your design process, because it has to fit in your cabinet base. It also can be a custom handmade product, which typically has a long lead time. (Read: How to Buy a Kitchen Sink)
Additional Resources
Looking for more information about sinks and plumbing? Download the Yale Kitchen Plumbing Buying Guide with features, specs and inside types to all the styles. Well over 120,000 people have read a Yale Guide.

Amy Zuckerman
Amy Zuckerman is a Lighting and Plumbing Sales Consultant at Yale Appliance + Lighting. Amy has over 30 years of experience in the lighting and plumbing industry. When she's not at work, you can find her going for rides in the convertible with her husband Al, and dog, diamond.

Schedule a showroom visit with me
A Note About Pricing
Pricing on this blog is for reference only and may include time sensitive rebates. We make every attempt to provide accurate pricing at time of publishing. Please call the stores for most accurate price.