Ah….the farm sink. If you want to distinguish your kitchen, this is one way to do it. Let's look at a few.
Farmers sink are most commonly white in a 30 inch width.
Stainless seems to be gaining in popularity again those sizes. Other materials also look good like soapstone and copper.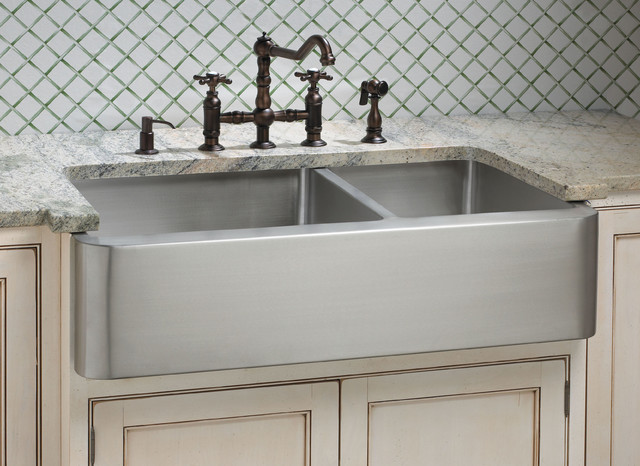 A Brief History of the Farm Sink
Years ago people would have to bring water from rivers, lakes or wells to use in their home. That water was used for boiling, bathing, washing dishes or washing clothes. There were no existing waterlines, so dry sinks were used to store the water. These sinks needed to be filled and drained manually. Due to this, Farmer's sinks or Apron sinks were used mostly for their capacity for water.
Farmer's sinks also became more popular due to the positioning of the front of the sink further forward, making leaning over the sink and washing dishes easier.
Farmer's sinks are identified by their built out appearance where the front of the sink is exposed as opposed to being confined in the counter.
You also have the option of a single or a double basin. They are generally larger and deeper than other traditional types of sinks.
Benefits of a Farmers Sink
One of the main benefits of Farmer sinks are aesthetics. These sinks give a certain charm and quickly become a focal point to any kitchen.
The deeper basin of the Farmer's sink also allows pots and pans of larger sizes to be washed easier than with a traditional sink and reduces splashing when doing so.
Farmer's sinks are usually closer to the edge of the counter which makes leaning over and cleaning dishes less of a burden on the homeowner.
What You Need to Know
One of the cons of Farmer's sinks are the challenges of installing them. You MUST plan for a farners sink before choosing counters and cabinets. It is installed way differently than a regular sink.
Sometimes a custom cabinet or sink basin has to be built in order to accommodate these sinks. Farm sinks can be deep, which sometimes makes it more difficult for a child to wash dishes or use the sink.
Should I Buy a Farmers Sink?
A Farmer's sink is a great feature for any kitchen, especially when it comes to appearance and matching a certain décor. It also becomes a conversation piece upon installation. The capacity of the sink is large and if you do a lot of cooking with pots and pans, this is definitely a good option for you.
Although it started with traditional décors, farm sinks can be placed anywhere. I like the farm sink, because as I said in the begining, it's a different, yet timeless look.
Additional Resources
Get our free Kitchen Plumbing Buying Guide with tips, trends and more. Over 80,000 people have already found answers in a Yale guide.