How to Buy a Kitchen Sink: Choosing Stainless, Porcelain, Concrete or Fireclay Materials
Well, after 30 years in the plumbing business I do know a little about this. When I first started selling sinks for kitchens you had a choice of "Cast Iron Enamel" or "Stainless Steel" that's it and it was easy to choose just by the aesthetics.
Now we have more choices of material so let's break this down with pros and cons of each.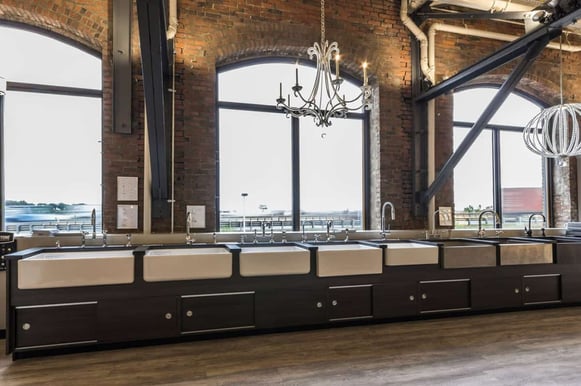 Types of Kitchen Sinks
Top Mount Sink
Drops in from above and has a rim edge that overlaps the counter. These types of sinks are usually installed in Formica or any other counter material.
They can be tougher to clean. The rim of the sink sits on the counter and food and dirt is caught around the edge of the sink. If you have Formica counters you have no choice but a top mount sink.
Short on time? Get our free Kitchen Plumbing Buying Guide
Undermount Sinks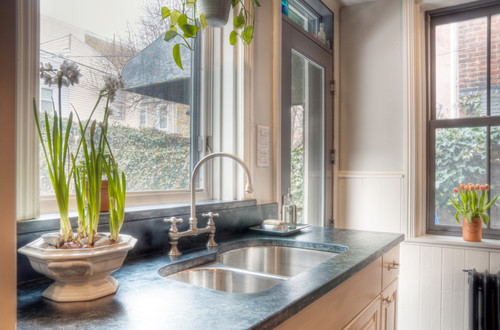 Mounted from underneath a solid countertop (granite, marble, corian, and any composite material).
What I like about the undermount sinks is the easy of cleaning. You can wipe the counter down and go right into the sink because it doesn't overlap the counter.
The sink is hidden under the counter and adds a sleek modern look to the kitchen. It also accentuates the counters.
Farm House Sinks
Sits on the cabinet base and does not require support for the counter. They do require custom cabinets and countertops as they are pretty heavy.
They are also deeper so if you want to use a disposer you will need a deep flange because the thickness on the sink will not hold a normal disposer without the flange.
These sinks are best in Fireclay and also available in Stainless Steel.
Best Kitchen Sink Materials
Cast Iron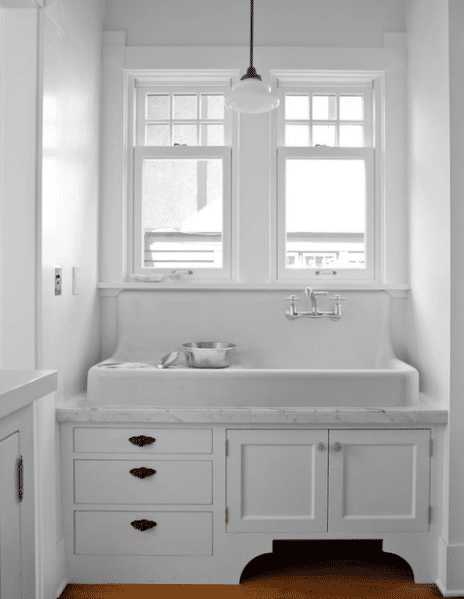 Pros:
They are very heavy duty made from iron and enameled finish...been around for hundred plus years
The finish is glossy (like your nails after you get a new manicure) and beautiful
They come in colors from white to red to black and more
Cons:
They are extremely heavy and need a strong enough cabinet to hold the weight
They will stain easier than some other materials
You could lose a wine glass or 2 as they are a brittle surface with no forgiving
The enamel can chip and then discolor
Stainless Steel
I could write an entire blog on Stainless Steel but I will try to keep this under control.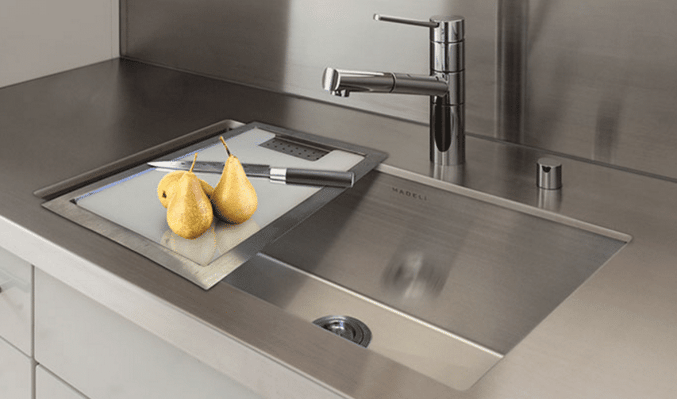 Pros:
They are easier to sterilize (used in hospitals where that is paramount) so imagine how clean your fruits and veggies can be
They will scratch and the more they do the less scratches you will notice (in other words not to worry)
They are forgiving with fine china, glassware
They do not stain
Easy to clean with most polishing compounds (like Bar keepers friend)
They match your new appliances
Comes in endless sizes, styles, shapes, depths...you will always find just what you need
Cons:
They scratch
If certain chemicals are left on the surface for extended period of time it could cause a reaction that will topically discolor surface, but can be cleaned easily with elbow grease
Some can sound tinny if you get one with no undercoating
They can look dull if you buy one that has a lower ratio of nickel vs chromium. You want to buy 16 to 18 gauge
Fireclay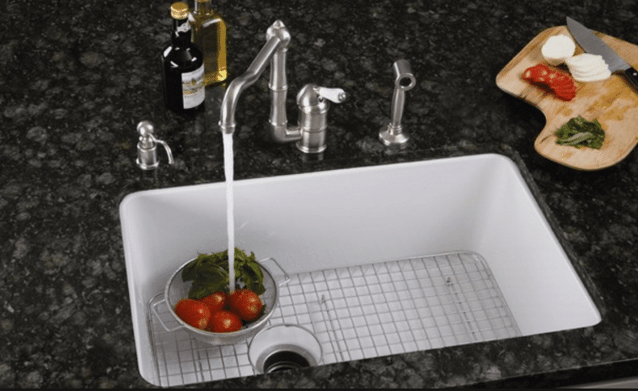 What is Fireclay? It is a ceramic-porcelain material that is, in appearance , much like cast iron enameled but with a stronger finish. This sink is fired, in a kiln,at double the temp than enameled sinks which gives them a nonporous surface and everlasting shine.
Pros:
They come in a variety of styles and sizes from under mount single, and double sinks or the more well-known Farm sink.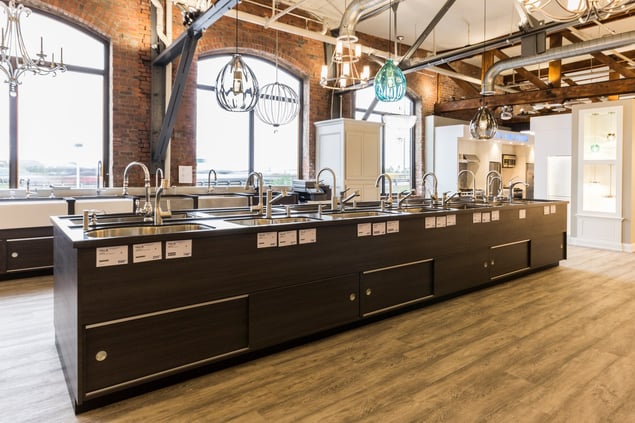 Rohl Shaws Sink RC3018 - $1,339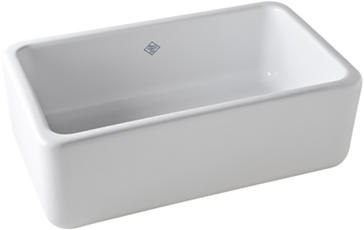 Fireclay is available in white, biscuit or black and the color is solid all the way through.
We have found nothing to permanently stain this sink material (not even a permanent Sharpie).
Clean then with almost anything, no need to "be careful" of cleaners like scrubbies or abrasives.
It is a wonderful alternative to the stainless for people who want a durable colored sink.
If the unthinkable did happen you can repair the surface with a kit (only once in 25 years have I sold a repair kit when the electrician dropped his tool from the ceiling into the sink).
Cons:
They are very heavy so your cabinet must be prepared to hold the weight
They come in fewer sizes and shapes than other materials
They tend to be on the costlier side of sink
Now for some different ideas that are less well known.
Metal Sinks
Copper is maybe most popular of the Metal Sinks but Brushed Nickel is also a beautiful choice.
Native Trails CPS292 - $2,229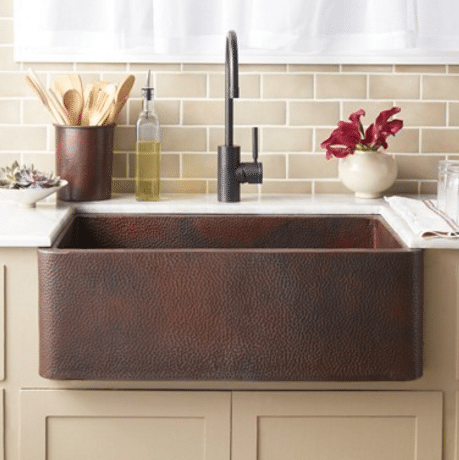 Native Trails - Cocina in Brushed Nickle $1,305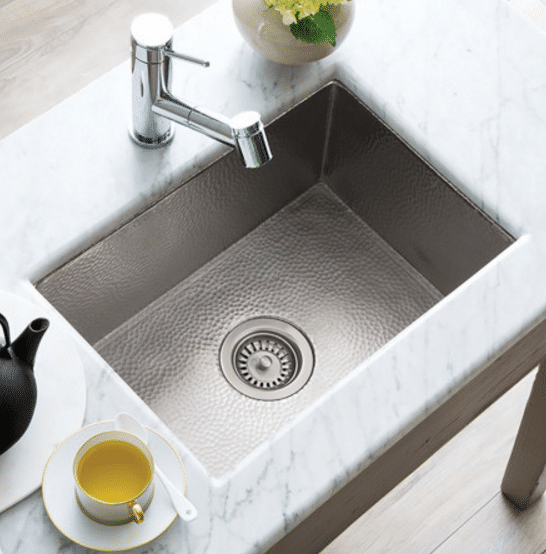 Composite materials
Many kitchen sink companies have come out with their own blend of material like Franke.
They have a Granite composite made of quartz sand and acrylic resin.
Franke ELG11022MOC - $444.00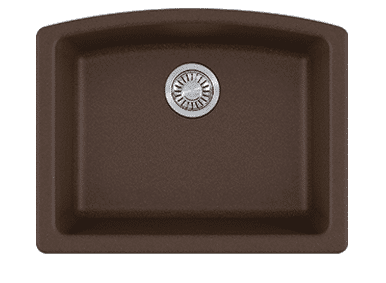 Native Trails Nativestone - $500-$1,300
(Comes in 3 finishes, with many shapes and sizes)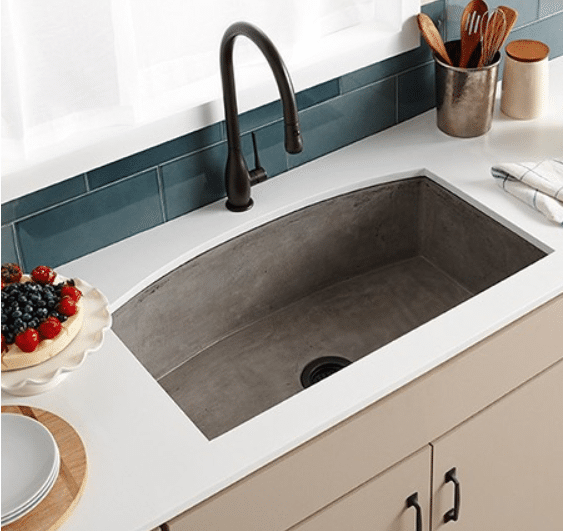 Bates and Bates makes the Z Series out of non-ferrous metals and high tech polymers for a sink that is almost indestructible with a lifetime warranty. Great solution for the client who wants a copper sink but no maintenance with it.
The Zarina - $3,440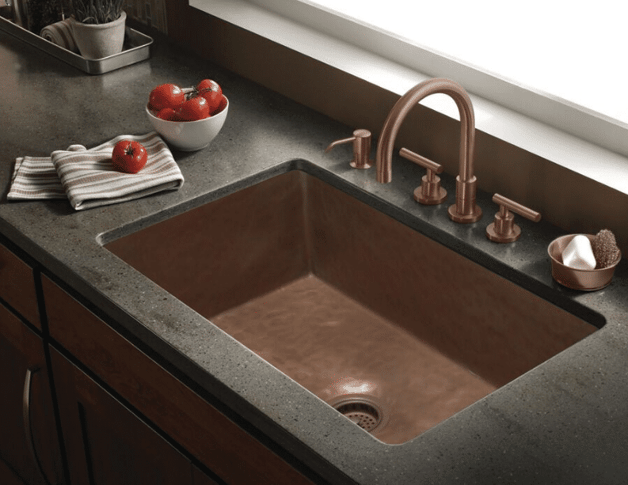 The Zarina can be an undermount or a drop in. Also available as a bar sink.
Pros:
Comes in unlimited colors , shapes and sizes
Very stain resistant
Makes a design statement
Good alternative for the "real" thing (concrete, copper) with much lower maintenance
Cons:
Can get pricey
More challenging to find on display
Do your research to make sure your buying a high quality composite so you reap all the benefits of them
Final Thoughts
So gone are the days when we only had 2 choices. Today there are endless styles and materials to choose from. You can match you counter tops, your cabinet hardware, your lighting or your appliances.
You have the ability to tie in your sink into the overall look and style of your kitchen.
Or you can always hide it under your counter.
Additional Resources
Get the Yale Kitchen Plumbing Buying Guide with a complete breakdown of different sink, faucet and accessories available. It is a great way to start your kitchen remodel project. Over 200,000 people have read a Yale Guide.

Related Articles
Editor's note: This article was originally published on September 9, 2015 and has been updated for accuracy, freshness and comprehensiveness.
Amy Zuckerman
Amy Zuckerman is a Lighting and Plumbing Sales Consultant at Yale Appliance + Lighting. Amy has over 30 years of experience in the lighting and plumbing industry. When she's not at work, you can find her going for rides in the convertible with her husband Al, and dog, diamond.

Schedule a showroom visit with me
A Note About Pricing
Pricing on this blog is for reference only and may include time sensitive rebates. We make every attempt to provide accurate pricing at time of publishing. Please call the stores for most accurate price.