How to Use Your Galley Workstation
When entertaining, the kitchen always becomes the most popular room in the house.
People enjoy having company over, but don't particularly care for the clean-up.
The Galley workstation provides a unique food prep, entertainment, buffet, and cleaning area all rolled into one.
Keeping everything in one area will keep things tidier in your house, and will make your time in the kitchen more efficient, which means more time with your family and friends.
In this article, you will learn what the Galley Workstation is, how to use it, all the benefits of every accessory, and the most popular configurations.
Let's get started.
Short on time? Get our free Kitchen Plumbing Buying Guide
What Is a Galley Workstation?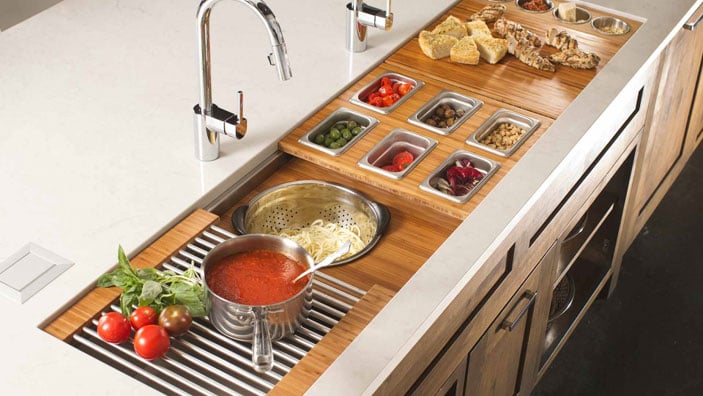 Galley Workstation
A Galley workstation is a central hub over your sink to prep, cook, serve, entertain, and clean all in one workspace.
The Galley Workstation is a basin with a faucet, but the accessories, both standard and optional, are truly unique.
Galley Workstation Sizes
The Galley workstations come in various sizes, configurations, and with multiple accessories. They range in size from 7', 6', 5',4', 3' 2', and 18".
Galley Workstation Accessories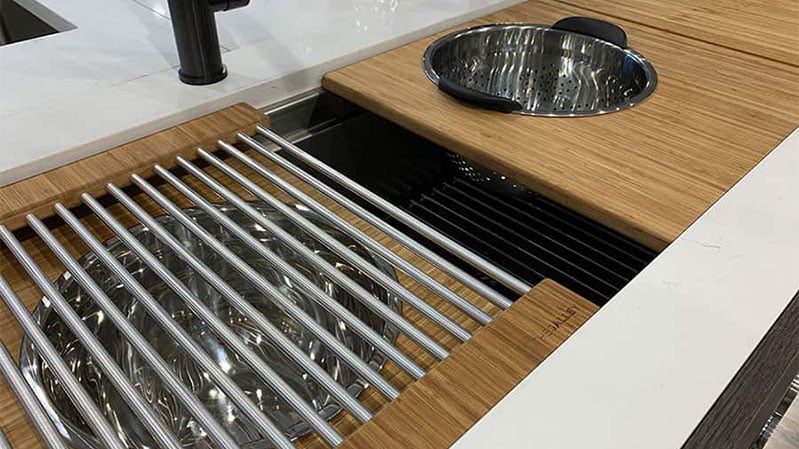 Galley Workstation Base
Each Galley workstation comes with a standard or base accessory package. This includes a drying rack, a cutting board, a stainless steel bowl, and a colander.
You can buy additional accessories for your workstation depending on the size of your workstation and your cooking style.
Additional workstation accessories include:
Countertop knife block
Half sheet pan
Garnish cutting station
Utensil caddy
Garnish board
Serving set
Wash set
Condiment serving board
Chef's block
Washer & serve set
Upper deck
Strainer baskets
Bottom grate
How to Use Your Galley Workstation
It comes down to your style of cooking and entertaining. The ideal workstation should be long enough to fulfill your culinary needs.
If you like to entertain and have a big kitchen space, the 7' would be ideal for everything.
All your food can be prepared, served, and cleaned up easily with this extra-long galley workstation.
This configuration can support up to 3 people working at a time.
Busy families that spend a lot of time in the kitchen during meals will enjoy the 6' Galley.
It's ideal for 1-2 people to be working, prepping, or cleaning simultaneously, which will make mid-week mealtime in the kitchen more efficient.
The most popular size is the 5' configuration because it offers the functionality of the larger Galley, but in a size that would suit most kitchens.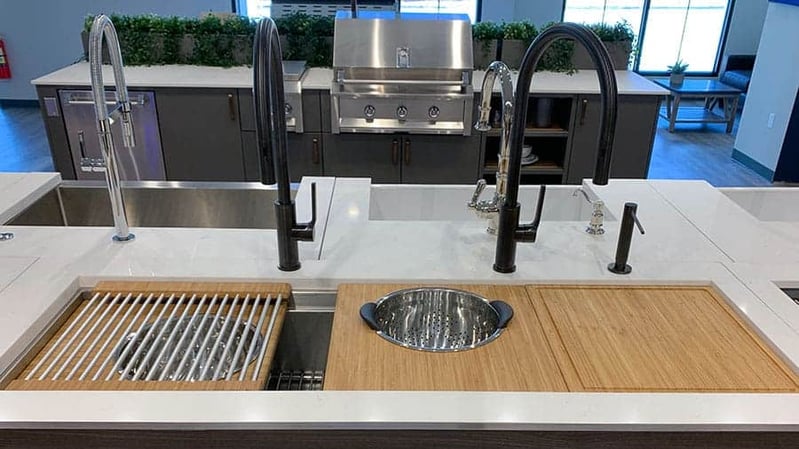 Most Popular Galley Workstation 5' Configuration
This workstation can support 1-2 people working side by side easily along with the 2 faucets.
This configuration can be used for a food buffet as well as prep and cleaning.
If you have a smaller kitchen and like to entertain the 3' or 4'' workstation might be a better fit.
Ideal for a cocktail-style party set up along with an area to display your cheese and charcuterie plus everyday meals. The bar accessories can also easily be used in this configuration.
The 2' and 18" Galley sinks also have great potential not only for prep but for a small bar set-up or as a secondary functional sink.
In addition to preparing your cocktail garnishes, you can also wash your barware and dry it on the racks.
Using Your Galley Workstation Accessories
The Galley workstations are made to be customized in a way that will work with your lifestyle.
There are no limitations when it comes to configurations, but the size of the Galley will determine how many can be used at one time.
Below are all your options and how to use them:
Bowls With Lid and Non-Slip Bottom:

These bowls are great for storage.

Chef's Block:

The Chef's Block is great for slicing and serving large roasts and other meats.

Colanders:

These can be used to rinse fruits and vegetables or to dry large serving utensils.

Condiment Serving Board:

The Condiment serving board offers various finishes and two configurations for three compartments or six. This would be ideal for sauces and accouterment.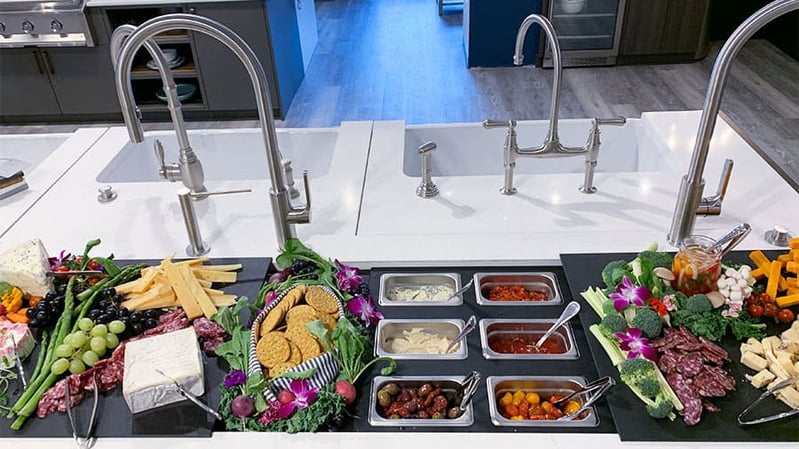 Galley Workstation With Condiments Serving Board at Yale Appliance in Hanover
Countertop Knife Block:

This is a great use of space, plus it keeps the counter clear of clutter and your workstation will be safer with the sharp knives tucked away.

Dual Tier/Upper Tier Cutting Boards:

You can use these cutting boards to display food like cheese and charcuterie, bread and rolls plus sauces, condiments, butter, jams, jellies, drinks, etc. Bonus, you can also use chalk to write on them for your food displays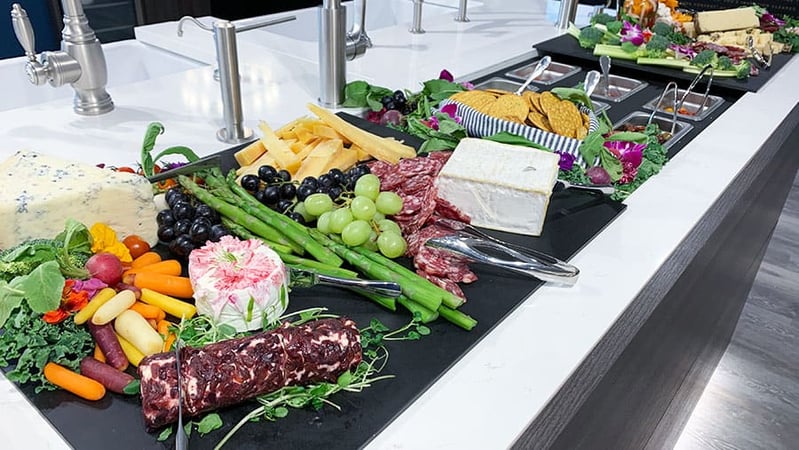 Galley Dual Tier and Upper Tier Cutting Boards Set Up for Entertainment
Dual Tier/Upper Tier Drying Racks:

You can display hot pans coming straight from the oven or stove.

Dual Tier Platforms for Colander and Mixing Bowl:

These platforms have many uses for prep, service, and cleaning.

Half Sheet Pan:

This is a standard size half sheet pan that can fit into the upper deck straight from the hot oven. It's perfect when you are keeping food warm right before service, then just place it in the Galley when you are ready to serve along with garnishes and sides.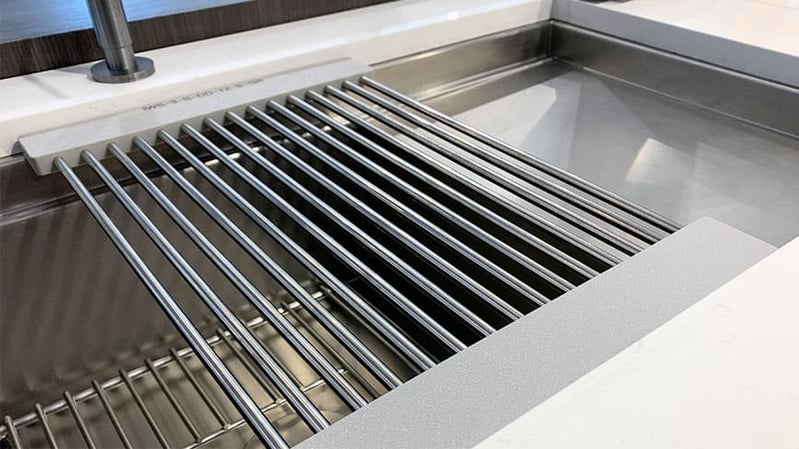 Galley Workstation With a Half Sheet Pan (Right)
Garnish Board:

The Garnish Board is ideal for a bar set-up for lemons, limes, olives, cherries, and citrus twists.

Garnish Cutting Board:

To accompany the Garnish Board, this cutting board is ideal for cutting up all your garnishes.

Upper Deck Sink Cover:

This cover can go on top of your whole sink and can the area can purely be used as a display area.

Utensil Caddy:

This can be used for serving and cleaning your utensils.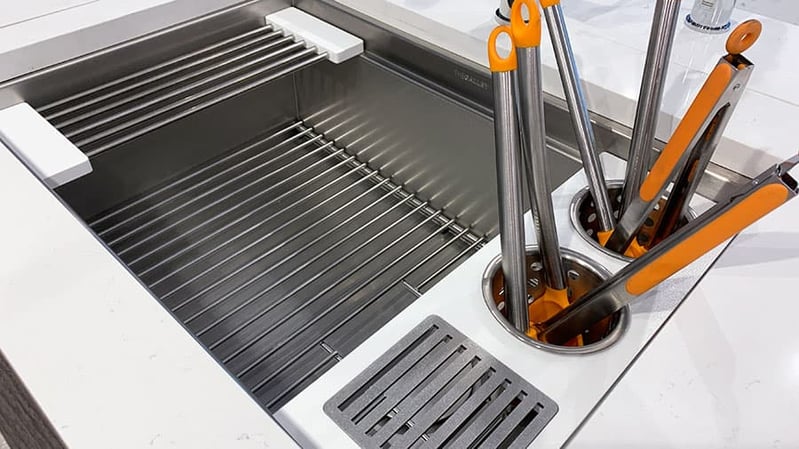 Galley Workstation With Utensil Holder
Serve Set:

This will include a bowl that will allow you to set-up the Galley as a bar area that can fit in the upper and lower deck.

Wash and Serve Set:

This includes both sets of the bowl, one with a drain for cleaning and one for the bar.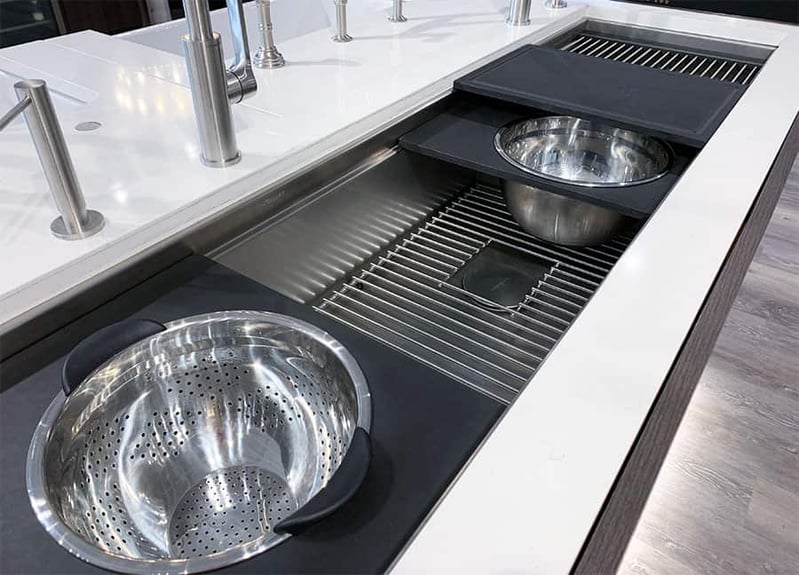 Galley Workstation with Wash and Serve Set
Wash Set:

This will include a bowl with a drain that can easily fit on the upper or power-deck.
Read More: Should You Buy A Galley Workstation?
Key Takeaways
The Galley workstation is not only great for entertaining but is an excellent way to make the most use of a small or medium size kitchen for everyday meals too.
If you can prep, serve, and clean all in one area, the rest of the kitchen and house can be kept tidier.
This makes your time a lot more efficient, which can be used for spending more time with your family.
Additional Resources
Get the Kitchen Plumbing Buying Guide with a complete breakdown of different sink, faucet, and accessories available. It is a great way to start your kitchen remodel project. Over 820,000 people have read a Yale Guide.
Related Articles:
Why Should You Trust Us?
It seems that every appliance review has nothing but glowing comments about almost every product, yet you read customer reviews and they are almost universally bad.
We are here to fill in the disconnect. We'll give you the best features, and the drawbacks as well, including reliability based on over 37,000 calls performed by our service team just last year. Our goal is to give you ALL the information so you know what's right for you.
Please consider subscribing or adding to the conversation in the comments below. We appreciate you stopping by.
Saba Wahid
Saba is the resident Chef at Yale. She will teach you how to use your new oven, cooktop, or range. She is skilled in every new feature, including steam, induction, convection of all types, air frying, and sous vide. Saba is also the reigning Chopped Grand Champion crowned by Martha Stewart herself. Saba is incredibly versatile with all different types of cuisine. After just one session with her, you will be a better chef.

Saba has also been featured in numerous publications such as Mashed, Eater Boston, the Boston Herald, and the Framingham SOURCE.
A Note About Pricing
Pricing on this blog is for reference only and may include time sensitive rebates. We make every attempt to provide accurate pricing at time of publishing. Please call the stores for most accurate price.