How to Properly Size Your Kitchen Sink (Reviews)
If you are undergoing a kitchen remodel or if you are replacing your countertops, you are in the market for a new kitchen sink. Sinks come in all shapes and sizes. In today's new kitchen designs, many people are opting for more than one sink to serve additional utility needs.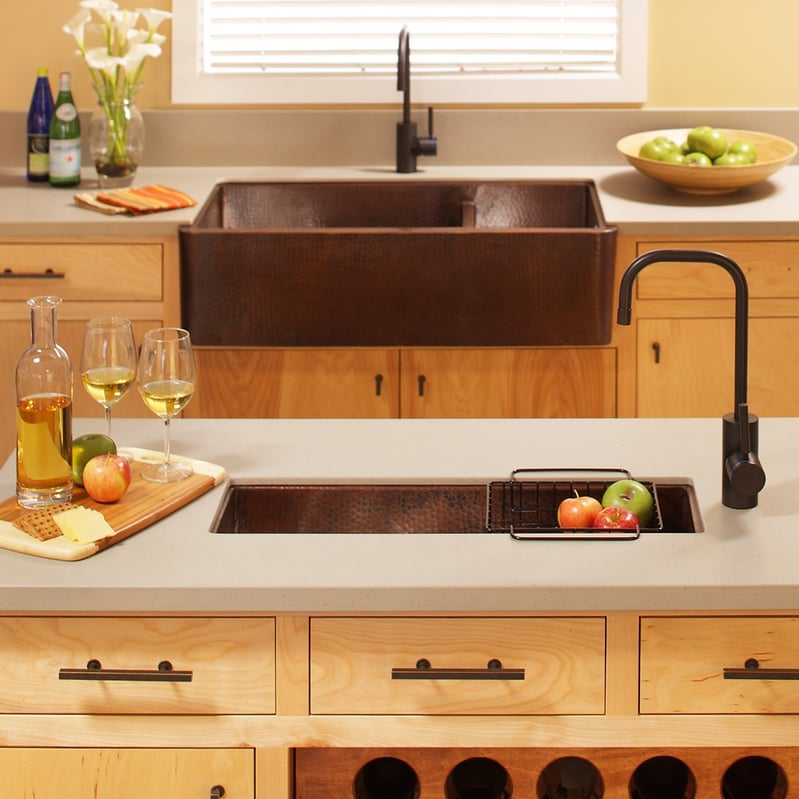 How to size a sink:
Sinks are designed to be installed in a base cabinet. Base cabinets vary in size. As a rule of thumb, take the size of your base cabinet (in inches) and subtract 3 inches. The sink size you choose must be 3 inches smaller than the cabinet the sink sits in.
The Formula:
Sink base size (inches) – 3 inches = maximum size of sink you should buy.
Why is this? Undermount sinks need to be mounted underneath the counters. You cannot see it, but there is a 1.5-inch lip of the sink that needs to adhere to your counters on each side. Therefore, you need at least 3 extra inches for the sink to fit into your base cabinet.
For an apron-front sink, you need 1.5 inches of space on either side for the sink to sit in the base cabinet.
Types of sinks:
You can choose from three different sink-types: undermount , overmount or apron-front.
Undermount sinks are the most commonly purchased in today's home renovation market. An under-mount sink is installed underneath your counters. This sink-type has a very sleek look and is relatively easy to keep clean.
Overmount sinks overlap your counters. They are relatively less attractive than undermount sinks yet are relatively inexpensive.
Overmount sinks are trickier to keep clean because water and soap debris can sneak behind the sink and faucet and form build-up around the counters and the wall. Yale does not sell overmount sinks.
| | |
| --- | --- |
| Undermount Sink | Overmount Sink |
Apron-Front Sinks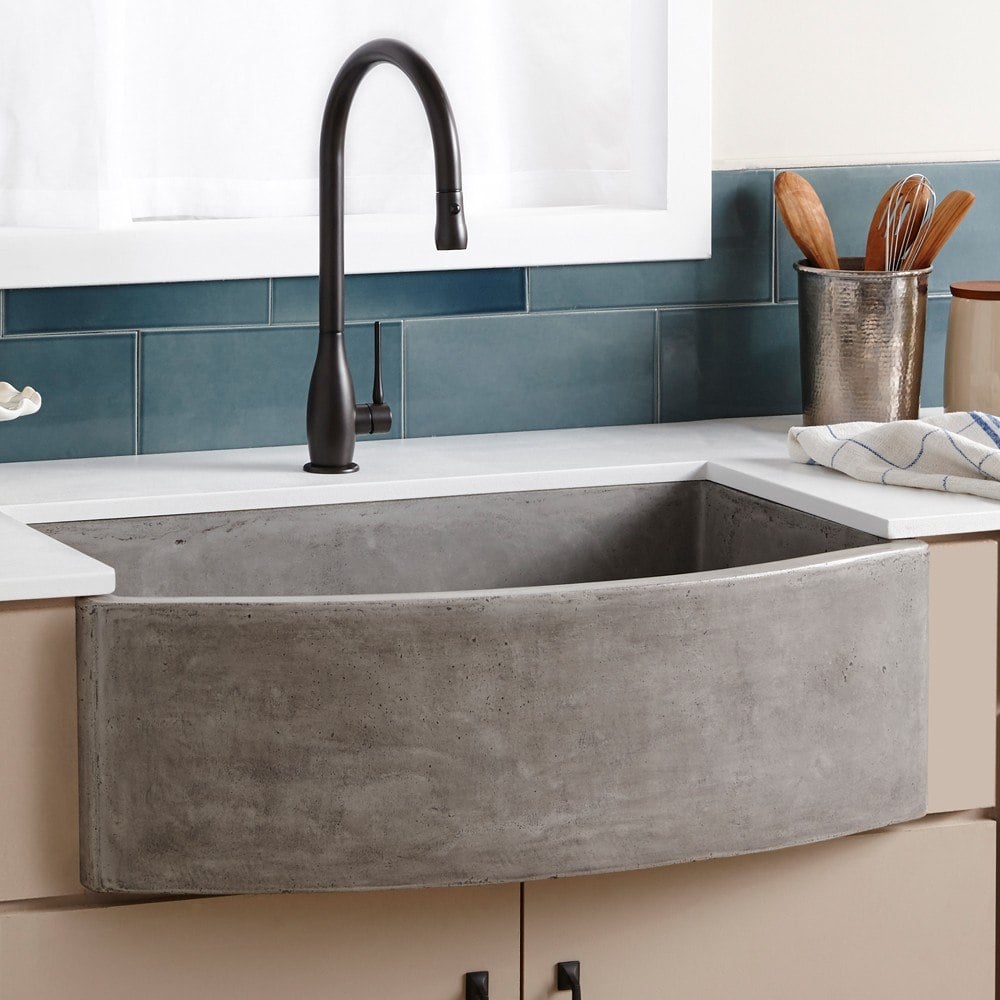 Apron-front sinks are the third sink-type. They are becoming increasingly more popular. Apron-front sinks can be stainless, stone or clay.
Undermount sinks are mostly popular in stainless steel. With stainless, look for something that is 15-17 gauge stainless. The lower the gauge, the higher the quality stainless steel. Also, don't forget to look at the corners. Rounded corners are easier to clean!
Choosing a Sink
For New construction:
"New construction" means that you are completely gutting your kitchen and replacing both your cabinets and countertops. If you are doing this, you have more freedom to choose a sink of any size. The most common sink sizes are 24, 30, and 33 inches.
Smaller homes and condos will likely go with the 24-inch size, small yet functional enough to wash pots and pans. Common 24-inch sink shapes are a square and D-bowl. Sinks 24 inches wide must sit in at least a 27-inch sink base cabinet.
The most common sink size is approximately 30 inches. In a 30-inch width, you will start to see a wider variety of shapes: single bowl square, single bowl orca, and double bowl. Sinks that are 30 inches wide must sit in a base cabinet of at least 33 inches. The most common base cabinet sizes for new construction is typically 33-36 inches.
Larger kitchens can accommodate 33-inch and 36-inch sinks. These sinks come in a single bowl or double bowl. If you have a lot of space for a large sink, you might want to also consider a prep or bar sink to cater to point-of-use needs.
If You're Keeping Your Cabinets:
If you are choosing a sink yet keeping your cabinets, you will need to pay close attention to the size of the base cabinet. Do not just simply measure your existing sink. Measuring your base cabinet will determine how big your new sink can be.
Kitchen Sinks to Consider
For a contemporary look, check out this Yale Sink. It's made out of 15 gauge stainless steel and has rounded corners.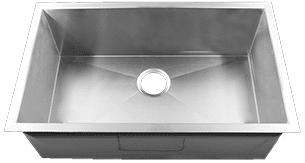 For a counter space saving sink, try a D-bowl. The bowl is deeper allowing for a more spacious sink that can fit into a smaller cabinet.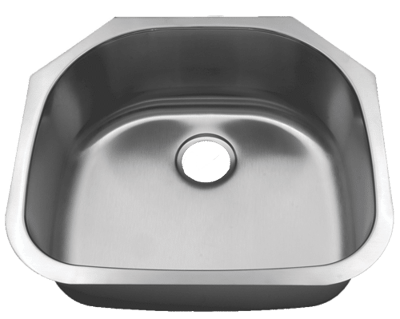 If you're trying to avoid stainless, consider Franke's new granite line, like this sink which would look great with a black stainless kitchen ($609).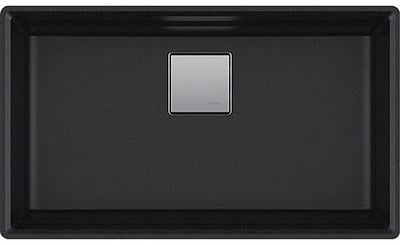 For a classic or rustic look, consider going with an apron-front sink like a Native Trails copper sink.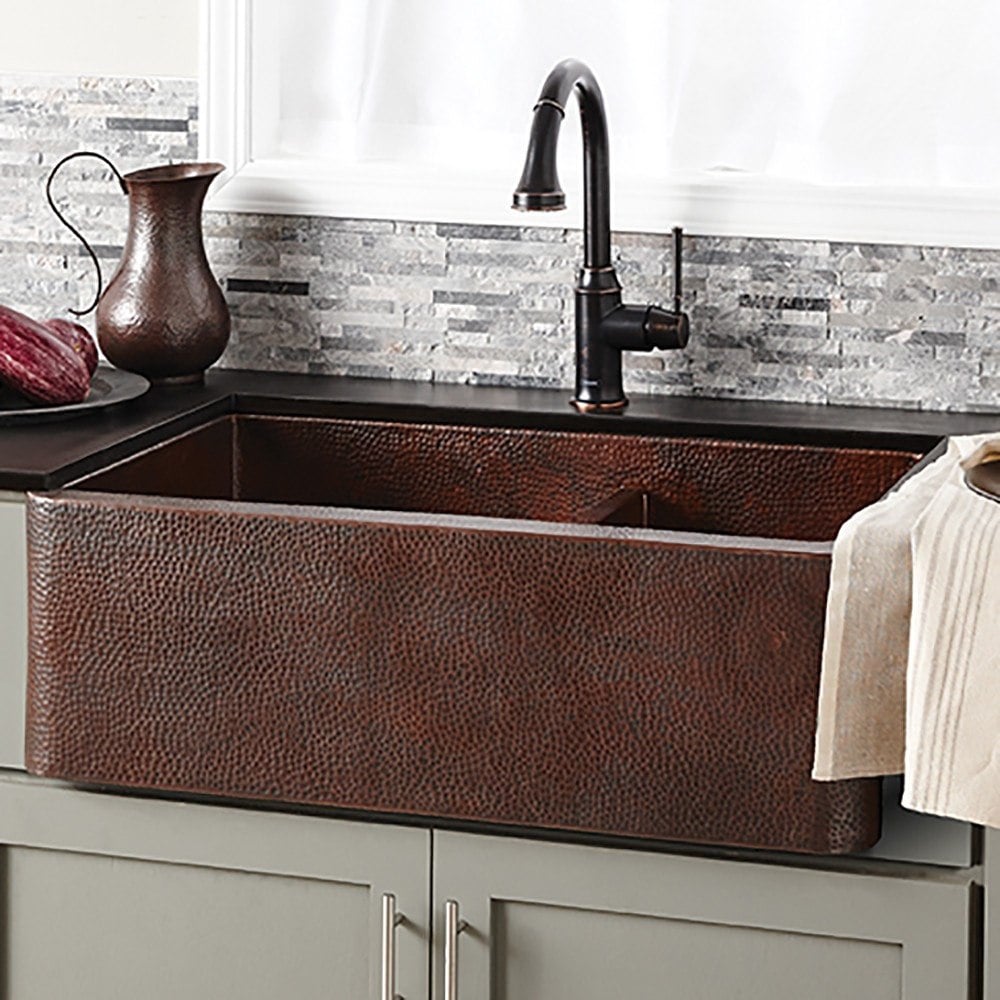 Rohl fireclay sinks are great for airy and white kitchens. They also add a nice popping when contrasting with the color.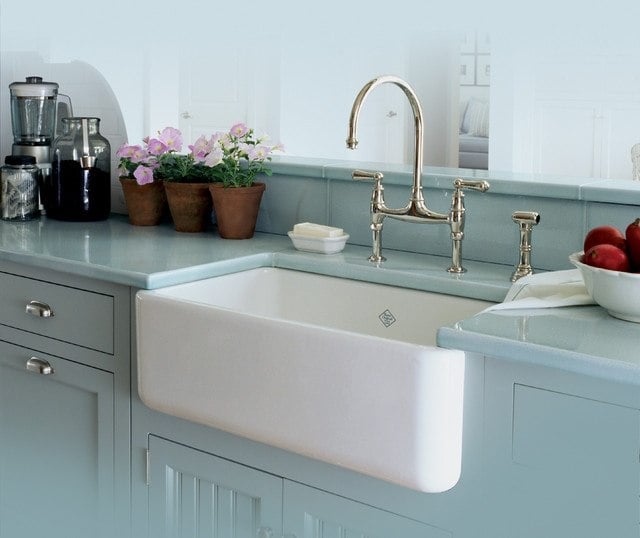 Pointers and FAQs:
It is impossible to retrofit a sink. Once you decide on a sink, you are married to your sink until you redo your kitchen counters. Therefore, do not skimp on the sink! If someone is "giving you" a new sink, be wary of this. Make sure you see your sink in person before you commit to buying it. Your countertops will be templated to fit the sink you opt for and there is no going back.
Not all sinks are made the same way. Stainless is measured by gauge. The lower the gauge, the thicker the sink. Sink gauge is measured between 15-20 gauge.
Technically, the gauge is the "number of stainless sheets that can fit into one inch of stainless". Therefore dividing 1'' of stainless by 15 will yield a thicker sheet than dividing 1'' of stainless by 20. Generally speaking, thick stainless sinks are about 16 gauge.
Fireclay and stone sinks are varied immensely in terms of quality. The white apron-front sinks have become a huge trend, but they vary in building material and thickness.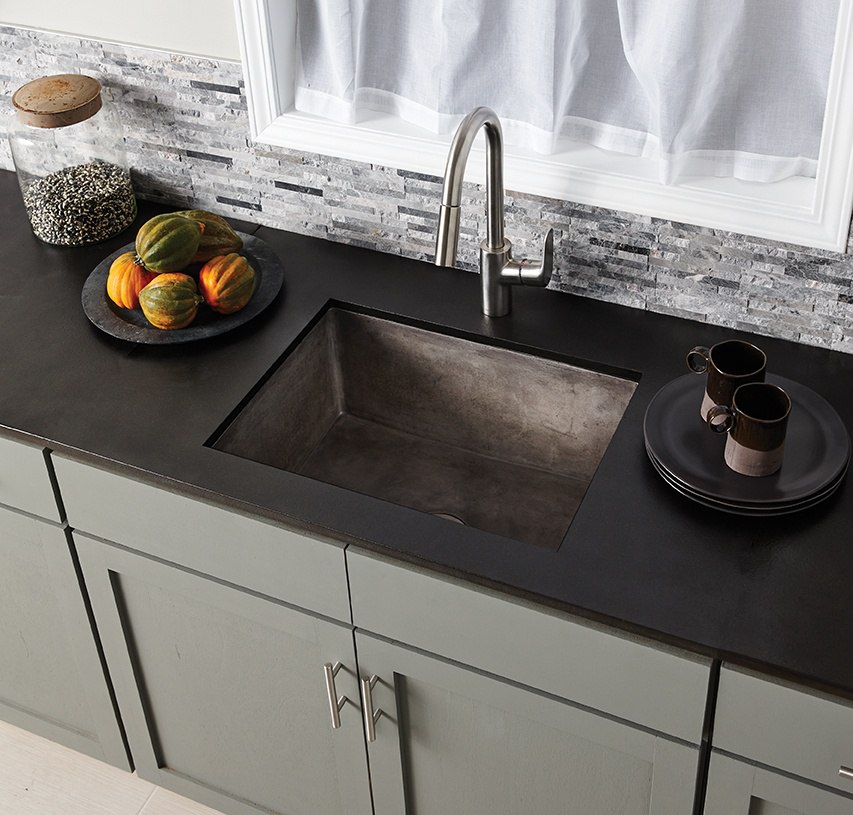 Pay close attention to your lifestyle and find a sink that works best for you. If you have back problems, don't buy a deep sink because you will have difficulty doing the dishes in that space.
If you are a messy cook and don't like to spend a lot of time cleaning, then don't get a sink with very sharp corners. If you typically wear a belt and are averse to seeing scratches, avoid a stainless apron-front sink because stainless will scratch.
Protect your investment. Make sure to protect your sink with a bottom grid. This grid will make it so you are less likely to scratch your sink. Remember, sinks cannot be retrofitted so you want to make sure you purchase wisely and protect it.
Additional Resources
Get the Yale Kitchen Plumbing Guide with plenty of how to's and pictures to help any kitchen project. Over 330,000 people have already found answers in a Yale guide.

Related Articles:
Karina Gaft
Karina Gaft is an Appliance Sales Consultant at Yale Appliance & Lighting. Karina received her bachelor's at Brandeis and is currently working on her master's at Harvard in Sustainability and Environmental Management, with a particular interest in Green Building Design. After exhausting her mental faculties with work and graduate school, Karina exhausts herself physically with skiing in dreadfully cold weather and lifting heavy items at Crossfit. In her meager spare time, Karina enjoys traveling, embarking on culinary adventures, and teaching her food-motivated cat new tricks, wishing he was a dog instead.

Schedule a showroom visit with me
A Note About Pricing
Pricing on this blog is for reference only and may include time sensitive rebates. We make every attempt to provide accurate pricing at time of publishing. Please call the stores for most accurate price.