Best Deep Kitchen Sinks (Reviews / Ratings / Prices)
If you are in the process of building a new home or renovating your kitchen, chances are you are planning to purchase a new kitchen sink. Think about it, you use your sink every day. Although a sink is perceived to be one of the simplest items we sell, choosing the right sink for you is very important. Once your sink is installed, you will probably not replace it… so choose wisely.
There are different types of sinks. In the past most people had an overmount sink where the sink overlaps the countertops. Today, you should opt for an undermount sinks, where the countertop overlaps the sink.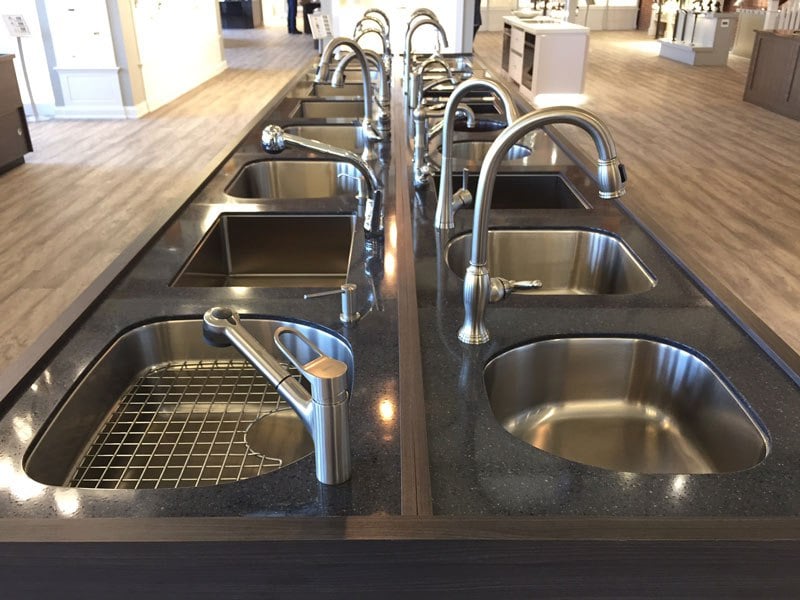 Apron-front sinks are also a very popular option in many kitchen designs. This article will explore the best deep kitchen sinks on the market today.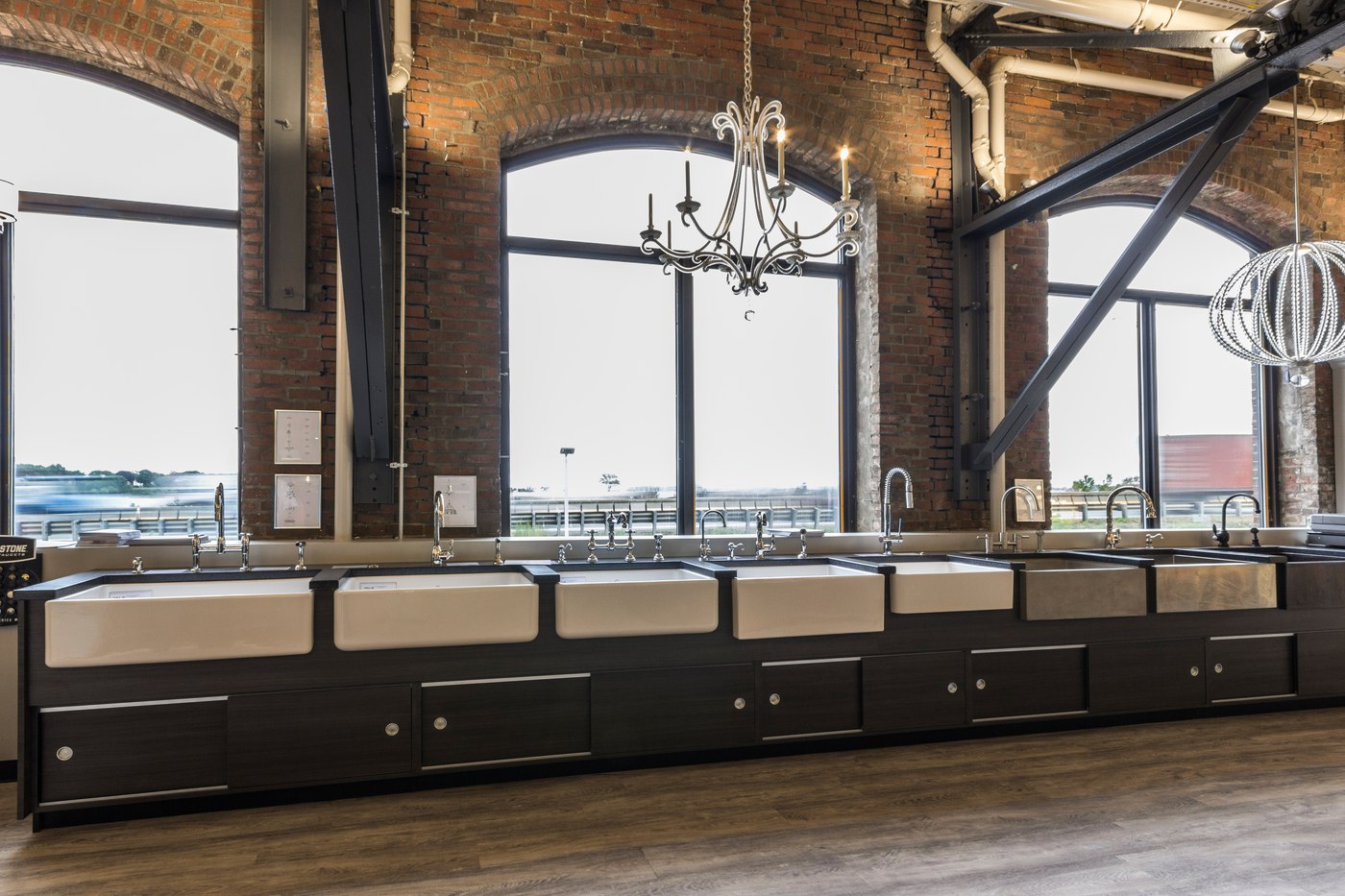 Short on time? Get our free Kitchen Plumbing Buying Guide
What should you consider when searching for a kitchen sink?
Although this blog will focus on depth as a priority, depth is definitely not the only thing you should think about. Below are a few tips you should consider.
Why are some sinks better than other sinks?
A lower number gauge indicates a thicker sink. Look for a sink of 17 guage or less. The composition of the sink is important as well. Higher percentages of chromium and nickel will resist corrosion. Insulation keeps the sink from being loud or sound tinny when something falls inside of it.
You'd be surprised how loud a budget sink will sound compared to a decent product when you have running water pouring over it. Typically low end quality sinks tend to be 20 gauge or even thinner.
Sinks, like kitchens, have become deeper over the last ten years. With depth averages falling around 6 inches in the old days. 8-12 inches is now considered deep.
Deep sinks can be found in many shapes and styles. The main advantage to a deeper sink is to wash bigger pans. Sure you can wash your newborn/toddler in them as well, but deeper is better for casserole dishes and cookie sheets. You can also keep dirty dishes out of sight as well.

Keep in mind that deeper may not always be the way to go. If you are on the shorter side or even taller and have back issues you might not want to consider a deeper sink.

Best Deep Sinks for Your Kitchen

Yale sinks are backed by a "Limited Lifetime Warranty" and are made from high quality 15 guage 304 stainless steel with a minimum of 18% chromium for protection against rust and a minimum of 8% nickel for a bright, long lasting luster and hardness.
The bottom and sides of all Yale sinks are double spray coated and have insulating pads to absorb sound, protect against condensation and to maintain water temperature. Yale sinks are UPC certified and meet the highest quality and tolerance standards.
This model is also available with straight edges.
Madeli Urban Collection MQ-381916-KIT - $999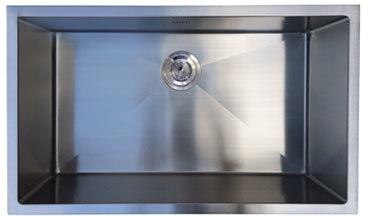 Features:
Deluxe 16 Gauge Sink

Under mount single bowl sink

Easy-to-clean 10 millimeter radius corners

3-in-1 Stainless Steel Basket Strainer included

Bottom Grid included

T-304, 16 Gauge, Stainless Steel

18/10 Chrome/Nickel

Offset drain holes

Padded, Undercoated and Sound Proofed

Mounting clips and cutout template included
Rohl RSS3018SB - $1,053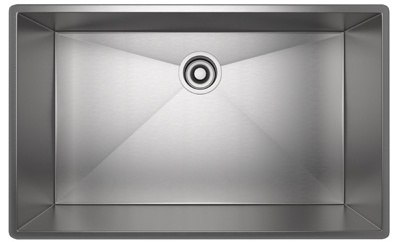 Features:
Commercial grade
16 gauge 18/10 type 304 Stainless Steel
Tangent edges allow a modern squared look without making the sink overly difficult to clean.
Superior sound "Quiet Coat" proofing: similar to high end European dishwashers
Rohl / Shaw's Single Bowl Apron Sink MS3018WH - $1,179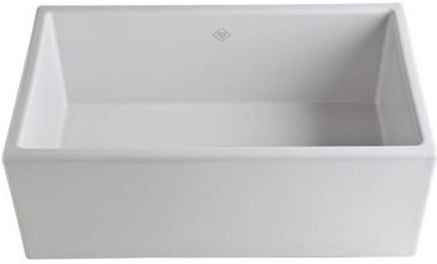 Features:
Acid and alkali resistant glazed surfaces

Suitable for waste disposal units or basket strainer waste

Due to variation in

dimensions, it is recommended that the cabinet maker wait until your sink is delivered to make the cabinet because no template is available

Includes "

Shaws

'

Classic" badge

Weight 155 lbs.

Plan cabinetry accordingly.
Suggestions
Finish: Stainless Steel is timeless and the easiest finish to maintain and clean. For the most part also the easiest to replace, but there's a good chance you're changing your countertops as well. When it comes to the thickness of a stainless steel sink, stay 18 gauge or lower (remember the lower the number the thicker the sink is).
Edges: While straight edges may look attractive in more modern kitchens, you're going to have a not so lovely time cleaning sharp corners. Rounded is the way to go. Madeli has a nice mix of the two that seamlessly blends style and function.
Conclusion
You can find high quality deep sinks in a wide variety of shapes, sizes, and styles. I would recommend seeing your sink choice in person before committing to purchase it.
Keep in mind that there are benefits to buying local (most of you reading this are not in our trade area). Although sinks are unlikely to have mechanical problems, cosmetic issues related to shipping and handling can occur.
Yes, your sink is a place where you can cut corners in your project, cost-wise. However, you use your sink often and your selection is a big commitment. Rohl is a very nice sink, but somewhat expensive. Madeli has a few good sinks at a decent price. Maybe I am a bit biased, but Yale offers the superior gauge at a more competitive price.
Additional Resources
Get the Yale Kitchen Plumbing Buying Guide with a complete breakdown of different sink, faucet and accessories available. It is a great way to start your kitchen remodel project. Over 200,000 people have read a Yale Guide.

Related Articles
Rick Medeiros
Rick Medeiros has over 10 years of appliances sales experience and is in the appliance sales department at Yale Appliance + Lighting. He enjoys travelling, live music and learning to play the guitar.

Schedule a showroom visit with me
A Note About Pricing
Pricing on this blog is for reference only and may include time sensitive rebates. We make every attempt to provide accurate pricing at time of publishing. Please call the stores for most accurate price.