5 Best New Kitchen Faucet Finish Trends for 2018 (Reviews/Ratings)
In the 80's, the only finishes were Chrome and Brass... that's it. It was pretty easy to select faucets for an entire home at that time because there were only two finishes. In the 90's we started to get really fancy and cool with two-tone finishes. Brushed and Polished Nickel came on the scene and really gave us variety.
Now, let me describe most kitchens these days: Stainless or paneled appliances, white cabinets, subway tile with gray granite, and a chrome or brushed nickel faucet. (We are guilty of helping to maintain this trend with appliances).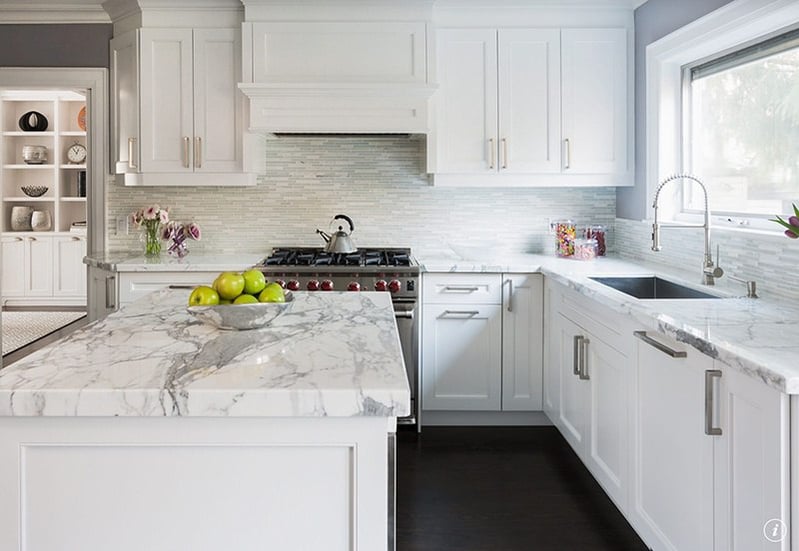 However, the trend is classic and hard to dislike and even harder to make a mistake because white and gray match every finish.
With most of us following this trend, we are focusing on distinguishing your white kitchens by buying very different hardware, lighting, and plumbing.
So, what are the hottest finishes in faucets? We'll break it down for you.
The 5 Best and Hottest Faucet Trends:
Short on time? Get our free Kitchen Plumbing Buying Guide
Copper
This is a beautifully rustic finish that has always been here for us, we are just now embracing the copper as we should. It comes in many shades of Polished, Antique and Satin.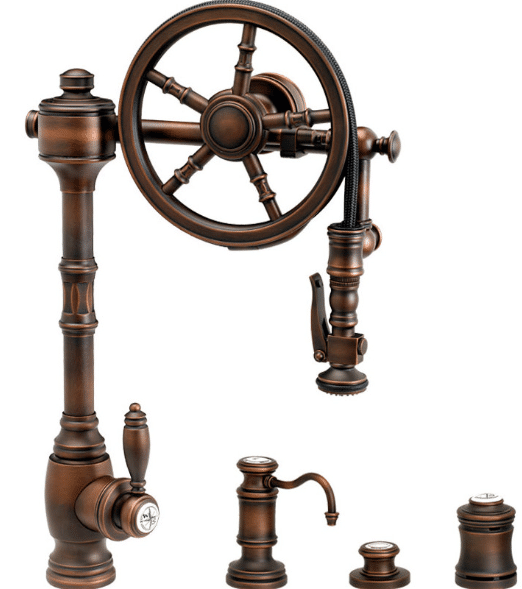 Look at the Waterstone Antique Copper Wheel Faucet. It's a darker hue, and the faucet is so unique.
Bronze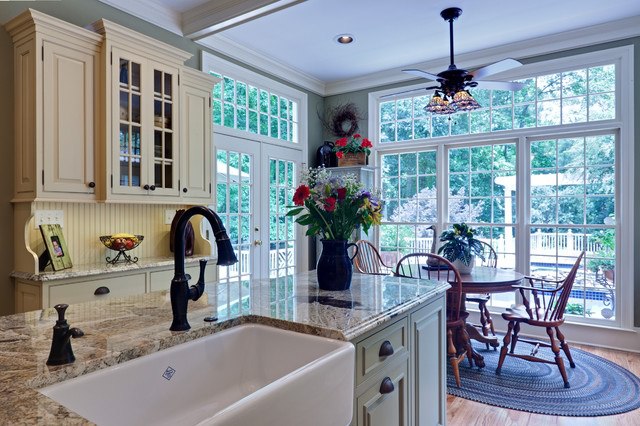 Think you know Bronze? I thought I did as well.
Now there is a number of different shades of bronze on display: Classic Bronze, Cocoa Bronze, Tuscan Bronze, Venetian Bronze.
All are different looking shades of bronze. It's like buying mustard at a supermarket.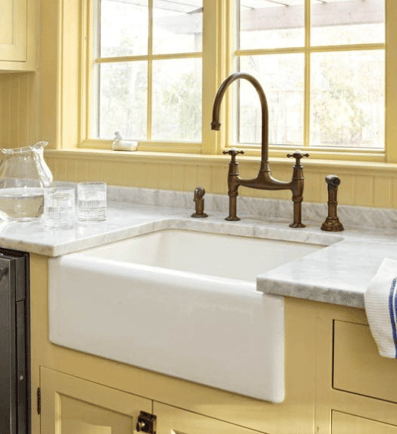 I also love the look of an English Bronze faucet. It also looks very "Farmhousy" when you use this with a white porcelain sink instead of copper.
Black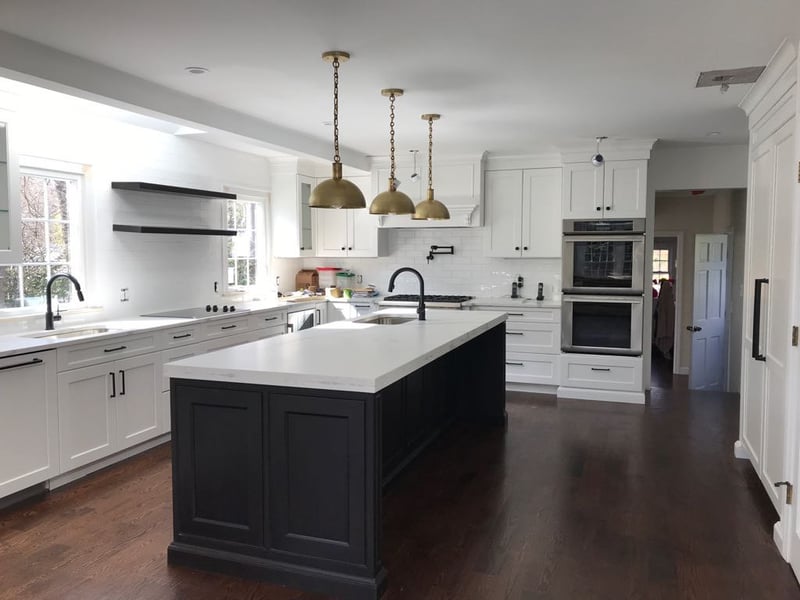 Black is an excellent contrast to white and gray. It has been a recent trend in the bathroom for years. Now you are starting to see more companies market black finishes for kitchens.
It's not the glossy black from Europe in the 90's. This is more flat, quiet, and sophisticated like a black accessory.
Two-Tone Finishes
I am going out on a limb here, but two-tone finishes may be returning. We are starting to see more black and chrome, black and gold, as well as stainless and black faucets.
Brass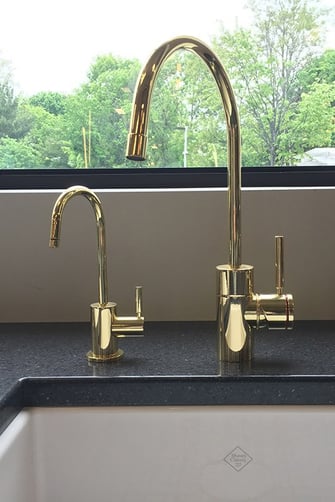 Polished Brass is a natural in traditional kitchens and yes you can (and probably should mix metals).
It's soft and organic by toning down the finish. You have the options of Satin Brass, Aged Brass, Unfinished Brass, and Antique Brass. It is cool to do a very modern faucet in a brass finish to bring the vibe for a more transitional fit.

I love the juxtaposition of a really contemporary faucet style and using it with a traditional finish as you see with the Gantry Waterstone faucet above.
Final Thoughts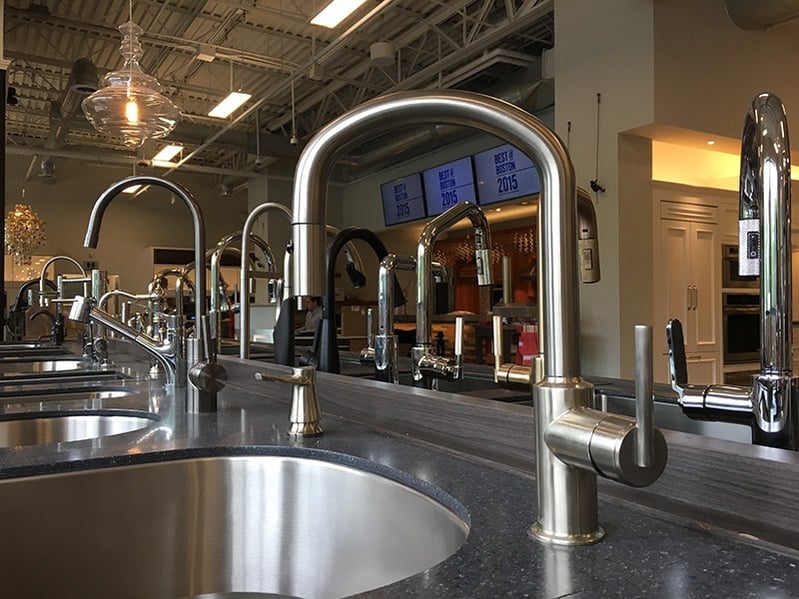 There are some interesting finishes available. In a sea of various white and gray kitchens, different plumbing, lighting and decorative hardware will distinguish your kitchen from your neighbors (and their neighbors, too).
Don't be afraid to mix finishes. It is unique and special if done correctly. Reach outside your comfort zone and do a fabulous new finish on your next faucet.
Pay close attention to your countertop colors and the backsplash too...pick a tone that is slightly present and bring it through to be upfront in the design.
Have fun with it!
Additional Resources
Get the Yale Kitchen Plumbing Guide with plenty of how to's and pictures to help any kitchen project. Over 330,000 people have already found answers in a Yale guide.

Related Articles:
Amy Zuckerman
Amy Zuckerman is a Lighting and Plumbing Sales Consultant at Yale Appliance + Lighting. Amy has over 30 years of experience in the lighting and plumbing industry. When she's not at work, you can find her going for rides in the convertible with her husband Al, and dog, diamond.

Schedule a showroom visit with me
A Note About Pricing
Pricing on this blog is for reference only and may include time sensitive rebates. We make every attempt to provide accurate pricing at time of publishing. Please call the stores for most accurate price.