This Years Best Induction Cooktops
Updated March 2015
Induction is one of my favorite products to explain to my customers. Induction is the greatest cooking technology on the market. I love when a customer tells me with their shoulders slumped and in a sad voice, "I have electric". Their assumption is gas is far better than any electric product and are surprised to see the performance of induction (we have several live at Yale).
Short on time?
Get our free Induction Cooking Buying Guide »
A regular electric cooktop fluctuates in temperature so it is hard to achieve even cooking. Induction stays a constant smooth and even temperature. There is also very little loss of heat, unlike gas or regular electric. Induction uses magnets to excite the molecules in the pan so just the pan becomes hot and not the cooktop. Induction is faster to boil and provides an instant simmer. Yes, even faster than the fastest gas pro.
There are a few major benefits of using an induction cooktop...
Safety
Induction is the safest cooking method. Unlike the glass on a traditional electic cooktop, the glass on an induction cooktop does not heat the pan. Instead, a magnet excites the molecules in the pan so that the pan itself becomes the cooking surface, directly cooking the food.
Efficiency
Induction is the most efficient cooking method because there is very little loss of heat when cooking. It is 90% efficient which is better than gas at 60% and electric at 55%. This translates into less heat and less venting so you won't need a powerful hood. You can also use induction with a downdraft, unlike professional gas ranges and rangetops.
Response
From a functionality standpoint, induction is one of the easiest cooking surfaces to control. Is is very responsive with the ability to quickly transition from a high power sear down to a low simmer.
Choosing An Induction Cooktop
The two most common determining factors most consider when purchasing a new cooktop are package promotions/rebates and cooktop layout.
All of the induction cooktops will have a similar range of high to low power. You should really base your decision on functional characteristics like the layout of the cooking surface.
The Best Induction Cooktops for 2015
The following cooktops will be 36 inch. Go here for the best 30 inch induction cooktops.
Miele is one of the most quality controlled companies around. For this reason they score really well in our service history in manufacturing a solid, reliable induction cooktop. Although Miele does not manufacture the most powerful cooktop, it is still worth considering.
Burner Layout:
Center: 11" - 3,850 watts
Front: 9" - 3,350 watts
Rear: 6.5" - 1,900 watts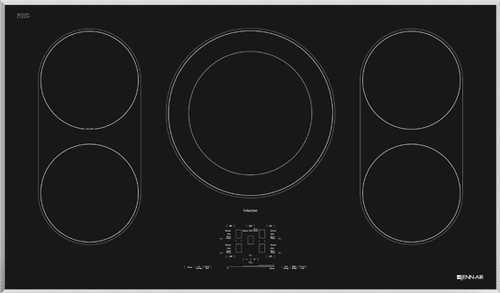 Jenn-Air is the premium brand in the Whirlpool Corporation. The Jenn-Air line has some really good package options and decent burners as well. The Jenn-Air large center burner is 5,000 watts. The two burners on each side are connected by a bridge and can accommodate rectangular or oblong pans and skillets.
Burner Layout:
Center: 12" or 9'' to accommodate multiple pan sizes - 5,000-2,800 watts
Left front: 7" 2,500-1,800 watts
Left rear: 7" 2,500-1,800 watts
Right front: 7" - 2,500-1,800 watts
Right rear" 7" - 2,500-1,800 watts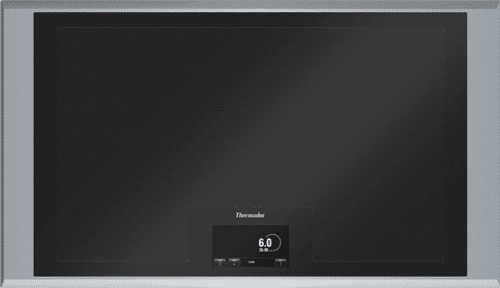 The Thermador "Freedom" cooktop is one of the coolest products on the market today. Essentially the Freedom can cook 4 pans at once and be placed anywhere on the cooktop surface. Thermador's sister brand Gaggenau makes a similar product at $5,499. Thermador also manufactures a 36'' 5-burner cooktop for $2,999.
Thermador has a reliable line of products and typically runs really good package promotions if you are looking to incorporate this cooktop into your kitchen design. If you want to see the "Freedom" cooktop live we have it on display for you to try.
Burner Layout:
Full Surface: 4,600-100 watts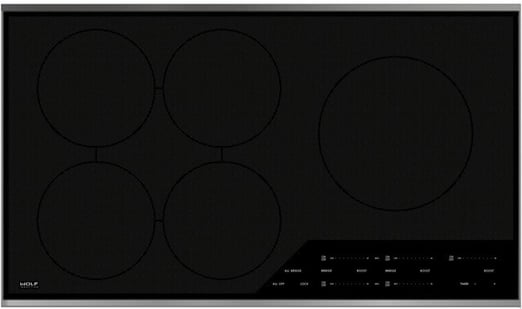 Wolf has been a well-known premium appliance brand name and this cooktop is a popular choice in our showroom.
Wolf introduced this new induction cook top with the ability to bridge all four of the medium elements to essentially create a 17" x 17" cooking area. Great for heating up a large baking pan. You can also just connect 2 elements front-to-back or side-to-side for oblong pans or griddle/grill plates.
Large right: 10 ½" – 3,700 watts
Rear left: 8" – 3,000 watts
Front left: 8" – 3,000 watts
Middle back: 8" – 3,000 watts
Middle front: 8" – 3,000 watts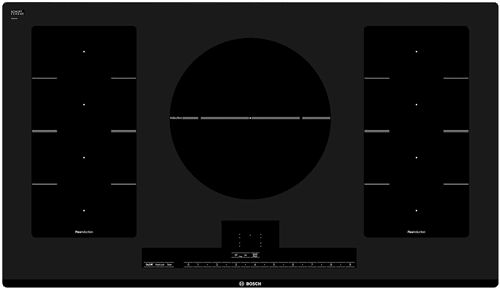 Bosch adopted the "Freedom" induction concept of its sister brands (Thermador and Gaggenau) in their induction cooktop. This cooktop has a large center burner and 2 flex-induction zones on either side of the center burner to accommodate multiple small pans or a large rectangular or oblong skillet. Center burner is 12'' or 9'' to accommodate multiple pan sizes 4,500-3,400 watt.
Left front: 7-8'' - 3,600 watts
Left rear: 7-8'' - 3,600 watts
Right front: 7-8'' - 3,600 watts
Right rear: 7-8'' - 3,600 watts
Frigidaire is a popular affordable luxury brand in the American appliance market and has had a solid service history in recent years. They produce two series of induction cooktops, the Professional Series and the Gallery Series at ($1,489). I like the price and the overall reliability of the company.
Right front: 10" - 3,400-2,500 watts
Right rear: 7" - 2,600-1,800 watts
Left front: 6" - 2,000-1,450 watts
Left rear and center: 8'' - 3,200-2,300 watts
Summary
Induction is the fastest cooking method
Induction gives off the least residual heat (less venting required)
Induction is the safest cooking method
Induction is very easy to clean
Additional Resources
Read our Induction Cooking Buying Guide for features, buying tips and ratings of every available induction cooking product in the market. Well over 30,000 people have read a Yale Guide. Induction is our most popular.
Related Articles