The Best Appliances from KBIS 2023
February 15th, 2023 | 11 min. read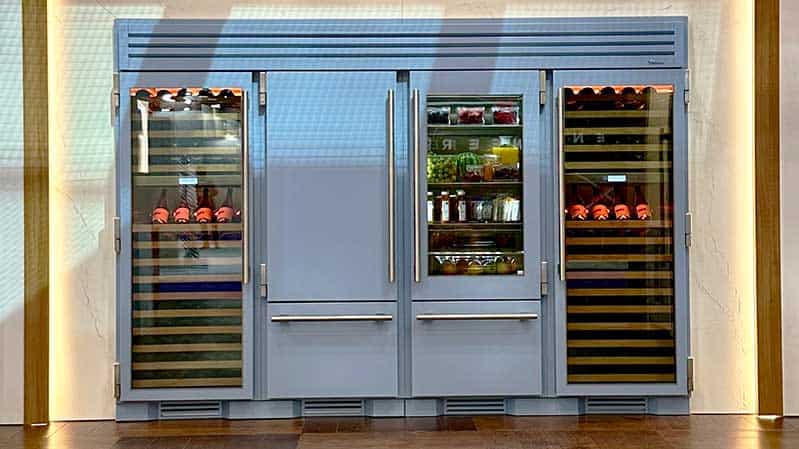 The Kitchen and Bath Industry Show (KBIS) is always one of the most exciting events in the home design industry.
Each year, the best and brightest brands in the appliance and home goods market come together to display their latest and greatest products.
This year's KBIS was no exception, with many new and innovative appliances on display.
In this article, we'll look at some of our favorite appliances from this year's show, focusing on the latest trends and cutting-edge technologies from Monogram, True Residential, LG Studio, BlueStar, Fisher & Paykel, and more.
Let's get started.
The Best Appliances from KBIS 2023
Cooking Appliances
Monogram 36-Inch Built-In Induction Cooktop and Smart Hearth Oven
Monogram has launched a new induction cooktop and smart hearth oven that elevates your cooking experience and design.
As part of their KBIS debut, Monogram introduced their new designer collection, highlighting their take on fine dining and elevating their brand to the next level with a focus on culinary concepts and perspectives.
The new Monogram 36-inch built-in induction cooktop offers precise temperature control, allowing you to dial in the exact temperature you need for your cooking.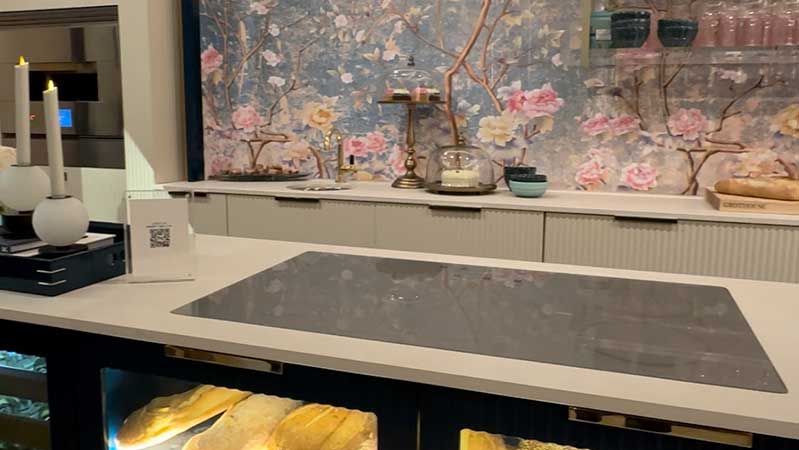 Unlike traditional cooktops with low, medium, and high settings, you can set the exact temperature so you can create perfect dishes every time.
In addition to the induction cooktop, Monogram has a new 30-inch hearth oven. This oven is the industry's only hearth oven, but it does so much more than just pizza.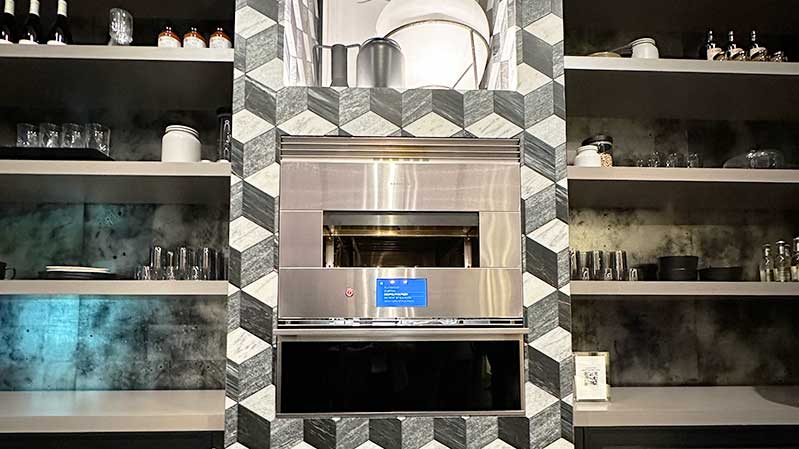 With the ability to cook steak, chicken, and even pastries, this oven is a versatile addition to your kitchen.
According to Julie Burns, the executive director at Monogram, their pastry chef has even made macaroons in this oven, proving its versatility and capability.
Monogram's new induction cooktop and hearth oven are all about the details and elevating your design while providing the best cooking experience. Monogram's cooking appliances are a must-have for any culinary enthusiast.
Café Appliances 48-Inch Commercial-Style Range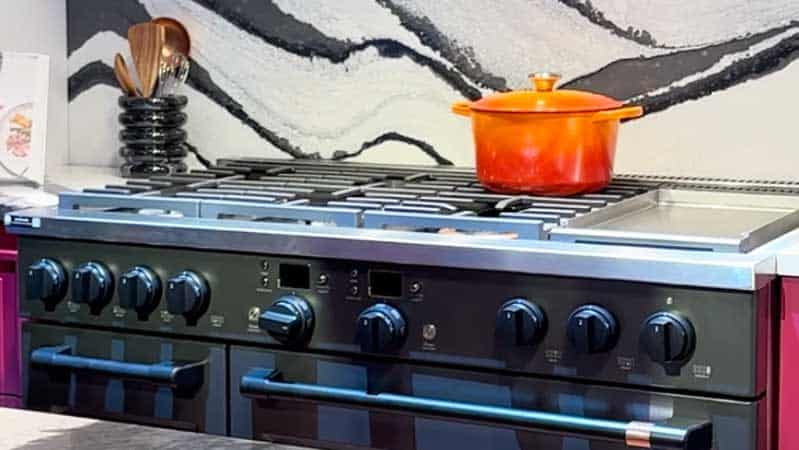 Café Appliances has a new 48-inch commercial-style range that is perfect for home cooks who want to make a statement in the kitchen with its matte black finish and flat black hardware.
This 48-inch commercial-style range has two ovens: an everyday oven on the left-hand side that preheats quickly and a catering oven on the right-hand side that can fit a catering tray, making it easy to entertain.
The stovetop has a unique design that includes tri-ring burners, with a small burner in the middle for simmering and the outer ring for boiling.
The Inspiral burners are specifically designed for wok cooking, providing concentrated heat around the base of the wok.
With its bold matte black finish, flat black knobs, and versatile cooking options, this range is sure to be the centerpiece of your kitchen.
Fisher & Paykel 36-Inch Induction Cooktop and Series 11 Steam Oven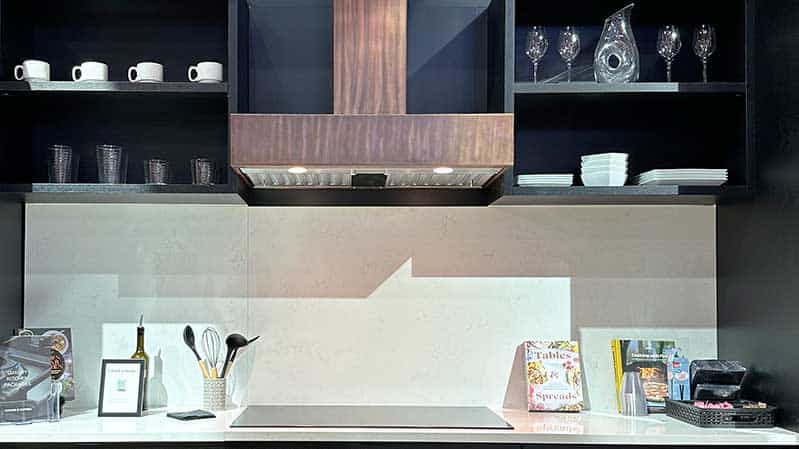 Fisher & Paykel has a new 36-inch induction cooktop, perfect for those looking for an energy-efficient cooking solution.
The cooktop features five different zones that can be bridged together using touch controls, making it easy to adjust your cooking surface to your specific needs.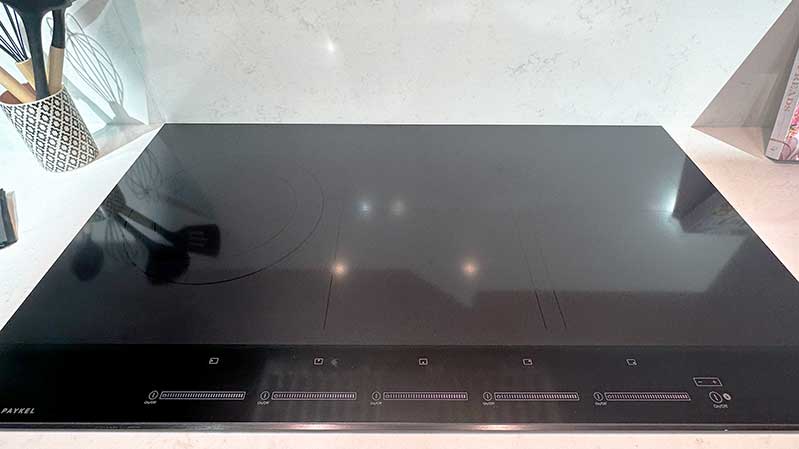 Whether you're searing or melting, the induction cooktop delivers great cooking results every time.
In addition to the induction cooktop, Fisher & Paykel has a new Series 11 steam oven.
With 23 functions, including sous vide, air fry, steam, and convection, this steam combi oven has everything you need to start cooking with steam.
While you may need to learn how to use the steam oven, the results are well worth the effort.
BlueStar 48-Inch Dual Fuel Range with X8 Burners
BlueStar, a leading manufacturer of high-quality kitchen appliances, has recently launched its new dual fuel range. This new range boasts of a powerful and versatile cooking experience, perfect for those who love to cook with precision and style.
With its X8 burners, it offers the ability to go from 25,000 BTU (British Thermal Unit) all the way down to 500 BTU. This allows every burner to be rated the same and do every job.
BlueStar's new dual fuel range features two ovens, controlled by a touchscreen with an ergonomic tilt, making it user-friendly and intuitive.
The touchscreen also features a split screen, allowing you to manage both ovens with ease. The customization options on the touchscreen, such as clock design and colors, allow you to personalize your cooking experience.
The ovens on the dual fuel range are equipped with true convection, full-extension racks, and the larger oven can fit full-size commercial sheet pans, while the smaller oven can fit half-size sheet pans.
This makes it a great choice for those who love to bake, cook, and entertain.
BlueStar's dual fuel range, along with all their appliances, is available in over 1000 finishes and ten metal trim options, giving you the freedom to choose the perfect color and finish to match your kitchen.
Shown in BlueStar's 2023 color of the year, Wine Red, this range is paired with the Normandy Hood, creating a beautiful and functional cooking space.
Whether you're an experienced chef or just starting out, BlueStar's new Dual Fuel Range is an excellent choice for those who demand the best in cooking performance and style.
Ventilation
BlueStar Ridgeline Hood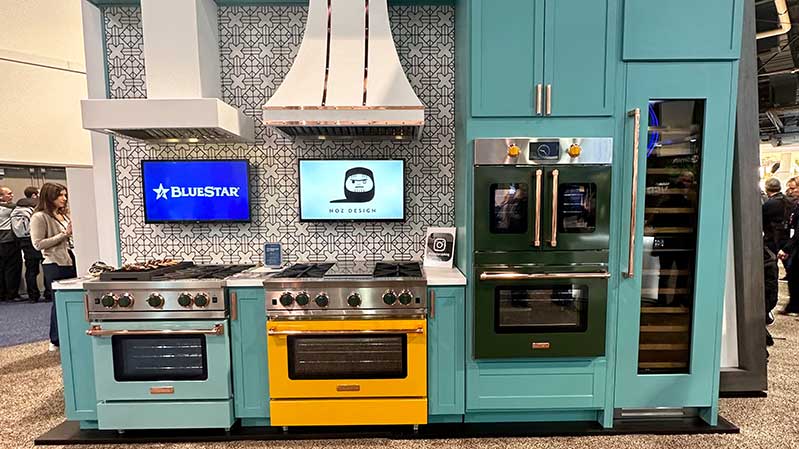 BlueStar presented their new 36-inch-tall Ridgeline hood that is perfect for kitchens with 9-foot ceilings.
One of the key features of the new Ridgeline hood is its compatibility with any inline, remote, or internal blowers, allowing you to choose the blower system that best fits your needs.
In addition to its functional features, the Ridgeline hood is also visually stunning, with its beautiful sweeping sides and the option to choose from over 1000 colors and ten trims.
In the image above, the hood is shown in matte white with a polished copper trim, but you can choose any color or trim to match your kitchen's design.
Additionally, the hood also allows you to go duct-free, giving even more flexibility in your design.
BlueStar's new 36-inch-tall Ridgeline hood is a versatile and functional solution with its compatibility with any blower system, beautiful design, and over 1000 color and trim options.
Refrigeration
Monogram 36-Inch Integrated Bottom Freezer Refrigerator with a 96-Inch Panel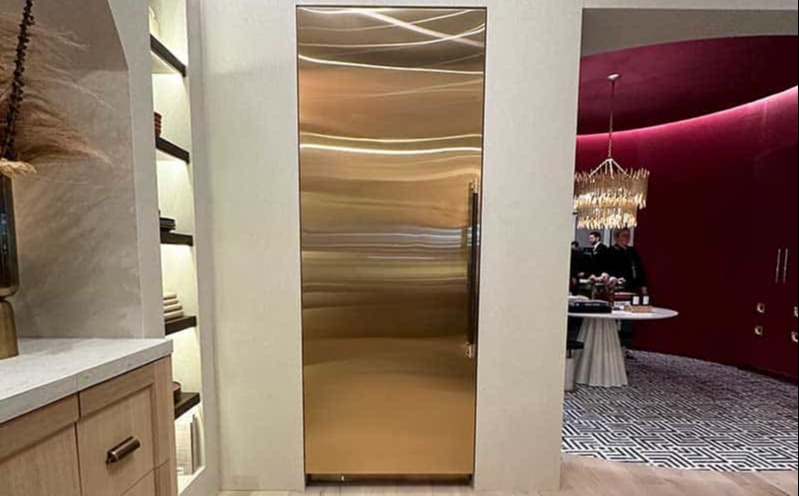 Monogram has a new integrated refrigerator that stands out from the rest in the market with its unique 96-inch-tall panels, the only one in the industry.
The panels come with a toe kick and a top plate, ensuring an elegant and seamless look for the refrigerator.
Monogram's full-size integrated refrigerator is designed to provide a unique look in your kitchen and extra storage space.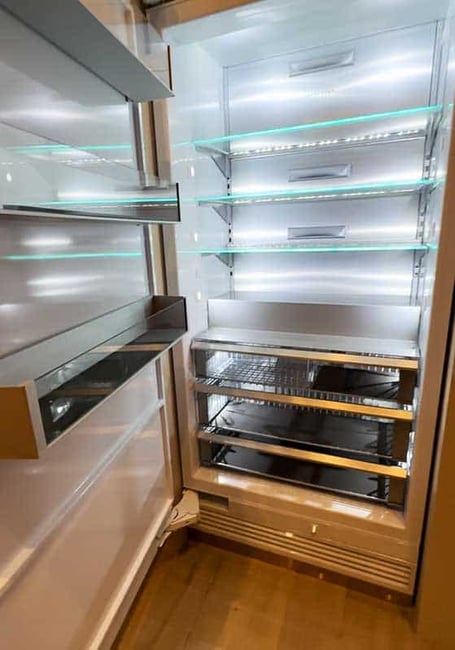 The bottom freezer offers ample space to store frozen items, while the LED-lit glass shelves provide a clear view of the interior. The flush highlight lighting further enhances the aesthetic appeal and provides excellent visibility.
Monogram has taken great care to ensure that the refrigeration unit is not only functional but also stylish. The handles come in two styles: a leather-clad handle in chocolate brown for brass hardware and a leather-clad handle in camel for titanium hardware.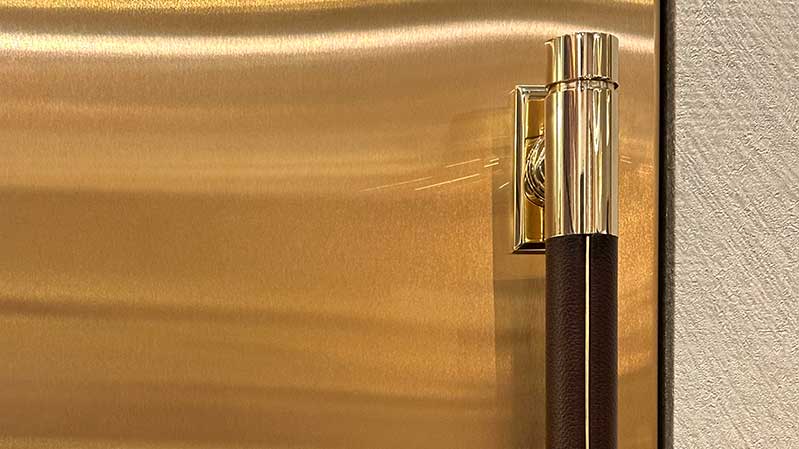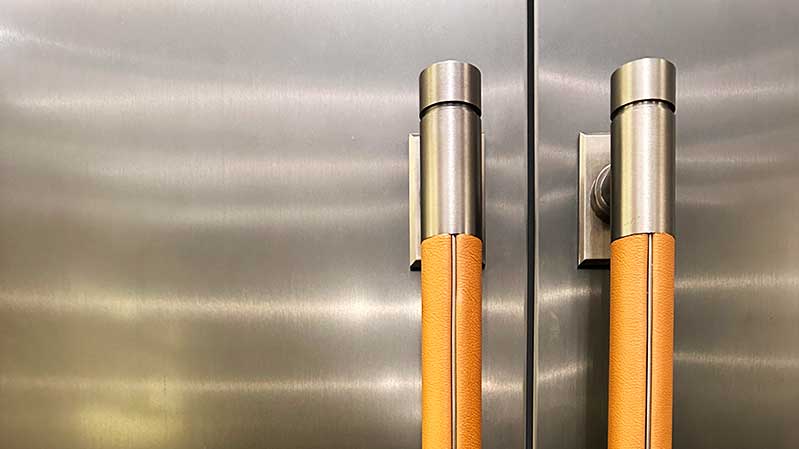 Both finishes are Green Guard certified, meaning they are sustainably sourced and environmentally friendly. Additionally, the handles are commercial grade and will hold up nicely over time.
Monogram's new refrigeration unit is a perfect blend of functionality, style, and sustainability.
With its 96-inch-tall panels, integrated refrigerator with a bottom freezer, LED-lit glass shelves, and flush highlight lighting, this refrigeration unit offers a complete and convenient storage solution.
The leather handles in chocolate brown and camel, both Green Guard certified and commercial grade, complete the elegant and holistic look of the unit.
True Residential 30-Inch Refrigeration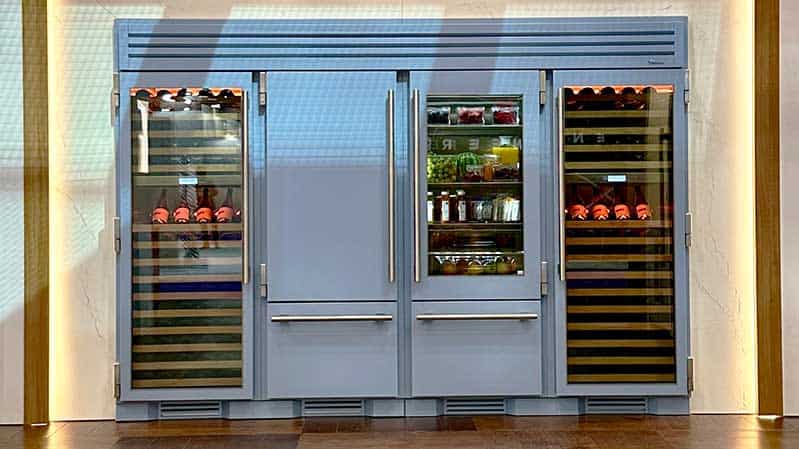 True Residential showcased their brand-new BlueStone color and their new 30-inch bottom freezer built-in refrigerator.
This calming and serene shade is a welcome addition to their semi-neutral color palette, which includes shades like Sage and Juniper.
The 30-inch bottom freezer refrigerator is True's latest addition to their 120-inch joining kit. For those requiring even more storage, the 120-inch joining kit allows you to join four 30-inch columns, including a wine, freezer, or regular refrigerator column.
In addition to the BlueStone finish, True offers the 30-inch bottom freezer in two-door options, either with a custom cabinet panel or glass panel, providing you even more options for customization.
The interior features adjustable shelving and LED lighting.
True's 30-inch bottom freezer refrigeration, with its compact design and customizable options, is a practical solution for all your needs, with the bonus of the new calming BlueStone finish.
The 120-inch joining kit, which allows for even more storage, adds another layer of flexibility to the product line.
SKS (Signature Kitchen Suite) Built-In 48-Inch French Door Refrigerator
SKS has introduced a new refrigeration unit, the built-in 48-inch French door refrigerator.
Designed at 47.5 inches wide, this refrigeration unit is designed to fit in an existing space or cutout from a previous 48-inch refrigerator, making it an ideal replacement solution.
The best part is that there is no need to make any modifications to the existing plumbing, electric, or cabinetry. This means you can easily install the new refrigeration unit without having to go through any hassle.
The SKS built-in 48-inch French door refrigerator comes with a 7.5 ft long electric cord, making it easier to install in a convenient location.
Despite being 24 inches deep, the unit doesn't quite stick out past your cabinets but comes with a frame kit to cover any unfinished cabinetry, ensuring a seamless look for the appliance.
The inside of the refrigerator is fully made of stainless steel. This helps to quickly cool your food and drinks because the steel conducts cold well. Just place the items you want to cool fast directly against the steel interior for the best results.
The lighting underneath the shelves illuminates beverages and food in the refrigerator, making it easy to find what you need. The interior also has a water dispenser, providing convenient access to chilled water.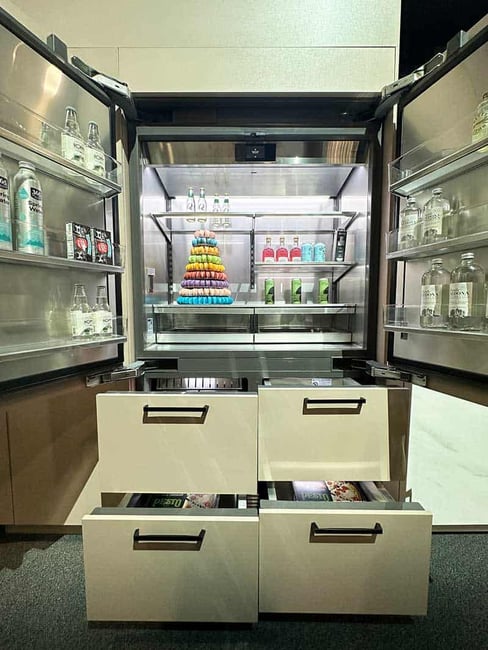 The Lift and Go bins and drawers in the refrigerator are easy to pull out and clean. The drawers are also dishwasher safe, making cleaning a breeze.
The refrigeration unit operates on two compressors and two evaporator systems, ensuring that there is no air sharing from the refrigerator to the freezer.
The freezer drawer in the refrigeration unit is deeper with more capacity and can be used as a convertible drawer for even chilling wine at 41 degrees.
The refrigeration unit also has a beverage center, wine, and seafood temperature setting, making it ideal for storing a range of items.
The traditional storage space in the freezer also features a hidden ice maker that makes traditional cubed ice and Craft Ice.
With features such as a metal interior, interior water dispenser, Lift and Go drawers, and a convertible freezer drawer, the SKS refrigerator provides great storage and convenient access to your food or beverages.
LG Studio MoodUP Refrigerator
LG Studio is launching a new and innovative refrigeration unit, the MoodUP refrigerator, in June.
This refrigerator offers a range of benefits and is designed to bring excitement and style to the kitchen.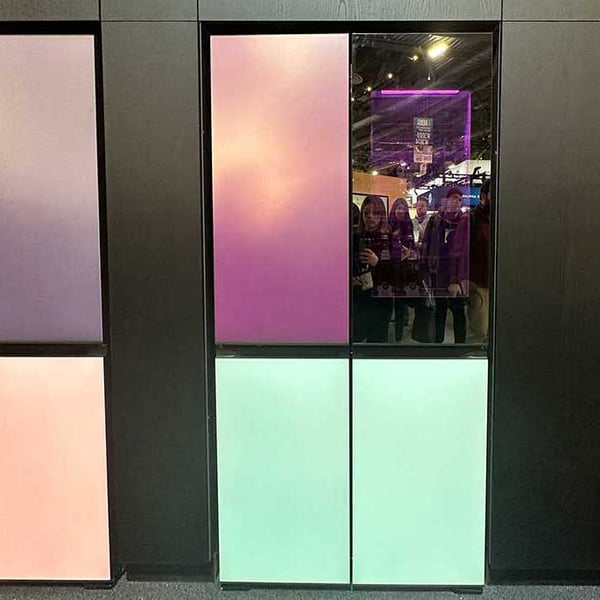 One of its standout features is the ability to change the colors of the unit through the ThinQ app.
With over 190,000 different color combinations available, you can customize the look of your refrigerator to match your kitchen or your mood.
In party mode, the MoodUP refrigeration unit transforms into a fun and interactive appliance. You can stream music to the refrigerator and have it "dance with you" by changing the colors and lights to the beat. This is sure to be a hit at parties and social gatherings.
The MoodUP refrigeration unit comes with LG's InstaView panel and Craft Ice option in the lower left quadrant. LG Studio's ice maker can make six Craft Ice balls a day.
The refrigeration unit can also switch from a refrigerator to a freezer, providing sufficient storage options for various food items.
The interior of the MoodUP refrigeration unit is equipped with LED lighting, making it easy to find items in the refrigerator.
The adjustable shelving provides the flexibility to arrange items in a way that works best for you.
Retailed at $4,999, the LG Studio MoodUP refrigerator is a premium appliance. With its ability to change colors, party mode, and storage options, this "moody" refrigerator will surely bring excitement and style to your kitchen.
Dishwashers
Café Appliances Double Drawer Dishwasher
Café Appliances has just introduced a new double-drawer dishwasher that offers an abundance of loading options.
With its fold-down tines, removable silverware basket, folding cup shelves, and many other places to load items like stemware, you can easily accommodate all your dishes, glasses, and utensils.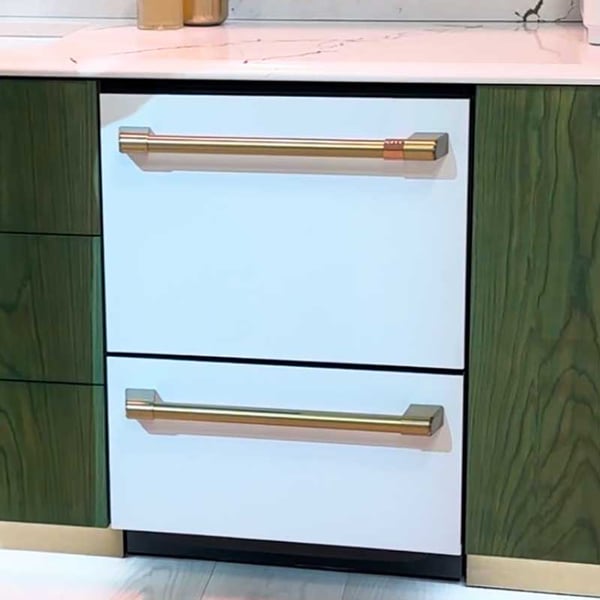 In addition, you can run both drawers together and separately. This is a great feature for those who may want to run a half load or have different dishware that requires different washing cycles.
For example, you can run the top drawer for your delicate glassware and the bottom drawer for your more durable dinnerware. This ensures all your dishes are washed effectively and safely.
With its wide range of loading options and the ability to run both drawers separately, Café Appliances' new double-drawer dishwasher is an excellent dishwashing solution.
Fisher & Paykel DishDrawer
Fisher & Paykel's DishDrawer is an energy-efficient appliance that provides loading flexibility with fold-down tines, a removable silverware basket, folding cup shelves, and places to load items like stemware.
This dishwasher has eight different wash cycles and the ability to run both drawers together and separately, which is a great way to save water.
The dishwasher uses about 3.4 to 3.5 gallons of water, making it an eco-friendly option for your home.
One of the key features of Fisher & Paykel's DishDrawer is the ability to adjust the rack to accommodate pots and pans or larger plates, ensuring that all items can be cleaned properly.
Additionally, Fisher & Paykel has two new models coming out in the Series 5 and Series 7 for drop-down dishwashers with different cycles, which also use less water.
This makes the Fisher & Paykel DishDrawer a versatile and convenient option for households.
In early 2024, Fisher & Paykel will share their Series 9 dishwashers with even more convenience and flexibility.
With its energy-efficient design, loading flexibility, and multiple wash cycles, Fisher & Paykel's DishDrawer is a great option for households upgrading their kitchen appliances.
Laundry
GE Profile UltraFast Combo with Ventless Heat Pump Technology
GE Profile UltraFast Combo is a revolutionary two-in-one unit that combines both a washer and dryer in one compact footprint.
This machine is perfect for you if you want to save space and optimize your laundry routine.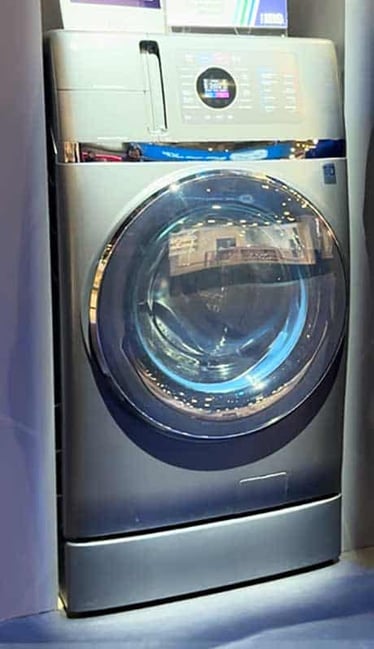 The unique design of the UltraFast Combo allows for a full-size load of laundry to be completed in under two hours, making it an incredibly efficient and convenient solution for anyone who is looking for quick and easy laundry care.
What sets the UltraFast Combo apart from other washing and drying solutions is its ventless heat pump technology.
This innovative technology uses a condenser to warm the air, which is then used to dry clothes. This results in a more efficient and faster drying process, as the moisture is separated from the air and drained through the washer.
This saves not only time but also energy, as the unit is 50% more efficient than a traditional dryer.
With its compact design and convenient features, the GE Profile UltraFast Combo is the perfect solution for anyone who wants to simplify their laundry routine. And, with its launch set for this summer, you won't have to wait long to experience the benefits of this innovative product.
LG WashTower with Center Controls, 4.5 cu. Ft. Smart Washer, and 7.2 cu. ft. Electric Ventless Heat Pump Dryer
LG's new laundry machines are designed to bring convenience, efficiency, and versatility to your laundry routine.
The new LG WashTower is the first with a touchscreen, featuring a 4.2-inch display that makes it easy to control and customize wash and dry cycles.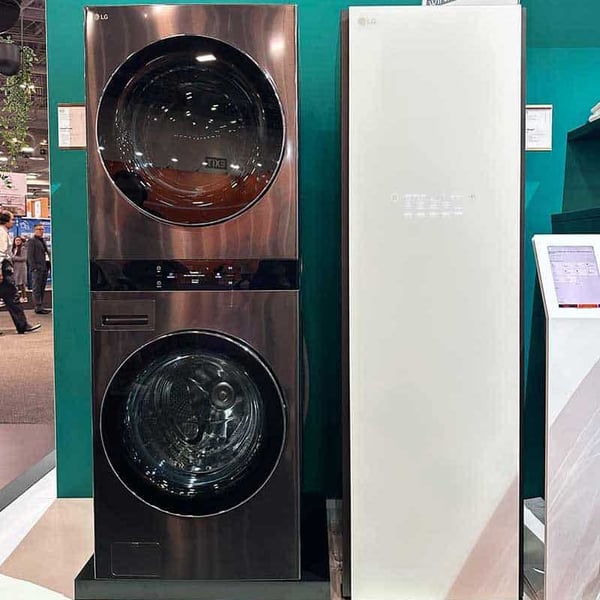 The washer has a 4.5 cu. ft. capacity and the dryer has a 7.2 cu. ft. capacity, making it possible to wash and dry large loads in one machine.
One of the key features of the LG WashTower is its 4-tray dispense system. With this system, you can dispense detergent and softener simultaneously or two different detergents, depending on your needs.
The machine also has a large capacity for detergent, so you won't have to refill it as often.
LG's new machines also feature AI (Artificial Intelligence) DD (Direct Drive), meaning it has load sensing, fabric sensing, and soil sensing capabilities.
This advanced technology uses a direct drive motor to sense the type of clothing you're washing and how dirty it is and then determines the right amount of detergent to use.
This helps to optimize the wash cycle for each load, saving time, water, and energy.
In addition to the LG WashTower, LG showcased their Styler, Shoe Care, and other models with the AI DD system, including the 6700-line front load set at KBIS 2023.
These machines offer the same level of convenience, efficiency, and versatility as the LG WashTower, making them ideal for families and busy individuals who want to simplify their laundry routine.
Outdoor Kitchen and BBQ Appliances
Urban Bonfire Galley Workstation and the Kalamazoo Gaucho Grill
Urban Bonfire and Kalamazoo have joined forces to offer a unique and innovative outdoor cooking experience.
The partnership combines Kalamazoo's high-quality grilling products with Urban Bonfire's exceptional cabinetry and workstations.
One of their flagship products is the Gaucho Grill, which is an Argentine-style grill that offers wheel-based motion to move the center rack up and down over a wood fire.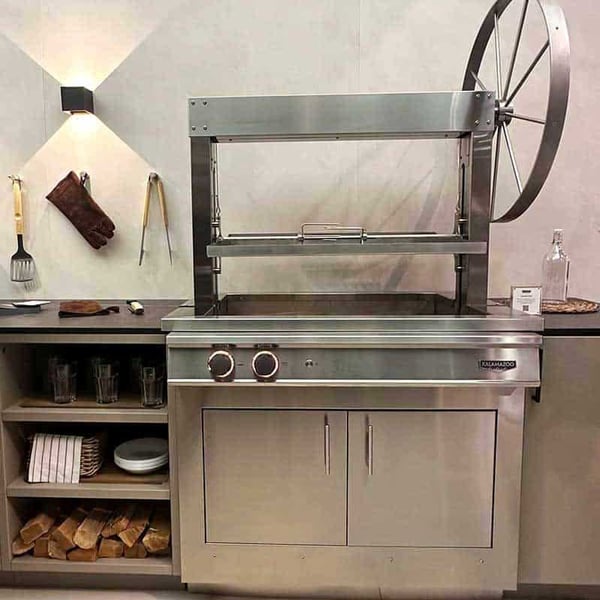 This makes it perfect for entertaining or bringing family and friends together while cooking.
The Gaucho Grill is part of Kalamazoo's entire product line, which is known for its exceptional quality and design.
To complete the Galley Workstation, Urban Bonfire has added its cabinetry, which is made in Montreal, Canada, and is designed to handle harsh weather conditions.
The cabinetry is made with marine-grade aluminum and exterior and interior electrostatic powder coating, making it ideal for salt-weather climates, especially in New England.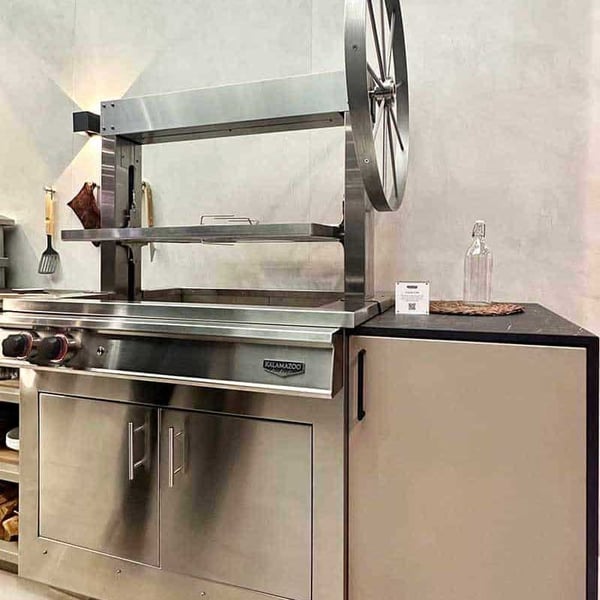 The cabinetry surrounding the Gaucho Grill provides easy storage and access to all the Galley's accessories.
In addition to the cabinetry, Urban Bonfire has also integrated its faucets and sinks with the Galley Workstation.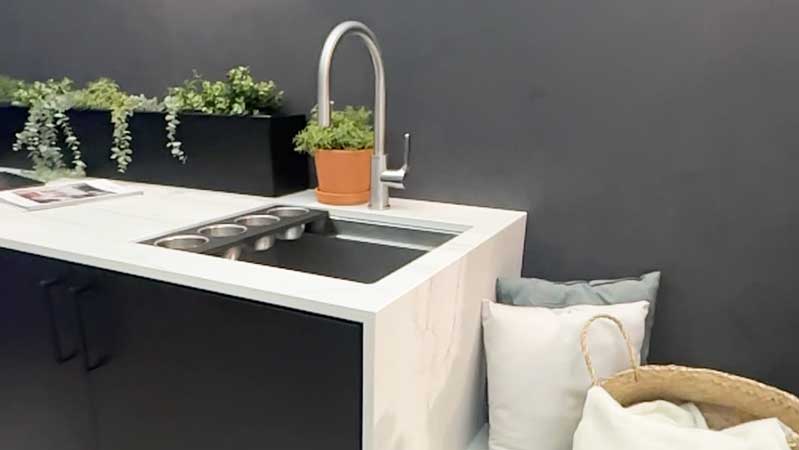 The sinks and faucets are ideal for outdoor use and are designed to withstand harsh weather conditions as well.
The Galley Workstation with Urban Bonfire is available in different sizes, including a small bar size, to fit any outdoor space.
The partnership between Urban Bonfire and Kalamazoo bestows a comprehensive outdoor cooking solution that combines exceptional quality and design.
The Galley Workstation with Urban Bonfire provides a unique and innovative cooking experience that is perfect for entertaining, bringing family and friends together, or just enjoying the outdoors.
Key Takeaways
Overall, KBIS 2023 showcased the latest and greatest in the world of kitchen and bath design.
From compact and low-profile appliances to new finishes and colors, there was something for everyone at this year's show.
Whether you're looking to upgrade your current kitchen or build your dream home, the options available are more exciting and innovative than ever.
As we look ahead to the future of home design, it's clear that the appliance industry is leading the charge, delivering high-quality and cutting-edge products that will make your life easier, more comfortable, and more stylish.
We can't wait to see what's in store for the next KBIS show!
Additional Resources
Want more information on the worst renovation mistakes to avoid? Get The Book of Bad Renovations to learn how to avoid a renovation failure. Well over 1 million people have read and trusted a Yale Guide.
Related Articles:
Why Should You Trust Us?
It seems that every appliance review has nothing but glowing comments about almost every product, yet you read customer reviews and they are almost universally bad.
We are here to fill in the disconnect. We'll give you the best features, and the drawbacks as well, including reliability based on over 37,000 calls performed by our service team just last year. Our goal is to give you ALL the information so you know what's right for you.
Please consider subscribing or adding to the conversation in the comments below. We appreciate you stopping by.
Sara Silvestro is a skilled marketer and writer with over 10 years of experience. In her free time, she enjoys reading, sketching, and embarking on new adventures with her faithful black cat, Raven. With a passion for all things spooky and a love for the Morbid podcast, Sara enjoys exploring the mysteries of the paranormal and seeking out haunted houses during her travels.
A Note About Pricing
Pricing on this blog is for reference only and may include time sensitive rebates. We make every attempt to provide accurate pricing at time of publishing. Please call the stores for most accurate price.