Best 36-Inch Gas Cooktops (Reviews / Ratings / Prices)
Our Top Picks for 2022 Are:
Purchasing a gas cooktop should be easy. After all, it's half a stove.
You go to an appliance store and online, and for some reason, cooktops are a much harder decision.
It's almost easier buying the stove and cutting the top off. Just kidding, don't do that.
You are familiar with popular stove brands like GE, Maytag, Whirlpool, LG, and Samsung. None of these brands are popular cooktops.
Most of the popular cooktops like Thermador, Wolf, Miele, and BlueStar don't sell a conventional stove, but only pro ranges.
In this article, you will learn the six most popular brands, their features like output, simmer, along with reliability based on 35,256 service calls.
You will learn a lot about cooktops and gas cooking. Let me make this decision easier: Buying a cooktop is about output, simmer, and reliability.
However, before starting, you have to understand the difference between a cooktop and a range top.
The terms are not interchangeable. Cooktops and range tops are very different in features, especially for the installation.
Cooktops vs. Range Tops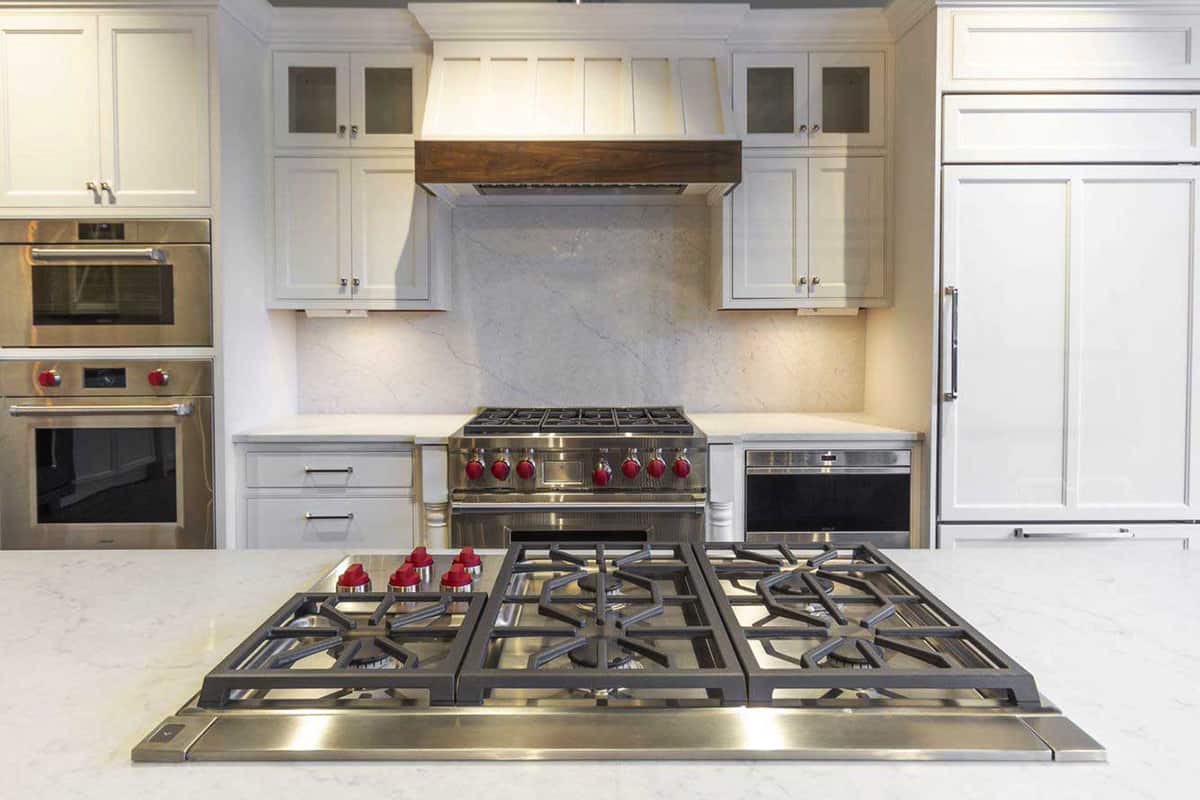 Wolf Kitchen Featuring a Gas Cooktop at Yale Appliance in Framingham
A cooktop has controls on the top and is cut into a countertop. Typically, a cooktop has less BTU, one less burner, and no provision for a built-in grill or griddle.
A Range top is the top of a professional range installed on your cabinet. They have front controls, higher BTU's, and the option for a grill or griddle on top.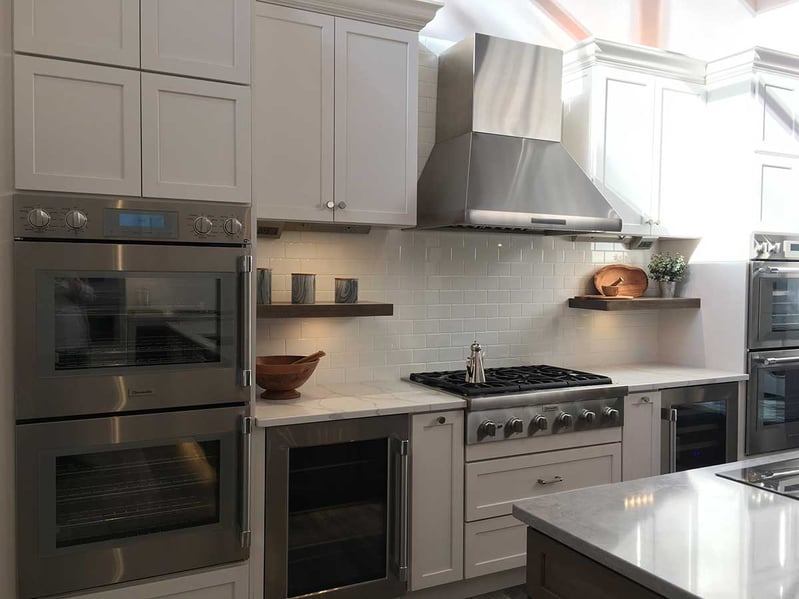 Thermador Kitchen Featuring a 36-Inch Gas Rangetop at Yale Appliance in Boston
A big misconception: The cooktop does have less BTU, but many cooktops have at least 1 or 2 high output burners of 15,000 BTU or more. Cooktops also are less expensive at $500-$1000.
Range Tops vs. Cooktops [VIDEO]
Which Gas Cooktop Brands Are the Most Reliable?
Gas Cooktop Reliability 2020
| | | | |
| --- | --- | --- | --- |
| | Service Qty | Shipped Qty | Service Ratio |
| Bosch Benchmark | 8 | 16 | 50.00 % |
| Miele | 6 | 27 | 22.22 % |
| JennAir | 14 | 92 | 15.22 % |
| Wolf | 25 | 176 | 14.20 % |
| Thermador | 22 | 155 | 14.19 % |
| Bosch | 15 | 149 | 10.07 % |
| KitchenAid | 3 | 30 | 10.00 % |
| Samsung | 3 | 31 | 9.68 % |
| Gaggenau | 13 | 147 | 8.84 % |
| Whirlpool | 1 | 13 | 7.69 % |
| Fisher & Paykel | 1 | 19 | 5.26 % |
| Grand Total | 111 | 855 | 12.98 % |
The most reliable cooktops are the Wolf and Thermador. They come with the best warranty from the manufacturers and offer the widest range of BTU outputs to handle any type of cooking.
Short on time? Get our free Gas Cooking Buying Guide
The Best 36-Inch Gas Cooktops for 2022
Bosch, JennAir, Thermador, Wolf, BlueStar, and Miele are the best 36-inch gas cooktops.
For comparison, these are the categories: highest BTU burner, lowest BTU burner, burner configuration, and value.
BOSCH 800 Series Gas Cooktop NGM8656UC - $1,129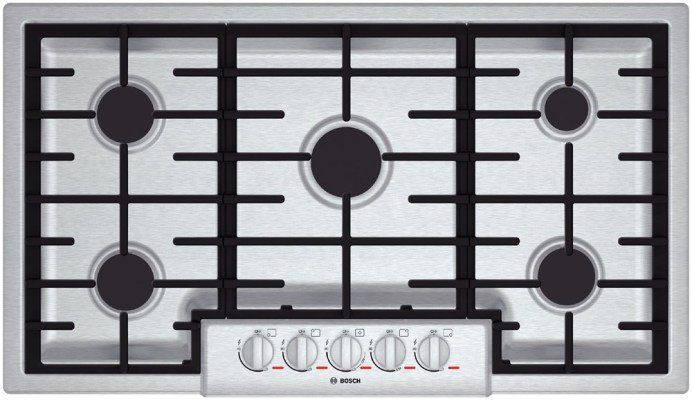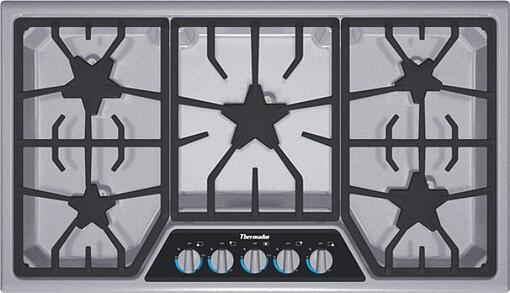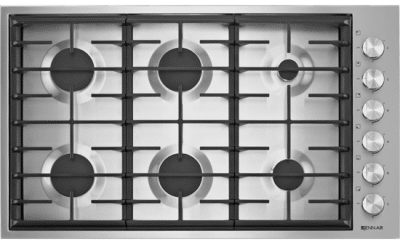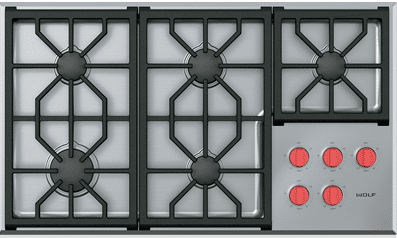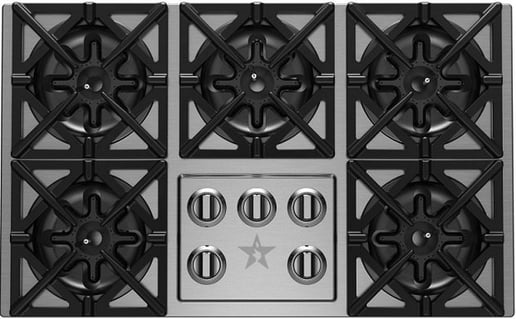 Highest BTU Burner
BlueStar - 22,000 BTU
Bosch - 20k BTU's
JennAir - 18k BTU's
Thermador - 18k BTU's
Wolf - 18K BTU's
Miele - 15.3k BTU's
BlueStar has two 22,000 BTU burners. However, the burners are open and not sealed like the others. If you spill a lot, you have to clean under the cooktop surface. Every piece is removable and can be cleaned at the sink. For sealed, Bosch and JennAir are the hottest at 20,000 BTU's.
Get our free Pro Cooking Buying Guide for more about how to buy cooktops »
Lowest BTU Simmer Burner
Thermador - 100s BTU's
Wolf – 350 BTU's
Miele – 620 BTU's
Bosch – 500 BTU's
JennAir - 900 BTU's
BlueStar - 130 degrees
All of these cooktops allow you to simmer soups or sauces, but if you need extra low heat, then your two best options are Thermador and Wolf.
They both offer heat so low that you can melt chocolate on a paper plate, and you can also do so without using a double boiler.
Wolf has a constant 350 BTU's on every burner. Thermador is an intermittent (on/off) 100 BTU's on two XLO burners.
Burner Configuration
Thermador
Wolf
Bosch
JennAir
Miele
The placement of the burners and control knobs is important for style and performance.
The Thermador and Bosch both have their highest power burner is in the center of the cooktop. This is important for venting reasons.
If you are using a range hood, then the burner will be centered under the hood.
With a downdraft, this burner will be right next to the intake, so on both venting options, the most used burner has the best capture.
The control knobs of the Thermador, BlueStar, and Bosch are located at the front center of the cooktop.
The configuration allows for the most usable space on the cooktop surface for easy arrangement of multiple pots and pans.
Value
JennAir
Wolf
BlueStar
Bosch
Thermador
Miele
Our staff chefs test all of these brands in our showroom kitchens.
Bosch has the lowest price at $1,599. This is less than the other five and still offers good configuration and decent power.
They are consistently rated well with rebate incentives and have appliances in every category to complete a whole Bosch kitchen.
Overall, Thermador will offer the broadest range of temperature management and has a great burner style offering the star shape.
If you're looking for a very low simmer, the Thermador is a great option.
Aesthetically, JennAir is another decent consideration. They offer a 6-burner configuration, whereas most brands only offer five burners.
The JennAir's output is excellent, reaching 18,000 BTU's and well as a low simmer.
They also offer brass burners that typically deal best with high heat. This cooktop has a sleek, almost flush to the countertop look. It's comprised of one piece of galvanized stainless, which not only reduces fingerprints but is very easy to clean.
Wolf is 100% American-made and consistently among the least serviced in premium appliances.
The cooktop also offers a great range of power and can simmer effectively on every burner versus 2 for Thermador.
The signature red knobs (black or stainless are also an option) are on the side for easy access to the front burners. You do not have to reach over the knobs to reach the burners, especially with heavy pots.
BlueStar is by far the most powerful with two 22,000 BTU burners, but you have to clean under the top. Still, the unit is built with solid construction and is worth a look.
JennAir, Thermador, Wolf, and Miele offer a two-year warranty, whereas Bosch and BlueStar offer a traditional one-year warranty.
Can You Place a Downdraft Behind a Gas Cooktop?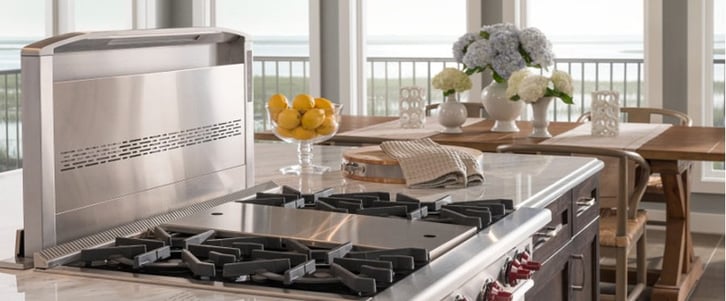 Best Cattura Downdraft for a Gas Cooktop
Every manufacturer will say yes, you can place a downdraft behind a gas cooktop. That does not mean you should.
It's a pretty important decision in the overall look of your kitchen, especially with an island.
Downdrafts have enough CFM at 600- 1200. CFM is cubic feet per minute. However, there is almost no capture area.
Smoke is channeled first and then exhausted. Downdrafts do not have a chamber like a hood.
So if you like to wok, grill, griddle, or any other high-velocity cooking, a hood is much better even at lower CFM.
Many of these cooktops have high output burners as well, so you will be creating a lot of heat.
A hood can channel and capture smoke and just use gravity to push it outside. The downdraft is reversing gravity with no capture area.
Downdrafts should be used only as a last resort, especially if you like to cook.
Read our Ventilation Buying Guide to understand how to vent correctly.
Which Cooktop Should You Buy?
This depends on your budget and how you use the cooktop.
I would lean towards the Bosch or Thermador if you use multiple pots and pans regularly due to the layout.
For a low simmer capability on all burners, the Wolf may be the way to go.
If you want power, the BlueStar with open burners will fit those needs.
JennAir offers a good combination of all the features plus an extra burner.
Additional Resources
Download the Yale Pro Cooking Buying Guide with features, specs, and tips on buying the right cooking product. Well over 800,000 people have read a Yale Guide.
Related Articles
Why Should You Trust Us?
It seems that every appliance review has nothing but glowing comments about almost every product, yet you read customer reviews and they are almost universally bad.
We are here to fill in the disconnect. We'll give you the best features, and the drawbacks as well, including reliability based on over 37,000 calls performed by our service team just last year. Our goal is to give you ALL the information so you know what's right for you.
Please consider subscribing or adding to the conversation in the comments below. We appreciate you stopping by.
Mark Bennett
Mark Bennett has over 10 years of experience at Yale Appliance. Mark began working in the delivery and warehouse departments before transitioning to appliance sales.

Schedule a showroom visit with me
A Note About Pricing
Pricing on this blog is for reference only and may include time sensitive rebates. We make every attempt to provide accurate pricing at time of publishing. Please call the stores for most accurate price.