Best 36-Inch Gas Cooktops (2022 Update)
October 13th, 2022 | 8 min. read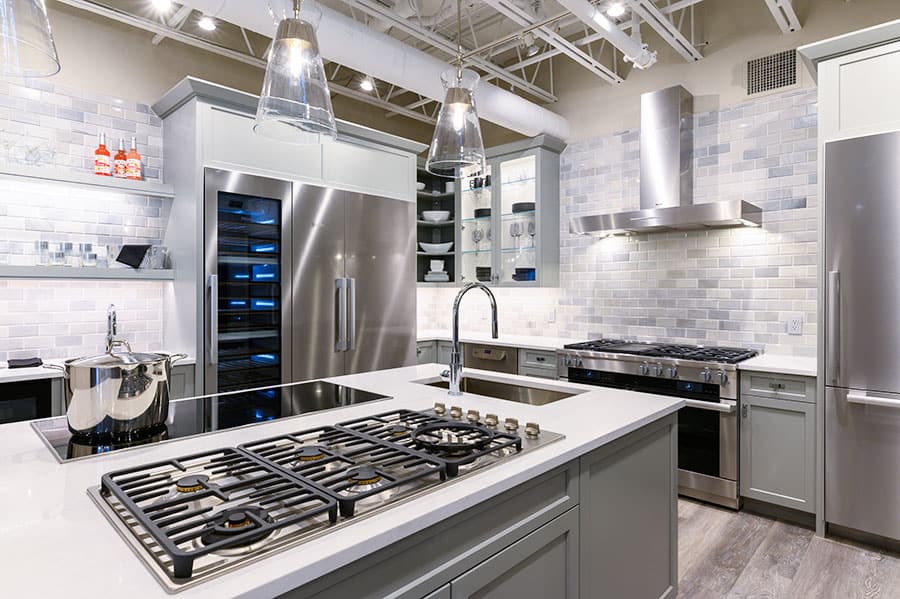 Our top picks for 2022 are:
Purchasing a gas cooktop should be easy. You read reviews online then go to your local appliance store to choose one.
Choosing one should be easy. After all, a cooktop is half a stove. The only twist is popular brands like GE, Whirlpool, Maytag, and Samsung do not produce popular gas cooktops.
Most brands with popular cooktops like Thermador, Wolf, Miele, and BlueStar don't sell conventional stoves but only professional ranges.
Let me make this decision easier: Choosing a cooktop is about burner output, burner configuration, and ventilation.
In this article, you will learn all about the seven most popular gas cooktops and their features like burner output and simmering capability.
You will also learn a lot about gas cooking and ventilation. Knowing how to vent a gas cooktop and whether a gas cooktop is better than an electric or induction cooktop is essential.
Let's get started.
The Best 36-Inch Gas Cooktops for 2022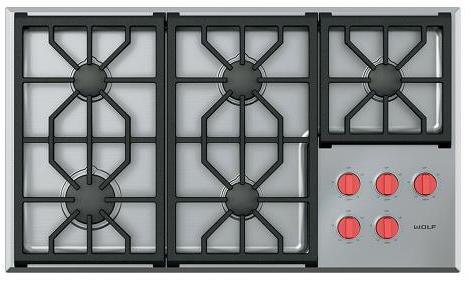 Why You Should Consider a Wolf Gas Cooktop: Dual Stacked Burners
Wolf's gas cooktop has dual-stacked burners. You can simmer at a lower temperature on two of the 100 BTU Thermador XLO or SKS UltraLow burners, but you can simmer on all the Wolf burners at 365 BTU.
Brand Profile: Wolf is American-made and family-owned.
Burner Output:
One burner at 18,000 BTU
One burner at 12,000 BTU
Three burners at 9100 BTU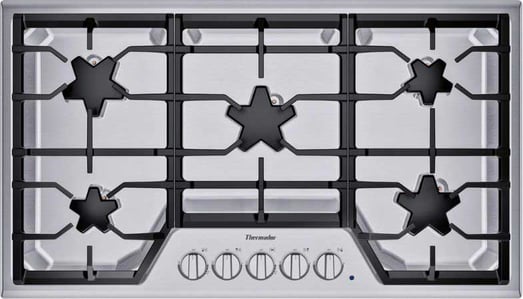 Why You Should Consider a Thermador Gas Cooktop: Star Burners
Many other bloggers will refer to Thermador's Star Burners as projecting more heat around the pan. I don't see heat diffusion as a benefit. The burner heats the pan, and the pan cooks the food.
That said, Thermador has an excellent simmer on two burners. They also have an interesting rebate program. You can buy the cooktop and wall oven and get a free dishwasher with their One-Two-Free rebate program.
Brand Profile: Thermador is American-made and German-owned.
Burner Output:
Two burners at 9,100 BTU
Two burners at 12,000 BTU
One Burner at 16,000 BTU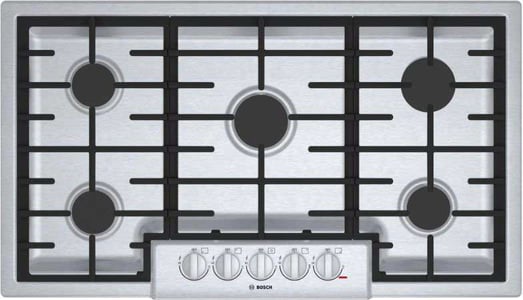 Why You Should Consider a Bosch Gas Cooktop: Control
Bosch's gas cooktop has a similar design to a Thermador. Then again, they are the same company. Bosch has a new design allowing you more control between settings.
Brand Profile: Bosch is American-made and German-owned.
Burner Output:
One burner at 19,000 BTU
Two burners at 12,000 BTU
One burner at 10,000 BTU
One burner at 5,000 BTU
BlueStar RBCT365BSSV2 - $3,395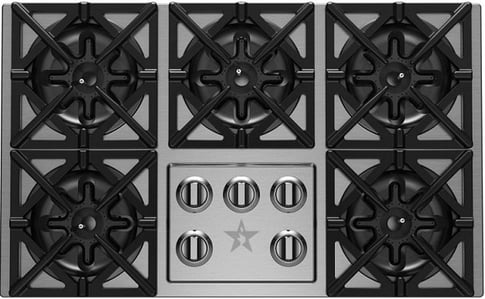 Why You Should Consider a BlueStar Gas Cooktop: Burner Output
This BlueStar gas cooktop has two 22,000 BTU burners making it the most powerful in total BTU available.
Brand Profile: BlueStar is American-Made and family-owned.
Burner Output:
Two burners at 22,000 BTU
One burner at 9,000 BTU
Two burners at 8,500 BTU
LG Studio CBGS3628S - $1,799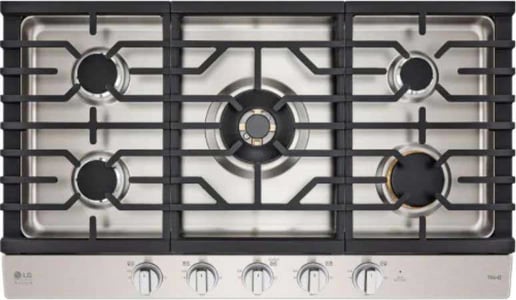 Why You Should Consider an LG Studio Gas Cooktop: Burner Output and Reliability
LG now manufactures the most reliable appliances in the industry. However, LG Studio's gas cooktop currently has the hottest single burner available at 24,000 BTU (that's hot).
The cooktop offers Wi-Fi and a two-year warranty.
Brand Profile: LG Studio is Korean-owned and manufactured.
Burner Output:
One burner at 24,000 BTU
One burner at 13,500 BTU
One burner at 10,000 BTU
One burner at 5,000 BTU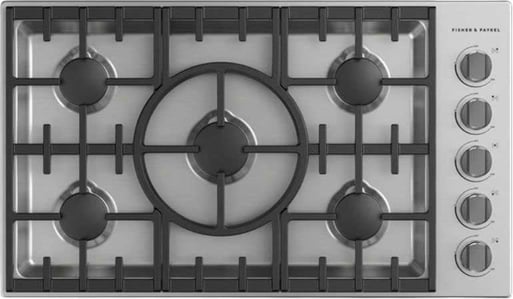 Why Should You Consider a Fisher Paykel Gas Cooktop: Professional Burner Output
BlueStar and SKS may have hotter burners, but Fisher & Paykel has a high output on every burner like a professional range. The center burner is 20,000 BTU, while the others are 15,000 BTU each.
Brand Profile: Fisher & Paykel is New Zealand-made and Chinese-owned.
Burner Output:
One burner at 20,000 BTU
Four burners at 15,000 BTU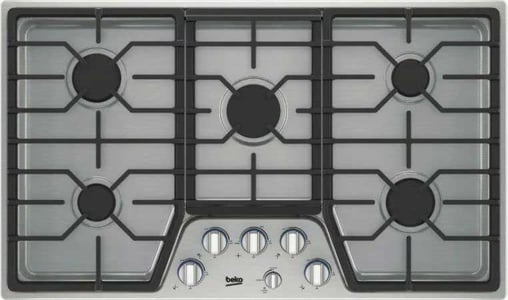 Why You Should Consider a Beko Gas Cooktop: Price and Availability
At $1,249, Beko is the least expensive but still has a power burner like the others. You can also buy Beko and not wait months on end for it to be delivered. Plus, their other appliances have been reliable as well.
Brand Profile: Beko is Turkish-made and owned.
Burner Output:
One burner at 20,000 BTU
Two burners at 12,000 BTU
Two burners at 6,600 BTU
How We Chose the Best Gas Cooktops
We listed the best cooktops based on features and availability.
Fisher & Paykel, Beko, and LG Studio are the most available gas cooktop brands.
The most popular gas cooktops are Wolf, Thermador, and Bosch. However, you will wait six months to a year for these brands. BlueStar is more of a niche brand. You will wait for a BlueStar as well.
Which Gas Cooktop Should You Buy?
Bosch, Beko, Thermador, Wolf, BlueStar, LG Studio, and Fisher & Paykel have the best 36-inch gas cooktops. Choosing one depends on how you cook and what you value.
Below, we compared each cooktop by highest BTU burner, lowest BTU burner, burner configuration, and value.
Which Gas Cooktop has the Highest BTU Burner?
LG Studio - 24,000 BTU
BlueStar - 22,000 BTU
Bosch - 20,000 BTU
Fisher & Paykel - 20,000 BTU
Wolf - 18,000 BTU
Beko - 18,000 BTU
Thermador - 16,000 BTU
LG Studio has the hottest sealed burner on this list at 24,000 BTU.
BlueStar has two 22,000 BTU burners. However, the burners are open and not sealed like the others.
You must clean under the cooktop surface if you spill a lot. Every piece is removable and can be cleaned at the sink.
Fisher & Paykel and Bosch have 20,000 BTU, but Fisher & Paykel has the highest output on the other burners at 15,000 BTU.
A good question to answer is how do you cook? If you typically use one burner like me cooking for my daughter, then LG Studio is a good choice. For two or more, BlueStar and Fisher & Paykel are good considerations.
Which Gas Cooktop has the Lowest BTU Simmer Burner?
Thermador - 100s BTU
Wolf - 350 BTU
Miele - 620 BTU
Bosch - 500 BTU
LG Studio 650 BTU
Beko - 675 BTU
BlueStar - 130 degrees
Fisher & Paykel 140 degrees
These cooktops allow you to simmer soups or sauces, but if you need extra low heat, your two best options are Thermador's and Wolf's gas cooktops.
Their simmer burners are low enough for melting chocolate without using a double boiler, for instance. Wolf has a constant flame of 350 BTU on every burner. Thermador has an intermittent (on/off) flame to maintain 100 BTU on two XLO burners.
Which Gas Cooktop has the best Burner Configuration?
Thermador
Wolf
Bosch
Beko
The placement of the burners and control knobs is important for style and performance.
The Thermador, Beko, Fisher & Paykel, LG Studio, and Bosch gas cooktops have the highest power burner in the center of the cooktop.
This is important for ventilation reasons. If you use a range hood, the burner will be centered under the hood.
With a downdraft, this burner will be right next to the intake, so the most used burner has the best capture area for both venting options. Then again, why would you ever downdraft in new construction?
If you are using a downdraft for new construction, redesign your plan. To learn why, click here.
The control knobs of the Thermador, BlueStar, and Bosch are located at the front center of the cooktop.
The configuration allows for the most usable space on the cooktop surface to easily arrange multiple pots and pans.
What You Need to Know Before Choosing a Gas Cooktop
Rangetops vs. Cooktops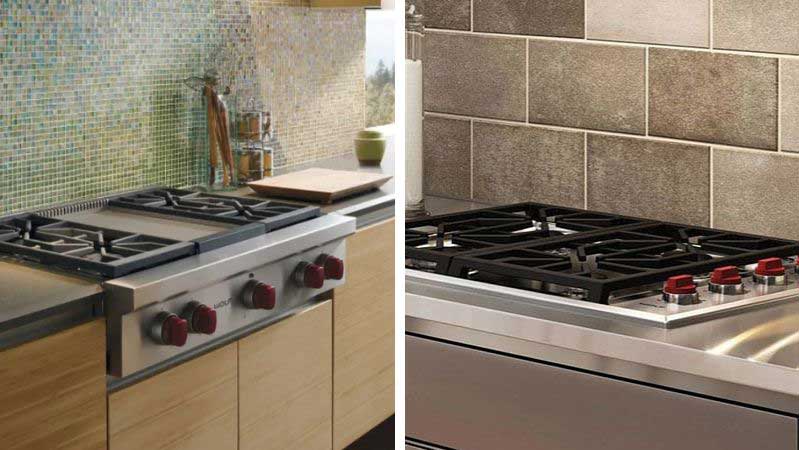 Gas Rangetop with a Griddle (Left) vs. Gas Cooktop (Right)
The terms are not interchangeable. Cooktops and rangetops are very different in features, especially for installation.
A cooktop has controls on the top and is cut into a countertop. Typically, a cooktop has less BTU, one less burner, and no built-in grill or griddle provision.
A rangetop is the top of a professional range installed on your cabinet. They have front controls, higher burner output, and the option for a grill or griddle on top.
A big misconception: The cooktop does have less BTU, but all the cooktops on the list have at least one or twp high-output burners of 15,000 BTU or more.
Cooktops also are less expensive at $500-$1000.
Is Gas Better Than Electric?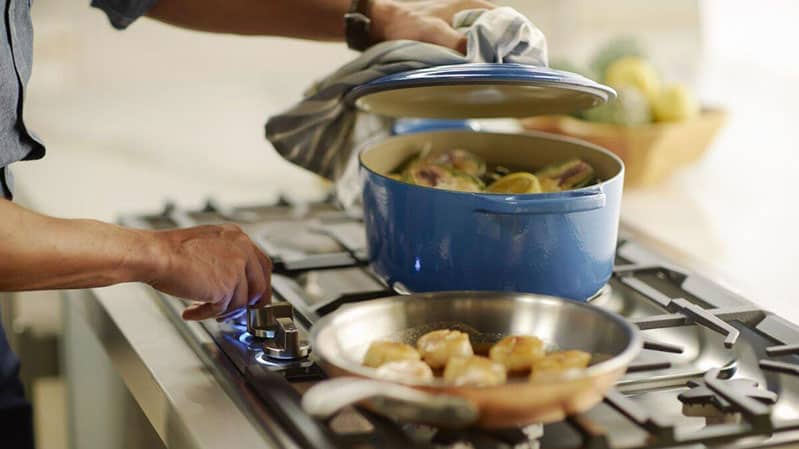 Cooking on a Gas Cooktop
Gas cooktops can reach a boil or simmer fairly quickly, whereas electric heats the glass, and the glass heats the pan. It's slower to heat, and that same process is reversed for simmering.
Ultimately, gas is better for cooking.
In terms of cleaning, you have to clean both frequently. The gas burner and the electric surface will heat, so any spills will be baked in to the stovetop and harder to clean.
However, you would typically need a high CFM range hood if you choose a gas stovetop. You can read the venting section below (it's important).
If you plan to purchase a range hood along with your gas cooktop, then gas is easily better. However, you may want to consider electric if don't have a good venting option.
Is Gas Better Than Induction?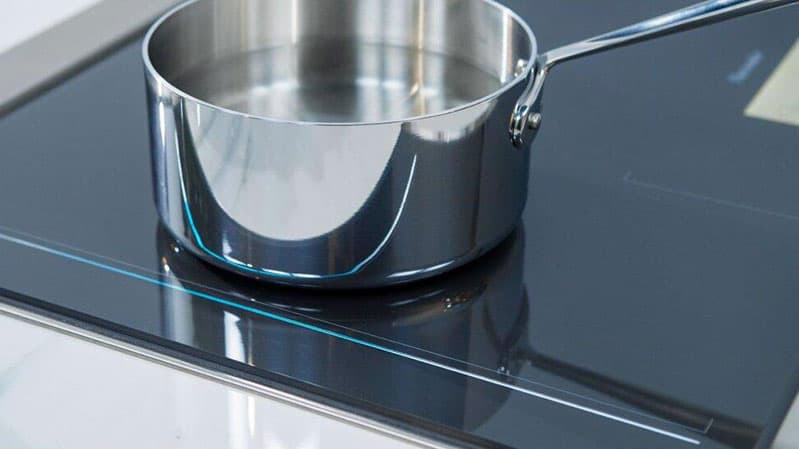 Cooking on an Induction Cooktop
Induction cooking is magnetic heat that excites the metal in your pan, so the pan cooks the food. Induction is faster than gas with a better simmer.
It's also easier to clean because the glass doesn't heat and more child safe because the magnets need to sense metal to activate.
However, you need 30 amps at least for an induction cooktop versus less than 12 for gas.
Venting a Gas Cooktop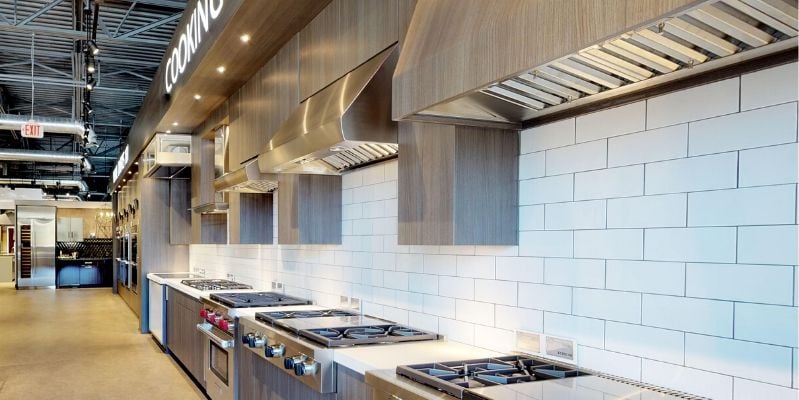 Range hoods over Gas Rangetops and Cooktops at Yale Appliance in Framingham
Cooking, in general, but especially gas, emits Cabon Dioxide, Carbon Monoxide, Nitrous Oxide, Formaldehyde, and Particular Matter.
You should plan adequate venting to evacuate these gases out of your house. We cover this in many of our venting articles, but proper ventilation includes:
High CFM - Depending on how you cook, 400-600. Remember, over 400 CFM triggers Make-Up Air Laws stating you need fresh air return.
Large Capture Area - The hood should cover the burners.
Good Ducting - Your duct should run straight up or back. Never down.
Read More: How to Vent Your Kitchen Range
Can You Place a Downdraft Behind a Gas Cooktop?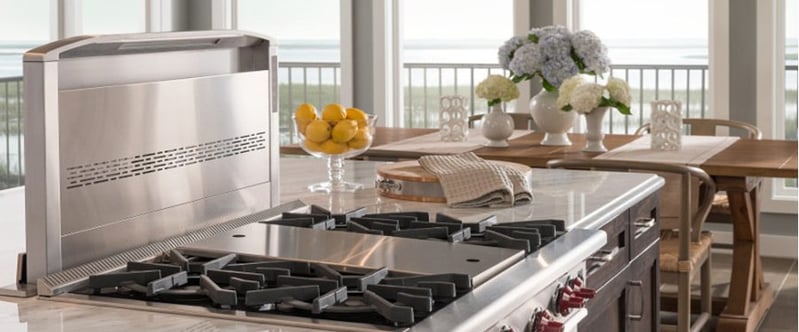 Downdraft on a Kitchen Island
Every manufacturer will say yes, you can place a downdraft behind a gas cooktop. That does not mean you should.
It's a pretty important decision with the overall look of your kitchen, especially with an island.
Downdrafts have enough CFM at 600- 1200. CFM is cubic feet per minute. However, there is almost no capture area.
Smoke is channeled first and then exhausted. Downdrafts do not have a chamber like a hood.
A range hood is much better even at lower CFM, especially if you prefer to cook using high heat on a wok, grill, or griddle.
Many of these cooktops also have high-output burners, so you will be creating a lot of heat.
A hood can channel and capture smoke and use gravity to push it outside. The downdraft is reversing gravity with no capture area.
Downdrafts should be used only as a last resort, especially if you like to cook.
Read More: Can You Install a Downdraft Vent Behind a Range?
Key Takeaways
Our staff chefs test all these brands in our showroom kitchens.
Beko has the lowest price at $1,249. Their cooktop costs less than the other six cooktops listed and offers good configuration and decent power.
Beko is consistently rated well with rebate incentives and have appliances in every category to complete a whole kitchen. They also have had the best availability.
Overall, Thermador will offer the broadest range of temperature management and has a great burner style offering a star shape. The Thermador is a great option if you're looking for a very low simmer.
Wolf is 100% American-made and consistently among the least serviced premium appliances.
The cooktop also offers a great burner output and can simmer effectively on every burner versus on two burners for Thermador.
The signature red knobs (black or stainless are also an option) are on the side for easy access to the front burners. You do not have to reach over the knobs to reach the burners, especially with heavy pots.
Then you have three good choices if you want greater output.
The LG Studio has the highest single burner at 24,000 BTU, while BlueStar has two 22,000 BTU burners, but you have to clean under the top.
Then Fisher & Paykel will offer you all high-output burners with one at 20,000 BTU and four burners at 15,000 BTU.
LG Studio, Thermador, BlueStar, and Wolf offer a two-year warranty, whereas Bosch offers a traditional one-year warranty.
Additional Resources
Want to learn more about the latest gas ranges and technology? Read the Yale Gas Range Buying Guide with features, specs, and detailed profiles of every major brand. Well over 1 million people have downloaded a Yale Guide.
Related Articles:
Why Should You Trust Us?
It seems that every appliance review has nothing but glowing comments about almost every product, yet you read customer reviews and they are almost universally bad.
We are here to fill in the disconnect. We'll give you the best features, and the drawbacks as well, including reliability based on over 37,000 calls performed by our service team just last year. Our goal is to give you ALL the information so you know what's right for you.
Please consider subscribing or adding to the conversation in the comments below. We appreciate you stopping by.
Steve Sheinkopf is the third-generation CEO of Yale Appliance and a lifelong Bostonian. He has over 38 years of experience in the appliance industry, and he is a trusted source of information for consumers on how to buy and repair appliances.

Steve has also been featured in numerous publications, including the New York Times, Consumer Reports, The Boston Globe, Bloomberg Radio, the New York Post, The Wall Street Journal, and Entrepreneur, for his knowledge of how to buy appliances and appliance repair.

Steve is passionate about helping consumers find the best appliances for their needs, and he is always happy to answer questions and provide advice. He is a valuable resource for consumers who are looking for information on appliance buying, repair, and maintenance.

Despite being the worst goalie in history, Steve is a fan of the Bruins and college hockey, loves to read, and is a Peloton biker. The love of his life is his daughter, Sophie.
A Note About Pricing
Pricing on this blog is for reference only and may include time sensitive rebates. We make every attempt to provide accurate pricing at time of publishing. Please call the stores for most accurate price.