New Weber SmokeFire Pellet Grill Series (Reviews / Ratings / Prices)
You are about to see the oddest video ever recorded at Yale. I read reviews about various problems about the new Weber Smokefire from minor to more serious flare-ups.
We wanted to test the SmokeFire before we sold it and found out major problems later.
There were problems as expected. New products always have issues, but that is not why the video is so odd.
First, let's look at Weber, the Smokefire Pellet Grill, and how it competes with Traeger, the pellet-grill leader.
Then we will show the odd video and finish with whether you should buy one.
Weber BBQ Grills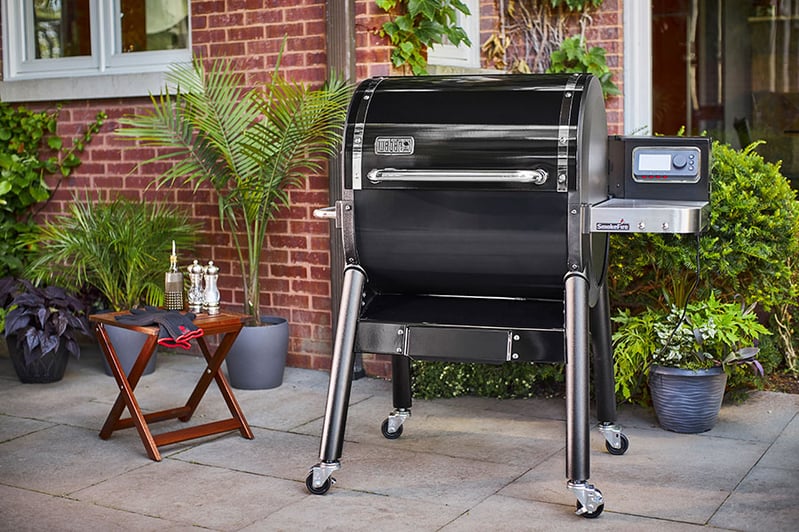 Weber SmokeFire Pellet Grill Series
Forged from a small kettle shape in 1952 by George Stephen, Weber grills have been a worldwide leader for reliable outdoor grilling.
They started with charcoal at first, but their Spirit, Genesis, and Summit gas grills are by far the most popular for the price.
However, after years of manufacturing just charcoal and gas grills, the SmokeFire in 2020 is Weber's attempt at a pellet type of outside grill.
Pellet grills are much different than charcoal and gas and outside Weber's value proposition of power and reliability.
With Wi-Fi and a generally more technical interface, pellets are designed for precision and exact temperature rather than the power and output of the simpler gas or charcoal grill.
In other words, pellets are technically electric grills, whereas Weber has produced simple, powerful grills in the past.
Short on time? Get our free BBQ Buying Guide
How Do Pellet Grills Work?
A motor turns a screw-like device, an auger, to feed the burn pot. The pellets are then ignited and exhausted by the chimney.
Indirect heat means no flare-ups, but pellet grills cannot reach the high temperatures of gas.
It's not a grill in the conventional sense.
Pellet grills are more of an outside electric convection oven powered by flavored wood.
Advantages Of Pellet Grills
You can cook food for a longer period of time. Gas cooking does not offer the flavor or control of a pellet grill. You can set a pellet in 5-degree increments.
You are also not tethered to your grill to flip a burger. You can set it by a recipe and walk away.
Disadvantages Of Pellet Grills
The Weber output is 600 degrees maximum versus 900 on a gas grill and up to 1100 on a pro-gas grill.
So you will not be able to quickly cook those burgers and dogs like gas unless you start much earlier.
Pellets cannot reach temperatures to sear effectively or "char" meats.
Before you consider a pellet, you have to determine how you will use it. Pellets are great for smoking but not faster grilling.
New Weber SmokeFire Pellet Grill Series
Weber SmokeFire EX4 Wood Fired Pellet Grill 22510001 - $999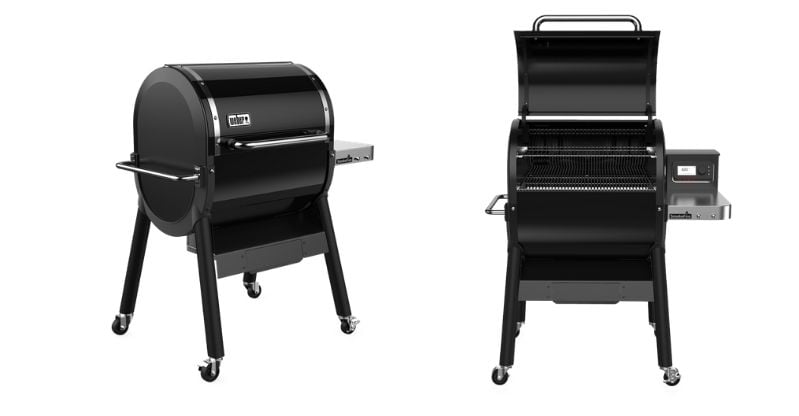 Features:
Dual Grilling Space
22 lbs. High Capacity Hopper
Easy-Clean Ash & Grease Drawer
Stainless Steel Flavorizer Bars
Porcelain-Enameled Lid and Cook box
Plated Steel Cooking Grates
Rear Vent System
Swivel Locking Casters
Side Handle
200-600°F temperature range
Porcelain-enamel finish
672 square inches of dual grilling space
Weber SmokeFire EX6 Wood Fired Pellet Grill 23510001 - $1,199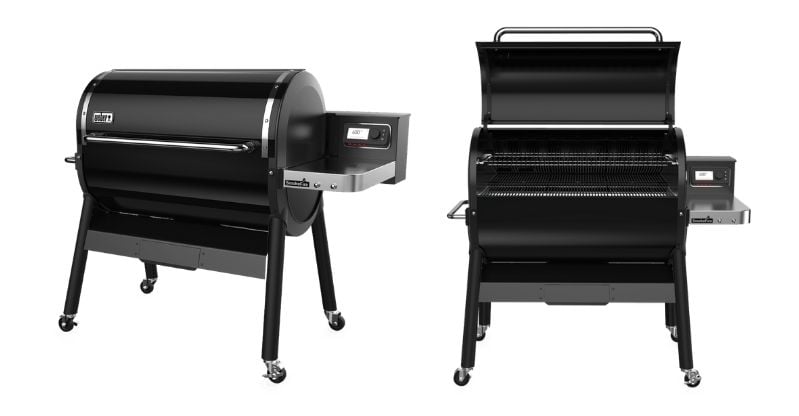 Features:
Dual Grilling Grates
22 lbs. High Capacity Hopper
Ash & Grease Drawer
Stainless Steel Flavorizer Bars
Porcelain-enameled lid and cook box
Plated steel cooking grates
Rear vent system
Swivel locking casters
Side handle
200-600°F temperature range
One thousand eight square inches of dual grilling space.
Weber SmokeFire Vs. Traeger Pellet Grills
Traeger first patented the pellet grill. Its patent ran out in 2005. However, they still dominate the pellet grill space.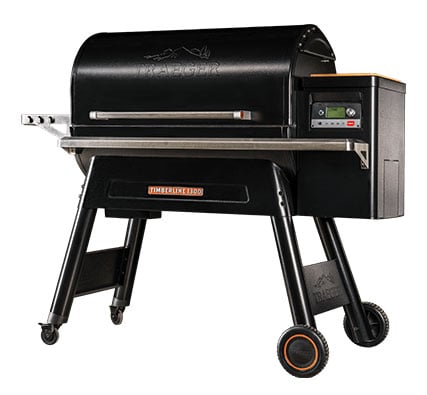 Traeger Wood Pellet Grill
In fact, Weber is the only major competitor to Traeger. There are a few niche brands at a higher price.
Traeger offers six grills to Weber's two pellet grills from $799-$1,999.
Weber offers a more reasonably priced full-featured product. It has its flavorizer bars to retain heat for a better "sear."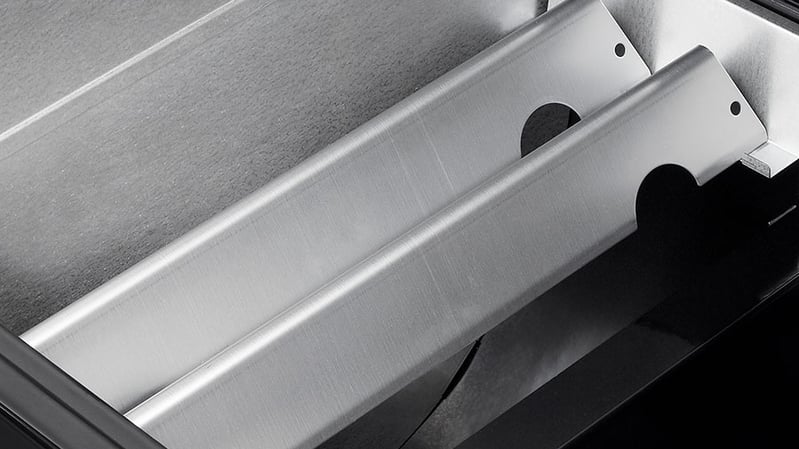 Weber SmokeFire Pellet Grill Flavorizer Bars
Weber also maxes their temperature at 600 degrees versus 500 for Traeger.
Now watch two different videos on pellet grills. The first introduces the Traeger and pellet grilling.
The second is a professional griller using the new Weber. It is the oddest video ever shot at Yale.
Traeger Wood Pellet Grills Video Review
Weber SmokeFire Pellet Grill Video Review
First, the professional griller is one of my oldest friends. Doug and I went camping together 40 years ago. He has been featured on Chopped and is a professional competing in BBQ competitions throughout the country.
What's odd about this video is: He hated the grill. Hate was the actual word.
Now a pro griller would never buy a pellet. They need speed as well as flavor and texture.
Most pro grillers will build their own grills and use a combination of wood and charcoal for flavor and texture.
He also hated the Lynx professional BBQ grill because you do not have flavor or texture with gas.
Weber SmokeFire Pellet Grill Problems
After telling Doug most people will not build their own grills and formulate their own custom blends, he told me some relevant information for anyone considering a pellet grill.
First, the unit did not flare up and cause a fire, at least while he was using it.
It had pellet feeding issues. The intake of the auger was inconsistent.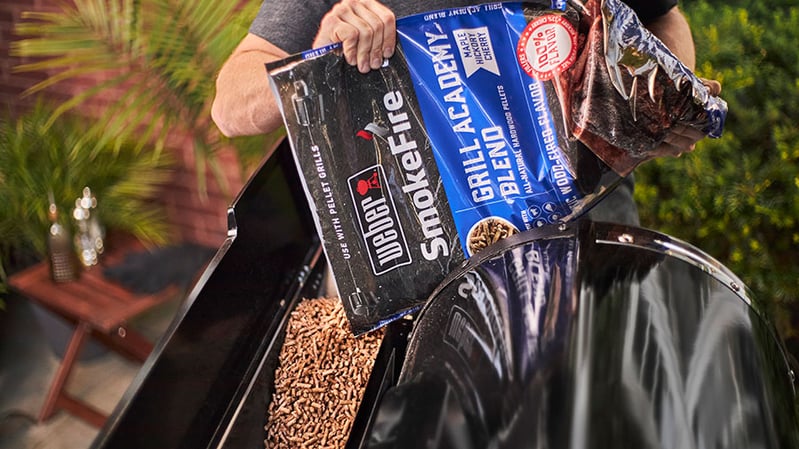 Weber SmokeFire Grill Wood Pellets
Weber publishes its ability to achieve 600-degree temperatures. Doug was not able to reach anywhere close to that temperature in 4 hours.
Their Wi-Fi is not consistent with the temperature on the grill, meaning the phone will show 300 degrees, with the actual temperature being 270-280 degrees.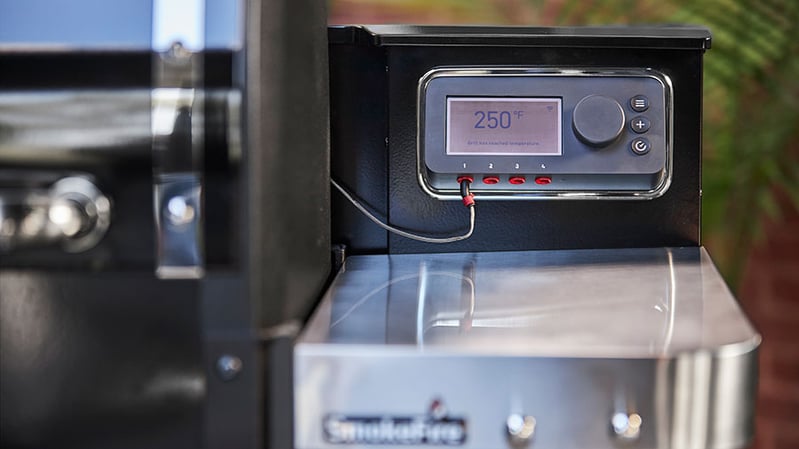 Weber SmokeFire Pellet Grill Connect
According to his research, the SmokeFire has software bugs limiting its ability to achieve max temperature. Those bugs or errors in code may have been rectified with newer grills.
Weber SmokeFire Pellet Grill Benefits
It worked well at lower temperatures for a longer period of time. In other words, it behaved like a pellet grill.
Should You Buy A Weber SmokeFire Pellet Grill?
Your first question should be whether you should buy a pellet grill. These types are not designed for grilling per se.
Pellet is about cooking at lower temperatures for a longer period of time. It's not about whipping out a quick burger or dog.
Should you buy Weber or Traeger? That's a more difficult question.
Weber is a grill company and has better customer service. I think they will eventually be the name in pellets. Just not this year.
Additional Resources
Get the Yale BBQ Grill Buying Guide with features, specs, and tips to all the brands. Over 820,000 people have already found answers in a Yale Guide.
Related Articles:
Why Should You Trust Us?
It seems that every appliance review has nothing but glowing comments about almost every product, yet you read customer reviews and they are almost universally bad.
We are here to fill in the disconnect. We'll give you the best features, and the drawbacks as well, including reliability based on over 37,000 calls performed by our service team just last year. Our goal is to give you ALL the information so you know what's right for you.
Please consider subscribing or adding to the conversation in the comments below. We appreciate you stopping by.
A Note About Pricing
Pricing on this blog is for reference only and may include time sensitive rebates. We make every attempt to provide accurate pricing at time of publishing. Please call the stores for most accurate price.