Yale Appliance University - Ice Cube Shapes by Brand
We're back again with a quick video to explain all the different types of ice cube shapes that can be produced by an undercounter ice maker. All the brands produce different shapes, so it's important to choose which is best for your purposes before you buy.
Ice Cube Shapes by Brand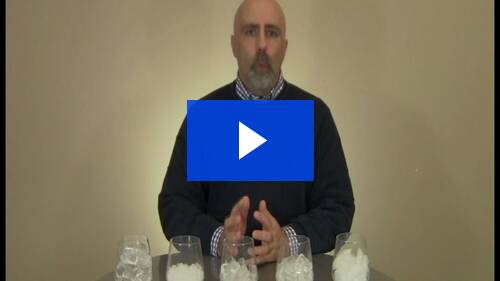 Hi folks! It's Chris Wurlitzer from Yale Appliance and Lighting in Boston, Massachusetts. Just when you thought I was done talking about ice, I'm back with the third round of questions about ice cubes.
As always, follow the links below for more detailed information about this and other topics.
Read more: Yale Appliance University - Clear vs. Regular Ice
Different Ice Cube Shapes
Here we have five different examples of ice cubes from icemakers we sell here at Yale Appliance and Lighting. We have crescent ice, cubed ice, dimpled cubed ice, crushed ice, and nugget ice. Now what is the difference between them?
Well, crescent ice is what is in your normal icemaker. It's going to do a good job. It will be a little cloudy, and have some impurities in it, but it will cool your drink.
The smaller chips are actually going to give you better cooling of your drink. So it will cool down the drink a lot faster, but it also melts faster. So it will water down the drink faster.
The dimples in the square will actually give you a little bit more surface area, so it is kind of the happy medium between cooling and melting.
The best is the nugget. That is going to give you the most surface area, it is going to give you the clearest ice and it is going to melt the slowest.
Read more: Yale Appliance University - Undercounter Ice Makers
Ice Cube Shapes by Brand
So now I am going to discuss what brands give you what type of cubes. It is very important to talk to your sales associate and tell him/her what type of cube you are looking for, that way he or she can best advise you for the brand you should buy.
U-Line, a great value brand, is going to give you the options of crescent or square ice. They also give you an option of a no drain icemaker, which most other brands do not offer.
Read more: U-Line vs. Scotsman Clear Ice Makers
Marvel, another great value brand, is going to give you the option of crescent and square ice. Square ice is really great for soda.
Read more: Marvel vs. U-Line Clear Ice Makers
Scotsman, is a little higher price point, but an excellent ice maker. They give you the option of very small cubes to cool your drink down really fast. Or, the nugget cube, that's actually very clear, has very little impurities in it, and does a wonderful job of not changing the flavor of your drink.
Perhaps my favorite out of all these icemakers is the Sub-Zero. They give you a bell shape. It actually has the most surface area out of all the brands and it is crystal clear. It is not going to change the flavor of anything that you are drinking. It is going to actually cool very quickly and melt the slowest.
Read more: U-Line vs Sub-Zero Clear Ice Makers
Well that is it for now. To get the next round, please be sure to subscribe. If you have a question, leave the question in our comment section and we will make sure to answer it.
Thank you.
Chris Wurlitzer
Chris Wurlitzer works as an Appliance Sales Associate with Yale Appliance + Lighting. He has 24 years of sales experience. Chris enjoys helping people and is a father of four. He is also an avid Spartan racer.

Schedule a showroom visit with me
A Note About Pricing
Pricing on this blog is for reference only and may include time sensitive rebates. We make every attempt to provide accurate pricing at time of publishing. Please call the stores for most accurate price.