U-Line vs. Scotsman Clear Ice Makers (Reviews / Ratings / Prices)
I have been working in the appliance industry for many years. I found out that people are very particular about what kind of ice cubes you put in there drinks.
We now have a working display of ice cube makers, so you can actually see the cubes. Scotsman and U-Line are two of the best.
There are actually major differences in the way that these machines produce your ice.
Short on time? Get our free Undercounter Refrigerator Buying Guide
Clear ice sprays the water through a sheet of metal so the impurities and air bubbles are drained and removed from the water. Thus leaving clear ice. Regular ice makers just freeze the tap water like your ice cube trays in your freezer.
They make totally different ice.
Watch this two minute video to understand the difference between clear and regular ice cubes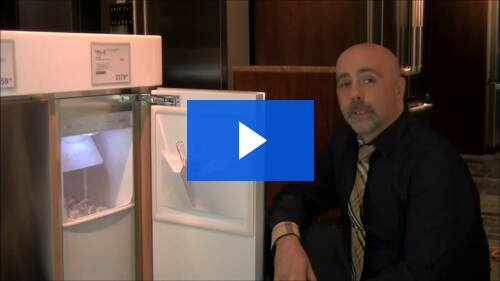 Which ice cube would you want in your drink?
U-Line
U-Line is based in Milwaukee, Wisconsin and a manufacturer of upscale undercounter refrigeration products, primarily intended for residential use.
The family owned business started in 1962. They were the first to bring stand-alone ice makers for residential use to market. The ice maker became very popular with more affluent homeowners. It helped the company to develop other product lines like a refrigerator with a built-in ice –maker, portable ice makers and 12 volt ice makers for boats. They were also the first company to develop refrigerator wine units for the home.
Now the U-Line Corporation manufactures several undercounter combinations of ice makers, refrigerators, freezers, and wine storage systems. The latest advancement for U-Line is refrigerator drawers.
Produces clear ice cubes in customized densities
The ice cubes are 7/8"W x 7/8"H x 7/8"L
It will make 60lbs of ice in a 24 hour period and will store 30 lbs. of ice at any one time
The clear ice cubes are created when the unit is spraying water aimed at a metal grid at 32 degrees Fahrenheit. Pure water only freezes at 32 degrees and the impurities are removed and the ice produced will be clear.
It provides crystal clear, gourmet ice in the shape of a short shot glass that so elegantly adds sophistication to your served beverages.
The touch glass digital controls let you turn the unit on and off when you are not going to be home.
Three hour temporary shut off option
The importance of cleaning the ice maker: When the clean indicator light goes on there is a 45 minute self-cleaning cycle that the ice maker needs to go through. This is very important because it will help the ice maker run more efficiently and make sure you get the high quality ice cubes.
The CLR-2160 has two ways you can drain the unit. The first is gravity feed drain which goes directly down into a drain pipe. By using the U-Line P60 pump it lets it you pump the water up or at an odd angle. Using a P60 pump it will have less of a chance for the drain to clog.
The ice maker can be built-in under the counter or freestanding. You can put on a ¾' wood overlay panel on the door (purchase an overlay kit and handles separate). This gives it a built-in look. It also comes in a wrapped stainless steel door with pro handle.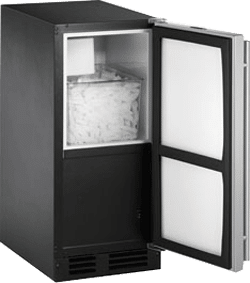 Produces 25lbs of crescent cube that are 1/2" W x 3/4" H x 2-1/2" L in a 24 hour period.
Stores up to 25 lbs. of ice
You can make 25 lbs. of ice from a mere 3 gallons of water, which produces a larger quality of ice while saving you water and money.
No drain required allows for easy, convenient and inexpensive installation.
Accepts a 1/4" flat or raised insert custom door panel.
Accepts a 3/4" full overlay custom door panel, requires separate purchase of an overlay kit.
With a 3/4" overlay panel installation, allow for 135° door swing to ensure easy removal of the ice bin.
Stainless steel models feature a sculpted stainless handle with a full wrap stainless door & cabinet.
Contemporary toe kick grille integrates seamlessly.
Scotsman Industries
Scotsman started in 1950 when Queen Stove Works purchased the American Gas Machine Company, manufacturer of lanterns, ice chests, heaters and a commercial ice maker. They developed a line of commercial ice makers and named that division Scotsman. In 1957 King-Seeley Corporation acquired the Queen Stove Works and in 1960 the business was merged with American Thermos Products Company. In the early 1960's the main focus of the company was the ice machine. In 1967 King-Seeley Thermos acquired Frimont S.p.A., one of the largest Italian commercial ice makers. They changed their name to Scotsman.
This made the Scotsman one of the largest manufactures of ice machines in the world. In 1968 the King-Seeley company was purchased by Household Finance Corporation (later known as Household International). In 1989 the Household International divested in the division that manufactured all refrigeration products. They changed the name to Scotsman Industries. In 1999 Scotsman Industries was purchase by Enodis Global Ice Machine which owned (Ice-O-Matic brand of commercial ice machines). In 2008 the Manitowoc purchased Enodis but had to sell the Enodis Ice Group which Scotsman Industries was a part of. In May of 2009 the Enodis Ice Group was acquired by Warburg-Pincus and re-named Scotsman Industries, Inc. In 2012 the ALI Group purchased Scotsman Industries from Warburg Pincus.
Scotsman Brilliance Series SCCP50MA - $2559.00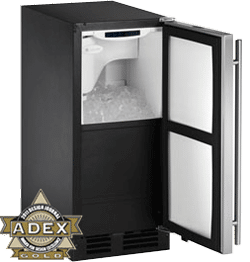 This model produces up to 65 lbs. of gourmet ice in 24 hours period.
Stores up to 26 lbs of ice
Uniquely-shaped, crystal-clear, slow-melting, taste-free, odorless ice - won't dilute the flavor of drinks.
Water-quality sensor detects hard water conditions and control system purges mineral laden water with every harvest cycle, which helps extend the time between cleaning.
User-friendly control panel informs whether power is on, alerts a no-water condition, and a time to clean reminder.
Built-in drain pumps assist.
Lighted bin and self-closing door.
When installing the ice maker under the counter there are several options. Custom wood front to have the ice maker blend with the cabinetry around it or finishes such as Stainless, Black or White.
Scotsman Brilliance Nugget Ice Maker SCN60PA1SU - $3559.00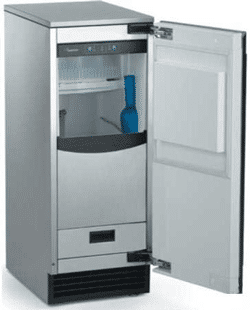 Produces 60 lbs. of Ice in 24 Hrs. Stores Up To 26 Lbs
Nugget Ice is made from Bits of Compacted Ice That Are Soft, Chewable & Absorb the Flavor of the Beverage.
User-Friendly Control Panel Informs Whether Power Is On, Alerts a No-Water Condition, and a Time to Clean Reminder
Uses 40% Less Energy and 50% Less Water than Stand-Alone, Dedicated Ice Machines
Finish options to choose from include stainless steel, black or white front panel kits if a custom wood front panel is not used.
Outdoor-approved models are available to equip your open-air entertaining area, whether on the deck or by the pool.
U-Line vs. Scotsman Clear Ice Makers
Scotsman has some unique ways of making ice cubes. The first type is Nugget Ice "The Original Chewable Ice" that is soft and chewable and absorbs the flavor of the beverage. These cubes are good for smoothies, blend cocktails, and good for children drinks.
The "Gourmet ice" slow melting clear ice cube is good for the person that wants scotch on the rocks and ice cubes that will last a long time. That will not dilute the drink. This seems to be important to many people who purchase ice makers. The Scotsman also signals when you need maintenance and ice makers need plenty of maintenance.
U-Line has the clear ice maker that makes perfect ice cubes that have no imperfection and clear ice cubes. These are good for drinks that fit into a smaller glass. Like your evening cocktail. The problem with this ice maker it needs more maintenance. I would recommend using a pump to keep the drain lines clear even if you have a gravity feed drain line. The base unit BI-2115 is a good unit for the perfect or aesthetic ice cube.

Steve's Take
I love the Scotsman "Gourmet Ice", but Scotsman is not as widely sold as U-Line residentially. U-Line is reliable and a known commodity so I would tend to be more comfortable with U-Line. - @YaleCEO
Additional Resources
Download the Yale Undercounter Refrigerator Buying Guide featuring wine, beverage and ice makers plus inside tips to all the brands. Over 100,000 people have read a Yale Guide.
Related Articles
Why Should You Trust Us?
It seems that every appliance review has nothing but glowing comments about almost every product, yet you read customer reviews and they are almost universally bad.
We are here to fill in the disconnect. We'll give you the best features, and the drawbacks as well, including reliability based on over 37,000 calls performed by our service team just last year. Our goal is to give you ALL the information so you know what's right for you.
Please consider subscribing or adding to the conversation in the comments below. We appreciate you stopping by.
Neil Katz
Neil Katz has been in appliance sales at Yale Appliance for over 25 years. Neil spends time following the Sox and Patriots and watching the stock market.

Schedule a showroom visit with me
A Note About Pricing
Pricing on this blog is for reference only and may include time sensitive rebates. We make every attempt to provide accurate pricing at time of publishing. Please call the stores for most accurate price.