Frigidaire Pro vs. Samsung Front Control Gas Ranges (Reviews/Ratings/Prices)
Front control ranges have become more popular since the last time you bought a gas range. It is a blend of a traditional freestanding range, which has the electronic controls on the backguard and a slide-in range which does not have a back guard.
Below we will compare the Frigidaire Professional and the Samsung which have different front control ranges and compare front control and slide-in again at the end.
Short on time?
Our free Gas Cooking Buying Guide is for you »
Front Control Ranges vs. Slide-In Ranges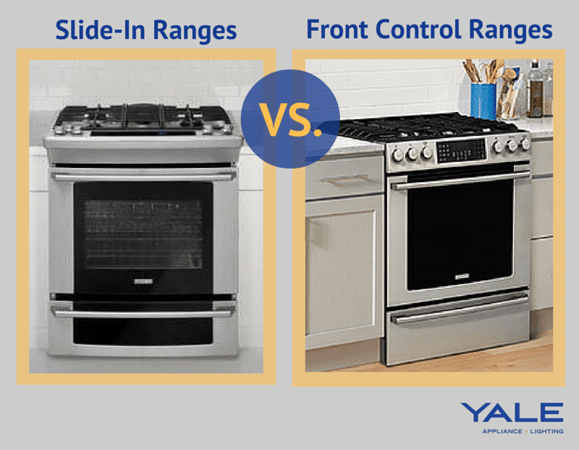 There are two types of front control ranges. Slide-in ranges will sit on top of the cabinets with a strip of countertop in the back. This eliminates the seams between the range and cabinet so it is easier to clean.
Freestanding front control ranges, on the other hand, will sit between the countertops and cabinets, just as a traditional freestanding would just without having the backguard. You would still have the seams between the range and cabinet.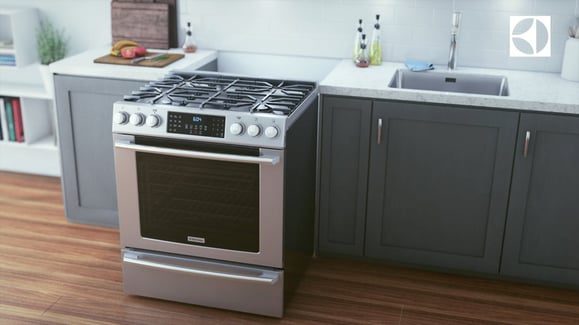 Freestanding Front Control Range
Freestanding front control ranges are easier to install versus a slide-in range which may require the cabinets and countertop to be modified for installation. For a new construction, you can use either.
Frigidaire
Frigidaire, an American made brand, has been around since the early 1900's. Frigidaire was one of the first companies to create a self-contained refrigerator back in 1916. Today, they are still known for their refrigeration.
Frigidaire was acquired by Electrolux in 1997 and is now one of the largest appliance companies in the world. They offer a few different series in their brand label: Frigidaire, Frigidaire Gallery, and their highest series known as Frigidaire Professional.
They manufacture lower to affordable luxury, but Frigidaire has proven to be one of the industry's most reliable brands.

Samsung
Samsung is a huge Korean company that has been in business for over 70 years. They focus primarily in electronics. Samsung is an established leader in the market for televisions and wireless devices.
They have become a large supplier of appliances with the ostensible aim of being number 1 in the US. With innovative features, Samsung could very well overtake Whirlpool in the near future.
Now, let's compare the 30" front control ranges from Samsung and Frigidaire Professional series.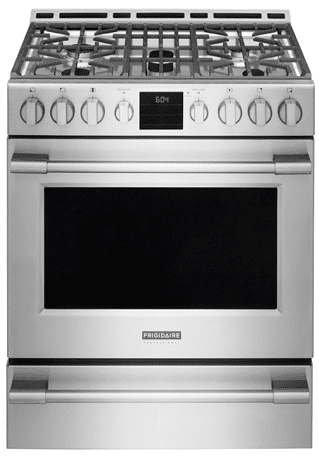 Features:
5.1 Cu. Ft Capacity oven with 5 gas burners
Single Fan Convection System
Power-Plus 2-IN-1 Burner & Griddle
Power-Plus Preheat
Temperature probe
Smudge Proof Stainless steel
Convection Convert
Dual Timers
24 Hour Self Clean
Power Glide Racks
Storage Drawer
Built With American Pride – Designed, engineered and assembled in the U.S.A
Burners – Right Front 18K BTU/ Right Rear 5K BTU/ Left Front 7.5K BTU/ Left Rear 12K BTU/ Center griddle 3K-12K BTU
Sabbath Mode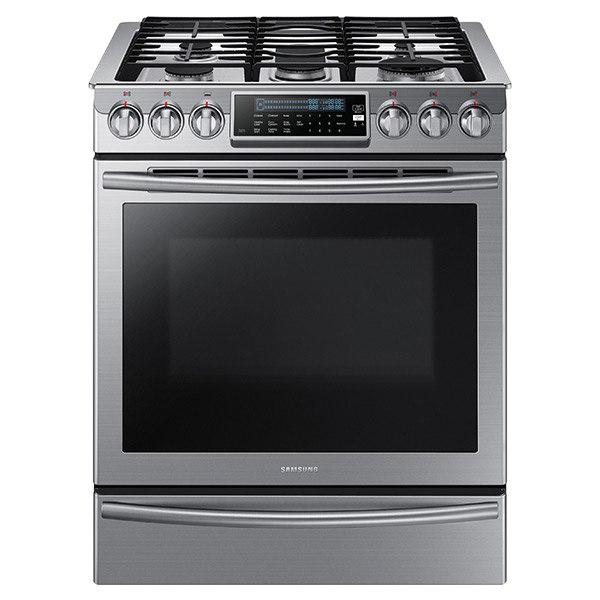 Features:
5.8 Cu. Ft Capacity oven
Flexible Cooktop
True Dual Power Burner
Oval Burner
True Slide-In Design
True 3 Fan Convection – A heated fan system that allows for faster and more even cooking
Reversible Cast Iron Griddle
Custom Wok Grate
Warming Drawer
Temperature Probe
Sabbath Mode and Self Clean

Burners – Right Front Dual 18k BTU/ Left Front 15K BTU/ Right Rear 5K BTU/ Left Rear 9.5K BTU/ Center Oval 9.5K BTU
(Our Gas Cooking Buying Guide defines all the current feature offerings from the most popular brands)
Frigidaire Pro vs. Samsung Front Control Gas Range Comparison
Both the Frigidaire professional range and the Samsung are very comparable in features. They both offer a convection system as well as a powerful 18,000 BTU power burner. Both offers a self-clean as well as a Sabbath mode. Both will have 5 burners with similar functionality.
There are a couple of main differences besides the Samsung oven being slightly larger in capacity. Samsung is a true slide-in range which will overlap the countertop. The Frigidaire Professional is a freestanding range which sits between the counters and the cabinets.
The other main difference is that the Frigidaire has a storage drawer where the Samsung has a warming drawer to keep your food warm for 2-3 hours. I like the triple convection of Samsung, but the difference will be minimal in a 30 inch range.
Rebates
Rebates are also a key consideration. Samsung tends to promote during holidays. It is worth waiting if you can. Frigidaire has better package opportunities with other appliances in a whole kitchen.
Reliability
Both are actually good, Samsung was around 5% service within the first year whereas Frigidaire was a blended 5.5%. However, there is far more history with Frigidaire because Samsung being newer to us.
Parts availability and turnaround are better with Frigidaire, so the repair will be quicker than Samsung.
Final Thoughts
So the difference is the warming drawer and slide in look. If you are replacing an old freestanding range, it may make sense to go with the Frigidaire, since it will be a direct replacement and can be pushed up against the wall.
If you go with the Samsung slide in range you may need a filler strip behind the range since it does not slide all the way back against the wall. For a new kitchen, Samsung may be a better choice, because a slide-in eliminates seams for better cleanability.
Additional Resources
Want to learn more about the latest Gas Ranges? Read the Yale Gas Cooking Buying Guide with features, specs and detailed profiles of all the brands. Well over 165,000 people have read a Yale Guide.
Related Articles
Roger Pontes
Roger Pontes has been with Yale Appliance + Lighting for over 10 years. He's worked in both the lighting and appliance department over the years. Roger truly enjoys helping people. He's a married father of 2 kids, a boy and a girl. On his spare time Roger enjoys spending time with his family and playing sports.

Read more about Roger here.
A Note About Pricing
Pricing on this blog is for reference only and may include time sensitive rebates. We make every attempt to provide accurate pricing at time of publishing. Please call the stores for most accurate price.