Best Bedroom Air Conditioners (Prices / Reviews / Ratings)
We roll this article out during the first heat wave in Boston, so you don't panic and make the wrong decision. In June, you should not have any problems buying an air conditioner...yet.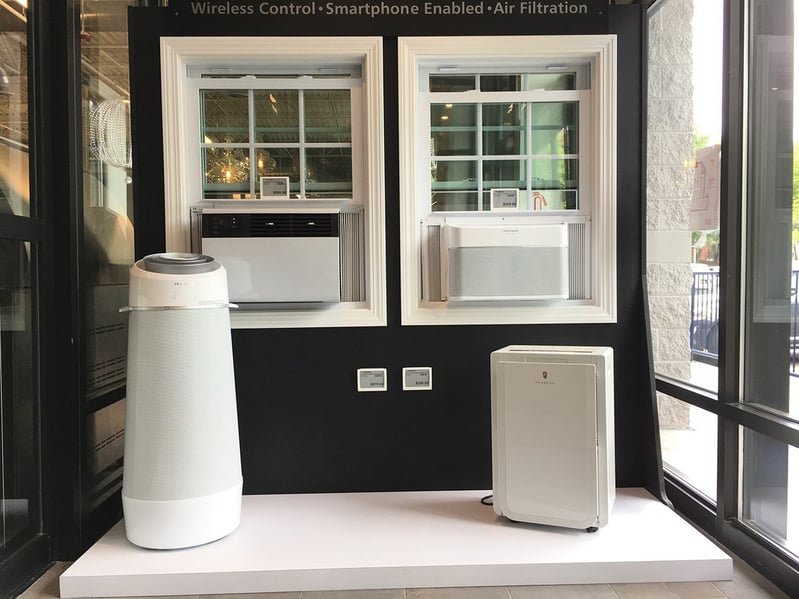 Air Conditioner Display at Yale Appliance + Lighting
However, air conditioners are the most unusual product sold at Yale because supply does not ever meet demand. Even in a prolonged heat wave, factories will not manufacture more units.
All the air conditioners are made in the winter and sold to stores in the spring. There is only one manufacturing run, and that's it.
Not to scare you, but in a hot summer, there are always shortages in July/August, so consider buying one now if needed.
A Brief History of Residential AC Units
Most manufacturers like Carrier, Amana, Sharp, and Panasonic made great units but exited the window air conditioner business long ago.
In their place are less expensive, unbranded ACs, you can find that product in drug stores at $99-149. They serve a purpose, but they are not quiet, efficient or well-constructed. So be careful.
Frigidaire and Friedrich are the two best major brands left in air conditioners. You will look at both companies, their units, and then we will show you how to size your bedroom AC.
Best Bedroom Air Conditioners
Frigidaire
Frigidaire is an American brand of consumer appliances founded in the early 1900's. Their early claim to fame was the development of the first self-contained refrigerator in 1916.
In terms of air conditioners, they are a good value brand with some interesting features.
Frigidaire Gallery AC's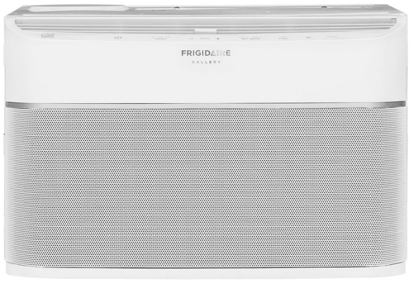 Models:
FGRC0644U1, 6,000 BTU - $299
FGRC0844S1, 8,000 BTU - $329
FGRC1044T1, 10,000 BTU - $399
FGRC1244T1, 12,000 BTU - $479
Features:
Wi-Fi Control
Electronic Air Purifier (8,000 BTU and higher)
Works with Alexa
Antibacterial Mesh Filter
Remote Control
Most Wi-Fi appliances do not make much sense due to their limited functionality. This unit would be the exception because you can turn it on/off remotely as well as set temperature.
So on a hot day (like today). You can turn it on an hour beforehand, so you are cool when you arrive home. You can also shut it off or adjust the temperature when you are on vacation to save money.
The only downside is noise. At 55 DBS, you will hear it. Oddly enough, it is the same noise level as their dishwasher.
You can click this link to hear a 55 DB dishwasher.
Friedrich
Friedrich began as a refrigeration manufacturer in 1883 and by 1950 had become one of the largest commercial refrigeration companies in the world.
They began selling window air conditioners in 1952 and are now known as a leader in both residential and commercial air conditioning.
They manufacture their Kühl and Chill series.
Friedrich Chill AC's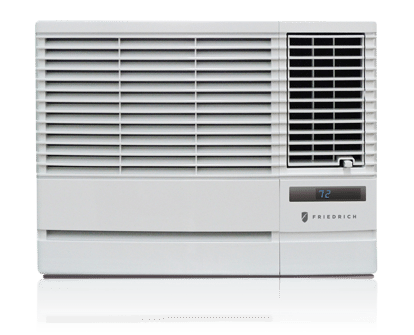 Models:
CP06G10B, 6000 BTU - $349
CP08G10B, 8,000 BTU - $389
CP10G10B, 10, 000 BTU - $469
CP12G10B, 12,000 BTU - $539
Features:
24-hour timer lets you program on/off times
Auto Air Sweep swing louvers* provide more even air distribution
Side Air Discharge*
3 cooling and fan speeds**
Ultra-quiet operation
4-way air-flow control
Auto restart saves settings if power is interrupted
Digital remote control that adjusts mode, fan speed, temperature, and sets the timer.
The Chill is Friedrichs' economy line. Looking at the specs, it hasn't changed much from years ago. It is still an efficient air conditioner at 12.0 EER based out of the industry standard 10.0.
However, it lacks the digital functionality of the Frigidaire.
Friedrich Kühl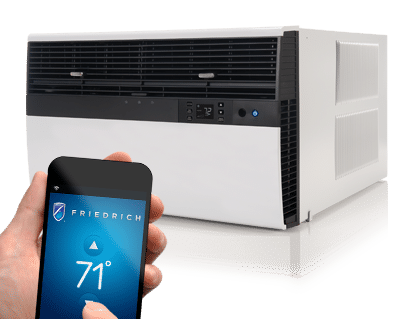 Models:
SQ06N10C, 6,000 BTU - $699
SQ08N10D, 8,000 BTU - $849
SQ10N10C, 10,000 BTU - $899
SS12N10C, 12,000 BTU- $1,249
Features:
Intuitive controls allow one-touch operation or programmable control
Simple unit controls or whole building control at your fingertips
Simplified intuitive unit controls easily switch between operating modes, fan speed, and temperature with a push of a button
Built-in 7-day energy management programs are based on a typical 5-day work week and a typical 5-day business week
Custom 7-day programs can be created to maximize comfort and/or energy savings around individual preferences. Create and save up to six custom schedules per unit. (requires optional FriedrichLink™ KWIFI accessory).
The Wireless Unit operation makes controlling a Kühl possible from a smartphone, computer or tablet. FriedrichLink, a proprietary web-based portal allows access to an unlimited number of Friedrich units. Make changes on the go, wherever you are
FriedrichLink allows users to create "Groups" of air conditioners, controlling them as one. Create your own zones or central systems using room air conditioners
Kühl is the first room air conditioner that is Smart Grid capable
The Friedrich Kühl Series is the best air conditioner on the market. It can even be customized with faceplates in a variety of colors with high fashion silver being the standard.
The charcoal filter is a great feature for eliminating odors or other contaminants like pollen (why your car has been green over the last month).
They also have a steel inner wall and extra dense insulation with vibration isolation design and components. The Friedrich should be the quietest AC on the market by far because insulation cuts noise and vibration. (inexplicably, they do not publish DBs, so we will have to measure ourselves.
Like the Frigidaire, the Kühl is fully Wi-Fi enabled. For those that are looking to be green the Kühl models are Smart Grid capable. Kühl is the first room air conditioner that can tie into a power company's smart grid.
Which would you buy?
First, you should decide what type of air conditioner:
The cheaper ones from drug stores and some home centers do work but are noisier and will last a season or two if handled perfectly.
You can choose more expensive and permanent routes with either split or HVAC systems for your home. You should look at both but only when part of a general renovation because they are expensive to install in existing construction
In terms of decent affordable ACs, Frigidaire has a very good unit with Wi-Fi, decent efficiency, and performance. The downside is a moderate amount of noise.
Because of its functionality, Frigidaire may be a better option than the similar priced Chill unit from Friedrich.
The Kühl is the best you can buy in terms of quietness and overall construction. The downside is a heftier price tag.
Either way, you have plenty of choices depending on what you value.
How to Choose a Bedroom Air Conditioner
Air conditioning is based roughly on the square footage of the room. Square footage is

important, but there is a huge difference between a bedroom in the attic and a bedroom in the basement even with the same square footage.
The following factors can affect the sizing...
Sunny exposures, tall ceilings, appliances (they can give off heat), people (500 BTU per person), 3rd floor (heat rises), windows...all these factors should increase the size of your air conditioner.
You also have to remember to NOT over cool your space. Throwing in a 10,000 BTUs in a tiny room will actually freeze the unit, as well as not allow the AC to dehumidify.
Your bedroom is also typically the coolest room in your home because you are there at night, the coolest time of day.
The majority of the air conditioners are sold at 5,000-7,000 BTU.
Additional Resources:
Download the Yale Air Conditioner Buying Guide with specs, tips, and a square foot and BTU chart to help you choose the right air conditioner. Well over 330,000 people have read a Yale Guide.

Rick Medeiros
Rick Medeiros has over 10 years of appliances sales experience and is in the appliance sales department at Yale Appliance + Lighting. He enjoys travelling, live music and learning to play the guitar.

Schedule a showroom visit with me
A Note About Pricing
Pricing on this blog is for reference only and may include time sensitive rebates. We make every attempt to provide accurate pricing at time of publishing. Please call the stores for most accurate price.