Best Induction Freestanding & Slide-In Ranges: Prices / Reviews / Ratings
Induction is magnetic heat, and is the best type of cooking available. It is faster than professional gas, simmers instantly, emits almost no heat for far less venting and is virtually child proof.
Over the last few years, the price for an induction range has decreased considerably from $6,000 to $1,600 and has completely dominated the upscale electric range market.
We update this post by reviewing induction ranges every month for rebates and price adjustments.
Short on time? Get our free Induction Cooking Buying Guide
Considering Induction
Oven vs Warming Drawer vs Storage Drawer: Electrolux will offer a second oven below the oven. Most models will feature a warming drawer, which can warm and reheat, but not cook. The more basic units have the storage drawers
Convection: Fan-forced heat for more even heat throughout the oven cavity for better baking.
Hybrid (2 burners) vs All Induction: This was more of a decision before Whirlpool introduced a cheaper all induction range.
Repair Rates: Whirlpool/Maytag is 8.8% service within the first year. Frigidaire is better at 10.1 (more products sold and more variety of products). GE is 13.1%. Electrolux and Viking are weighed down by their refrigeration and are at 18.1% and 27.5%.
Power Output: Actually not the same. Our Induction Buying Guide has the output of every induction range.
Slide-In vs. Freestanding Style
The difference between a slide-in and freestanding range is the position of the controls.
Slide-in ranges, with the controls on the front, are nicer looking because you can see the backsplash. Freestanding ranges are more common and are typically less expensive.
Read Slide-In vs Freestanding Ranges for more information.
Best Induction Freestanding and Slide-In Ranges
Frigidaire FPCF3091LF - $1,689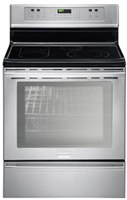 Frigidaire is a hybrid induction range which means 2 burners are induction and 2 burners are regular electric. The range also has a bridge element to connect two burners for odd shaped dishes as well as a warming drawer and convection. Their all induction unit is $1839.99
Samsung

NE597NOPBSR - $1,999
This range is brand new and has some pretty cool features. It has a large griddle induction burner on the left side for a multitude of different pans as well as convection and a warming drawer.
Electrolux EW30IS65JS - $3,199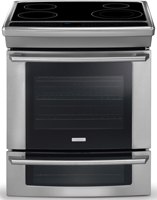 You buy Electrolux for the modern appearance, the two oven configuration and intuitive controls. Electrolux has the most automatic control settings like "Perfect Turkey", dehydrate and convection conversion, which converts regular recipes into convection with one button.
Electrolux EW30IF60IS - $2,699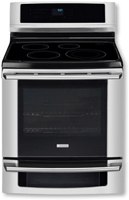 This is the freestanding version of the slide in listed above.
KitchenAid KIRS608BSS - $1499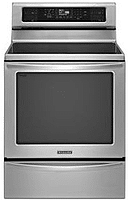 The KitchenAid (Whirlpool) range has changed the ;industry with a cheaper all induction range with convection as well as a warming drawer. It is less expensive than the Frigidaire with all burners being induction.
Viking VISC5304BSS - $6,699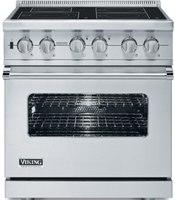 Viking actually was the first induction range on the market. Without a warming or second oven capability or even bridge elements, you pay dearly for the commercial look and Viking name. Still it is a nice looking range.
How to Choose
I like Frigidaire for quality reasons (try saying that 20 years ago), but KitchenAid is more powerful at a more competitive price. I love the Samsung, but worry about reliability and repairability.
For slide-ins, Electrolux has a great oven with every type of controls imaginable.
Additional Resources
For more information, download the Yale Induction Cooking Buying Guide with power ratings of every induction product on the market today.
Related Articles
Steve Sheinkopf
My goal has always been simple: I want Yale to be the best retail experience anywhere. I have tried to create a compelling environment for customers and employees alike
A Note About Pricing
Pricing on this blog is for reference only and may include time sensitive rebates. We make every attempt to provide accurate pricing at time of publishing. Please call the stores for most accurate price.