Kitchen sinks are a focal point in today's kitchen. Sinks determine the base cabinets and impact the layout of the kitchen.
You do your all food preparation and cleaning at the sink. We will look at the different considerations to buying the right kitchen sink.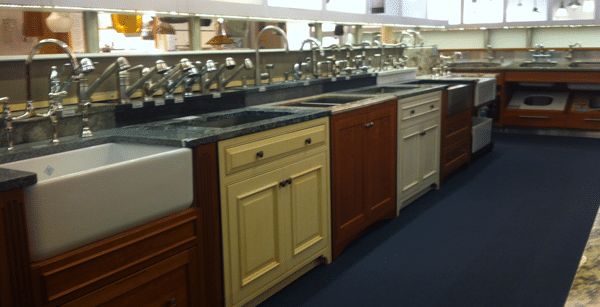 Short on time? Get our free Kitchen Plumbing Buying Guide with reviews and recommendations for every type of kitchen »
You first need to determine the size of your sink by measuring the base cabinet.
The normal base cabinet sizes are typically 24", 27", 30" 33", 36" or 42". You may want to buy a large sink, but remember there will be less counter space left over.
Types of Kitchen Sinks

Top Mount Sink
Drops in from above and has a rim edge that overlaps the counter. These types of sinks are usually installed in Formica or any other counter material.
They can be tougher to clean. The rim of the sink sits on the counter and food and dirt is caught around the edge of the sink. If you have Formica counters you have no choice but a top mount sink.
Undermount Sinks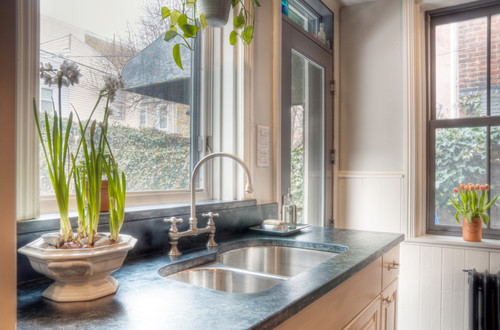 Mounted from underneath a solid countertop (granite, marble, corian, and any composite material).
What I like about the undermount sinks is the easy of cleaning. You can wipe the counter down and go right into the sink because it doesn't overlap the counter.
The sink is hidden under the counter and adds a sleek modern look to the kitchen. It also accentuates the counters.
Farm House Sinks
Sits on the cabinet base and does not require support for the counter. They do require custom cabinets and countertops as they are pretty heavy.
They are also deeper so if you want to use a disposer you will need a deep flange because the thickness on the sink will not hold a normal disposer without the flange.
These sinks are best in Fireclay and also available in Stainless Steel.
Different Materials for Kitchen Sinks
Ok, so now that you have picked out your sink size and style, you must pick out the material. It can be Stainless Steel, Fireclay or Porcelain-Enamel.
Stainless Steel
When choosing stainless steel sinks there are a few considerations.
The gauge (thickness) of the stainless steel determines the quality of the sink. An easy rule of thumb is, the lower the number of the gauge, the thicker and better the stainless steel. For example, a stainless steel ratio of "18:8" means there is 18% chromium and 8% nickel present. The higher percentage of these elements the better the stainless steel grade is. Stainless steel sinks usually range from 16 gauges (thicker) to 22 gauges (thin).
A good quality sink can range from 16 to 18 gauges. The 16 or 17 gauge is commercial grade good for restaurants. It is easier to keep clean with less possibility of denting or scratching.
Most popular stainless sinks
YS2318-9 - $299
It is the most popular because of its D shape with 17 gauge and 9 inch depth.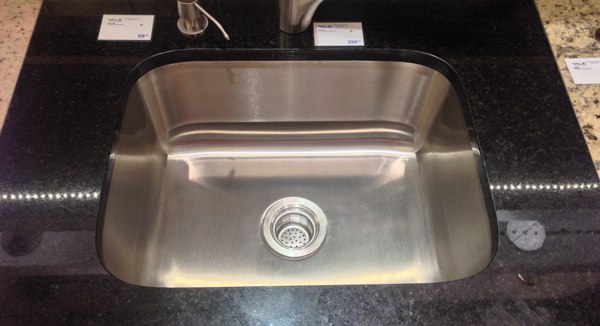 YS3118-9 - $499
This sink is 31 wide and 18 inches front to back with 9 inches depth. It is a big sink for a relatively inexpensive price.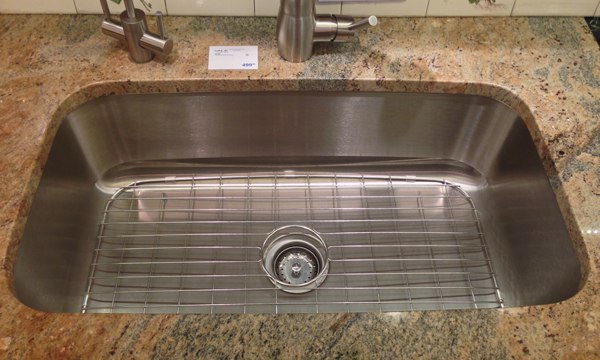 YS3219-10 - $699
16 Gauge and 10 inch depth, this is a true commercial sink.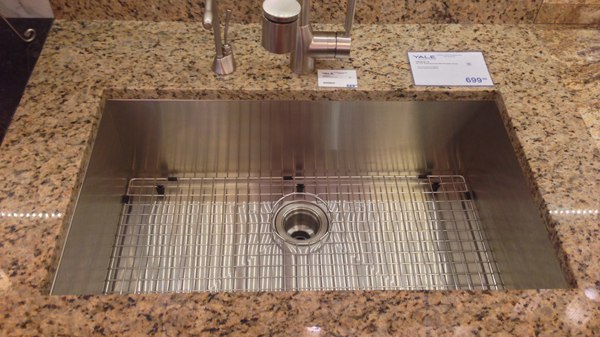 Fireclay sinks
Fireclay sinks are made of clay which heats up to very high temperature of 2,200 degrees. This will give the sink a nice shine and also makes it very durable. It's resistant to most scratches and chips and it is very easy to clean. The fireclay sinks come in a Farmhouse style.
The best Fireclay sinks are manufactured by Rohl. The most popular is the RC3018WH for $1,170.
(Learn more about the best kitchen plumbing brands in our free guide)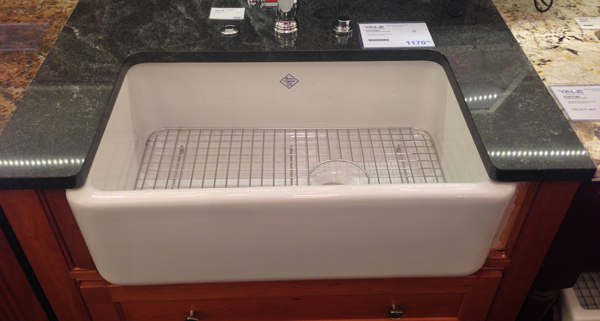 Porcelain Enamel Sinks
They are less expensive than Fireclay. They are made by heating the material at lower temperature vs. the fireclay at very high temperature.
Porcelain is cheaper, but can chip and discolor. On a good note you can buy a Porcelain sink in different colors to match your kitchen.
Other Considerations
An average depth sink is 7-to 8 inches. Deeper sinks can be 9-12 inch. You need consider a couple of things when you're picking the depth of the sink. If you have a higher gooseneck faucet and have a deeper sink you will have more splashes. You also need to consider the height of the person using the sink.
Make sure the shape of the sink will fit your pots, pans and dishes. A double bowl sink doesn't always allow you enough space to put bigger pots and pans in either bowl.
If you get a deeper bowl sink it may be a tougher install for a large disposer. Installing a Farmhouse sink with a disposer will lower the disposer to the bottom of the cabinet.
I always recommend a few accessories to protect your sink. A drain grid and strainer baskets (if you not using a disposer), cutting boards, Inox cream to clean stainless steel and Atonish to clean the fireclay sinks are all great accessories for your new sink.
Additional Resources
Get our free Kitchen Plumbing Buying Guide for tips, trends, reviews and recommendations for sinks, faucets, disposers and more. Over 65,000 people have already found answers in a Yale Guide.