Which Refrigerators Have The Most Freezer Capacity? (Reviews / Ratings / Prices)
Refrigerators with larger freezers have become a hot topic over the last two months.
Freezer storage and preservation of food have become more important. What's interesting is that it's exactly the opposite of buying patterns before the Coronavirus (COVID-19) pandemic.
Another reason is the lack of freezers. You can't buy one. Then again, neither can I or any other retailer for a few months.
So in this article, you will learn what refrigerators have the most cubic footage of freezer space. Also, there are some problems you want to avoid.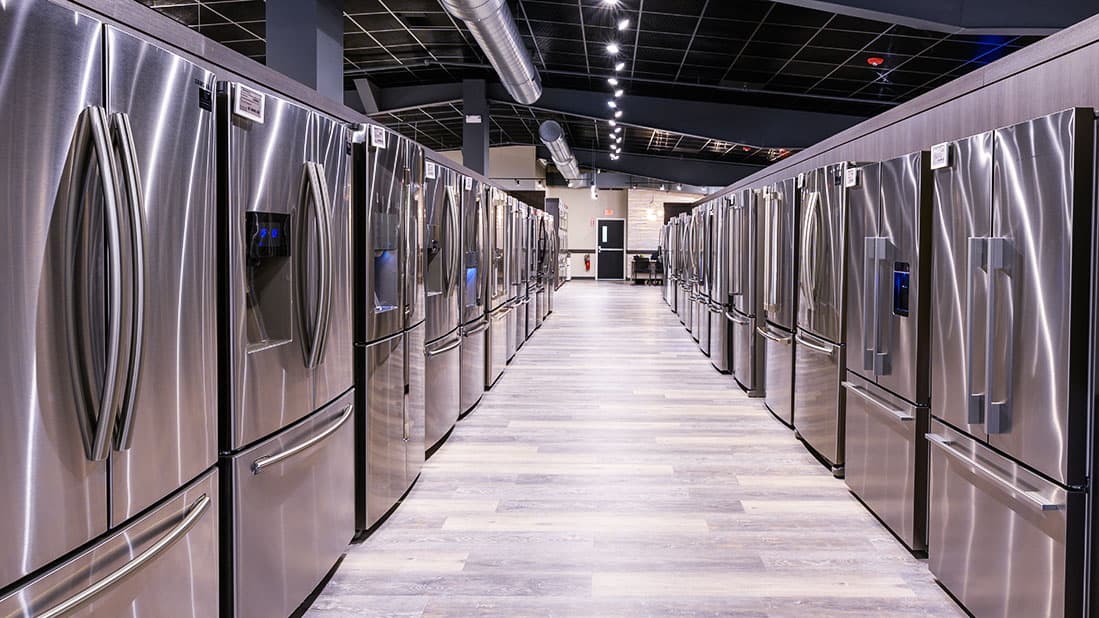 Bottom Mount (freezer located on the bottom) Refrigerators at Yale Appliance in Hanover
Buying large is not always buying smart.
If you are buying a secondary refrigerator for the freezer, then we will show you what that will hold.
Then we will look at what you should not buy followed by a few models you should consider.
Short on time? Get our free Refrigerator Buying Guide
What Can Extra Freezer Space Hold?
If you have a current refrigerator, you probably already have 5-7 cubic feet. These aren't normal conditions, so let's see what the extra cubic footage holds.
Our industry says 1.5 cubic feet per person should suffice in normal conditions.
Others claim freezers can hold 35 pounds per cubic foot, which makes no sense even conceptually. Different foods have different requirements. A roast is different from a frozen pizza.
The director to a consumer meat industry can share some insight. After all, you have to store their product in a freezer.
Heartstone Farms had a great article about freezer cubic footage.
A 4 cubic-foot freezer can store a quarter share or 85 pounds of meat. Eight cubic feet can hold half a cow. The whole cow (I am assuming) can be fit in a 16 cubic foot freezer.
That is a bit misleading, as well. Some refrigerators have better lateral storage than others to fit foods differently.
Between your refrigerator and buying just an extra five cubic feet, you should have plenty of freezer space.
Since we are buying for shortages later, look at your refrigerator now. Would doubling that capacity store what you typically freeze?
You will look at configurations for storage a bit later. Let's now focus now on what not to buy first.
Short on time? Get our free Refrigerator Buying Guide
What Refrigerators Have The Least Amount Of Freezer Space
Counter-Depth Refrigerators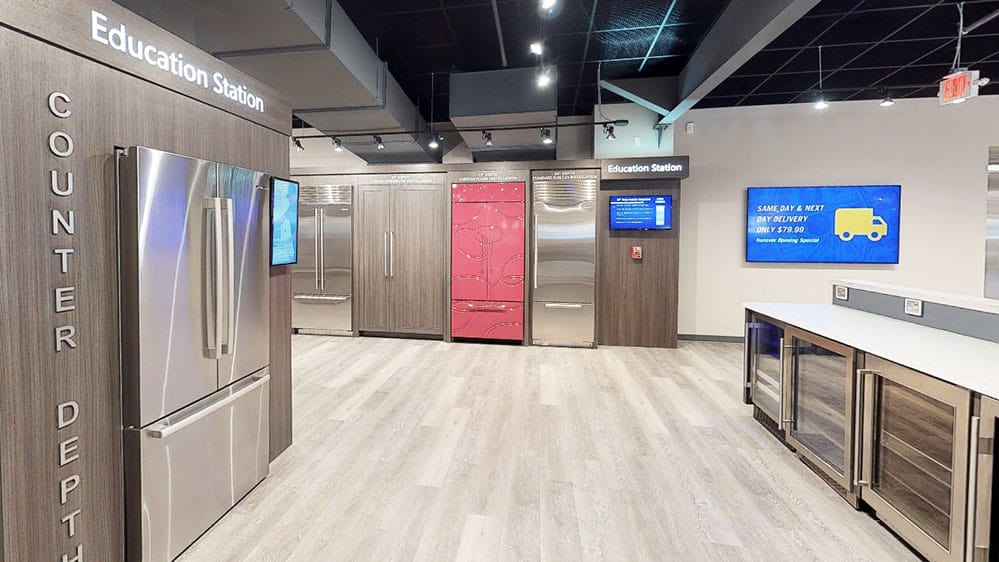 Counter Depth Refrigeration Learning Center at Yale Appliance in Hanover
Counter-depth is a great look.
You don't see the sides of your refrigerator jutting into your kitchen. However, a counter-depth refrigerator decreases storage capacity by cutting down the depth.
For example, a 25-28 cubic foot regular depth refrigerator becomes a 21-23 cubic foot counter-depth refrigerator with the same height and width just by eliminating some depth.
It also costs more.
Less cost and more storage is the goal when buying a secondary refrigerator.
You should not consider a counter-depth refrigerator for secondary freezer storage.
Bottom Mount and French Door Refrigerators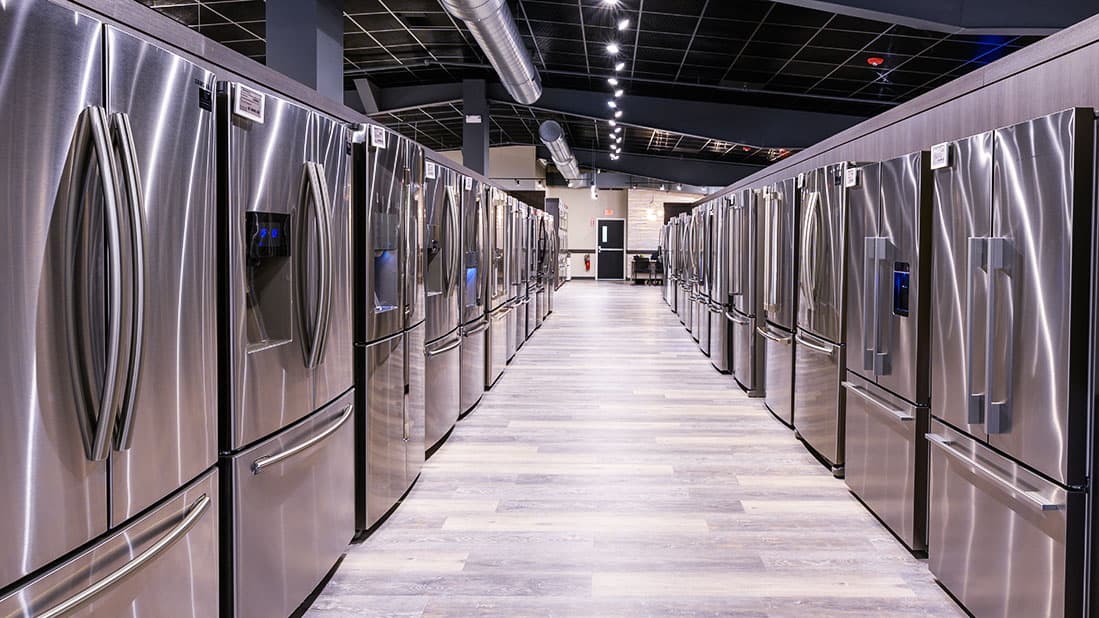 French door Refrigerators on display at Yale Appliance in Hanover
French doors and bottom mounts are the most popular refrigerators on the market. You have access to a refrigerator and plenty of lateral space to store platters and trays.
Unfortunately, you need access to your freezer, so these types will make you bend for access.
3 Best Refrigerator Choices For Freezer Capacity
Top Mounts Refrigerators
Top mounts will give you lateral storage side to side. The most popular sizes tend to be smaller at 18 cubic feet.
At 18 cubic feet, the freezer is roughly five cubic feet or roughly the size of a small freezer..
That's our recommendation for sizing in a top mount.
In most lines, you only gain 0.5 cubic feet for the larger 21 cubic foot top freezer models.
The largest top mount is the LG LTCS24223S at $1,399. Its 24 cubic feet, but only 6.2 Cu. Ft. is freezer space.
The following are the two best top mount refrigerators on the market: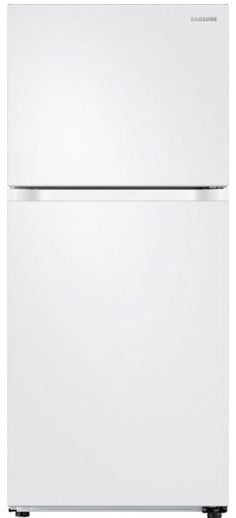 Feature Highlights:
FlexZone - Freezer to fridge in a touch of a button
Twin Cooling Plus - Keep foods fresher longer
Also available in Black Stainless Steel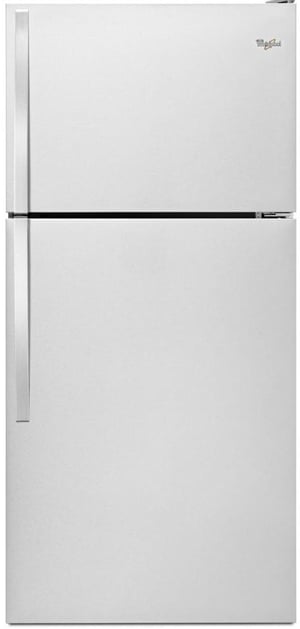 Feature Highlights:
Flexi-Slide Bin
Freezer Temperature Control
Factory-Installed Ice Maker
Samsung is interesting because you can turn the freezer into a refrigerator. Unfortunately, it doesn't become all freezer.
That was never a problem, or an asked for the feature until now.
Side-By-Side Refrigerators
Side-by-sides are available in larger sizes up to 30 cubic feet.
Side-by-sides will give you the most capacity for freezers of any type of refrigerator.
They differ from top mounts. You do have the added freezer size, and it is the more organized top to bottom.
However, there is not as much lateral storage as a top mount for trays and larger pans.
Side-by-side refrigerators tend to be more expensive as well.
For example, that 30 Cubic foot refrigerator is 10.1 cubic freezer capacity but costs $3700.
A 25 cubic is usually $1,100-$1,200 with just two cubic feet less in the freezer.
The most common size for a side-by-side is 25 cubic. Like the 18 cubic foot top mount, you should look at this for the best value.
Then again, you can always find even less expensive options for a secondary refrigerator if you know where to look.
Look here.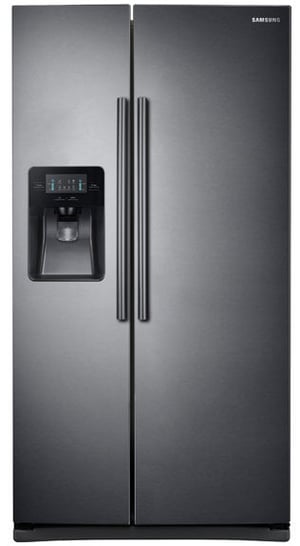 Feature Highlights:
25 cu. ft. Side-by-Side Refrigerator
External Water/Ice Dispenser
LED lighting
Six Temperature Sensors
Also available in black stainless steel and white finishes
This Samsung side-by-side is 8.1 cubic feet of freezer space. The average size of a standalone freezer is 9-12 cubic feet, so this isn't much smaller.
However, Black Stainless is cheaper than regular stainless. Usually its 10% more, not 15% less.
Samsung is discontinuing much of its Black Steel because it can scratch, leaving the shiny undercoating.
Buy the cheaper finish if the scratching is not an issue like if it's in your basement or mudroom.
Creative Ways For Buying A Secondary Refrigerator
Discounted Refrigerators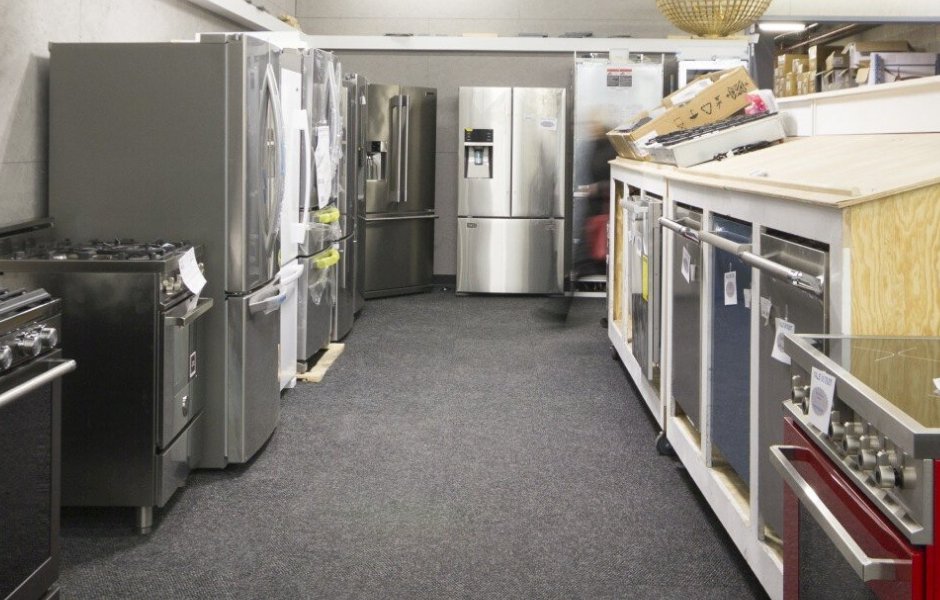 Yale Appliance Outlet Center in Boston
If you are placing this in a basement or other secondary area, buy it distressed for less money. Most stores have scratched, dented, or discontinued appliances for a good percentage off.
Just make sure there is a warranty.
It's a great way to buy an appliance when you don't care about the look.
For floor displays, scratched, dented, discontinued and overstocked appliances at 20-50% off, check out our Outlet Center by clicking here.
Can You Place A Refrigerator In The Garage?
Every time I say no to this question, I am regaled about someone's Uncle who had a refrigerator in his garage for 50 years.
First, let's not forget old refrigerators were more heavily insulated and could withstand the cold. They were also very costly to operate.
(Here is a tip: Unplug that old refrigerator if you do not need it. You can save up to $500 annually on your electrical bill).
New refrigerators are not designed to withstand extreme outdoor temperatures of, especially if you live in New England. I doubt the gaskets can withstand different temperatures, much less the temperature sensors inside the refrigerator.
Extreme heat will make the refrigerator work harder. Many kitchens are hotter during the summer.
Key Takeaways
The best freezer alternatives for a refrigerator are opposite to your kitchen. For access and capacity, think top-freezer and side-by-side.
Top freezers will give you lateral storage while side-by-sides offers a larger size in a more organized space.
Buy them in the standard sizes to save money like 18 cubic feet for a top mount and 25 cubic feet for a side-by-side.
Buying larger refrigerators for a bit more freezer space will cost you disproportionately more.
Remember to shop your store's outlets for cheaper, discontinued models.
Additional Resources
Download the Yale Refrigerator Buying Guide with features, specs, and inside buying tips for regular, pro, and integrated counter depth refrigerators. Well over 800,000 people have read a Yale Guide.
Related Articles
Why Should You Trust Us?
It seems that every appliance review has nothing but glowing comments about almost every product, yet you read customer reviews and they are almost universally bad.
We are here to fill in the disconnect. We'll give you the best features, and the drawbacks as well, including reliability based on over 37,000 calls performed by our service team just last year. Our goal is to give you ALL the information so you know what's right for you.
Please consider subscribing or adding to the conversation in the comments below. We appreciate you stopping by.
A Note About Pricing
Pricing on this blog is for reference only and may include time sensitive rebates. We make every attempt to provide accurate pricing at time of publishing. Please call the stores for most accurate price.