Best Vacuums for Allergy / Asthma Sufferers (Reviews / Ratings / Prices)
Whether it be dog fur, pollen or even dust, there are millions of triggers for allergy sufferers. Using a vacuum on dust and dirt doesn't always help the cause, it can actually stir up more dust and aggravate allergies.
If you are suffering from allergies, you should look at the best filters and bagged instead of canister vacuums.
We will look at the best vacuums for allergy sufferers, and why they help reduce allergy flare-ups. Using a vacuum doesn't always have to mean a dust cloud throughout your house or apartment.
A Little Vacuum History
Vacuums have been around since the 1860s, invented by Daniel Hess in Iowa. It was basically a rotating brush and bellows to generate suction. By the late 1900s, powered vacuums came about. The powered vacuums used some sort of variations of blowing air as opposed to suction.
Hoover and Electrolux both started in the early 1900s and started making portable vacuums so they were more accessible.
HEPA Filters
Today, there are many different manufacturers to choose from but they are not all built the same. The machines that filter air better are equipped with HEPA (High-Efficiency Particulate Absorber) filters which can filter out 99.9% of allergens. HEPA filters are comprised of randomly arranged fibers, usually fiberglass.
The fibers act almost like a sieve and are meant to filter out even the smallest allergens. When vacuums are equipped with HEPA filters fewer allergens escape into the air during the cleaning process.
The American HEPA standard is .03 of a micron, but the European standard is three times better at .01 of a micron.
There is only one company designing many vacuums to that European standard.
Miele
Miele is a family-owned German company founded in 1899 by Carl Miele and Reinhard Zinkann. They started out making cream separators in Herzbrock, Germany and have always believed in their company motto " Immer Besser" which means forever better.
It is their commitment to quality and craftsmanship that goes into their products. Miele produced their first vacuum cleaner in 1927.
They are now one of the pioneers of the appliance business and manufacture everything from vacuums, laundry products, dishwashers, and professional ranges. Their vacuums filter particles to .01 microns.
The air is exhausted through the top of a Miele vacuum rather than the sides, so it does not blow the dust around like other vacuums.
Bagged vs. Bagless
Miele also uses bags so dust will not reenter your home once opened. With a bagless vacuum, you will be exposed to the dust just vacuumed. Most people go outside to empty their bagless vacuums.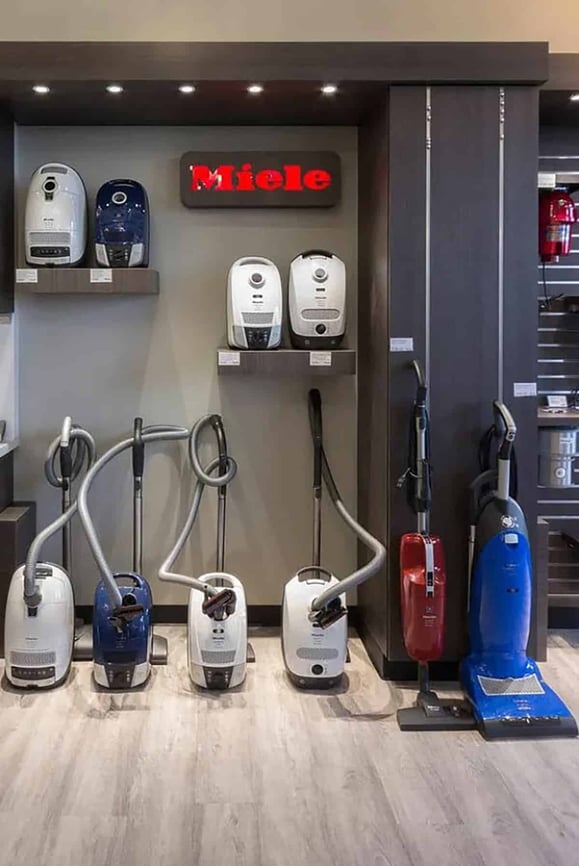 Best Vacuums for Allergy Sufferers
Any vacuum with a HEPA filter is going to be better for allergy sufferers, here are the 3 best.
Miele Compact C2 Electro - $599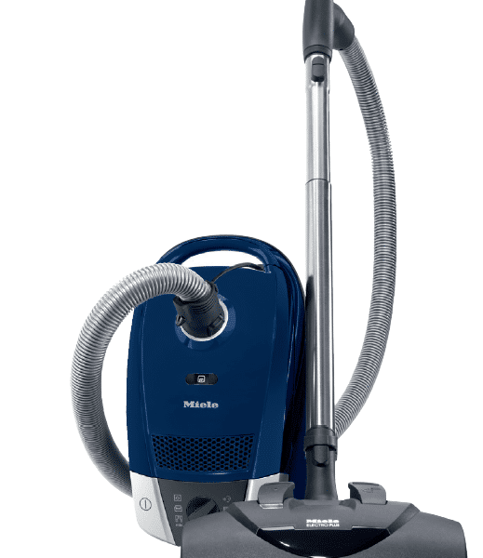 Features:
Low noise 1,200 watt motor
HEPA filter
33' cleaning radius
Telescoping stainless steel wand
Airteq combination tool
Lightweight
Rotary dial switch
Electric head
The Electro from Miele is very lightweight and easy to carry from floor to floor. It has a 2 part shell semi- sealed system. This Electro comes with a HEPA filter which will filter out 99.9 % of allergens.
A dust bag that is just under a gallon (3.7 gallons) will last a good amount of time. The Airtel combination tool makes it easy to clean hardwood floors and also low pile carpets. The electric powerhead gives a better cleaning performance.
The Electro is designed for most surfaces except for high ply carpets.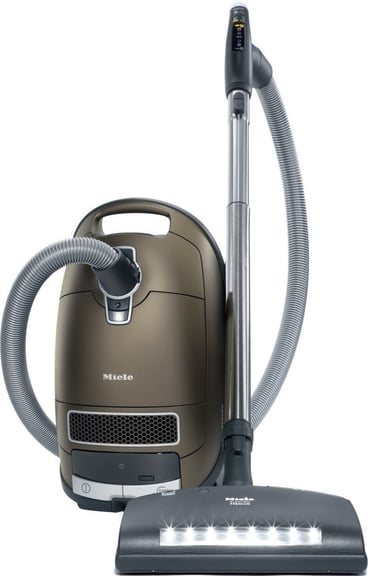 Features:
1,200 watt low noise motor
HEPA filter
Fully sealed system
36' cleaning radius
On handle controls
Electric powerhead
Lights on the powerhead
Cushioned bumper sides
Swivel handle
Parque twister
Hidden tool storage
The Brilliant is Miele's best HEPA unit with a 4.75-quart bag for dust and largest cleaning radius at 36 feet. You have the best tools with the Brilliant from crevice to a high ply carpet tool.
Also included is the parquet tool for hardwood, cushioned bumpers, and lights on the head to protect your furniture.
This is the best vacuum currently on the market.
Miele Complete C3 Brilliant Features [Video]
Thanks for reporting a problem. We'll attach technical data about this session to help us figure out the issue. Which of these best describes the problem?
Any other details or context?
Miele Dynamic U1 Jazz - $499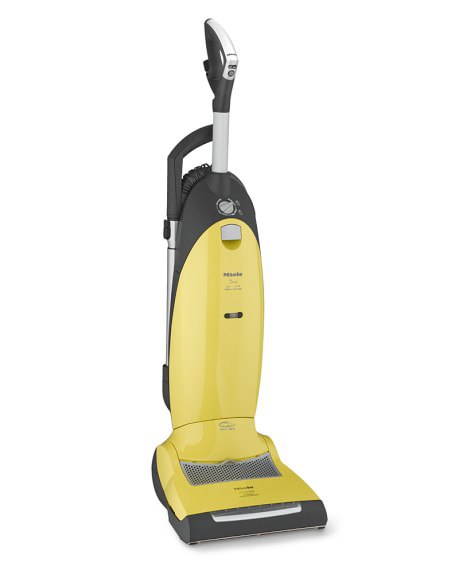 Features:
1,200 low noise motor
54' cleaning radius
Upright design for easy storage
HEPA filter
6 stage power setting
LED Headlight
Upholstery tool
Sealed system
Upright vacuums are easier to store and are great for 1-level ranch style homes. This model has a huge cleaning radius that would allow you to plug in at one end of the house and just keep cleaning to the other end of the house! The HEPA filter will assure a virtual allergen free cleaning experience. The power settings allow you versatility when cleaning different surfaces with numerous soil levels.
Conclusion
As I said in the beginning, if you truly suffer from allergies you should be concerned with filtration, bagged systems, and the overall design of the vacuum.
Miele has the best design for all three. First, the vacuum is designed to not blow the dust around because the air is released at the top versus the sides.
With the dust entering a bag, you will not have to handle the dust like a Dyson or any other bagless vacuums.
Most importantly, Miele can actually vacuum three times better than the average vacuum at .03 versus .01 of a micron.
Additional Resources
Want to find the right vacuum for your home? Read our Vacuum Guide with a full description of the models, tools, and filters.

Related Articles
Todd Rourke
Todd Rourke is a Sales Consultant for Yale Appliance + Lighting. He has worked in sales for over 17 years. He loves putting dream kitchens together for his customers. In his free time, Todd is a musician and an avid bass fisherman and prefers the Lakes Region in NH. Mainly, he is a Dadda to his 2 beautiful daughters and a housekeeper to his beautiful wife. They take up most of his free time nowadays, but he wouldn't have it any other way. HelloFresh and Blue Apron have saved his nights! Todd loves the outdoors and anything lighthearted and silly.

Schedule a showroom visit with me
A Note About Pricing
Pricing on this blog is for reference only and may include time sensitive rebates. We make every attempt to provide accurate pricing at time of publishing. Please call the stores for most accurate price.