You do not have to spend a ton of money for good looking appliances. It's quite the opposite, especially over the last 5 years.
KitchenAid has a whole new look. Bosch has a new refrigerator. Samsung is now the number one brand in the US because of beautiful design and advanced technology. Jenn-Air still has their most popular full-featured package around $5,000.
So, we will look at these companies kitchen packages between $3,000-$4,999 (prices change throughout the year), but first, let us define what affordable luxury is and then compare it to the luxury segment.
Benefits of Buying Appliances as a Package [VIDEO]
Thanks for reporting a problem. We'll attach technical data about this session to help us figure out the issue. Which of these best describes the problem?
Any other details or context?
message
Affordable Luxury
Affordable Luxury is defined as well designed, yet it has affordable products available to many rather than just the luxury few.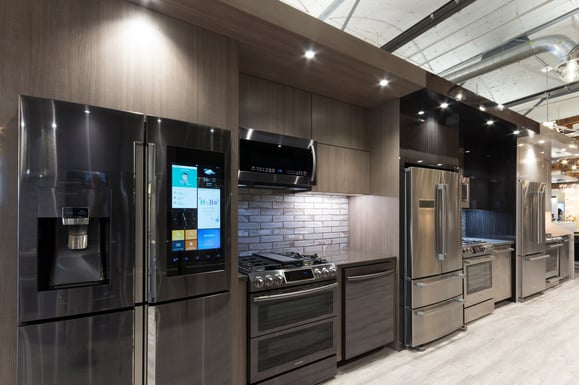 In appliances,affordable luxury packages it can be defined as having a better French door refrigerator rather than a basic top mount or side by side. Also, the stove may be a a slide-in convection versus a freestanding stove with a back guard, yet they are all convection for more even cooking.
The dishwasher is quiet and the microwave will be an over-the-range microwave, for example.
Affordable Luxury vs. Luxury Appliances
Luxury appliances differ in terms of looks and function. The refrigerator can be paneled or with the compressor on the top. You can buy a professional range or wall oven and cooktop. However, a luxury Sub-Zero/Wolf kitchen is $23,000 versus $5,000 for an Affordable Luxury model.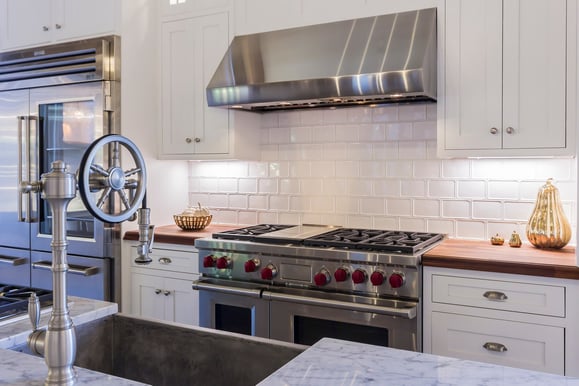 Package pricing updated for March 2017
Short on time? Get our free Appliance Buying Guide with comparisons and reviews of all the major brands
(after $440 in rebates)
Features:
5 Element electric convection range
25 cubic foot standard-depth refrigerator
6 cycle, pocket handle dishwasher with stainless steel tub
1000w over the range stainless steel microwave
Highlights: A large 25 cubic foot French door and a 5-burner convection range
(after $710 in rebates)
Features:
30-inch electric convection range, 5 elements
36-inch, 20 cubic foot Counter-depth French door refrigerator, stainless steel, internal water dispenser
39 dBA, stainless steel dishwasher with Pro Scrub option
30-inch, over-the-range microwave
Highlights: A counter-depth refrigerator, so it will not protrude into your kitchen. At 39 DBs, the dishwasher could be the quietest on the market (Click here to listen to a quiet dishwasher).
(after $780 in rebates)
Features:
36-inch, 23 cubic foot counter-depth flex refrigerator
30" electric freestanding range with convection
dishwasher with stainless steel tub, stainless front
1.8 cubic foot over-the-range microwave
Highlights: The 4-door refrigerator. The right-hand compartment can be freezer or refrigerator.
(after $780 in rebates)
Features:
36-inch counter-depth refrigerator with double freezer drawers
30-inch slide-in electric, convection range with warming drawer
stainless steel dishwasher with adjustable racks, scoop handle, stainless steel
30-inch 1000w over-the-range microwave, 300 cfm fan
Highlights: Bosch is stylish. Their double drawer refrigerator is counter depth.
(after $1,600 in rebates)
Features:
30-inch slide-in electric range with baking drawer and convection oven
36-inch counter-depth, French door refrigerator with internal water dispenser
30-inch over-the-range microwave, 400 CFM fan
stainless steel dishwasher with stainless steel tub
Highlights: This is a great package. The range is the largest in the industry and has two ovens. You have a counter-depth refrigerator with an interior water dispenser.
The microwave is also convection so it can be used as an oven, microwave or both to save time without sacrificing food quality. The dishwasher is integrated with hidden controls.
Bosch Slide-In Kitchen Upgrade Package - Electric $4,399 - Gas $4,489 (after $1,360 in rebates)
Features:
30-inch slide-in electric range with convection
36"-inch French door counter depth refrigerator, double freezer drawers, hidden controls
800 series dishwasher, 40db, stainless steel
500 series microwave, 1100 watts
Highlights: Similar as the previous Bosch with a better dishwasher.
So, which of these similar packages do you buy?
It all depends on what you value. Counter depth is aesthetically better because it fits within your cabinets without protruding into your kitchen. However, you lose some cubic footage.
You will like a slide-in because your backsplash will be uninterrupted by the ranges back guard. Focus on the refrigerator and stove, because there is usually a nominal difference between the dishwashers and microwaves.
In terms of packages, Jenn-Air offers the most with three ovens and the counter depth as well as the slide-in. Samsung and Bosch are stylish.
But all are good options and places to start.
Additional Resources
Need some help on appliances? Download the Yale Appliance Buying Guide with features, specs, detailed profiles of the major brands and the answers to the top 10 appliance questions in a kitchen. Well over 220,000 people have read a Yale Guide.
Related Articles