Maytag vs. Samsung Front Load Laundry (Reviews / Ratings / Prices)
Laundry has changed since the last time you bought a set. Samsung was not even in the conversation for appliances and Maytag had issues with their first front load washer, the Neptune.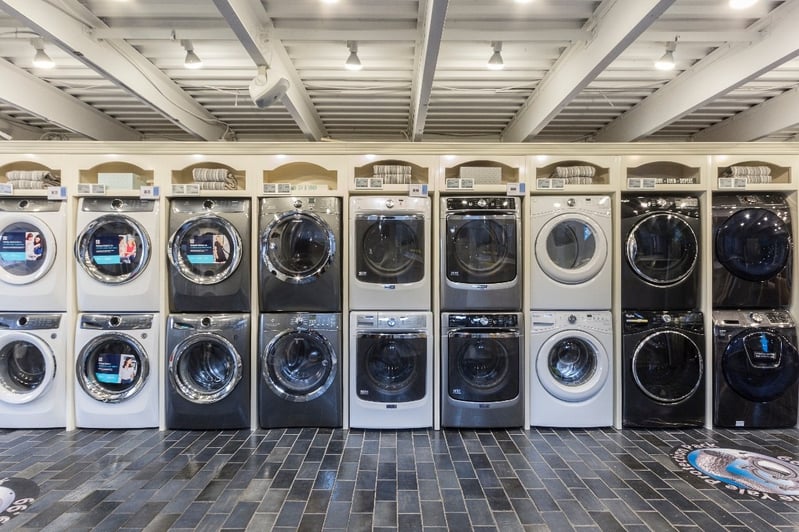 Now Samsung is the number one brand sold in the US, and Maytag is again the most reliable as the best machine offered by Whirlpool.
If you are buying laundry, these are two brands you should consider. We will look at both companies and then compare their best products.
Short on time? Get our free Washing Machine Buying Guide
Maytag
Maytag has been an American household laundry brand and name for most of the 1900's to now and was founded by Frederich Maytag in 1893.
However, after considering the most reliable machine, their Neptune failed and ruined the company. Whirlpool bought Maytag in 2004 and positioned Maytag as their premium laundry with better steel parts and a better warranty.
Samsung
In 1938 Samsung was founded by Lee Byung-chul and started off as a small trading company in Korea. They later got into the electronics industry in the late 1960s and didn't make their debut into the appliance industry until 1974, when they began production on their first washer machine and refrigerator. Samsung has focused on style and better technology. They have a two-in-one washer and dryer, for example.
Finally, let's look at the two-bestselling front load laundry machine sets made by each of these outstanding brands.
Maytag vs. Samsung Front Load Laundry
Maytag 8200 Series Front Load Laundry
Washer – MHW8200FW - $899.99
Dryer – MED8200FW – $999.99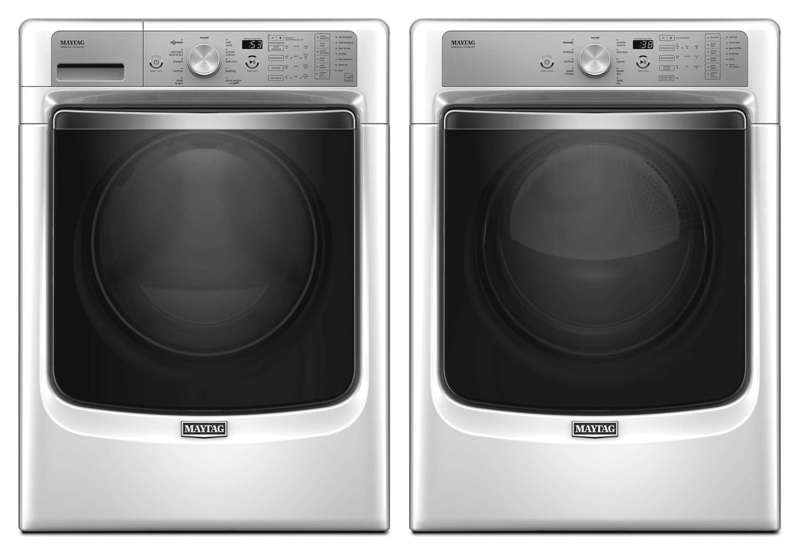 Maytag Washer Features
Steam Application – This will open the pores in the fabrics of the clothes and help release stains.
Optimal Soap dispenser – This holds up to 12 loads worth of soap and is going to dispense the correct amount of soap for the load, nothing more, nothing less.
Fresh Hold Option – This option keeps the clothes smelling fresh by introducing fresh air to the wet clothes with a built-in fan and tumbling the clothes intermittently for up to 12 hours.
Overnight Wash & Dry – This allows you to wash a small load (1-2 outfits) and after the wash cycle the built-in fan turns on with intermittent tumbling to circulate air through the load leaving you with dry clothes in the morning.
Allergen Cycle – This cycle is NSF-certified to eliminate household allergens from your clothes, sheets, and towels.
Maytag Dryer Features
Steam Application – This helps to release stubborn wrinkles from clothes and refresh clothes that may have been in the closet for a while, removing odors without having to clean them.
Sanitize Cycle – This cycle removes up to 99.9% of household bacteria using high temperatures and steam to ensure and deliver a thorough clean.
Reduce Static Option – This cycle introduces steam at the end of the cycle to help release static electricity, great for people that aren't fond of using dryer sheets.
Maytag's 8200 series is by far one of the best washing machines on the market. This washer will save you money on detergent alone with its optimal soap dispenser because let's face it, we all use too much detergent. The dispenser automatically portions the right amount and holds up to 12 loads.
Maytag is the only washer with the only built-in fan for keeping clothes smelling fresh along with keeping that washer drum dry.
The overnight wash and dry allows you to wash and dry an outfit and have it ready to wear for the next day.
The dryer is also a great tool and not just for drying clothes. You can use the steam to help refresh clothes and eliminate unwanted wrinkles and odors. You can also use the sanitize cycle to steam clean and kill 99.9% of bacteria in your clothes, pillows, or blankets.
If you need a quick recap for Maytag washing machines, watch the video below for moving onto Samsung's laundry set.
Should You Buy A Maytag Front Load Washing Machine?
Thanks for reporting a problem. We'll attach technical data about this session to help us figure out the issue. Which of these best describes the problem?
Any other details or context?
message
Samsung 6500 Front Load Laundry Set
Washer – WF45K6500AW- $799.99
Dryer – DV45K6500GW - $899.99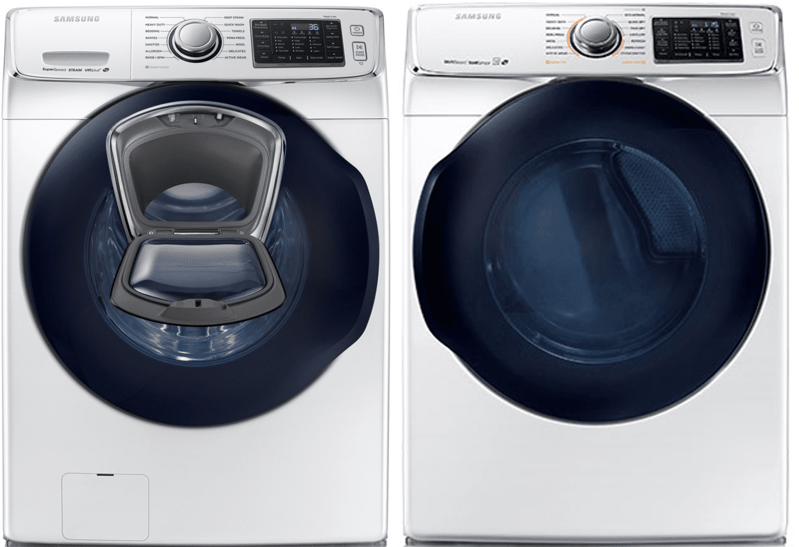 Samsung Washer Features
AddWash Door – A small door within the main door that allows you to add forgotten or left behind laundry at the beginning stages of the wash cycle without having to stop the machine completely.
Steam Cleaning – Introduces steam to help release stains, odors, and wrinkles.
Super Speed – Allows you to wash a large load in 36 minutes without sacrificing cleaning performance.
Self-Clean – Keep your washer tub fresh by removing dirt and bacteria without the use of harsh chemicals.
Vibration Reduction Technology Plus – Keeps heavy loads balanced at high spin speeds by using special sensors, making it one of the quietest washers in its class.
Samsung Dryer Features
Multi Steam Technology – 3 different settings that use steam to either remove wrinkles, refresh by eliminating odors, or sanitize by killing germs and bacteria.
Smart Care – Allows you to manage and monitor your dryer straight from your smartphone and can troubleshoot problems without having to wait for customer service.
Vent Sensor – This sensor detects when you have lint buildup or vent blockage and conveniently allows you to forward these alerts to your smartphone.
Samsung is an appealing washer and dryer that has some innovative features. The addwash feature is great when you miss a sock or pair of gym shorts on the bathroom floor shortly after starting a load.
They also have a great vibration reduction technology that allows it to run smoothly and quietly. One of the best features on this washer is the self-clean option designed to kill bacteria that could potentially turn into mold.
Samsung's dryer also has innovative technology that senses when the vent is clogged or blocked and will alert you to check or clean your vent.
It also can connect to your smartphone through an app allowing you to get those alerts sent to your smartphone. You can use the app to manage and troubleshoot any issue you might have without having to call and wait for customer service.
Before we jump into which laundry set is the best choice between Maytag and Samsung, check out our video below for extra tips when buying a laundry set.
Everything You Need to Know Before Buying a Laundry
Thanks for reporting a problem. We'll attach technical data about this session to help us figure out the issue. Which of these best describes the problem?
Any other details or context?
message
Conclusion
Both have worthwhile features. In fact, you will have plenty of features on every front-load pair you consider. Our parents washed with 2 speeds and 3 temperatures. Almost every machine has 5 speeds and 5 wash rinse temperatures.
Samsung has a great feature with the vent block signal. Vents can be combustible over time and cause fires in rare instances. The AddWash feature in the washer is convenient with the odd sock or other forgotten clothes.
Maytag has the better dispenser, built-in fan, and overnight cycle.
The features are a draw, but Maytag's reliability is the best in the business currently at about 6.7% service in the first year versus 11.45% for the Samsung unit.
For that reason, Maytag is the better unit to consider.
Additional Resources
Have more questions about laundry? Get the Yale Washer Buying Guide with features, specs, and capacities of all the major brands. Well over 240,000 people have read a Yale Guide.
Related Articles:
Jason Anemaet
Jason Anemaet is an appliance sales consultant at Yale Appliance and Lighting. Prior to working for Yale he spent 12 years building, installing, and designing custom kitchen cabinetry. He is very passionate when it comes to kitchen appliances and layouts. His main concern is doing what is best for the costumer's interests and needs. On his free time he enjoys spending time with his son, exercising, and cooking.

Schedule a showroom visit with me
A Note About Pricing
Pricing on this blog is for reference only and may include time sensitive rebates. We make every attempt to provide accurate pricing at time of publishing. Please call the stores for most accurate price.