With a Dunkin Donuts or Starbucks on nearly every corner, you can buy a good cup of coffee anywhere.
You can even get a decent cup of coffee at home with a Keurig or a drip style coffee machine, for on the go home brewing.
However, if you want to make full-bodied coffees, cappuccinos, lattes, and espressos, on demand and customized to anyone's liking (made with filtered water) without leaving your home, an integrated coffee maker may be right for you.

Following are the best options for the coffee lover.
Features
Patented

Aromaswirl (

which engulfs coffee grounds in a pressurized chamber for maximum flavor extraction)

Temperature control

Height-Adjustable Coffee Dispenser

Separate chambers for grounds and beans

Water filter

Digital display

Non-Plumbed unit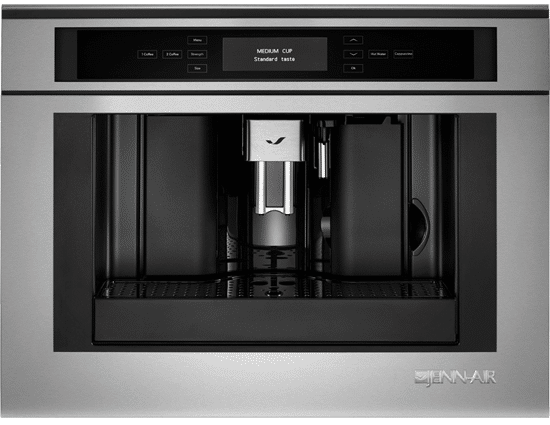 Features
Whole bean grinding with different grinder settings

Touch activated control panel and adjustable coffee strength

Water reservoir and hot water dispenser

Espresso function

Auto on/off

Descaling function

Plumbed unit
Miele M-Touch Series Plumbed Coffee System CVA6805 - $3,699
Features
State of the art touch-screen technology

One touch function for multiple beverages at once

Automatic rinse and cleaning programs

Ability to store up to 10 user profiles

Cleaning and descaling tablets included

Cup Sensor

Plumbed unit
Which Should You Buy?
They are all great options with state of the art controls and the ability to make all types of coffee drinks from beans or ground.
The major differences are the aesthetics, control panel and whether the unit can be plumbed. I like the plumbed option as it insures better tasting coffee with the filtered water. The plumbed option is also the most convenient as you do not have to manually refill the machine with water.
Bosch is the least expensive at almost $1,600 cheaper than the Miele.
However, I do like the features of the Miele best. It is simple to use with it's MasterChef operating controls. It has different user profiles, so it will remember how you like your coffee. It also has an Auto-Rinse and Auto-Clean function, so Miele is the easiest to use and clean.
Final Thoughts
Built-In Coffee systems are something to consider if you are a coffee lover, it is convenient, great for drink customization and also leaves more room on your counter.
You do have to clean these units periodically. They are not manufactured for catering or heavy useage.
Additional Resources
Get our free Appliance Buying Guide with tips, trends and recommendations on all the best brands. Over 110,000 people have already found answers in a Yale guide.
Related Articles