The MA Tax-Free Weekend Survival Guide 2022
This year, Tax-Free Weekend in Massachusetts will occur on August 13th and August 14th, 2022.
Tax-Free Weekend also falls within Labor Day promotions, so normally, there are good opportunities to save even more.
For the first time, there is an argument NOT to shop or make large purchases during Tax-Free Weekend.
In this article, you will learn the basics of Tax-Free Weekend, the problems, and how to save the most money and time with our step-by-step guide.
Availability is a huge issue for any home improvement product like appliances.
So, we have added some interesting solutions to our yearly guide.
First, let's cover the basics.
MA Tax-Free Weekend Dates and Regulations
Tax-Free Weekend states any item under $2,500 is not subject to the state sales tax.
Any items $2,500 and above are taxable for the full amount.
The tax exemption does not include $2,500.
At $2,499.99, you pay zero tax. At $2,500, you pay the full tax of $156.25.
It's a consumer event day so a builder couldn't buy 1,000 refrigerators for their projects.
All orders must be paid in full.
You do not have to schedule delivery at the time of purchase. However, delivery can be an issue.
Not having to schedule delivery at the time of purchase may NOT ensure you have the product anytime soon.
You want to ensure your store of choice will still be open for business in case of a long delivery.
In Summary:
Items must be paid in full.
Builder sales do not qualify. Unfortunately, you cannot buy a building full of appliances and save the tax. However, the homeowners in that building can buy the merchandise to save the tax.
There is no limit to the singular items under $2,500, so you can buy an infinite number of non-taxable items at $2,499.
Any items exchanged after the holiday will be taxed at the standard 6.25%.
You do not need to schedule delivery at the time of purchase.
Appliance Availability: When Will Your Appliances Be Delivered?
In a past article, I talked about my cousin who bought appliances during the last tax-free holiday.
I told him some products have a year lead time and not to call me in 6-7 months looking to schedule delivery.
I know him, so that I can be blunt.
Yet, seven months later, he needed his appliances.
When do you need your appliances?
If it's within three months, depending on the appliance, you will be taking your chances.
Availability is tough now.
Adding a rush of orders simultaneously won't improve the situation.
With your store of choice, availability needs to be part of the conversation before you make a purchase.
Check to see if your orders have been placed during the tax-free holiday and afterwards.
Schedule your delivery as soon as possible.
Availability shouldn't be a problem if your project is just starting out and you need a year before receiving your appliances.
Yale Save the Tax Promotion: August 1st-12th
We are incredibly concerned about the availability and not being able to ship your appliances promptly.
We will pay the tax from August 1st-12th before every store sends in their orders.
You can preempt the rush.
Here are the guidelines:
When buying qualifying in-stock appliances under $2,499 between August 1st and 12th at Yale, you can save the equivalent of the sales tax.
Appliances must be in stock, and you must take delivery within two weeks.
Orders also must be paid in full unless you use your Yale Card.
I wouldn't say I like losing 6.25% since we will be paying the tax days before the state does.
However, it will be hard to fulfill orders on Tax-Free Weekend with increased demand on short supply.
Many stores, especially furniture retailers, are doing the same because delivering appliances and furniture will be tough with the increased demand.
In Summary:
You can save the equivalent of the sales tax on in-stock appliances only from August 1st-12th.
You must take delivery within two weeks.
Orders must be paid in full unless you use your Yale card.
Brand exclusions apply. See your salesperson for details.
MA Tax-Free Weekend Survival Guide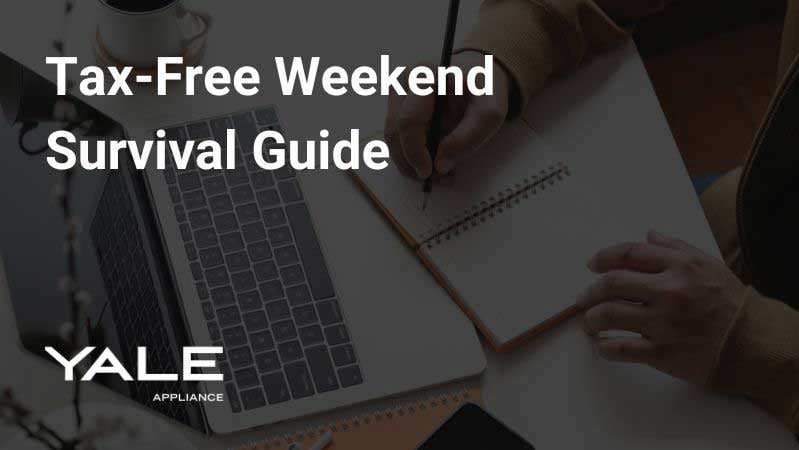 1. Shop Now
Do your shopping before the weekend by phone or in person. Most stores will have promotions available early.
Commodities (basic stuff like diapers, tissue paper, etc.) can be purchased by phone or online, while you should shop for decorative purchases in a person if you can.
2. Generate a Quote or List Early
Getting a quote on the items you wish to purchase can save you a ton of time.
You cannot buy the products until the weekend to save the tax. Either tell the salesperson to process the order on Tax Holiday or call that weekend. This will save an incredible amount of time.
3. Schedule an Appointment
You don't have to wait for a salesperson. Why waste your time?
Many companies have appointment schedulers online.
You can browse first, then meet your appointment.
With many stores cutting capacity, appointments ensure you will be able to shop. You also don't want to be browsing in a store with many people.
4. Live Chat
Live Chat has become a preferred resource for many people. You can talk to someone without having to shop in a store. You get the answers you want in a minimal amount of time.
5. Virtual Appointments
Virtual appointments are another good time-saving idea. It's like a combination of live chat and an appointment.
You can see the product through your phone and talk to a salesperson as they guide you through the store without having to be in the store.
6. During Tax-Free Weekend, Head Out Early
If you still want to shop that weekend, head out early to your prime destinations.
By prime, I refer to the big-ticket items. If you're waiting in line for three hours for a few $20 items, you may find that your time is worth more.
7. Buy Online
You can also save time by buying online as long as the store processes the order before 12 AM on Sunday.
Web orders are great for commodities like dishwashers or laundry, but you still may want to speak to someone for more detailed purchases.
8. Shop Smart to Avoid Exchanges
You lose the tax advantage if the refrigerator or sofa does not fit and has to be exchanged after Tax-Free Weekend.
Be careful about bigger items if you're unsure of the product or style.
Exchanges are taxable for the full amount.
9. Check Store Hours
This may seem baffling, but smaller stores rarely change their hours for this weekend.
Larger stores and chains will be open for extended hours. Take advantage either early or late. But start early if you can.
10. Beware of Credit Card Fraud
This may seem obvious, but never provide your credit card information online unless the site is secure.
You can check by looking at your URL link at the top of the page. It should have a lock or say "secure."
11. Ask About the Delivery Process
You want to be very specific about your delivery requirements while leaving yourself flexible.
Typically a store will sell two months of business in two days so specific dates will be tough.
Historically, delivery is the toughest part of Tax-Free Weekend and will be worse this year.
12. Be Careful Where You Purchase
You don't want to save money and lose more of that in aggravation and missed delivery appointments later. Anyone can take an order. Shipping is another matter completely.
This year, make certain you will have your products by the specified date in writing.
As I said, check stock before, then make sure orders are placed.
Lastly, check after the weekend and schedule your delivery as early as possible.
You will be in the back of a long line if you wait.
You do not want to be at the back of that line when many brands and products are being allocated. You want to be first, not last.
Most and Least Available Appliance Brands Under $2,500
This list is for Boston. It may be different in other areas.
Most Available Appliance Brands
LG
GE
Beko
KitchenAid (Dishwashers Only)
SKS
Bosch
Miele (laundry)
Least Available Appliance Brands
Bosch Dishwashers
Miele Dishwashers
Samsung
KitchenAid (everything except for dishwashers)
Whirlpool
Most Available Appliances
Laundry, stoves, and some refrigerators: You shouldn't have a problem finding a stove, a set of laundry, and a few refrigerators under $2500.
Least Available Appliances
Dishwashers: Bosch and Miele are pretty much out of stock for this year. You have a choice of 2 dishwashers accepting a panel.
Expert Tip: Bosch is tough to find, so look for Thermador. Bosch manufactures the Thermador dishwasher with similar specifications. Thermador is also available.
Should You Buy Appliances During Tax-Free Weekend?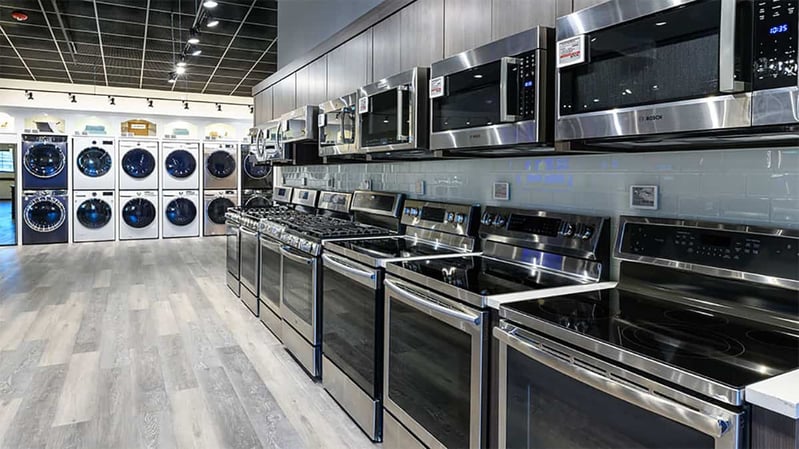 Anyone shopping now can relate to the lack of available products.
COVID-19 first attacked the supply chain in 2020, causing shortages of metals, computer chips, shipping containers, and even actual shipping.
Now, product availability is inconsistent for appliances, flooring, decking, furniture, and other home improvement products.
Tax-Free Weekend will add additional strain, so you may not have delivery until Halloween, Thanksgiving, or next year.
If you need your appliances sooner, shop before the Tax-Free Weekend for a more reasonable delivery.
Many retailers have promotions before the tax-free holiday, so you can save the equivalent of the tax and have faster delivery.
Jordan's, Bob's, Cardi's, and other furniture retailers have traditionally had pre-tax holiday events.
Check your local stores for any pre-tax holiday sales or specials.
If you don't need the appliances immediately, you can always wait for another promotional holiday like Black Friday.
Don't be pressured into buying products you don't like.
Read More: How to Buy Appliances During a Supply Crisis
Our Final Advice for Tax-Free Weekend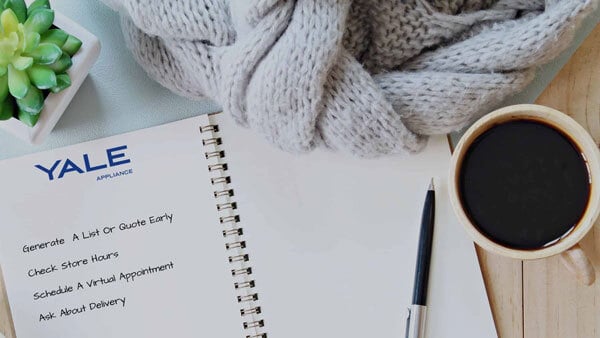 In summary, plan your weekend a couple of weeks before. Develop your list early and competitively shop.
Start with your high-ticket items or items that will save you the most money.
Look at the pre-tax holiday sales closely. They may be your best bet to receive your products on time.
Use Live Chat and virtual appointments to maximize your time and limit waiting at a store.
Then generate quotes beforehand. During that weekend, call and have those quotes turned into orders.
That's the key to maximizing your savings and avoiding crowds.
Remember, you want to be sure of your purchases. Exchanges after that weekend are taxable.
Also, be careful where you shop. Check reviews of the stores beforehand to understand what will happen after the sale.
Ask tons of questions and get all promises and details in writing. Call me a skeptic, but the written word always trumps the spoken promise.
However, saving 6.25% is a small consolation to buying the couch or stove you hate, so don't be pressured into making a purchase.
Appliance and furniture sales are predictable. The next one is Black Friday - less than 90 days away.
Yale Appliance Showroom Hours for Tax-Free Weekend
Saturday, August 13th: 9 AM to 6 PM
Sunday, August 14th: 10 AM to 4 PM
Additional Resources
Want more information on appliances? Get the Yale Appliance Buying Guide with features, specs, buying strategies, and the answers to the top 10 appliance questions. Well over 820,000 people have read and trusted a Yale Guide.
Why Should You Trust Us?
It seems that every appliance review has nothing but glowing comments about almost every product, yet you read customer reviews and they are almost universally bad.
We are here to fill in the disconnect. We'll give you the best features, and the drawbacks as well, including reliability based on over 37,000 calls performed by our service team just last year. Our goal is to give you ALL the information so you know what's right for you.
Please consider subscribing or adding to the conversation in the comments below. We appreciate you stopping by.
A Note About Pricing
Pricing on this blog is for reference only and may include time sensitive rebates. We make every attempt to provide accurate pricing at time of publishing. Please call the stores for most accurate price.