30-inch gas cooktops can vary with four to five burners. If you so happen to be looking for a new 30" gas cooktop at this moment, I've narrowed the choices between the industry's best. All of these brands have strong histories in the appliance world.
But what's the best choice? The criteria will be burner layout (performance), cleanup, and service (reliability).
If you're replacing an older cooktop with a new one into an existing cutout, (as no two homes are alike) it can be difficult to find what works with what you have. For this article, measurements are not an issue (though I stress the measure twice, cut once rule).
A breakdown of what to look for in a new cooktop
Cleanup: Look for removable knobs and an upswept lip or rim to contain spills. Look for sealed burners and grates that are dishwasher-safe.
Burner Layout: Many cooktops come with burners specifically designed for low-heat tasks (like simmering) or high-heat tasks (boiling). There should be enough space between burners to use several pots at once without juggling them. Smaller burners should be in front so that you attend to tasks that require close attention, like simmering.
Controls: Make sure they're easy to access and are legible. Touchpad (electric only) controls are easier to use than knobs or dials. Knobs on the front of the cook top (rather than the side) offer more cooking space and are further away from the burners. Making your hands less vulnerable to burns. They can also be easier for children to reach; some models have a push-in and turn feature for safety.
Brand roundup for this review:
Thermador and Bosch are a part of BSH Home Appliances Corporation, a fully owned subsidiary of BSH Bosch. Did you know they are the 3rd largest appliance manufacturer in the world? Founded in 1916 in California by William E. Cranston, and began as a manufacturer of electric items, most notably portable and built-in heaters. In 1932, Thermador established its appliance manufacturing as Cranston merged with business owner H.H. Fogwell to form the Thermador Electric Manufacturing Company. Thermador is now owned by the Bosch Company.
Wolf
The Sub-Zero Freezer Company was founded in 1945, by Westye F. Bakke in Madison, Wisconsin. For more than 70 years, Wolf has been synonymous with professional cooking equipment for restaurants and hotels. In March of 2000, the company became part of Sub-Zero and was adapted for the serious in-home cook. Adapting to an ever growing kitchen design segment. Sub-Zero, reinvested in Wolf and redesigned the line completely with better simmers and double convection technology in the ovens.
Jenn-Air
The original Jenn-Air Products Company was founded by Louis J. Jenn in Indianapolis, Indiana in 1947, later becoming simply Jenn-Air. In the early years, the company focused on manufacturing and marketing of industrial fans for use in a variety of commercial and industrial applications. In 1961, Jenn-Air's integration of one of these fans to a cooktop range lead to the invention of the first self-ventilated downdraft range. The company grew its product line to include many other kitchen appliances including microwave ovens, refrigerators, dishwashers, and small appliances such as mixers and blenders. Unfortunately, the brand languished after being purchased by the Maytag company as well as the demand for downdrafts dissipating in the 1990s. With investment from Whirlpool, once again, Jenn-Air is a brand to be considered in the professional range category.
As I look at all the brands, all were independent niche brands. All were acquired by much larger companies interested in selling premium products, mostly because they could not sell with their existing portfolio...and all have been successful.
5-Burner 30" Cooktop - Rare Feature. Same Versatility of 36" Cooktop in Compact 30" Format. For Kitchens Where Space is Limited.

PowerSim – Quick Heating with Large Flame or Gentle Simmering with a Diffuser Cap
OptiSim – Simmer Delicate Sauces without Scorching
Centralized Controls for Easy Use and More Intuitive Operation of Cooktop.
Heavy-Duty Metal Plated Knobs for a Quality Look and Feel.
Cooktop Design Coordinates with Bosch Wall Ovens
Low-Profile Design for a More Integrated Appearance
Powerful 16,000 BTU Center Burner
Automatic Electronic Re-Ignition - in Case Flame Goes Out the Burner is Automatically Re-Ignited
Continuous Grates - Effortlessly Move Pots and Pans. Easy to Clean
Sealed Burners Prevent Spills From Entering the Burner Box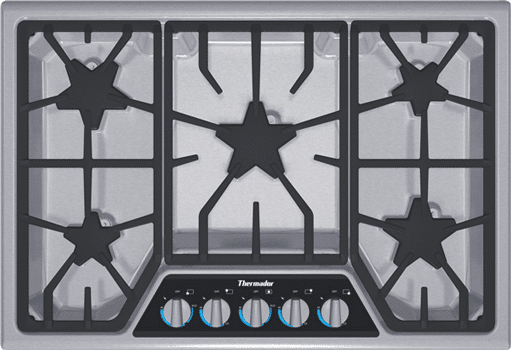 Most powerful 30" cooktop in the market (amongst leading manufacturers) with an overall 52,000 BTU output
30" - 5 burner gas cooktop provides functionality of a 36" cooktop in a compact kitchen environment
Powerful 16,000 BTU Center Burner
Single point ignition - only burner that is being used is ignited
Exclusive 200 BTU ExtraLow burners for perfect simmering
Exclusive, patented Star Burner provides superior performance
Continuous grates allow pots and pans to glide smoothly across the cooktop
Progressive illuminated control panel with metal knobs
High-grade, quality die cast metal knobs
Sleek control panel features glass and stainless steel
Chiseled, angular design coordinates with the suite of Thermador Masterpiece Collection appliances
Knobs feature a safety "push to turn" system
Automatic electronic re-ignition
Wolf CT30G
Stainless steel top construction.

Four dual-stacked, sealed burners with automatic reignition on all settings.
One large 15,000 BTU/Hr sealed burner with 800 BTU/Hr delivered at simmer.
One medium 12,000 BTU/Hr sealed burner with 800 BTU/Hr delivered at simmer.
Two small 9,200 BTU/Hr sealed burners with 300 BTU/Hr delivered at simmer.
Individual spark ignition system.
True Simmer setting on all burners.
Illuminated control panel with two-tiered control knobs.
Low-profile cast iron continuous burner grates with matte porcelain finish.
Seamless drawn burner pan.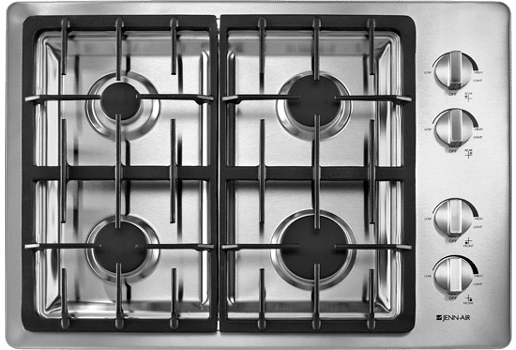 17,000 BTU Ultra-High Output Burner - Its ultra-high output helps you achieve exceptional results for high-heat cooking techniques like searing or wok cooking.
Electronic Ignition and SureFlame Ignition Protection - SureFlame ignition protection prevents the burner flame from being extinguished by a sudden draft.
Cast Metal Knobs - These sleek controls offer substantial heft and precision while complementing the cooktop's surface.
Four Sealed Burners - The sealed burners, which prevent spills and drips from entering the burner box, make it easy to maintain a pristine cooking surface.
12,000 BTU Burner - The high-heat burner on this luxury gas downdraft cooktop offers a powerful 12,000 BTUs.
9,200 BTU Burner - This versatile burner offers power appropriate for a variety of cooking techniques like sautéing and braising.
5,000 BTU Burner - This burner offers heat from 5,000 to a gentle 650 BTUs, to provide the control you need when melting butter or simmering delicate sauces.
Convertible to LP - This cooktop allows you to easily adapt your energy source from natural gas to propane.
May Be Installed Over Jenn-Air 30" Electric Single Oven - This luxury electric radiant cooktop can be installed over a Jenn-Air® electric single oven, offering additional design flexibility.
Porcelain-on-Cast-Iron Continuous Grates - These heavy-duty grates, which feature a porcelain coating to withstand high temperatures, form a continuous grid across the cooktop, allowing you to easily slide heavy pans from one burner to another.
Porcelain-Enamel/Stainless Steel Surface - This surface transfers heat efficiently and is highly durable, with a subtle sheen that's easy to maintain.
Rebates
Jenn-Air and Thermador have the best rebates programs. Buy a cooktop, qualifying wall oven and receive a free dishwasher. Wolf is pretty decent with $2,500 in incentives for Sub-Zero and Wolf purchases.
Which is best?
In the end they are all good but….
The Thermador has the most features, nodes and flexibility to cook in different ways. The control panel is very intuitive and easy to use. Thermador has the star burners for more even.
Jenn-Air is a good looking, relatively inexpensive cooktop with a 17,000 BTU burner (you are using about 12,000 now). It is also part of our best selling package. I also like the Wolf with the ability to simmer on all burners consistently, but the product is a tad more expensive compared to their competitors).
Bosch, as is the Thermador, is a solid, dependable product. It is actually one of the most reliable brands in the industry.
Base your decision on knob ergonomics that make sense to you, and consider the possible savings with a package too.
Overall, I crown the Thermador for best in performance, looks and 5-burner flexibility.
Related Articles
Additional Resources
Download the Yale Gas Cooking Buyers Guide with specs, features, BTU outputs and buying tips. Almost 30,000 people have downloaded a Yale Guide.