The first microwave drawer was introduced by Sharp in 2004 as part of a combination stove/microwave unit. The Insight range featured a full size oven with a slide-out microwave, all within the dimensions of a 30 inch freestanding range.
Soon thereafter the drawer microwave was available as a stand-alone product.
Drawer microwaves are designed to be built into your cabinets at a more convenient height just below the countertop. By moving the microwave from that location the kitchen will be less cluttered with more available work space.
It is also an alternative to the over-the-range microwave. OTRs are convenient, but at 310 CFM they are underpowered for heavier cooking and higher BTU burners. With the drawer, you can now have a convenient microwave and a more powerful hood.

Sizes and Brands
Drawer style microwaves are available in 24 and 30 inch wide models and the capacity will be 1 or 1.2 cubic feet with at 950 or 1,000 watts. A few will have a manually opening door, but most will have a powered open and close feature. The prices range from $949 to $1,639. Models are available from Sharp, Wolf, Viking, Jenn-Air, Dacor, Bosch Benchmark and Thermador.
What is the best?
Sharp manufactures all the drawer microwaves for every brand, so you are buying some iteration of Sharp. However, Sharp is actually the least aesthetically pleasing. Seriously. Jenn-Air, Bosch Benchmark and Thermador are also designed to be mounted flush to the cabinet. Have a look at the picture below. It looks way better.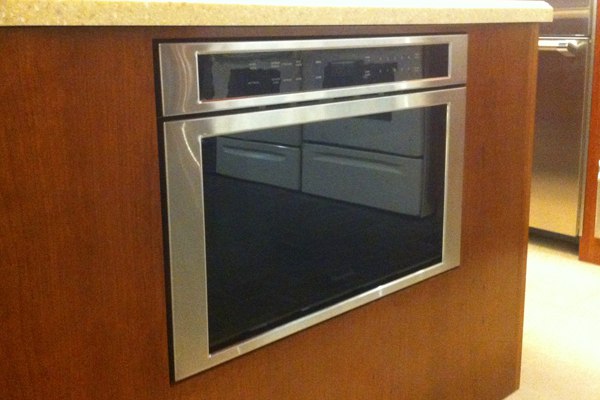 You usually pay more for the flush mounting of the microwave, although there are occasional specials like Black Friday.
Buying Strategies
First of all, it is the same microwave, so buy accordingly. I like the flush mounting of the Jenn-Air, Bosch and Thermador, but I would be skeptical for paying a $500 premium just for the better look. Check for specials and factory package deals of $250.
Models to Consider

Additional Resources
Read our Electric Cooking Buying Guide for more info on Microwaves and all aspects of electric cooking, including induction. Over 70,000 people have already found answers in a Yale guide.