Wolf Induction Cooktop and Wall Oven Recipes
About three years ago, a number of manufacturers started to market more intuitive products. You may have seen the Samsung Family Hub refrigerator with cameras inside. There is laundry with Wi-Fi (for some reason) and a wide variety of products designed to make life easier.
However, wall ovens and induction cooktops top the list of products to consider. Induction is more powerful than any high BTU professional cooktop. It also simmers better, we will show you in this recipe.
Wall ovens have improved mostly because you can program the food, weight, and doneness and walk away. There is no more guesswork. This Wolf wall oven also employs high speed blowers instead of fan for better circulation of air and more even cooking.
The Products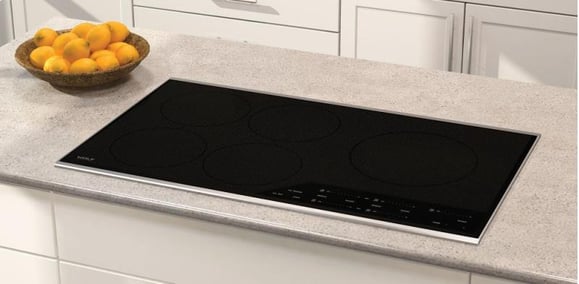 Features:
36 Inch Induction Cooktop
5 Cooking Zones
5 Bridge Zone Option
Boost Mode
Pan Sensing, Melt Setting
Independent Timer
Indicators and Control Panel Lock
Transitional Style
Stainless Steel Trim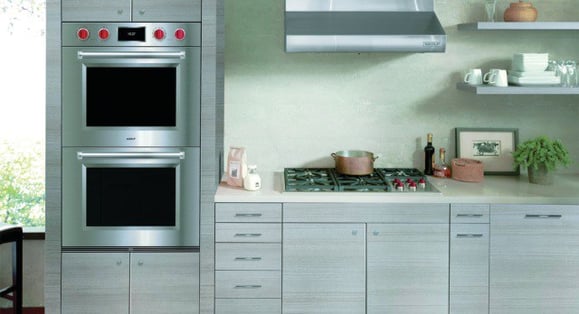 Features:
30 Inch Double Electric Wall Oven
5.1 cu. ft. Dual Verticross Convection Ovens
10 Cooking Modes
Self Clean
Gourmet Mode
Temperature Probe: Professional
Today's Recipe
Now that the kids are home for the summer, here is a tasty treat you can make with them. This recipe is very simple to make and is kid friendly. In honor of summer camps and trips to the beach, there is nothing more satisfying than home-made granola bars to take for the ride!
I used the Wolf induction unit for its ability to simmer at low heat and its cleanability for cooking the syrup. Then I used the Wolf M Series oven dehydrate mode to crisp up the bars to add texture.
The use of convection makes dehydrating possible because of the blower; the blower is what speeds up drying and evaporates excess moisture.
Goodness Granola Bars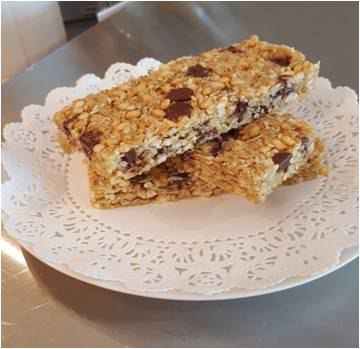 Ingredients:
1/3 cup Vegetable oil
1/3 cup Honey or agave nectar
1/3 cup Light brown sugar
1/8 tsp Salt
1 tsp. Vanilla extract
1 ¼ cup Brown rice cereal
1 ¾ cup Oats, quick cook
½ cup Coconut, grated, or almonds, sliced
¾ cup Assorted dried fruit (chopped) or chocolate chips
Method of Preparation:
Preheat the oven to 170˚F on dehydrate mode. Line a 9" square pan with aluminum foil and spray with pan spray. In a small pot, combine the oil, honey, brown sugar and salt. Over low heat, bring to a low boil or simmer until the sugar has dissolved. Remove from heat and stir in the extract, cool slightly.
In a large bowl, combine the brown rice, oats, coconut and dried fruit or any other stir-in. (If using chocolate chips, stir in after the syrup is added). Stir dry cereal ingredients well then pour the honey syrup over the cereal and quickly stir to coat the cereal well. If using chocolate chips, gently fold them in and immediately dump granola mixture into prepared pan. Spray your hands with pan spray and press mixture down to pack into the pan and shape the granola bar into one mass. Bake for 1 hour and 20 minutes.
Remove pan from oven and let cool for at least 30 minutes to one hour then turn out onto a cutting board and cut into bars. Allow at least 2-4 hours for bars to fully firm up.
Want more recipes? Go to The Yale Recipe Center for over 100 recipes from professional guest chefs.
Additional Resources
Subscribe to the Yale Blog for honest product comparisons, how to's, recipes, and much more. Over 5 million people have read the Yale Blog in 2015.
Nicole Parmenter
Nicole Parmenter is our resident Chef at Yale Appliance + Lighting; she has multiple culinary degrees and is an appliance expert. Chef Nicole can teach you how to use your new appliances and give you tips, recipes and honest opinions on products.

Read more about Chef Nicole here.
A Note About Pricing
Pricing on this blog is for reference only and may include time sensitive rebates. We make every attempt to provide accurate pricing at time of publishing. Please call the stores for most accurate price.