Top 5 Best Pro and Custom Ranges 2017
If you were to ask me "What the best range is", I wouldn't be able to answer that question without asking you first, "How you would use the range?" For instance, do you need high output? Do you like to simmer? Do you roast or bake? Would you use steam or a warming drawer?
You, as an individual, are different from my last client. Based on your answers, we would look at the right products for YOUR particular style.
Unfortunately, there is no one product completely satisfying everyone's requirements. For this article, we will look at every style and the reasons to purchase a professional range.
What is popular?
Previously, you either bought a gas range or an electric range. Dual fuel gained popularity about 15 years ago because gas was perceived to be the ideal cooktop type, and electric, the ideal oven type. Of course this is a generality because gas is better for broiling and roasting.
In the past 10 years, induction has gained popularity due to its efficiency and safety replacing electric as the go-to alternative to gas. Today, you can buy a range for anywhere from $500 to $100,000.
This article will address the coolest ranges out there and will cover each category. The range categories worth addressing are gas, dual-fuel, induction, and custom.
Best Gas Range
Why buy an all-gas range? All gas ranges give you gas burners and a gas-powered oven. A gas-powered oven has a moist heat and is ideal for roasting. Infrared broilers with intense direct heat are available only in gas.
Gas ranges can be found in freestanding, front-control, slide-in, and professional categories.
Who makes the best gas range?
Features:
Available in 750 + colors and finishes (added cost for customization)
10 open burners
2 x 25,000 BTU burners
3 x 22,000 BTU burners
2 x 18,000 BTU burners
2 x 15,000 BTU burners
1 x simmer burner (130 degrees)
Comes with interchangeable griddle and charbroiler accessory
Integrated wok cooking
PowR oven with 40% faster preheat and 30% greater efficiency
1850-degree infrared broiler
True European convection oven fits a full-size baking sheet
Handcrafted in PA
BlueStar is my choice, only because it has the most powerful burner along with the hottest broiler. The oven is pure convection with the evenest heat. It is available in 30, 36,48 and 60 inches in width
Best Dual Fuel Range
Why buy a dual-fuel range? Dual fuel ranges are perceived to be the best of both worlds: a gas cooking surface with an electric oven. Electric ovens have an even and dry heat, ideal for baking.
If you are looking for better output and simmer capability, look at induction. Dual fuel, however, has more sizes available with optional accessories like grills, griddles, and a French top.
Dual fuel ranges will always offer self-cleaning feature whereas many professional gas ranges do not self-clean. If your priority is an accurate temperature, you will likely prefer a range with an electric oven.
In the past, your decision would come down to oven capacity and burner power. Today, manufacturers are searching to find ways to differentiate themselves by incorporating really cool elements like steam, speed cooking, and warming drawers.
Who makes the best dual fuel range?
Tie: Miele and Thermador Pro Grand Steam
Features:
8 sealed burners
6 x 19,000 BTU burners
2 x 12,000 BTU burners
Option to be ordered with gas grill or griddle (added cost)
Backlit control knobs
Clean touch steel finish for easy cleaning
Dishwasher safe grates
True European convection oven with dual convection fans
Wireless temperature probe
Moisture plus feature creates bursts of steam through cooking process, ideal for bread making (requires plumbing connection)
Self-cleaning with racks that can stay in the oven
MasterChef control panel has built-in recipes
21 operating modes
Speed oven acts as either a microwave or an oven for added convenience
Warming drawer
Made in Germany
Features:
6 star-shaped sealed brass burners
1 x 22,000 BTU burner
2 x 18,000 BTU burners
1 x 15,000 BTU burner
2 x 12,500 BTU burners
XLO burners deliver 100-degree simmer
Electric griddle and electric lava rock grill
Backlit control knobs
True European convection oven that can hold a full sheet pan
Self-cleaning
temperature probe
built-in convection steam oven with a water reservoir
Warming drawer
Telescopic racks
27 built-in cooking programs
Made in Tennessee
Thermador has the Star burner with good power and is raised from the surface for the easiest cleaning. You can also cook with steam and warm your foods properly with a warming drawer. On the other hand, Miele has steam assist (not a steam oven) along with an infrared grill and the best one-touch technology in the oven.
Read Thermador versus Miele M Touch for a comparison
Best Induction Range
Induction is the best cooking technology however they have been in Europe for about 20 years now. Induction uses a magnet to excite the molecules in your pan to heat your food. The pan is the cooking surface, not the ceramic glass top.
Induction is extremely efficient meaning that there is very little residual heat loss relative to gas or radiant electric cooking. Induction is extremely fast, even faster than professional gas burners. Induction is easy to control and is very precise.
It is also the safest cooking method. You cannot turn on an induction range by accident which is ideal for families with young children and multi-generational households.
Four years ago, I noticed about 20-30% of high-end clients specify induction for their range. Today, it's more like 40%. I am sure induction is the preferred cooking method for the future. Dual fuel gas has more choices for now, but induction is faster than even pro gas.
Wolf 36'' IR365PE/S/PH $9,150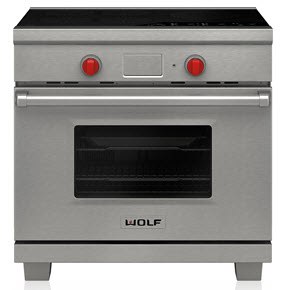 Features:
Five induction burners
Multiple bridging zones can accommodate multiple pan sizes
Cookware sensing protects against hot burners being left on
Incredible cooking control for fast high heat and precise simmer
Your choice of red, black, or stainless knobs
True European convection oven 5.4 cubic ft. with dual convection fans
Self-cleaning
temperature probe
Telescopic Rack
10 built-in cooking modes
Tested for 20-year life expectancy
Made in America
Wolf may have the best induction top and electric oven. The dual convection has two thermostats behind each fan for a more even temperature than other twin convection systems.
Best Custom Range
What is a custom range? Custom ranges are made-to-order and give you a plethora of options in cooktop configuration, color, and trim. If you want to make your new range uniquely yours, there are a few companies that give you this level of flexibility.
The best-known companies in this category are La Cornue, ILVE, BlueStar, LaCanche, and Viking. La Cornue is the leader in this category and gives you the greatest level of flexibility.
La Cornue makes two levels of product, their US-made CornuFé line, and their French-made Chateau line. The CornuFé line is relatively affordable with fewer color, finish, and configuration options.
The Chateau series' ranges are the best you can buy for customization and premium quality. If you want gas, induction, a French top, and a grill all together on the top, La Cornue is the only company to do so.
La Cornue Grand Palais 180 (cm) $56,300
(starting price for standard color and standard trim)
Features:
48 standard or enamel body finishes (custom color available at added cost)
7 standard trim options with the ability to combine trims
Configure a custom top configuration with the following options:
Two brass gas burners
Lava rock electric grill
22,000 BTU power burner
Chromium infused teppanyaki
French top (large or petite)
Glass induction element (added cost)
Two Ovens
Vaulted gas natural convection oven
True European convection oven
Matching island cabinet accessories and matching custom hoods to complete your La Cornue kitchen
Final Thoughts
There it is the best of what is offered in cooking. That does not mean it is the best for you (although it could be).
You have to assess what is important to you and then buy the range best fulfilling those requirements. You want to be able enjoy and use the range to its fullest ability.
Additional Resources
Get our free Pro Cooking Buying Guide with tips, trends and reviews of all the best brands. Over 240,000 people have already found answers in a Yale guide.

Related Articles:
Steve Sheinkopf
My goal has always been simple: I want Yale to be the best retail experience anywhere. I have tried to create a compelling environment for customers and employees alike.
A Note About Pricing
Pricing on this blog is for reference only and may include time sensitive rebates. We make every attempt to provide accurate pricing at time of publishing. Please call the stores for most accurate price.