LG Studio vs. Samsung Chef Collection Flex Counter Depth Refrigerator (Reviews/Ratings)
Samsung and LG are often synonymous with each other, as they are both Korean multinational companies. You probably have a Samsung or LG phone. Both have targeted the appliance industry and have used some of the same successful strategies from the electronics industry.
For example, their refrigerators are incredibly technology forward and the appliance industry is notoriously technology backwards. So, both of these companies will look completely different from the competition.
They market differently as well. Appliances have started to mirror electronics. In others words, buy LG and Samsung around the holidays like July 4th, Memorial Day and especially Black Friday.
That being said let us look at their best counter depth French door refrigerators.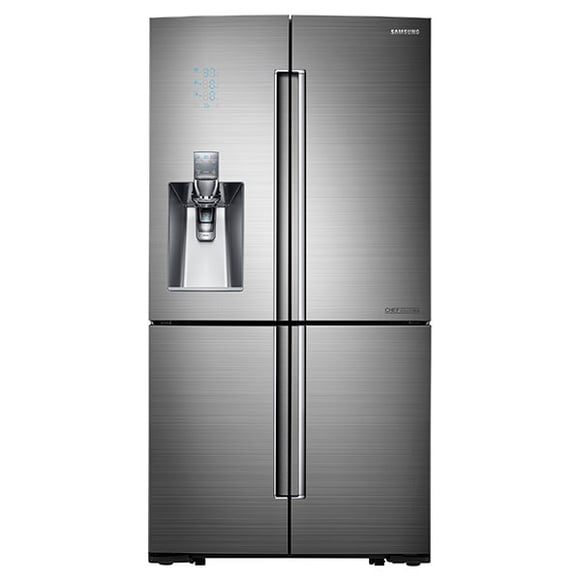 Features:
Chef Pantry with 2 Chef Pans (stainless accessory pans which can be slid into the pantry drawer for prep and marinating)
Tempered Glass Spill-Proof Shelves
Gallon Door Bins
Fingerprint Resistant Coating
Full Extension Drawer/Tray
Tilting Door Bins
CoolTight Door (ensures a proper seal on doors for food preservation)
Door Alarm
ENERGY STAR® rated: 734 kWh/yr
Highlights: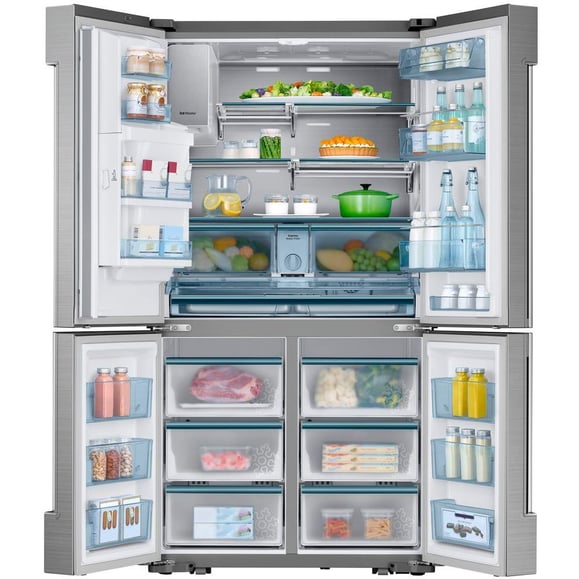 Opening the doors of this unit, you are immediately drawn to its unique interior. 4 pillar, high efficiency LED lighting, a combination of arctic blue interior and stainless steel interior. I sound like a walking billboard for this unit at this point, but visually this unit is a real showstopper and truly unlike anything else on the market at this point.
Equally as unique is the fact that the bottom right hand door is operating with a dedicated second compressor and third evaporator system.
This allows the unit to convert the freezer to useable refrigerator capacity all the way to 19.5 cu ft. It also has 4 selectable temperature settings Fridge, Chilled, Soft Freeze, and Freezer.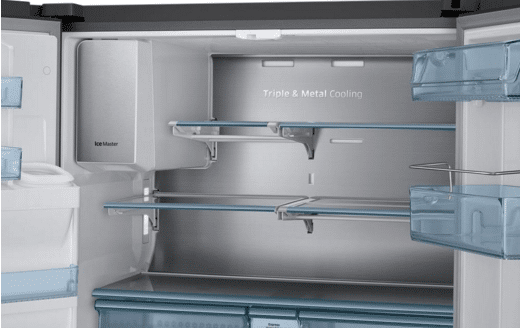 The Metal Cooling System is also added to this fridge. This feature is not exclusive to this fridge, but is the addition of stainless panel inside the refrigeration cavity to help lock in the cold. The stainless helps maintain temperature for longer periods of time.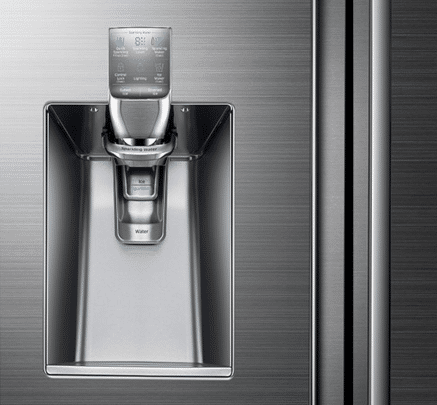 Aside from the standard ice and water unit, the chef collection fridge also has an automatic sparkling water dispenser. This feature is powered by SodaStream, the CO2 carbonators can be exchanged in over 10,000 different locations.
One more note worth mentioning is they have another model of this fridge which removes the Chef panty and arctic blue interior and is priced $1,000 less.
LG Studio LSFXC2476S - $3,999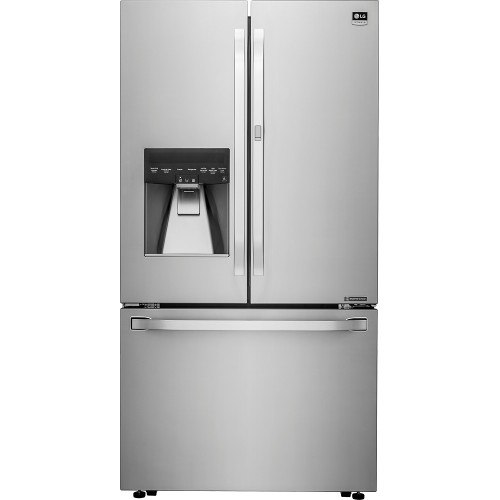 Features:
Premium LED interior
Tempered Spill Protector Glass
Glide n' Serve Drawer (temperature controlled)
Folding Cantilevered Shelves
Door Alarm
ENERGY STAR® rated: 716 kWh/yr
Highlights: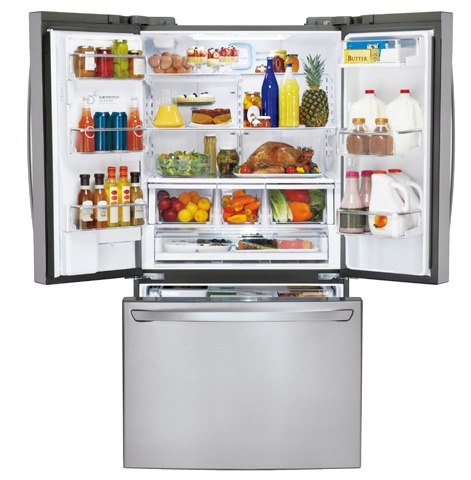 Getting right to the point, there isn't a whole lot I can say about this fridge that will justify its $4,000 price tag. Then again, a counter depth French door does cost about $1,700-$2,200.
It is a generous 23.7 cu ft (15.6 fridge, 7.9 freezer) interior. It does have a clean flat front design which will show great in an enclosed space. Like most LG refrigerators on the market, they do a really nice job with the shelving, clean looking, great functionality, and allow for more useable space.
They also use a door-in-door function which allows you to reach the back side of door bin storage for quick access. They are advertising a slim space ice bin which is essentially an ice bin small enough to be mounted on the refrigerator door (Whirlpool Corp does this in some models as well) opening up more shelf space.
Comparison
Personally, I think it is easy to see that the Samsung is superior to the LG unit. While I will grant you that it probably should be for the extra $2,000, Samsung makes the same unit without the Chef collection features (arctic blue interior and chef pantry option) at the exact same price as the LG studio.
Both are likable with Samsung's Chef Pantry versus LG's door within a door. Both seem to be reliable, but Samsung is better with parts after the sale.
Additional Resources
Steve Sheinkopf
My goal has always been simple: I want Yale to be the best retail experience anywhere. I have tried to create a compelling environment for customers and employees alike.
A Note About Pricing
Pricing on this blog is for reference only and may include time sensitive rebates. We make every attempt to provide accurate pricing at time of publishing. Please call the stores for most accurate price.