Legrand New Wireless Products (Reviews/Ratings/Prices)
Legrand is really a new company. They have set the standard for style, function and affordability. Before I show you their new wireless products, let's review some of my current favorites. For example, their motion-sensor Wave Switch is activated by simply waving your hand in front of the sensor (or walking past, as what usually happens in our showroom.)
Legrand's switches also include the SensaSwitch, which is also available as a motion-sensor switch, turning on the lights when you enter a room, and off once you leave. SensaSwitch also includes preset time intervals of 10, 20, 30, and 60 minutes. These are great if you need time-controlled for lighting or fans in places such as a bathroom, where time is valuable, especially when shared.
Under Cabinet Lighting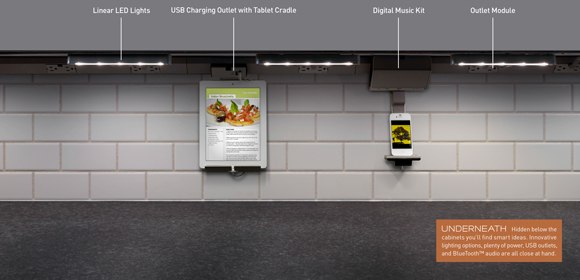 With their under cabinet modular systems, Legrand has also helped to resolve kitchen issues, from creating task lighting to holding a cookbook. The modular system includes outlets, lighting, cradles, and speakers. Outlets in the modular system eliminate wasted space on the counter for cords and reduce cutting into backsplashes.
The lighting, in the form of LED strips or pucks, highlights the counter and provides sufficient light for task and prep work. The cradles allow for iPods or iPads to be held at eye level and can make it easier to read recipes while charging the device.
Finally, the speakers complete the package with seamless streaming via Bluetooth from any connected device, eliminating wires and static, problems often associated with traditional radios.
As the company grows and expands their product line, Legrand continues to amaze with its innovation. While the under-cabinet system is inventive, the company has brought a similar resolution to their lighting control options. Legrand's pioneering into wireless lighting controls truly illustrates the power of wireless connections.
Next let's look at some brand new wireless products from Legrand.
Wireless Lighting Controls
Through either a remote or an app, Legrand's wireless lighting controls will allow for the entire home to be personalized for lighting. The remotes are capable of recalling four unique scenes and adjusting the amount of light in the home through Legrand switches, dimmers, and outlets.
By accessing lighting wirelessly, the user is able to provide themselves with convenience, security, and energy-savings. One of the best uses of the wireless lighting control is having the ability to leave all of your lights off when you leave home. You can use a different remote from your driveway to turn on the lights before leaving your car when you return.
Programming of the remote/app is simple, and achieved through a single switch. By using the master switch, users can program the slave switches and remotes to respond and coordinate their lighting. Setting up the coordinating lighting is easy. Simply hold a finger on the switch, until the switch turns the respective learning mode color. The mobile interface controller allows for use outside of the remote, including smart phones, tablets, and PCs. It also allows for lighting to be scheduled based on time-of-day. The wireless handheld remote costs $37.98.
Another wireless remote option is the wireless key fob. The key fob allows for users to access their lighting from places outside the home, such as the driveway. Price: $97.07.
Switches: Price varies depending on model, usually between $62 and $104.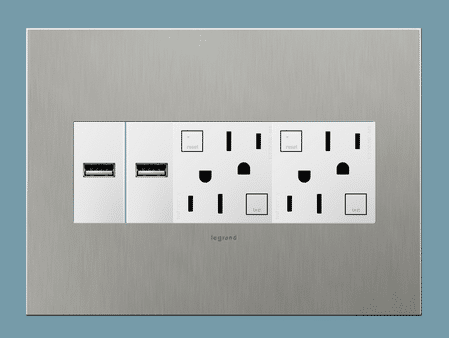 Whole-House Mobile Interface Controller: $354
Legrand also features a wireless outlet, which once a device is plugged into it, can be controlled via the wireless remote. Price: $34.48
Affordability is really another key feature to Legrand. Prices are incredibly reasonable especially when compared to Control 4 or The Lutron Graphic Eye systems. Products are due out May/June 2014.
Always make sure to talk to a lighting specialish when considering a Legrand wireless system.
Related Articles
Additional Resources
Download the Yale Kitchen Lighting Buyers Guide with terms, how tos and pictures to help you design the right illumination for your kitchen. Over 60,000 people have read a Yale Guide.
Robert Joyce
Robert Joyce is the Lighting Sales Manager at Yale Appliance and Lighting. Robert has been at Yale for almost 30 years. Bob has three children and is the head coach of the Men's Lacrosse Program at Archbishop Williams High. He also enjoys watching hockey and football.
Read more about Robert here.
A Note About Pricing
Pricing on this blog is for reference only and may include time sensitive rebates. We make every attempt to provide accurate pricing at time of publishing. Please call the stores for most accurate price.