Jenn-Air with Nest vs. Miele MasterChef Plus Wall Ovens (Reviews / Ratings / Prices)
Remember The Jetson's? The family would talk into their oven and out would come cooked food instantaneously. Well, we are not there yet.
However, wall ovens are much more sophisticated than any other appliance on the market with different convection systems and incredibly intuitive controls. If you are in the market, prepare to be overwhelmed. There are four ovens with significant upgrades in controls.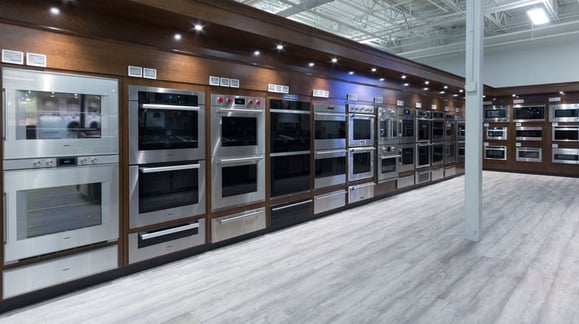 The commercial companies have adopted French doors as their primary point of distinction, so all together there is plenty to consider.
Two of the early adopters of technology were Jenn-Air and Miele even though they are very different companies and products. We will compare both companies and products.
Short on time? Get our free Wall Oven Buying Guide with tips, trends and reviews of all the major brands »
Miele
Miele is a family-owned company based in Germany. They are known for their product longevity because they manufacture to the component level rather than outsourcing. Their dishwasher and laundry products are iconic.
However, they were also the first with advanced controls. The MasterChef has always been about cooking with a touch of a button. The newer version is even better.
Miele MasterChef Controls
Thanks for reporting a problem. We'll attach technical data about this session to help us figure out the issue. Which of these best describes the problem?
Any other details or context?
message
Miele only offers one double oven unit in their lineup, the H 6780 BP2. This oven features their M Touch controls. These controls function as basically a mini tablet. A swipe here and there enables you to navigate the menus of this wall oven.
For example, if you want roast beef, rare, it will set the temperature and time perfectly for you. In this new oven, there are over 100 types of food pre-programmed to choose from. You can set it for anything from lobster tails to a soufflé.
It also has Master Chef Plus, this is a new setting for 1-3 bursts of steam during cooking. Lasagna tops and crusts of bread are hardened using steam. There are also 15 different automatic cycles using steam.
Miele MasterChef Wall Oven H 6780 BP2 - $7,999
Features:
30 Inch Convection Oven
M Touch controls
Moisture Plus
MasterChef Plus automatic programs
Jenn-Air
Jenn-Air has been in business for over 70 years here in the U.S. They were acquired by the Whirlpool Corporation in 1996 as part of the Maytag buyout. Whirlpool actually pulled them off the market briefly and re-launched the brand after a complete 300 million dollar overhaul.
Jenn-Air has a couple offerings in the double oven market but I'm going to focus on the top of the line JJW3830DS. This model has the built in cookbook called the Culinary Center.
Jenn-Air Culinary Center Controls
Thanks for reporting a problem. We'll attach technical data about this session to help us figure out the issue. Which of these best describes the problem?
Any other details or context?
message
It functions much like Miele's, in that it has the swipe and select interface. Select what you want to cook and the doneness. The oven will cook it automatically.
The cool (and unique) part is the Jenn-Air will show you the cooked product before you cook it. Want to see how medium rare looks? You will see a pic of it in the interface beforehand.
This model also has HUGE ovens, each being 5 cubic feet.
What really sets this oven apart is its Wi-Fi capability. You can preheat the oven on your way home from the store when it's hooked up to your home internet. You can also set the oven for what you plan on cooking or check on the status of what you're cooking from your phone via their app.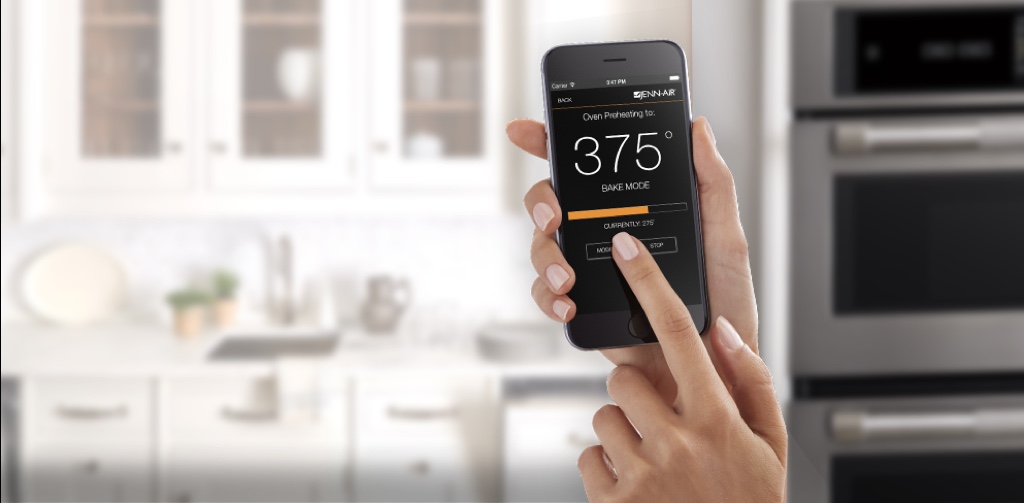 They also have Nest thermostat integration. Your Nest thermostat will be able to communicate with your oven over your home wireless network and turn itself down when it detects the oven is on so as not to overheat your home. (If you're not familiar with the Nest thermostat, I suggest you check them out. I just put them into my home this past month and they are amazing.)
Features:
5.0 Cu. Ft. Oven Capacity (Each Oven)
V2™ Vertical Dual-Fan Convection System
Jenn-Air® Culinary Center
7-inch full color touch-anywhere LCD display
Soft, auto-close door
WiFi Connectivity
Jenn-Air vs. Miele Wall Oven Comparison
Both of these are fantastic ovens. Their interfaces are the most highly evolved for appliances. Both offer twin convection as well.
There are a couple of differences. First, Miele has steam functionality, so this opens a huge amount of possibilities, especially with bread making. The wireless probe is convenient as well.
Jenn-Air has larger ovens. Their interface shows you what the food will look like at different settings. The Nest feature allows you the convenience of controlling the oven while out in the garden or at your child's soccer game.
So this depends on how you cook and use the oven. Steam is worthwhile to learn, especially with bread. Jenn-Air has the better interface and Wi-Fi capability.
Additional Resources
Looking for more information about wall ovens? Get the Yale Wall Oven Buying Guide with features, specs and detailed profiles of all the major brands. Well over 195,000 people have read a Yale Guide.
Recommended Reads
Brett Lucero
Brett Lucero has been with Yale Appliance + Lighting since 2005, working in our delivery team before transitioning to the sales department. Brett enjoys spending time snowboarding, striper fishing, and golfing.

Read more about Brett here.
A Note About Pricing
Pricing on this blog is for reference only and may include time sensitive rebates. We make every attempt to provide accurate pricing at time of publishing. Please call the stores for most accurate price.