How Do You Light a Craftsman Style Home?
So you're looking for newlights for your Craftsman home? It's hard to believe, but Craftsman was once sold out of the then, venerable Sears catalog.
Craftsman style is still quite popular. We will look at the history and attributes of a Craftsman home. We will then guide you on how to light your craftsman home with some of our favorite lighting options.
History of Craftsman Homes
The philosophy behind the advent of the Craftsman home included going back to the basics of handmade wood working, a simpler style of life, harmony with nature, and a smaller scale.
They created lower ceilings and coziness. This was a reaction of the middle class and blue collar working people to have a more modest home. It was push back against the Victorian Era which had high ceilings and very ornate decorations only the wealthy could afford.
Characteristics of a Craftsman Home
Want to know if your home is indeed a Craftsman? Here are some Craftsman attributes.
Low-pitched roof lines, or hipped roof
Deeply overhanging eaves
Exposed rafters or decorative brackets under eaves
Front porch beneath extension of main roof
Tapered, square columns supporting roof
Frank Lloyd Wright design motifs
Hand-crafted stone or woodwork
Mixed materials throughout structure
Shaker influence - flat panels and molding
Mission style blocking and undivided wood panels
Now, that we covered the basics of Craftsman homes, let's look at how to light your craftsman home, starting from the exterior.
Outdoor Lighting
The fixtures above, and most outdoor fixtures have accompanying sconces, lanterns, and outdoor posts.
Chandeliers
Quoizel Samara Chandelier - $529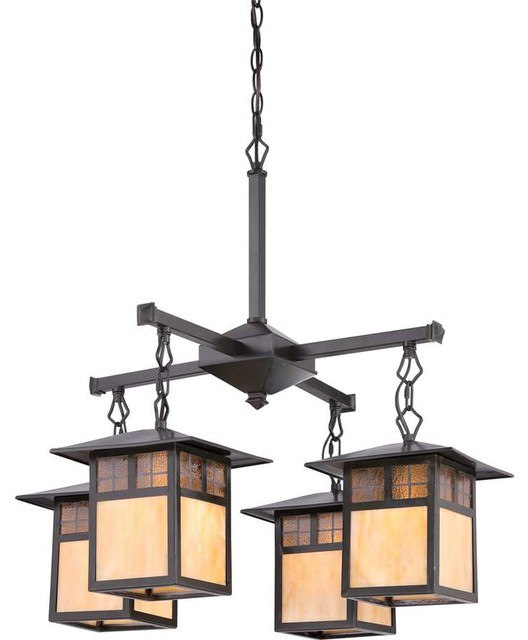 Chandeliers can be a little taller as most of the ceilings were 8 ft. or so. This size is more to human scale than the Victorian era that had 10 to 14 ft. high ceilings.
Pendants
As a general rule, you should place 1-3 pendants over a kitchen island, depending on the length of the island.
Final Thoughts
Today, we have returned to the philosophy of small is better for people who are building very small homes to conserve energy and money.
The Craftsman style has continued to increase popularity and is used widely. Here are just a few ideas for your Craftsman home, or if you want to have a Craftsman design inspired home. There are so many beautiful craftsmen options out there, its important to love your light fixtures and to make it your own.
Additional Resources
Need help lighting your Kitchen? Get the Yale Kitchen Lighting Buyer's Guide. We will show you how to properly layer accent, task, ambient and decorative lighting with plenty of pictures. Over 135,000 people have read a Yale Guide.

Henriette Rieu
Henriette Rieu has been a lighting designer and home builder for over 25 years and has been with Yale for almost 15. Henriette enjoys the creative aspect of lighting design and help clients with remarkable projects.

Schedule a showroom visit with me
A Note About Pricing
Pricing on this blog is for reference only and may include time sensitive rebates. We make every attempt to provide accurate pricing at time of publishing. Please call the stores for most accurate price.