How to Buy and Install LED Tape (Reviews/Ratings/Prices)
One of the most popular lights in the market today is LED.
LED lighting has many advantages over incandescent light sources such as lower energy consumption, longer life, and smaller size. LED technology is growing and slowly replacing incandescent and fluorescent lighting.
Below, we will show you just how easy it can be to buy and install some cool accent lighting using LED tape. Tape is really thin, so it is unobtrusive unlike standard light bars.
You can use LED tape for extra lighting in many places. For example: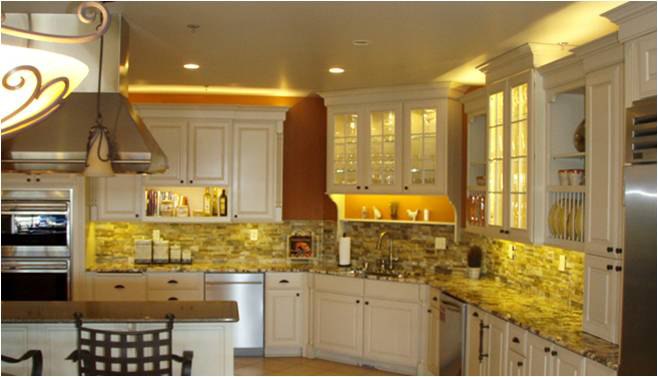 Under cabinets, above cabinets and inside cabinets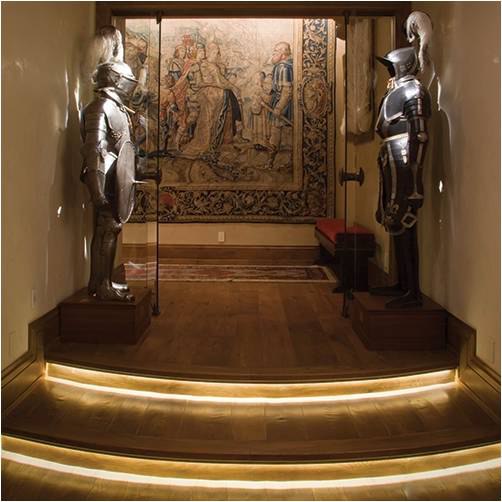 Step lighting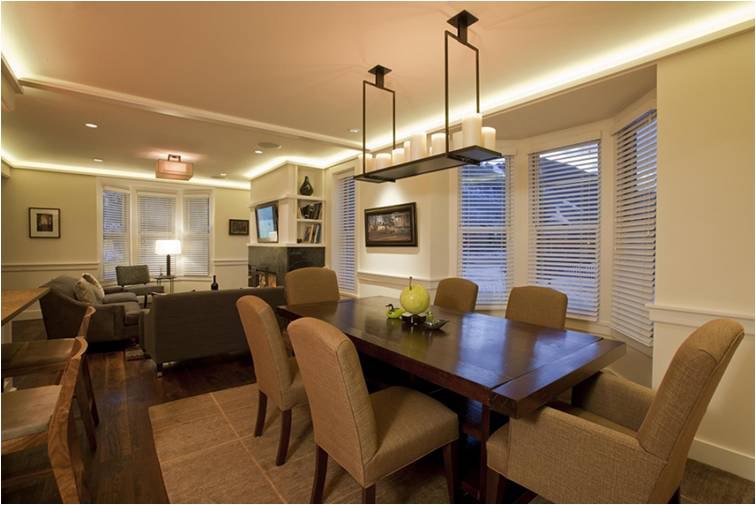 Around crown moldings
What do you need to buy and install LED tape?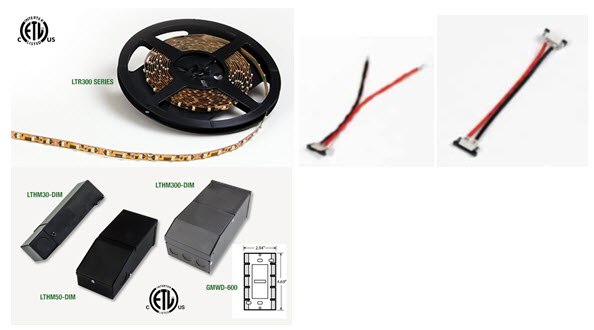 LED tape
Feed and connectors
Power supply
Switch (if not include with power supply)
What the salesperson will need to help you choose the right LED tape?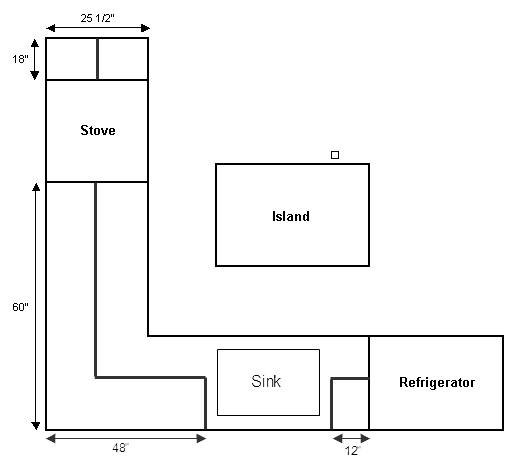 Layout or measurements of your project
Select are color and brightness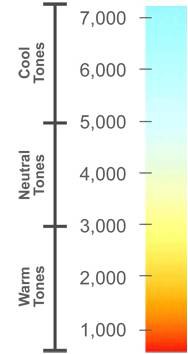 Colors are measured in Kelvin temperatures from 2700k to 7000k.
Most residential projects use lower color temperatures around 2700k to 3500k which is called warm white (yellowish light). 3500-7000K is cooler light similar to fluorescent or sunlight.
I recommend cooler light for closets between blue and black hues. It washes out lighter, earth tones, so it is less than ideal for kitchens.
Brightness depends on Kelvin temperature - some colors seem brighter than others, for task lighting I would recommend high output LED tape with 2700-3500k.
Which power supply do you need?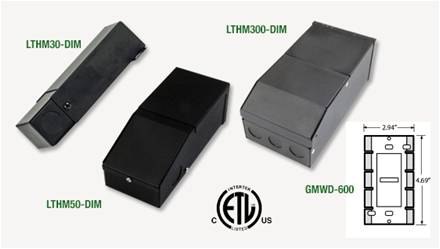 Decide how many feet of LED tape you will need for installation first
Example using kitchen layout above 11.5 feet of LED tape: (11.5 x 2.6 LED watts per foot = 29.9 watts)
It is recommended to have at least 20% more wattage than you are using.
Dimmable or Non-dimmable
Installing LED Tape Lighting
NOTE: Consult an electrician before any installation.
Make all connections and test system before installing, The LED Ribbon can be mounted on almost any surface. Please be sure that the surface is clean and free from any oil.
Cutting the LED ribbon to desired length
Using scissors the LED ribbon can be cut on the clearly marked cutting line which is located every 3 LEDS except where the solder drops are located on the ribbon.
The solder is located every 19-1/2 inches on the ribbon. Making a cut on the solder or anywhere else on the ribbon except on the cutting line will damage the ribbon and it will not operate.
Making Your Connections
Included in each package of LED ribbon are (3) LTW-24 Ribbon to Power Supply connectors. (1) LTW-24 is connected to the start of the ribbon; an LTW-24 does not need to be connected for the first run.
Connecting the LTW series ribbon to power supply connectors and LTC series ribbon to ribbon connectors to the cut piece of LED ribbon
Peel back a small length of the brown paper backing from the end of the ribbon that will be attached to the LTW/LTC series connector. This will expose the 3M adhesive on the back of the ribbon which is used to stick the ribbon to the desired surface.
Lightly pull back the small black plastic bar from the connector. Take the ribbon and fully insert it into the connector making sure that the small black plastic bar on the connector is located on the back adhesive side of the ribbon. NOTE: It is very important to make sure the small black plastic bar is located on the back adhesive side of the ribbon as cut lengths of ribbon can be inserted backwards into the connectors causing reverse polarity and the ribbon will not light up.
Always keep the ribbon in the same orientation throughout your application. (+) and (-) are clearly marked on the ribbon. Lightly push bar back into place. This will self crimp the connector to the ribbon. The ribbon is now ready to be connected to the Power Supply.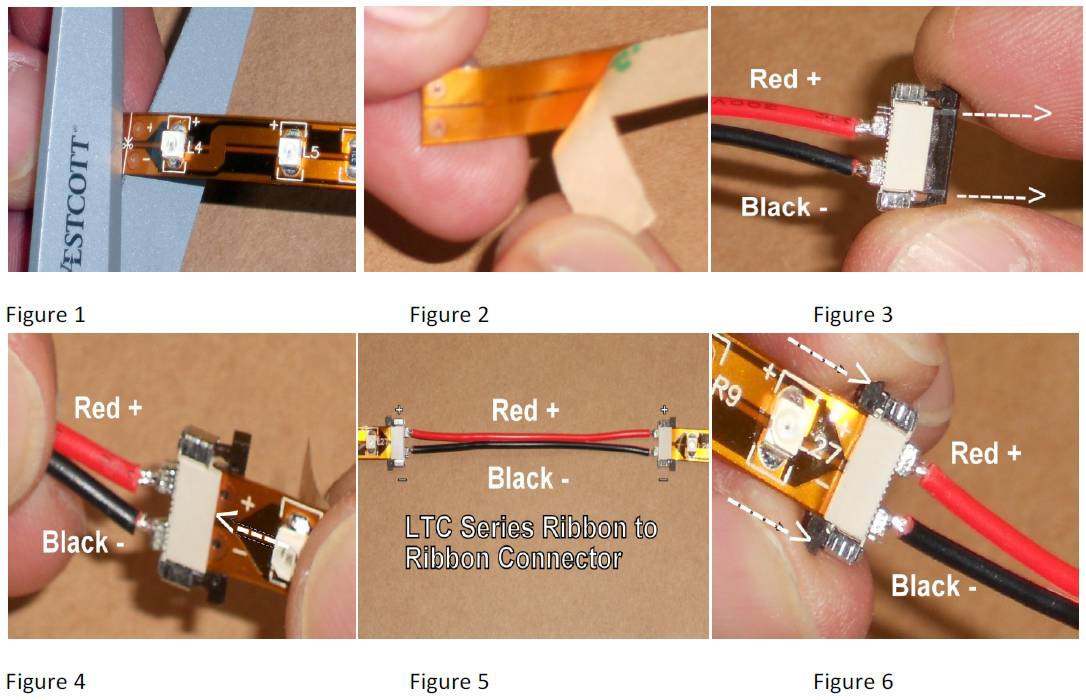 Below is one of my finished kitchen lighting layouts with LED tape and items needed for under-cabinet installations.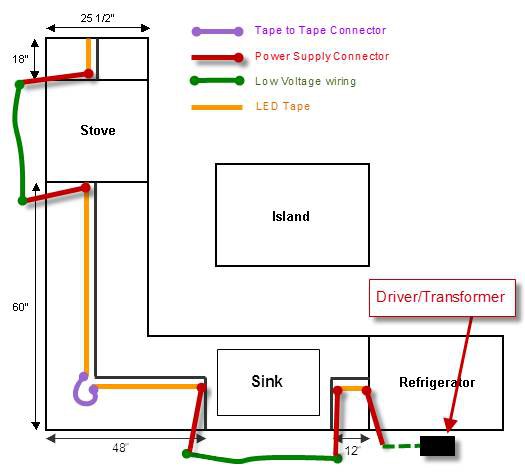 (1) LTR300-WW $350 (16.4" LED tape)
(5) LTW-24 $7.90 (power supply connector)
(1) LTC-3 $5.70 (tape to tape connector)
(1) LTHM50-DIM $180 (Dimmable Power Supply)
Conclusion
It is not difficult and tape is the most streamlined and least noticeable under cabinet light. You will see pure light without noticing the fixture.
Related Articles
Additional Resources
Download the Yale Under Cabinet Lighting Guide with features, specs and inside tips to all the lighting systems. Well over 60,000 people have read a Yale Guide.
Felisberto Silva
Felisberto Silva is a Lighting Sales Consultant at Yale Appliance + Lighting. Fe has worked at Yale for over 15 years. In his spare time, he likes to spend time with his three children and traveling.

Schedule a showroom visit with me
A Note About Pricing
Pricing on this blog is for reference only and may include time sensitive rebates. We make every attempt to provide accurate pricing at time of publishing. Please call the stores for most accurate price.